Saeco Royal is one of the most popular series of automatic coffee machines under this brand.
Saeco Royal Cappuccino
This basic model of provides professional preparation of Italian espresso and a wide range of coffee-milk beverages.
Its power, container capacity for water, coffee beans and waste are 1600 W, 2.4 liters, 300 grams and 20 portions, respectively.
Its design fits perfectly into the strict interior of the office and in the home kitchen.
Royal Cappuccino has a digital liquid crystal display that shows information about the amount of water and coffee in bins, and about the need to clean the system.
The simple convenient controls ensure personalized settings. The programming supports seven languages. It provides a temperature setting for each cooking program and an adjustment of water volume per serving.
The nozzle provides making milk froth for cappuccino or latte in automatic mode. Moreover, Royal Cappuccino supports Insta Steam technology that uses two boilers. Respectively, one boiler generates steam, and the second boiler heats the water for espresso. The presence of two boilers ensures the simultaneous preparation of coffee and milk foam for coffee and coffee-milk beverages.
Additionally, the patented Easy Clean System technology provides easy and convenient cleaning the removable brewing group without the use of special cleaning agents.
Activating the pre-grinding option reduces the cooking time for the next portion.
The pre-wetting option enhances the taste and aroma of coffee.
The platform for warming easily accommodates the all cups of the small coffee service.
Of course, the rotation of the coffee machine around the base and adjustable dispenser height significantly increase usability. Moreover, the dispenser provides simultaneous preparation of two espresso. Additionally, model also can use already ground coffee beans.
Philips Saeco Royal One Touch Cappuccino
Philips Saeco Royal One Touch Cappuccino is an improved version in this series.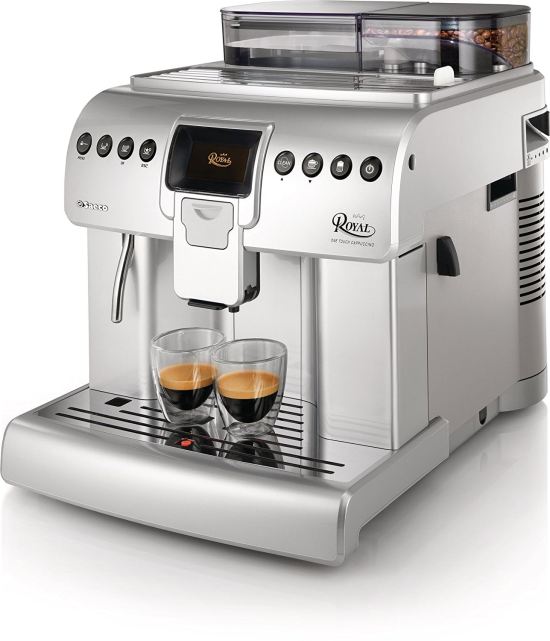 Power, container capacity for water, coffee beans and waste of this model are 1400 W, 2.4 liters, 350 grams and 30 portions, respectively.
A simple intuitive interface provides preparation of a beverage with one touch. Of course, this model also has a surface for heating the cup, cappucinatore and two boilers. Moreover, independent circuits provide an almost instant preparation of coffee-milk beverages.
Additionally, model supports setting the coffee strength, temperature and amount of water in the cup.
Of course, pre-brewing or pre-wetting mode increases the exraction degree of coffee taste and aroma.
Moreover, the built-in cappuccinatore and the container automatically add the foamed milk into the cup. Of course, cappuccinatore can be washed in the dishwasher.
Device is automatically cleaned after each cycle.
The making coffee process can be viewed on video.