The model is made in a white case with gray inserts. Its shape with smooth rounded edges is safe maximally. The front panel contains the control panel with LCD display. The bowl volume is 10 Cups or 1.8L. RZ-VMC18Y has Preset Timer for Rice and Porridge cooking, LCD display, Inner Pot with Black & Thick non-stick and Removable Steam Cap.
Main technical values
Model prepares up to 10 cups of rice, has 10 cooking programs, including Rapid Rice Cooking and new Mix Rice & Bread program and uses Convection Rice Cooking.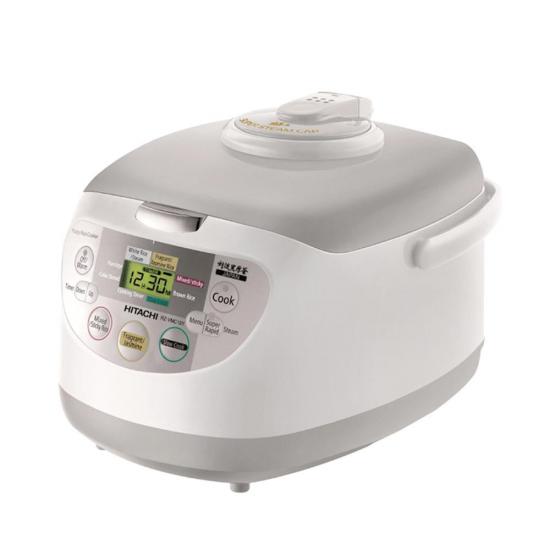 Unfortunately, the model is designed for Europe / Asia, has SE- plug and requires a step-up adapter for power supply AC 100 ~ 120V.
Programming uses Fuzzy Control principle.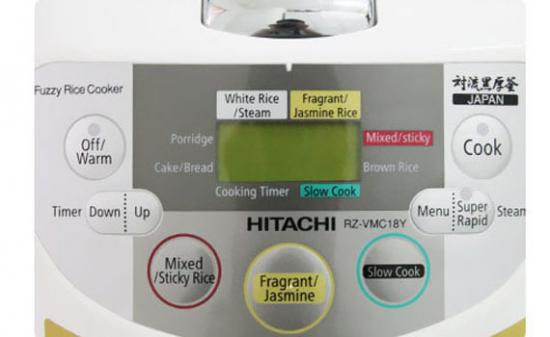 This model uses the technology of 3D-heating that ensures the most uniform distribution of heat inside of the working bowl. Of course, this improves the quality of ready-made dishes.
Bowl of RZ-VMC18Y has an improved durability and thermal conductivity compared to previous models.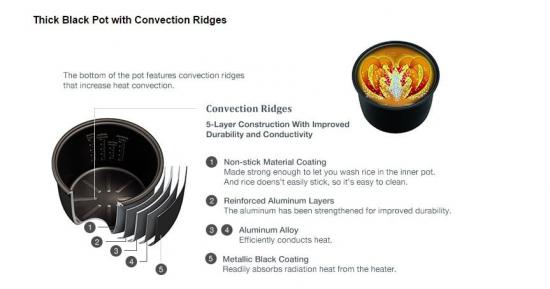 RZ-VMC18Y has several fully automatic cooking modes for different porridges, pilaf and turbo mode for quick cooking.
This model also has Microcomputer Controlled Heating and automatically controls end of cooking time.
Rice cooker uses manual setting for preset duration of steaming, stewing and baking modes. Additionally, stewing supports a fast or slow modes.
The delayed start timer provides selection of up to 12 hours and 30 minutes. This mode is very convenient for preparing breakfast or a dish by the time you return home from work or a walk.
The Warming program keeps the desired temperature of the dish for 12 hours after cooking.
The dimensions of the model are 15 x 11.8 x 10.2 inches, and the weight is 8.8 pounds.
Power in Cooking and Warming modes is 820W and 40W, respectively. This model is manufactured in Malaysia.
Conclusion
PROS:
– good design and nice color;
– Fuzzy Control provides multifunctionality with simple programming;
– convenient handle for carrying;
– high-quality non-stick coating the bowl;
– fully automatic cooking programs;
– 3D heating;
– functions of delayed start and warm-up of the ready dishes.
CONS:
– lack of a cookbook with recipes;
– prolonged cooking time due to relatively low power;
– baking program provides a maximum time of up to 65 minutes that is not enough for some recipes;
– absence of a condensate collector;
– smell of plastic in the early days (but it does not affect the quality of food).
The video offers a linear series of Hitachi rice cookers 2018.