Electric fryers became the very popular at the beginning of the century. In fact, this device is a pot for frying thin slices of potato in a large amount of vegetable oil. Some such models use more than 2 Qt of oil for one deep-fat frying cycle. Of course, each subsequent cycle worsens its quality by accumulating carcinogens that are formed during heating to a high temperature. Oil filtration solves this problem only partially. Additionally, the working pot and cover requires regular cleaning that requires quite a lot of effort.
These shortcomings have prompted manufacturers to look for other solutions. As a result, the market offered a device for cooking French fries with a minimum amount of oil. Modern ActiFry AirFryers use only 5 grams of oil per pound of potatoes.
Tefal FZ7000 ActiFry
Tefal is the first company that has developed Tefal FZ7000 ActiFry multi-cooker for this purpose.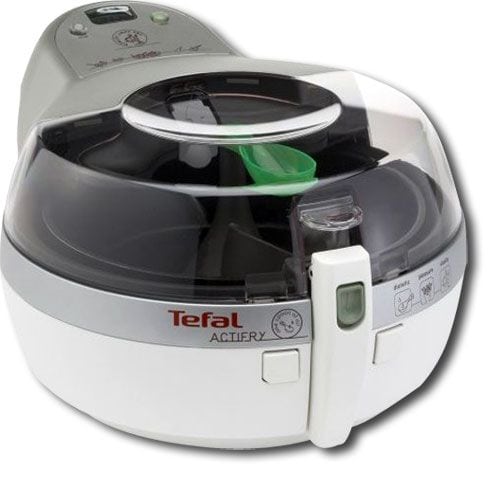 Vendors often call it a deep fryer, but the manufacturer positions this model as a multi-cooker because of its wide functionality.
It works as follows. A special mixing mechanism in the center of the working pot prevents scorching the foods, ensuring the heat treatment with a minimum adding the oil. Potatoes or other vegetables are heated from all sides by hot air in a confined space.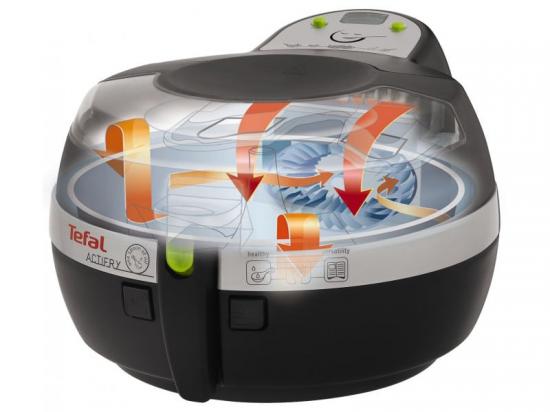 This technology is developed and patented by the Tefal.
The timer controls the cooking time to 90 minutes. This model forms a beep at the end of the process, but does not turn off the heating.
Dimensions of the model are 12 x 16 x 8 inches. Its power reaches 1400W. The pot capacity is calculated for 0.5 lb potatoes, 0.3 lb squash, 6 chicken thighs or 0.35 lb shrimp. But this model can cook only one dish at the same time.
T-fal FZ7000 has preset cooking modes. Therefore, the temperature setting is not available. Mixing is carried out in fully automatic mode. Transparent lid provides visual control of the cooking process.
Tefal FZ7002 ActiFry
Newer T-fal FZ7002 ActiFry has the same design.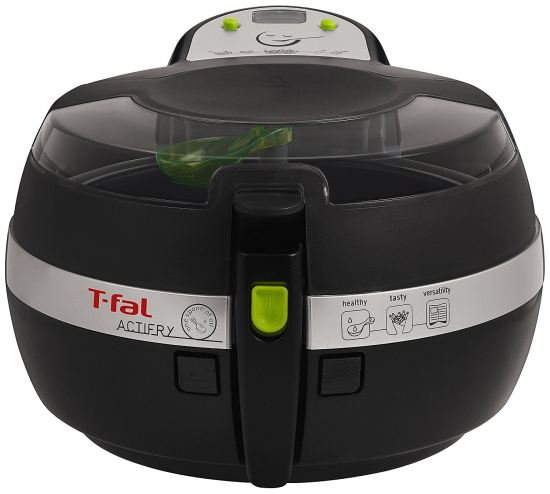 FZ7002 has a larger volume compared to the previous model. Its dimensions reach 15.6 x 19.1 x 11.75 x inches. Model is available in several colors. FZ7002 provides cooking up to 2.2 lb. Most pre-programmed recipes do not require oil or use its minimum amount (up to one tablespoon). Large and bright LCD screen and countdown timer simplify the cooking process.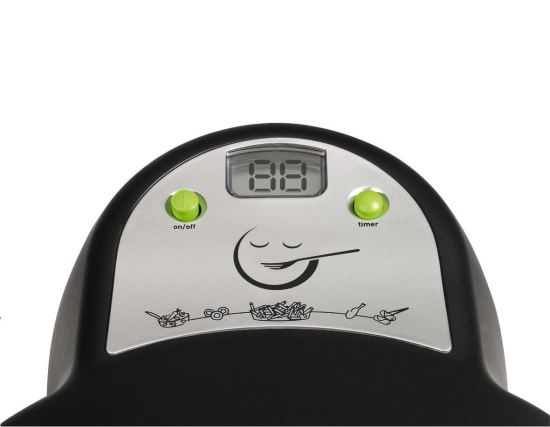 The pallet, lid, paddle, spoon and filter are removable and can be washed in the dishwasher, simplifying the care.
A transparent insert in the front of the lid provides visual control during cooking.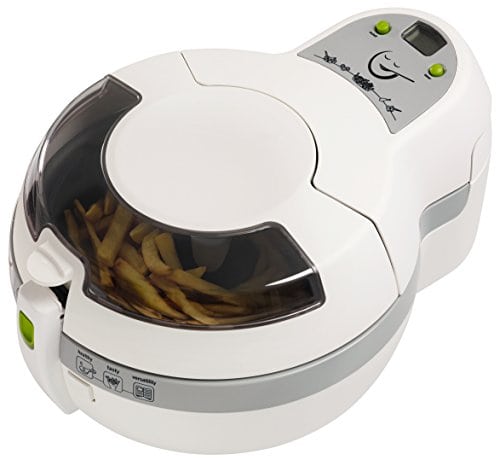 Feature of cooking French fries.
French fries in restaurants and cafes are cooked from special semi-finished products. The chopped potatoes are blanched in the factory and lowered into hot oil for 2-3 seconds to form a thin roasted crust on its surface. This product is frozen and sent to restaurants. This crust prevents penetration of oil into potatoes during roasting. This technology provides the preparation of fries, when potatoes is soft inside, but has a top crust. Therefore, the cooking similar French fries at home requires two steps. Potatoes are cooled and frozen after frying, and then re-fried until the required condition.
This video demonstrates the cooking process with Tefal ActiFry.