Of course, the high popularity of hand blenders is due to their low price, compactness and practicality. For example, these devices are very convenient for cooking small portions for one or two people. Moreover, numerous accessories significantly expand their functional capabilities. But, reliability, capacity, speed control gradations and accessories primarily affect the choice. Of course, the models from Tefal and Moulinex occupy a worthy place in this segment.
Tefal Infiny Force HB864140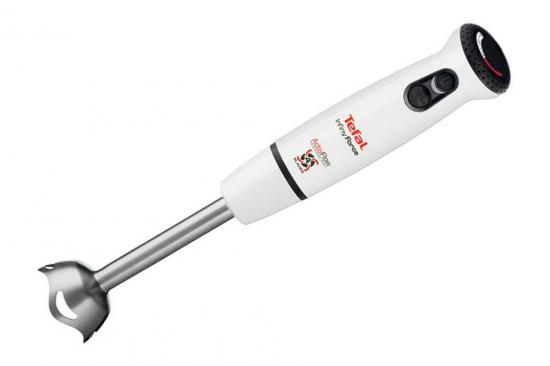 This model has a power of 700 W and 20 gradations of speed, including Turbo mode. Moreover, kit includes two jugs, a whisk and a very effective patented attachment for cooking mayonnaise and sauces.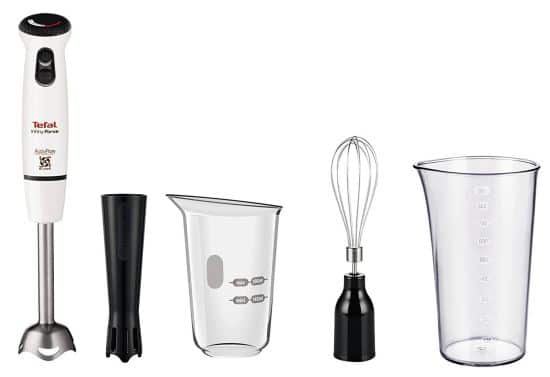 The blender body is made of half gloss white plastic with a rubberized black insert for easy grip. The dial for speed adjustment is traditionally located on the top plane of the handle. Attachments are screwed onto the body that is convenient when replacing them.
Of course, compactness, 20 gradations of speed and an excellent attachment for cooking the sauces and mayonnaise are the main advantages of the model. The relatively high price and lack of a chopping attachment are its drawbacks.
Moulinex Infiny Force Ultimate DD878D10
Kit of this model includes a traditional set of accessories.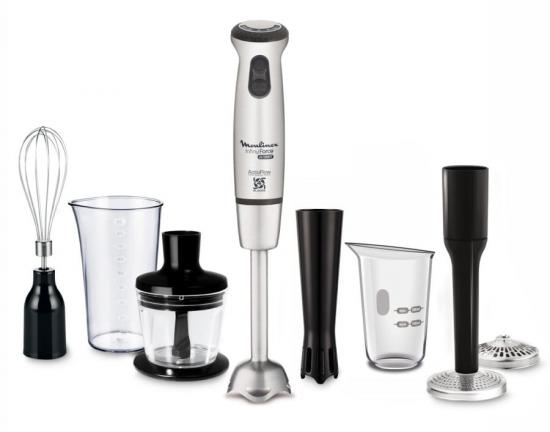 DD878D10 is a powerful 1000W model with 25 adjustable speed gradations, including Turbo mode.
This model is equipped with a patented ActivFlow blade system.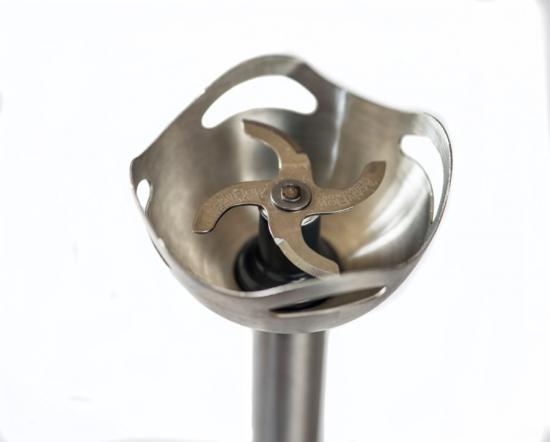 The ActivFlow knife consists of four blades. The curved shape of the two blades forms a vortex flow to improve mixing.
The patented attachment for mayonnaise and sauces is universal and great for cooking dishes of any consistency. This attachment works as follows.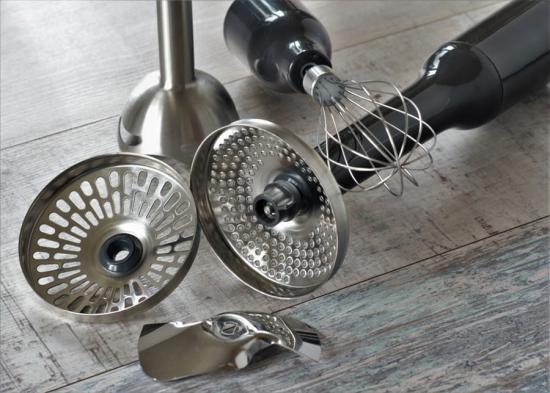 Design
One disc has holes with a relatively small diameter. The second disc has larger holes. Ingredients are cut with a knife, are rubbed between the discs and fed into a jug through holes in the overall container. Thus, cutting and mixing are carried out simultaneously, shortening the cooking time of the sauces.
The speed regulator is traditionally located on the handle. Buttons on / off and Turbo mode are located on the handle. A high ledge between them prevents accidental activation of Turbo mode.
The back of the body is made of rubberized material to prevent slipping. This model has 25 gradations of speed that are set using dial on the upper surface of the handle.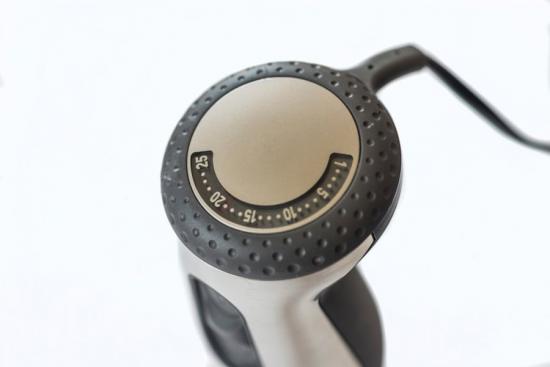 It's divided into five sectors. Unfortunately, the fissions are too close to each other. Therefore, the accuracy of the speed choice within each sector is low. But it's difficult to simulate a situation when such accuracy is really necessary. It can be assumed that a large number of declared speed gradations is the marketing to a certain extent.
The attachments are removed very easily when turning by turning clockwise. The attachment for cooking puree is fastened with a bolt.
High power, versatility and unique accessories are the advantages of the model. Inconvenient storage of accessories and a sufficiently high price are its drawbacks.
This video demonstrates the wide possibilities of modern hand blender.