The Australian Breville company was founded in Melbourne in 1932. It specializes in developing and manufacturing small household appliances. The original sandwich toaster in 1974 ensured the enormous popularity of this brand. Of course, juicers also occupy a worthy place in the assortment of the company's products.
Breville BJE510XL Juicer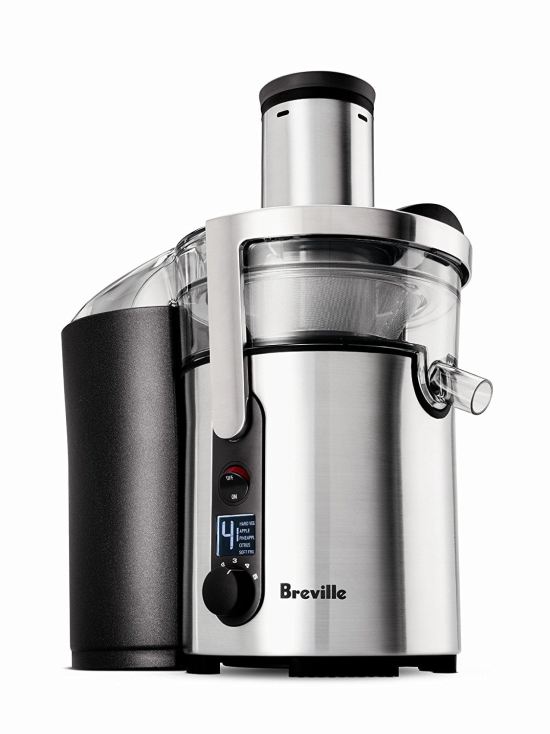 Of course, Breville BJE510XL refers to the most successful models of the middle class. It has excellent technical values. For example, the speed of its motor varies from 6.500 rpm up to 12.000 rpm. Moreover, five speeds of motor rotation correspond to five modes that provide the choice of the optimal mode. A large and bright LCDS creen with an intuitive menu displays selected mode. Additionally, the control system includes a reliable mechanical speed controller and on / off button.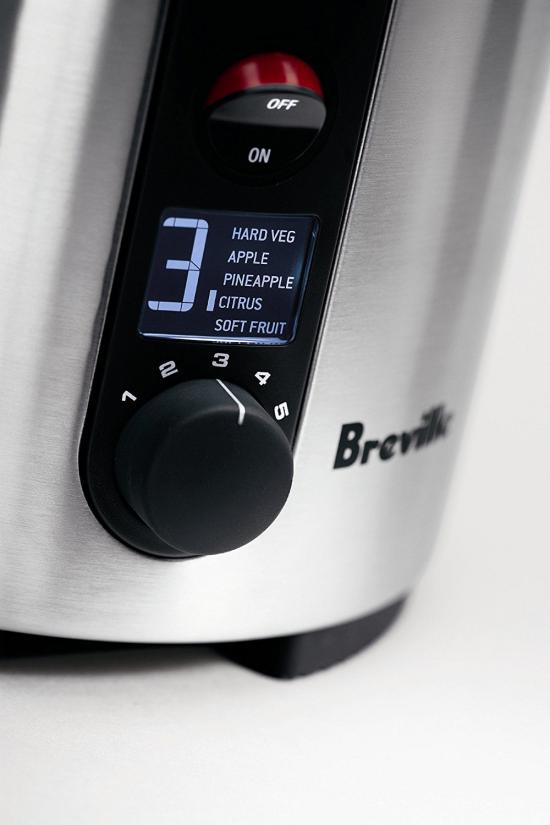 Moreover, the engine has very high power that reaches 900 W. As a consequence, this model very easily copes with soft and fibrous vegetables and fruits. Additionally, a special microchip enhances power when processing solid foods.
The juicer has case of high quality steel with size of 13 x 11.5 x 12.5 inches.
Moreover, the model belongs to the BPA-free type and has all components from completely safe materials for health.
Additionally, the built-in system reliably protects the engine from overheating. The special mechanism blocks the motor operation with the lid open. All parts can be cleaned in the dishwasher. Unfortunately, filter basket requires washing manually under running water.
The wide feeding tube has diameter 3 inches. Therefore, juicing does not requires pre-cutting for medium-sized vegetables or fruits.
Moreover, patented Nutri-Disc System uses titanium cutting blades with longer service life. Additionally, patented system of fruit centering in the feeding tube reduce noise and vibration during operation.
Main advantages and disadvantages
Pros:
– stainless steel case;
– variable speed;
– versatility for different vegetable and fruits;
– automatic speed control depending on load;
– wide feeding tube;
– high power;
– highly effective Direct Central Feed System.
Cons:
– foaming;
– sufficiently high noise level;
– rapid oxidation of juice;
– high price;
– short warranty;
– large area of the base;
– low efficiency for grain, cabbage, etc.
Breville BJE200XL Juicer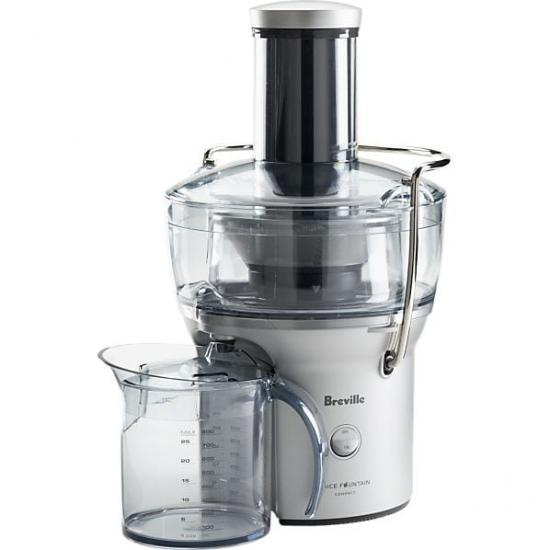 This model is the most powerful among compact Breville juicers. It provides 700 watts and has dimensions of only 8.75 x 9.5 x 16 inches. Rotation speed of the engine reaches 14,000 rpm. The model also has control of the lid position.
High cooking speed, easy operation and reasonable price are the main advantages of this model. But Limited volume is its drawback. The model is ideal for juicing in small quantities.
Breville BJE820XL Duo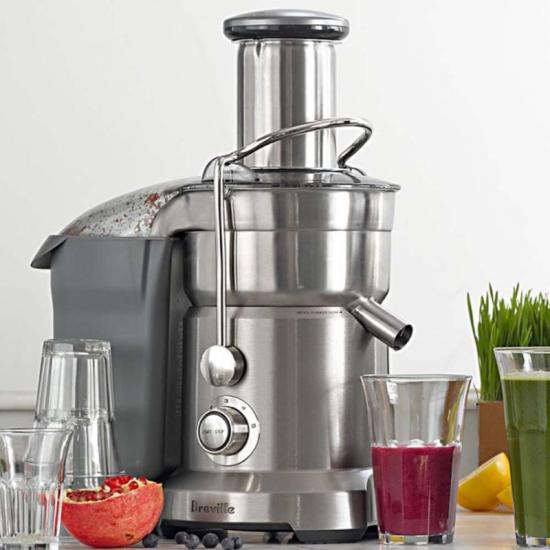 Breville BJE820XL Duo is one of the best juicers among high-performance powerful models. Its power reaches 1200 W. Electronic 5 speed dial is very convenient for selecting the optimal speed. High quality of assembly and materials ensure a long service life. Kit includes an additional attachment for cooking puree. It's made of a durable, wear-resistant material.
Best modern Breville juicers can be seen on the video.