As known, Kuvings brand belongs to the South Korean NUC Electronics company that specializes in the development and manufacture of small kitchen appliances. Orientation to healthy nutrition is one of its main directions. Of course, the innovative BPA-Free Slow Juicer B6000 belongs to this segment.
This model has a stylish design and is available in three colors. The letter at the end of the name corresponds to the juicer color.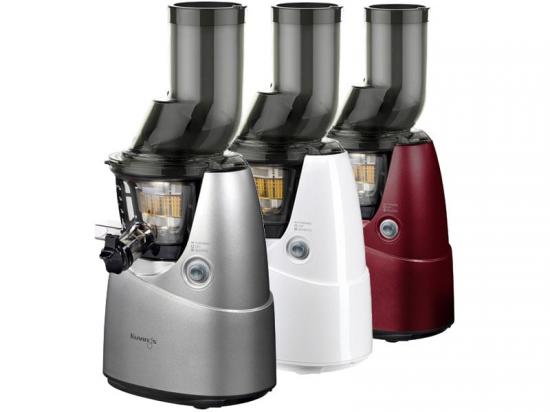 Of course, the list of its advantages includes compactness, Smart Cap, low-speed masticating technology, large diameter of feeding tube, no oxidation due to excellent sealing and reverse function.
In fact, today Juicer B6000 is one of the most compact models in its class. Its dimensions are only 9 x 8.2 x 17.6 inches. The large diameter of the feeding tube is another advantage of the model.
It reaches 3 inches that is enough to load the average apple without pre-cutting.
Innovative Smart Cap provides reliable sealing, convenient filling the glass and anti-drops function. It's also very convenient for making mixed juices.
Design
Excellent sealing prevents oxidation, reducing losses of vitamins and minerals during operation.
Automatic self-cleaning the juice container is very simple and fast and only requires of water. The strainer and screw are cleaned with special attachments.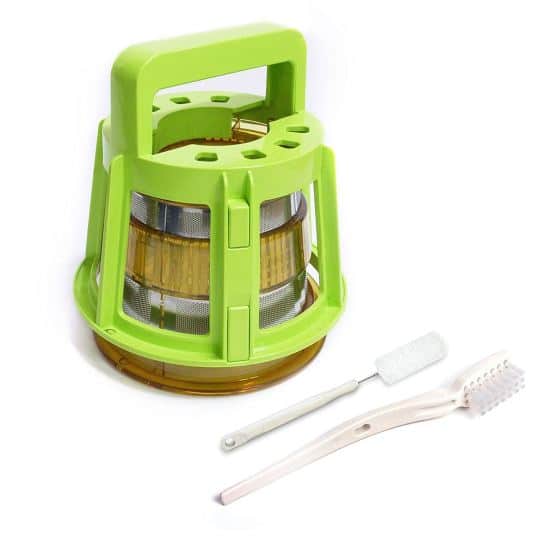 This model uses low-speed masticating technology that slowly crushes and squeezes fruits and vegetables. The speed of its motor is only 60 rpm.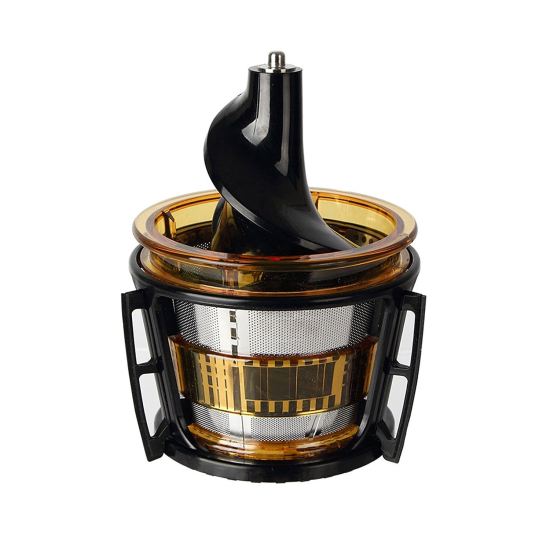 According to nutritionists, this is the optimal speed for preserving vitamins.
Sorbet Maker Attachment for cooking frozen desserts with fruits is very simple to use.
Additionally, this BPA-Free model is completely made from materials that are safe for health. A 1 liter container for juice is made of Tritan that has a high resistance to mechanical stress. The screw base and the strainer are made of a new GE-ULTEM polymer. This material is used for the manufacture of surgical instruments.
Powerful NucKuvings engine provides 240 W that is a very high value for household models. Special ventilation holes are very effective. The juicer continuously works for 30 minutes without overheating the engine. It easily processes fruits and vegetables, solid root crops, grains, herbs, and even provides processing the nuts. Thus, this model prepares practically the whole range of healthy drinks.

Two-position attachment-shredder is intended for the preparation of mashed potatoes, mousses and sauces. It's also great for cutting frozen fruit and crushing ice.
The noise level is only 50 dB that is a very low level.
10 Year Limited Warranty is the best confirmation of the company's confidence in the reliability of its device.
High price is the only drawback of this model.
The video from Kuvings demonstrates the correct use of the juicer, which will ensure its maximum efficiency.