The modern TVs are very complicated devices with lots of different technical values. Therefore, the choice of the optimal TV is rather complicated. Severe competition between companies is sometimes accompanied by not very honest marketing and often requires additional clarification.
LCD and LED screens
In fact, the LED screen is an LCD screen with an improved LED backlight that replaces the less efficient fluorescent backlighting.
The diode matrix is located either along the edges (Edge LED) or along the back plane (Direct LED) of the screen.

Each of them has advantages and disadvantages, but, according to experts, Direct LED distributes the glow more evenly. Each of them has advantages and disadvantages, but, according to experts, Direct LED distributes the light emission more evenly. In addition, it provides a higher density of black.

But today the full-array is considered the best. It's used in models of the upper price segment.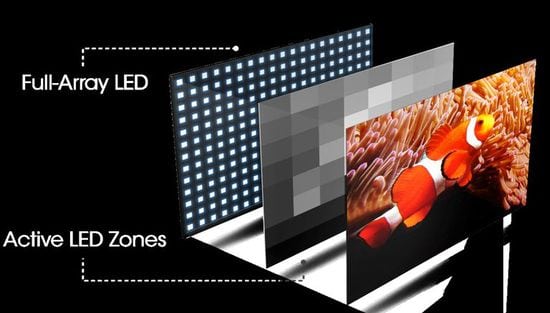 LED TVs can not accurately reproduce black color due to constant backlighting of pixels. The playback of dark scenes on the LED screen is accompanied by gray or purple hues.
The invention of OLED screens on organic light-emitting diodes solved this problem. Each such pixel emits light independently of each other. In dark areas, it completely turns off, providing playback completely black.
The high price is the main drawback of OLED models. But this factor will decrease as the technology develops.
The relatively low image brightness is another feature of this technology. Comparatively inexpensive OLED-panels provide brightness at the level of 700-800 cd / sq m. (As known, 1 cd / sq m = 1 nit). For comparison, the brightness of LED-TVs reaches 1400-1500 cd / sq m. Therefore, their advantages over LED TVs are visualized only at night or in a darkened room. The cost of brighter OLED models (up to 2000 cd / sq m) is very high.
Samsung QLED TVs are an improved LED version and compete with OLED TVs from LG companies. Quantum Dot technology, according to the company, expands the depth and improves color rendering. But nanocrystals also do not emit light and require a backlight.
In fact, today the market offers OLED and LED TVs. Differences between images on QLED and OLED screens are virtually not perceived visually.
4K resolution
Constant increase in resolution is one of the main trends. Resolution is equal to the number of pixels of the screen and provides image clarity. Accordingly, the image quality depends directly on the number of pixels, i.e. from resolution.
Full HD is considered standard for LED TVs. This is enough to watch blu-ray movies and digital channels in the HD TV standard.
UHD (Ultra HD) or SUHD (Super Ultra-high-definition) resolution is 4 times higher compared to Full HD. SUHD uses Quantum Dot technology, and UHD is based on LED (liquid crystals or light-emitting diodes). But limited offer 4K content inhibits the development of this segment. Today 4K resolution is available only in expensive flagship models.
Additionally, UHD provides high quality only on a large enough screen with a diagonal of 55 inches and higher.
The distance to the screen also affects the visualization of the playback quality that decreases in direct proportion to the distance. The difference in perception between Full HD and UHD is practically absent at a great distance. But the distance of 32 inches for a TV with a diagonal of 55 inches will be inconvenient for many people.
Sometimes little-known brands offer 4K models at very low prices due to savings on matrix and CPU performance. But 4K-content playback by such a TV is often accompanied by poor color rendering quality and regular image hanging due to very long input-lag.
Support for HDR (dynamic range)
As known, HDR technology affects the gradation of colors ranging from the brightest white to the darkest black and provides the correct color rendering that affects the image realism.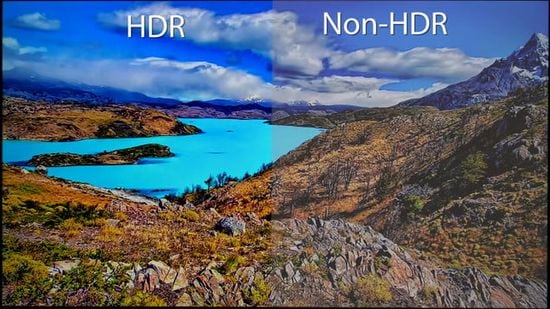 This technology provides more shades in shaded or too-lit areas. HDR technology requires a powerful processor, high brightness and HEVC (or VP9-Profile2) decoder. The maximum reserve of brightness should be many times greater than traditional TVs. HDR provides up to 1500 nits compared to 400 nits for standard models.
The expanded color palette also requires special technologies. Today, a combination of these complex technologies is available only in expensive 4K-models.
Modern 4K TVs with HDR support have a UHD Premium certificate. HDR function is indicated in the description as HDR10, HDR10 +, Dolby Vision or HLG. 4K Blu-ray format supports HDR by default.
Unfortunately, this technology also requires special content that significantly limits its capabilities.
Diagonal
The diagonal affects the optimal viewing distance. A factor of 1.6 is usually used for LED TVs. Thus, a distance of 64 inch is optimal for a 40-inch model. Accordingly, the optimal distance increases with increasing diagonal size.
Full HD TVs use the formula diagonal = distance (in meters) x 25 (factor). Thus, a distance of 2 meters is optimal for 50 inches.
UHD uses a factor of 39. In this case, a distance of 2 meters is optimal for 78 inches, that, of course, is impressive.
Curved and flat screen
Curved screen visually increases due to the use of peripheral vision. But this effect is achieved only on models with a diagonal of 50 inches and above.
Today, many experts cite fairly convincing arguments against curved models. You can see them on the video at the end.
Companies are abandoning this function in their new models because of limited 3D-content and the need to use special glasses. Today, this feature is only available in models that were developed mainly until 2017.
Smart TV provides connection to the Internet and the use of apps to broadcast various content from on-line theaters and other services. Today Android OS with Google Play support is most popular.
Of course, Smart TV significantly increases the model cost. Therefore, the combined use of Android set-top box and a TV without Smart TV may be perfectly reasonable alternative in many cases.