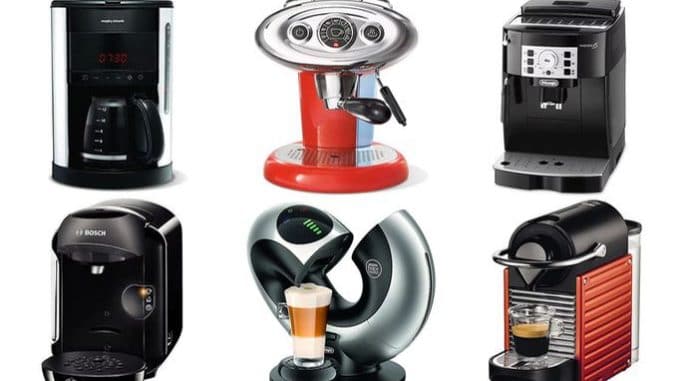 The high popularity of coffee machines stimulates a high level of competition in this segment, forcing manufacturers to constantly improve their models due to innovations and expanding their capabilities. Functionality is one of the main criteria for choosing a coffee machine. Of course, it depends on the technical characteristics of the coffee machine and its type. Today the market offers traditional drip coffee machines, compression (carob) espresso coffee machines and steam coffee machines, each of which has its own features.
The list of basic functions of modern coffee machines.
Automatic decalcification.
The intensity of scale formation depends on the water hardness. It reduces the service life and the device performance. Automatic decalcification is designed to solve this problem.
This function removes the coffee oils and a scale on the walls and on the inner surface of the hoses with the help of the special cleaning tablets.
The screen of some models displays a message about the need for cleaning.
Cup warmer.
Many modern models are equipped with this function that is intended for pre-heating the cups or reheat of finished coffee.
The use of preheated cups enhances, according to experts, the taste and aroma of coffee. The cup temperature of 40 degrees is considered optimal. The cup warmer is usually placed on the top surface.
The implementation of this function in DeLonghi ECAM 25.462 is shown in the video at the end.
Cappuccinatore.
This attachment is intended for whipping the milk and cream. It's divided into mechanical and automatic models. Of course, automatic cappuccinatore is much more convenient. Mechanical models are effective only for whole milk or cream.
Adding the foam in the coffee is performed automatically or manually depending on the model.
Pressurized steam passes through a Panarello Milk Frother and forms the foam into a glass with milk.
Programming.
Expensive models support the user mode, providing setting the coffee strength, its temperature, etc. These values can be stored in the device memory.
Programmable timer is used for coffee making at the set time. But, all the ingredients must be pre-loaded into the device.
Adjustment of the coffee strength is performed by various methods. It depends on the water temperature, velocity of its passage through the coffee, from ratio between ground coffee and water, etc. Accordingly, companies use a particular technology in their models. For example, E-Plus system adjustments the coffee strength by changing the water pressure.
Water amount in cup can also be used to adjust the coffee strength.
Automatic dispenser.
Some premium models have automatic dosing. The device displays a list and amount of required ingredients for a selected recipe of coffee. This information is displayed on the screen.
Water level.
This indicator is designed for control of water level. Some models additionally have a special scale with recommended amount of coffee for beverage preparation with a certain taste. Actually, this is a more simple modification of automatic dosing function.
Water quality and filter condition.
Filter surface requires regular cleaning. Therefore, the expensive models often have the special indicators of water purity and filter condition. This function is especially useful at intensive operation or use of reusable nylon filters.
Built-in coffee grinder.
Most modern models are equipped with built-in coffee grinder. More expensive models provide an adjustment of the grinding degree. This function also often provides grinding the certain amount of coffee beans for specified number of cups. Of course, freshly ground coffee provides maximum flavor and saturation of the coffee.
Espresso.
This feature is designed for espresso in an automatic or semi-automatic mode. Auto mode provides automatic calculation of required amount of coffee, water and milk. Semiautomatic mode requires self-calculation for ingredients volume and hand pressing ground coffee.
Pre-wetting.
This function is intended for wetting the coffee powder before the making coffee. It's believed that this technology improves the taste and aroma of coffee.
Display.
Many modern models are often equipped with a display or touch screen that displays the selected program, temperature and technical data (for example, the absence of water, coffee beans, etc.).
Care for models with integrated touch display is more convenient compared to models with buttons.
Automatic shut-off.
Auto shutdown timer is activated after 3-5 hours of waiting.
Rapid steam.
The function is designed for instantly switch between espresso and cappuccino modes. Such models have enhanced power and performance of the boiler for providing the rapid steam generation.
Two portions.
The device provides simultaneous preparation of two portions per one cycle. This function is often present in espresso models.
Temperature adjustment.
Taste qualities of the coffee greatly depend on the water temperature. Therefore, some coffee fans prefer its manual adjustment. The temperature of 90-95 degrees is considered optimal for espresso.
Drop Stop.
This mechanical system blocks the supply coffee without coffee pot. The shutter of operating device is designed on time about 5 minutes. This is enough to pour cooked beverage from coffee pot into cups.
Hot chocolate.
Some models have a special unit for preparation of hot chocolate.
The portion counter.
A built-in counter is useful, for example, for self-control of coffee consumption.
Additional noise insulation.
Some models of top price segment are equipped with additional noise insulation.
Additional container for coffee.
Separate container for grains and grinded coffee is convenient in some cases. This function is useful, for example, for making coffee from new variety if compartment for coffee is already full. Additional compartment easily solves this problem.
The waste container.
This container is designed to collect coffee grounds. Capacity of container usually is calculated for 15-50 servings.
Aroma protection.
This system sometimes found in drip models. It uses narrow neck between the upper and lower compartments and special design of the spout and lid.
Protection against transfusion.
This system automatically turns off the device when filling the coffee pot.