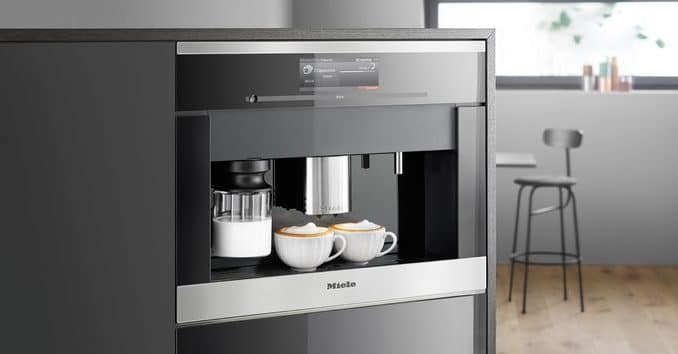 One of the market leaders presented their new model of built-in coffee machine. The Miele CVA6805 is fully automatic. Required depth is 36.6 inches. The model is available in black, brown or silver colors. But, Black Obsidian is the most popular.
The design, functionality and characteristics of the coffee machine correspond to the premium class. The power, maximum pressure and volume of the removable water container are 2800 W, 15 bars and 2.5 liters, respectively.
The container for coffee wastes is designed for 15 servings. The maximum cup height does not exceed 5.7 inches. A removable container for coffee beans holds 500 grams.
The control is carried out with the help of touch panel with an intuitive interface.
The active use of innovative solutions is typical of Miele. CVA6805 was no exception. This model supports the following technologies.
1. Innovative CupSensor system is designed to set the optimal height of the central dispenser, depending on the cup height. This feature prevents splashing and improves mixing coffee with milk foam. After filling the cup, it rises 1 cm to prevent contamination.
2. Intelligent AromaticSystem technology provides amplification of taste and aroma. This technology is based on a dynamic expansion of the infusion chamber. This process increases the extraction degree due to the expansion of the contact zone between coffee and hot water.
3. Patented ComfortDoor system provides convenient access to the removable water container with the help of fully opening front door.
4. All milk pipelines are automatic rinsed after each cycle.
This model has a high-quality glass milk container.
The coffee machine uses ground coffee or coffee beans.
This model provides creation of up to ten user profiles. Settings adjust the grind level, the amount of ground coffee, the temperature and the amount of water for one serving. Adjustment for one serving varies from 5 to 12 grams of ground coffee.
Simultaneous preparation of two cups is available.
Cappuccino is made using the option in the menu. A container with milk is put under the cappuccinatore. Then the coffee machine sucks in and froths the milk, forming a lush foam that is sent to the cup with coffee.
Of course, the model supports a full set of modern traditional functions that includes self-cleaning and descaling functions, grinding adjustment, self-diagnostics, programming the water hardness and on / off time. Special indicators form notifications about the filling degree of containers for coffee beans and water, the water tray, the need to activate the descaling program. Virtually all removable parts can be cleaned in a dishwasher. Dimensions of the device are 17.7 x 23.4 x 21 inches. The model weighs 60 pounds. The company offers an optional trolley on wheels to move the coffee machine in the room.
A very high price is the only traditional drawback of the models of this segment.
The work of this espresso machine is great shown on the video.