The compact Delonghi ESAM 2600 Magnifica belongs to the ESAM series. This fully automatic coffee machine has a good value for money and extensive functionality. Of course, the compactness is one of its main advantages. It has dimensions of 14.5 x 11 x 14 inches and weighs only 22 lbs. Moreover, the built-in coffee grinder provides fourteen degrees of grind and holds up to 200 grams of coffee beans. Coffee machine can also use already ground coffee. Of course, this feature further additionally expands capabilities of model. It has stylish black case.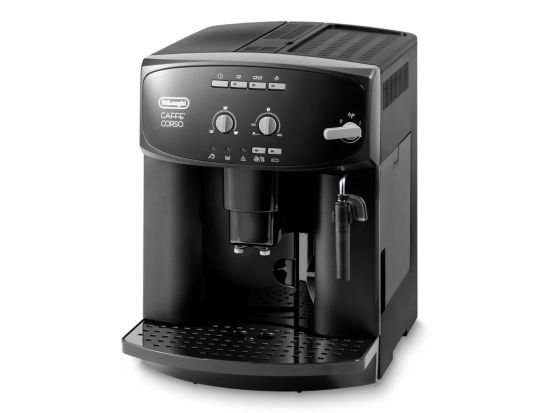 Mainly, today, ESAM 2600 Magnifica competes with Gaggia Accademia.
Design
Of course, the removable brewing unit is a distinguishing feature of the ESAM 2600. The model uses a patented Tubeless system that lifts the brewing unit to a coffee grinder during coffee making.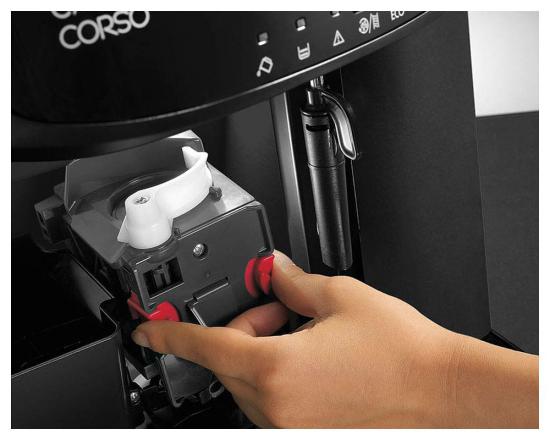 Thus, ground coffee directly enters the brewing unit without additional tubes for its feeding.
Moreover, ESAM 2600 Magnifica uses the technology of preliminary moistening the pressed coffee with hot water. Only after that, device begins making coffee. As known, such an algorithm enhances the extraction of coffee, improving the taste and flavor of the finished beverage. However, almost all modern models of the middle and upper price segment use a similar technology.
Functionality
The model prepares espresso and cappuccino. Unfortunately, Cappuccino Cooking use only semi-automatic mode. The steam whips milk froth in the special metal container.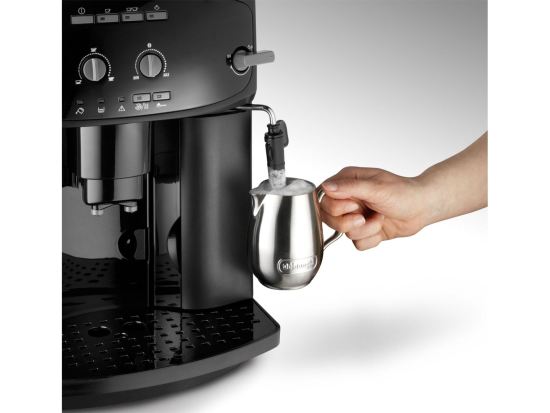 Unfortunately, the model does not provide automatic supply of foam in a cup of coffee. Models with automatic cappuccino mode provide milk supply inside the coffee machine. But such models require regular cleaning the milk supply system. In addition, many fans of cappuccino prefer to prepare this beverage, controlling the temperature of milk and the texture of foam.
The sufficiently high power of 1350 W ensures fast making coffee. The coffee machine provides a pressure of up to 15 bars. Removable water container has a capacity of 1.8 liters. Container for coffee waste provides 14 servings.
As is known, the best flavor of espresso is reached only at a certain temperature. The heating function of the cups ensures optimum temperature mode for this purpose.
The coffee machine simultaneously prepares two cups of beverages.
The adjustable dispenser height is convenient for cups of different sizes.
Coffee strength is controlled by setting the amount of water and coffee in the cup. The program of automatic washing and descaling greatly simplifies the care. Water hardness is also adjustable.
Removable container for collecting drops is equipped with a filling sensor.
Conclusion
PROS:
– great taste of espresso;
– easy to use;
– steam wand very effective for frothing milk;
– innovative technologies;
– good functionality.
CONS:
– relatively high noise level;
– espresso preparation is a slightly slow.
Сleaning the infuser is simple and very convenient. This process can be viewed on video.

List of current models in America:
1. Magnifica Automatic Espresso Machine, Cappuccino Maker (ESAM3300) – $ 700.
Key features:
– Patented Cappuccino System;
– Rotary and push button control panel (5 settings of coffee -strength and 4 settings of cup size with rotary dial;
– Height Ajustable Coffee Spout;
– Patented Direct-to-Brew System;
– Double Boiler System;
– Instant Reheat Function;
– Cup Warmer;
– Decalcification Indicator.
2. Magnifica S Smart Cappuccino Maker (ECAM23260SB) – $ 1,300 – 'One touch' model.
3. Magnifica XS Automatic Espresso Machine, Cappuccino Maker – ECAM22110SB – $ 1,050.
Delonghi Magnifica XS models are more compact.