The popularity of these devices has provided high demand for many decades. The reaction of producers is quite adequate. Today, the market offers a wide range of different kitchen appliances with this function. For example, a food processor can be qualified as a meat grinder with an expanded functionality. Nevertheless, the implementation of this function in a separate model still provides maximum performance and efficiency that positively affects the ratio of their cost and quality. Therefore, meat grinders remain one of the most popular devices in this segment.
Of course, functionality is one of the main characteristics of the model and significantly affects the choice of the optimal meat grinder.
Reverse
Practically all modern models have reverse function. Reverse mode provides a screw rotation of meat grinder in the opposite direction.
Almost any meat contains connective tissue that includes the pleura and tendons. Model with a powerful engine and a sharp knife easily grinds their. The less powerful model does not always solve this problem. In this case tendons are wound up on the shaft near knife, reducing the minced meat quality and performance of meat grinder.
Auger rotation in the opposite direction pushes meat back, ensuring its re-grinding. This process eliminates the need of disassembly and cleaning the meat grinders in most cases.
This function is very important for models with low and medium power.
However, inattention can also be a cause of jamming. Bones and cartilages should not fall into the meat grinder.
The activation button of this mode is combined with the power button or is located near.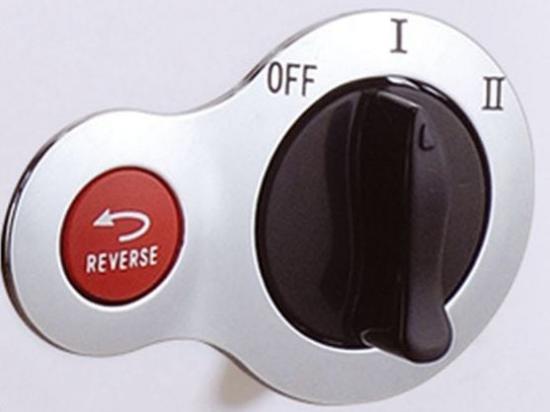 Self-sharpening knife
Cutting edge of self-sharpening knife is exposed to laser processing. As a result, notching with reflow remains on the metal surface. Then, the notching is tempered. This treatment provides non-uniform metal hardness on cutting edge. The metal wear is a more intensive in points without hardening due to lower hardness. Accordingly, the micro tooth is formed during mechanical load exactly in such point. The set of such micro teeth is constantly formed during operation and provides increasing the cutting efficiency.
Knives with such blades are called self-sharpening.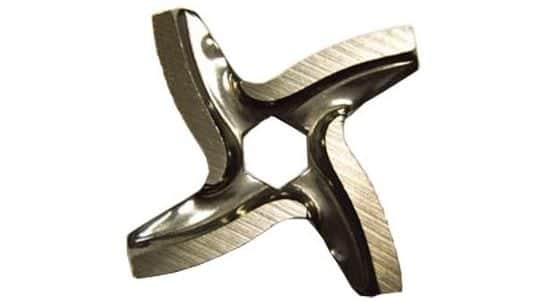 Material of such knife contains elements that deprive blade of its anti-corrosion properties. Therefore, self-sharpening knives require special care. They are thoroughly wiped off after use to prevent rust.
Sharpening such blades is possible only at the special equipment. Otherwise the expensive knife loses its unique properties. The high cost is its main drawback.
Motor protection from overheating and overloading
Almost all modern models are equipped with motor protection from overheating and overloading.
Companies use the motor lock or automatic interruption of the power supply circuit. The first method uses inexpensive plastic parts as a fuse. Interruption is carried out by means thermal fuse.
Additional compartment, rubberized feet and pasta attachments
Modern models use a large number of nozzles that are supplied complete or sold separately. Therefore, many manufacturers equip the housing by additional compartments. But such nozzles as graters and juicers, of course, do not fit into compartment and require separate storage. Therefore, additional compartment solves the storing problem only partially. Cord storage in housing is especially convenient when the meat grinder is rarely used.
Rubberized feet or sucker reduce vibration and prevent slipping on the table during operation.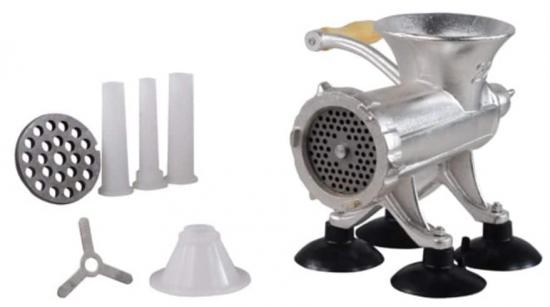 Pasta attachments replace a standard grating for minced meat after removal of the knife. It provides forming the noodles, spaghetti or of classic pasta in the form of tubules. Dough for pasta is preloaded into tray. Form of pasta depends on holes shape on the pasta attachment.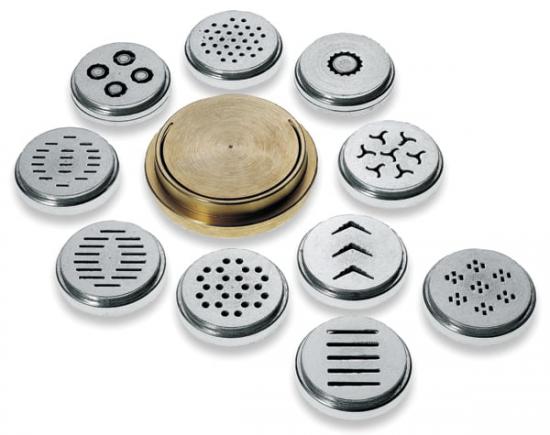 Biscuit attachments work similarly. Such accessory often has different holes to select the shape of the biscuits.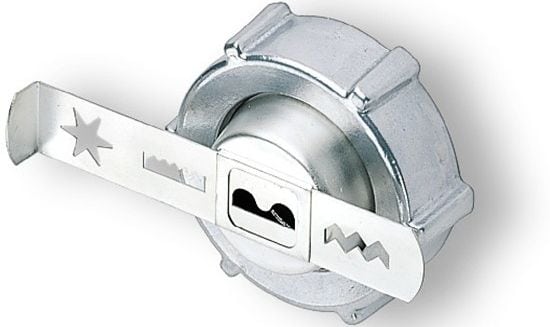 Of course, the composition and the consistency of dough for biscuits and pasta are different. Pasta and biscuits during molding are cut off by hand.
Preparation of sausages and juicing
Preparation of sausages use a long cone.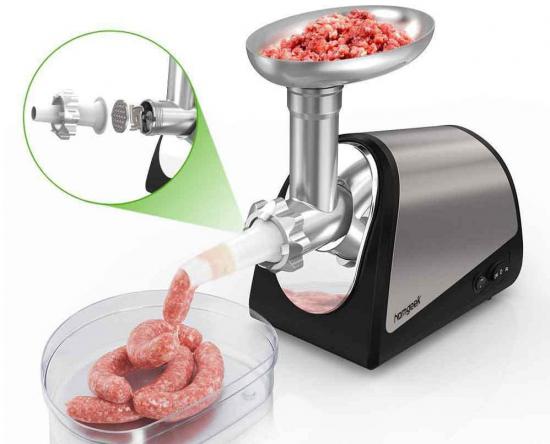 The cone diameter affects the shape and size of sausages. The shell for sausage is collected in the bellows form on the cone.
Modern meat grinders of the middle and upper price segment often provide the juicing function. Such models operate similarly to a conventional auger juicer and often are equipped with additional plastic screw of conical shape.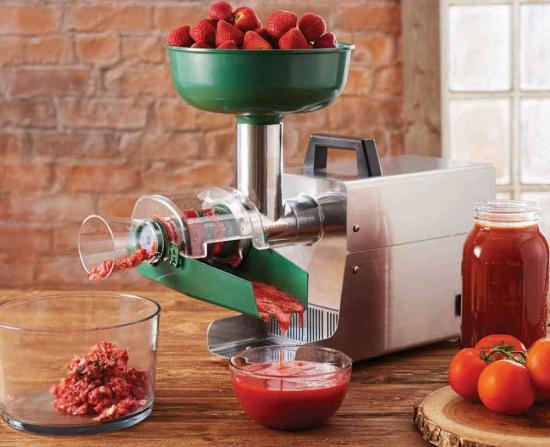 Some models have a press for citrus that is a rotating nozzle with ribbed surface. Half of orange, lemon or grapefruit is manually pressed to a nozzle.
Video demonstrates the operation of multifunctional mincer.