Of course, the meat grinder has long been a mandatory attribute in the kitchen. Moreover, all modern food processors and many other kitchen appliances also support this function. However, only its implementation as a separate device ensures maximum efficiency and performance. Therefore, companies still produce and successfully sell these devices. As a consequence, modern market offers in abundance different meat grinders.

Therefore, the choice of the optimal meat grinder sometimes causes difficulties. Their classification can slightly simplify this task.
Model cost mainly depends on the following factors:
– meat grinder attachment set.
Operating principle, performance and maximum time of continuous operation
Full cooking cycle a mincemeat using meat grinder contains the following steps.
– Initially, meat is cleared from bones and cut into pieces.
– Then, pieces of meat are fed with the help of pusher into screw canal.
– The screw captures a piece of meat, moves it to the rotating knife for cutting and pushes its through a grate in the form of a minced meat.
Of course, meat grinder performance is one of the main parameters and directly depends on the model power. According to this criterion, modern meat grinders are classified as follows:
– low-powered (up to 450 W) – up to 2,5 lb / min;
– average power (from 450 W to 800 W) – up to 3,5 lb / min;
– powerful (800 W or more) – 3,5 lb / min or more.
Of course, maximum time of continuous operation also affects the performance. It's obvious that electric motor heats up during operation and requires cooling. But today this problem is solved by the cyclicality of operation. Unfortunately, many manufacturers do not accentuate the consumer's attention on this aspect for marketing reasons. However, this value significantly affects the model usability.
Of course, almost all modern models are equipped with a special motor protection from overheating and overloading. But it's intended mainly for emergencies. Normal operation assumes the absence of engine overheating.
Of course, cyclicality protects the motor from overheating due to its natural cooling during periodic pauses. Usually, the modern models provide duration of continuous operation from 10 to 15 minutes. But the duration of their cooling reaches 10-20 minutes. Of course, this ratio affects performance and usability. As a rule, the instruction contains this information.
Auger
As known, the auger is a massive metal screw for the meat supply on the knife.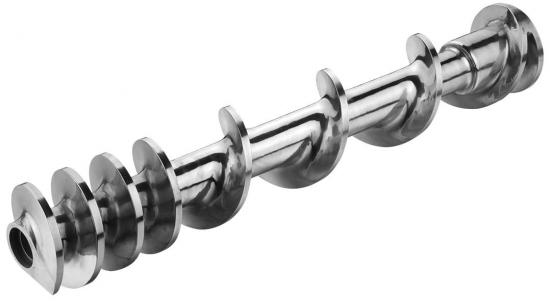 Of course, its shape significantly affects the device efficiency. Today, engineers design them on a PC using special programs.
The knife is placed between the screw and the grate with holes. Of course, the holes diameter affects the consistency of the minced meat and the engine load.
In fact, channel of feeding meat to the screw is a vertical tube with tray for a meat at the upper end. Its lower end is connected to the screw channel.
The screw channel is a horizontal tube with a screw inside. One end of the screw connects with driving shaft of the motor by clutch. But other end for placing a knife and grating has square form.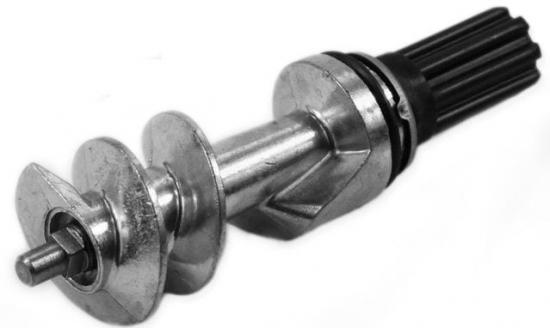 Knife of modern meat grinders is made of high-strength tempered steel. Many manufacturers use a self-sharpening knife but it's significantly more expensive.
Knife for meat grinders has four blades. They are bent in the screw direction and sharpened on one side only.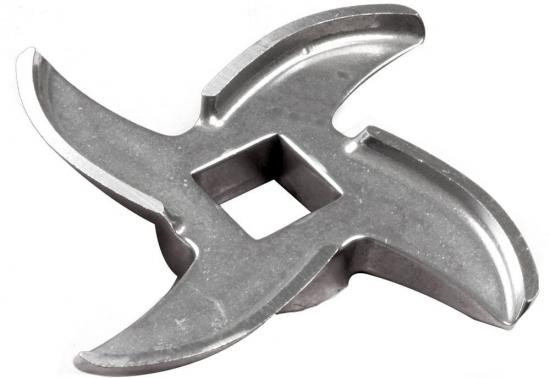 The grating is a perforated plate that connects with a screw by nut.
Diameter of holes differs between manufacturers. But these values are approximately the same. They are equal:
– up to 5 mm – for the soft meat;
– from 5 to 7 mm – average diameter;
– from 7 mm and more – for the hard meat with tendons.
Tray for meat is made of plastic or metal. The pusher is a special tube for pushing the meat to the auger. The body of some models has compartments for storage of nozzles and power cable. Reverse button and switch are usually located on the side panel.
Motor
A motor with reduction gear and drive shaft are placed in a plastic or metal housing.
Electric motor of meat grinders is characterized by nominal and maximum power.
Nominal power is indicated on the certification label. Maximum power corresponds to the maximum permissible load that usually is indicated on the package or housing.
Motor provides the drive shaft rotation with the help of reducer. Coupling with a screw are located on end of shaft. Types of couplings are differ between manufacturers. Today, the companies use the following couplings:
– hexagon (plastic or metal);
– cotter (metal);
– fork (Bosch meat grinders).
Main and additional functions
Low-powered models of the lower price segment mainly provide only cooking a minced meat.
Models of middle segment have usually a few additional features (for example, shredding vegetables, etc.).
More expensive models are equipped with a wide range of different functions (molding a pasta, juicing, etc.). In fact, they differ little from a food processor.
Reverse provides screw rotation in the opposite direction. Reverse pushes the meat from the working chamber into feeding channel. It's conveniently, for example when winding the tendons on shaft. Mode is designed for clearing a screw without disassembling the meat grinders.
This feature is present in almost all modern models.
Meat grinder motor protection protects the motor from overloading and overheating. Today, companies use engine blocking with the help of failure of low-cost plastic parts or automatic power circuit breaker (thermal fuse or thermostat).
The video shows cooking sausages using a powerful modern meat grinder.