Robotic vacuum cleaners have long become a familiar attribute in many apartments. But this high-tech device requires regular care, especially given its constant contact with dirt and dust. Of course, usability significantly affects the choice of any modern device. In turn, this criterion depends on the ease of care. Therefore, almost all companies pay a lot of attention to this aspect. As a result, their efforts significantly simplified this task. As a rule, care for modern models contains a few simple rules and does not require much effort from the user.
Dust box and filter
As known, almost all modern models use a cyclone dust box without a bag for dust and one or several air purification filters. But some previous models still use garbage bags that require periodic replacement.
Usually, the dust collector is removed upwards by pressing the corresponding button on the body, as, for example, in Gutrend or Panda robots. But the iRobot Roomba design provides for its removal from the side.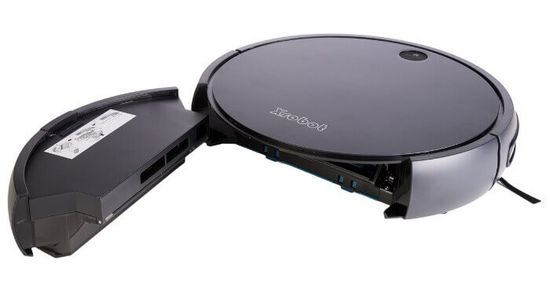 Possibility of washing debris container and filter under water also depends on the brand. For example, the iRobot Roomba dust collectors contain an electric motor. Of course, the use of water is unacceptable. In this case, the user can use only a wet wipe with mandatory drying in the future.
Many models have a special brush to clean the filter. However, it is also effectively cleaned by blowing air flow or a traditional vacuum cleaner.
Usually, companies recommend cleaning the dust collector after each cleaning cycle. But, of course, models with capacious dust box more rarely require emptying. On the other hand, the suction power is inversely proportional to its filling level. Accordingly, the cleaning efficiency is also reduced.
Filter service life is approximately two months with daily cleaning or four to five months with one or two cleanings per week.
Turbo brush and side brushes
Of course, this element performs basic cleaning and requires regular care. In addition, the turbo brush collects hair, threads and pet hair. Some models even use two brushes. Their configuration and installation method depends on the brand and model. But in any case, its effective cleaning requires removal from the device.
Otherwise, care does not provide thorough cleaning. As a result, the hair or threads on the shaft increase the load on the bearings, significantly reducing their lifespan. Of course, replacing a turbo brush comes at a cost. Therefore, many companies complete their models with a special plastic comb or other similar accessory.
Most modern models use one or two side vane brushes for effective cleaning along walls and corners. Of course, they also require regular cleaning, because debris on the shaft increases the load on their electric motor, reducing its useful life.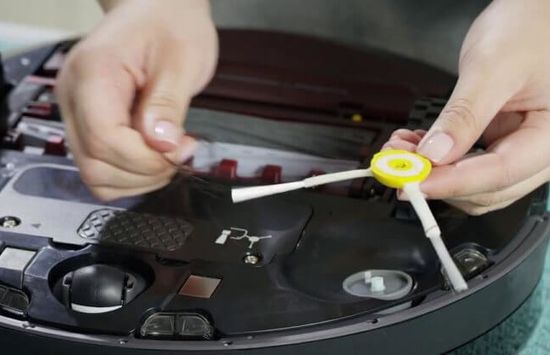 Usually, these brushes are attached with a small screw. The frequency of their cleaning depends on the intensity of use and the availability of pets. As a rule, one cleaning per month ensures their normal operation.
Wheels and optical sensors
Side wheels significantly affect the maneuverability of the robot, which, in turn, affect the cleaning efficiency.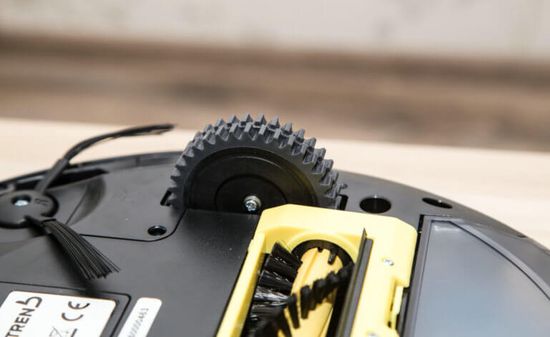 As a rule, modern models use spring-loaded wheels. Their cleaning requires only slight pressure to remove accumulated debris under the wheels.
In addition, debris can block the sensor under the front wheel. Therefore, this wheel also requires regular, but very simple cleaning. Usually, the wheel module is easily removed and inserted into its place after cleaning.
Modern robots use a large number of different optical sensors, including sensors for dust, height difference, etc. For example, the latest Xiaomi models use 12 types of different sensors.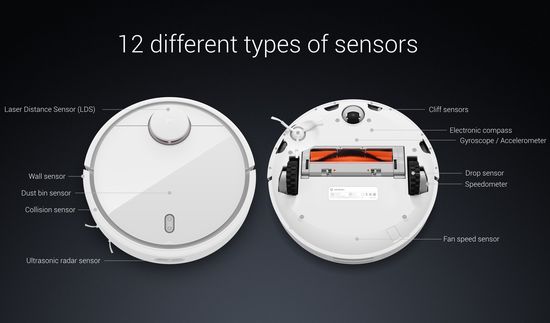 Of course, dust on their surface negatively affects the correctness of their work and provokes errors. But a dry, soft, lint-free cloth perfectly solves this problem.
This video demonstrates cleaning brushes in iRobot Roomba.