The choice of an optimum coffee machine is sometimes difficult due to the abundance of offers on the market. Of course, it depends mainly on the price, functionality of the model and technical characteristics of the device. They, in turn, depend significantly on the type of coffee machine.
Today the market offers several basic types. Bialetti (Moka) coffee maker belongs to one of them. This type of coffee maker is popular for almost a hundred years and today successfully competes with espresso coffee machines and drip coffee machines despite the simplicity of its design.
As known, the prototype of steam coffeemakers first was proposed by Jacques Augustin Gandhi in 1827. Model was consisted of the two containers that were connected by a tube with a filter for coffee. In 1933, Alfonso Bialetti has developed a model called the Moka Express and created a company for their production.
Model got a strict octagonal design and is quickly gained an immense popularity in Europe. Interestingly, this design has remained unchanged to this day.
Today this coffee maker is listed in the Guinness Book of Records as the most popular in world.
The process of making coffee in these models visually recalls a geyser. Therefore, in some countries, the models of this type are known as coffee makers of geyser type.
Design
Modern models use electric heating elements or traditional a heating on gas or electric burner. Brewing coffee uses a filtering principle.
As a rule, the device consists of a metal container for water, a filter-compartment for ground coffee and container for finished coffee.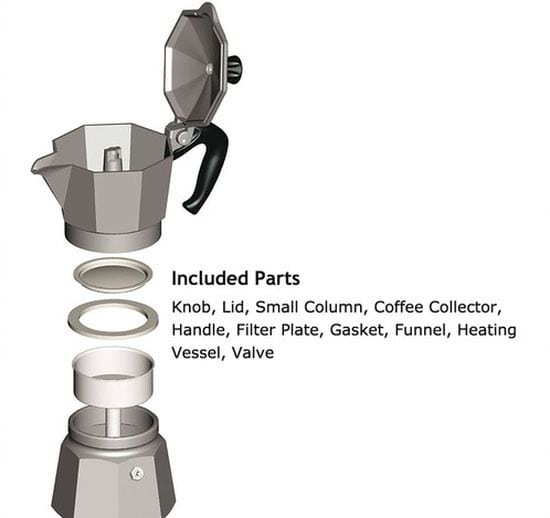 Each model provides a certain amount of servings. What is important, the optimal taste of coffee requires using the entire volume. But of course, the water should not block the overpressure valve.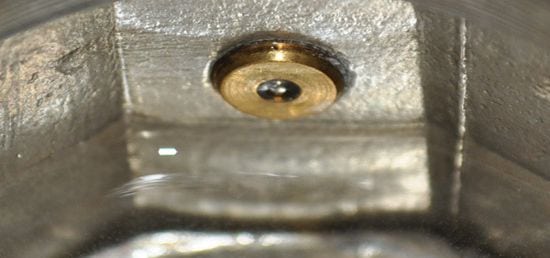 The maximum water level is noted with the help of mark inside device. Today the company offers models with any capacity.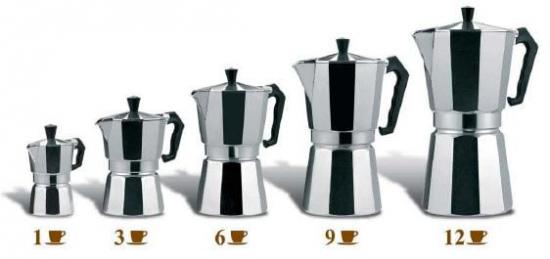 Emergency valve provides pressure relief when blocking water movement through a filter with coffee. Such a situation is possible, for example, when using a very finely ground coffee or its excessive tamping. In this case, water vapor is discharged through an overpressure valve. But several years ago, the Bialetti Company has upgraded system. Engineers added a special rolling spindle for preventive cleaning valve. Usually, this procedure is carried out several times a year during its washing.
Filter with ground coffee is set after filling the water. But the company recommends maximum filling the filter by ground coffee, but without compacting. These models provide the most saturated beverage when using coarse grinding (up to 0.6 mm). Unfortunately, the finely ground coffee quickly clogs the filter. The upper part is mounted to the bottom after filter fixation
Operation
As a rule, coffee brewing process uses low power or a small fire. Initially, the boiling water under steam pressure rises in the tube and passes through the ground coffee in the filter. Then, the water is saturated with the aroma and taste of coffee and gets into top vessel.
The extraction uses only hot water, and steam pushes the water up. This technology improves the taste of the espresso because too high steam temperature reduces its aroma. Therefore, the tube from filter almost reaches the bottom of lower vessel.
This technology provides the more efficient extraction compared to drip method.
Coffee maker provides the pressure of 1.5 bar. Special valve on some models provides increased pressure to 4 bar.
Typically, power of electric models varies 450 – 1000 W and depends on the volume.
Many Bialetti (Moka) have heat-insulated handle, auto-off function, have glass upper vessel and metal filter. Some modern models are equipped with coffee strength adjustment, adjustable thermostat and programmable digital timer.
Pros:
– simplicity and ease to use;
– more saturated taste compared to drip technology;
– good price-performance ratio;
– compactness;
– models without electric heating element can additionally be used as a convenient cookware;
– brewing tea and herbs.
Cons:
– volume of coffee strictly depends on the model sizes;
– aluminum model can provoke the oxidation process that will worsen the taste of coffee;
– beverages with foam are unavailable;
– lack of built-in coffee grinder.
This video illustrates the coffee making using Bialetti (Moka) coffee maker.