Roller models refer to contact grills and are an average option between the Panini grill and a standard grill with skewers. These models are intended for frying food of cylindrical shape (sausages, wieners, etc.). Most modern models are designed for foods with a minimum diameter not less than one inch. The high popularity of hot dogs provides a high demand for such models and affects the decision when choosing a grill.
Some companies have even developed and offer special device for cooking the hot dogs in a conventional grill. Of course, this solution will optimal for many fans of this dish. But, it requires a traditional grill.
Modern models operate at ambient temperatures from -10 to + 35 degrees. This value may be important for sufficiently powerful commercial models that are often used in street trading.
The model performance directly depends on the roller number. The duration of the cooking cycle is about 5-10 minutes at full load. Accordingly, a model with five rollers provides a preparation of 40 frankfurters per hour. Performance of grill with 7 rollers is about 60 sausages per hour. The model performance with 10 rollers reaches 150 sausages per hour.
Of course, this performance is redundant for a small family. Therefore, many companies often realize a roller grill as an additional function in other kitchen appliances.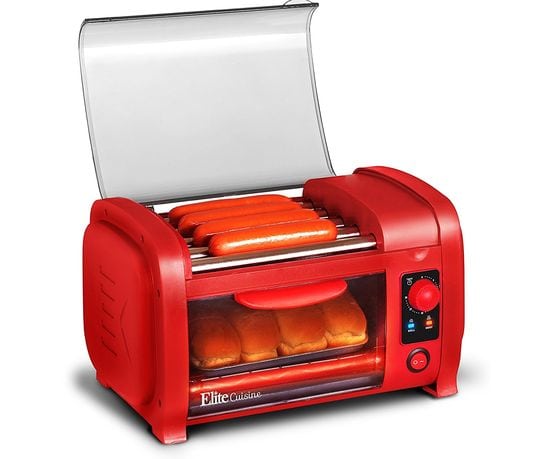 Design
Some models have dual thermostat for heating only part of the roller. This function reduces energy consumption when the sausages length is less compared to roller length.
Sensors and LEDs on the control panel provide control over work of each rollers group and display their condition. Each pair of rollers in more expensive models is controlled separately.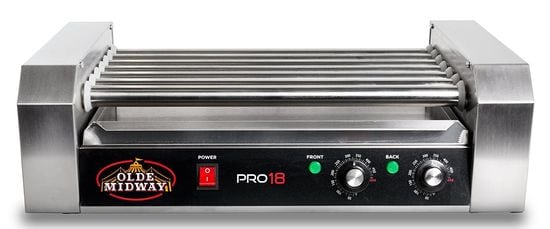 Such models are usually designed for the simultaneous preparation of several sausages that is quite enough for a small family. Additionally, they often have the function of warm up buns for a sandwich or a hot dog.
Working surface consists of small rotating rollers that are made of stainless steel.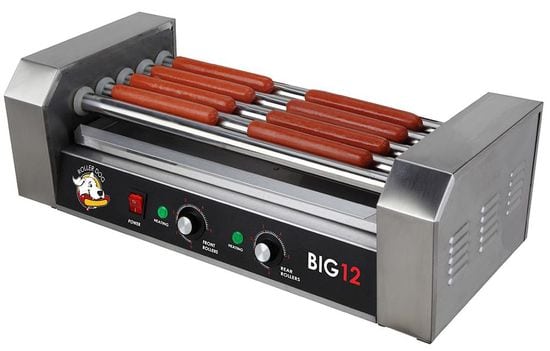 They usually have a Teflon or chrome coating. Household models have from 5 to 15 rollers. Each roller has an integrated individual heating element that heats the roller evenly throughout the length. The thermostat controls the roller temperature. The food is placed in the recesses between the rollers. The powerful drive provides uniform rotation of the rollers. This design provides uniform roasting on all sides. Devices also provide the warm up of finished sausages.
Usually, grill housing is made of heat-resistant stainless steel. The roller temperature varies in range from 50 to 300 degrees. Each roller provides a power from 200 W and more.
Of course, virtually all modern models are equipped with a tray for fat collection. Therefore, their cleaning is simple and convenient.
Wire brush or abrasive cleaners can scratch the coating on rollers. Therefore, manufacturers recommend using only plastic or wooden attachments or soft sponges.
Roller grills are very compact and are well suited for placement in small kitchens.
Today, the Italian Fimar and Mastro companies are among the leaders in this segment.
This video demonstrates the modern model from other very popular brand.