The history of cooking meat on the grill has more than 500 years. Today it's believed that this method of cooking was invented by the Indians of the Dominica Island that is located in the Caribbean Sea. Meat was placed on a wooden grate and fried over the coals. The Indians were called this dish barbacoa that was later transformed into a modern barbecue (BBQ).
The first barbecue restaurant will appear in America only after the First World War. By the way, Henry Ford started his business from the production of coal briquettes for barbecue restaurants. Today, Weber and Char Griller brands are among the leaders in this segment. Some manufacturers give more than 20 years of warranty for their grills that indicates their confidence in the quality and reliability of their products.
Of course, for 500 years, civilization has invented many ways of cooking meat using this technology. Today, the market offers a wide range of different grills. Of course, basically, the price and features affect the choice of a grill. But their classification also can be useful for this purpose.
Modern grills use gas, electricity, charcoal or firewood.
Gas grill
These models have the gas burners under the lattice. They heat the intermediate elements (stones or a metal surface) that transmit the heat to the foods on grate.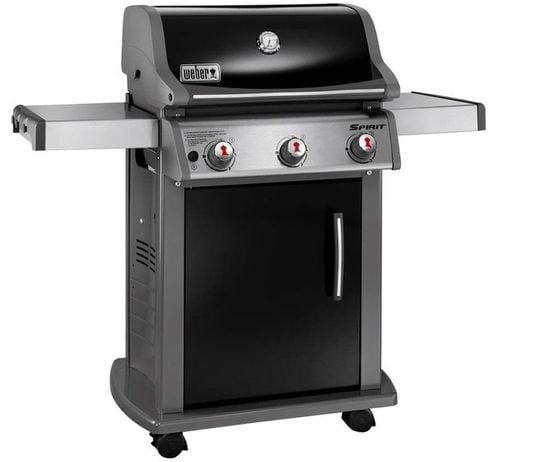 Pros:
– very rapid heating;
– high efficiency.
Cons:
– the need to obtain permission when using the grill in a public place (for example, in retail outlet of fast food);
– gas supply system requires regular diagnostics;
– gas cylinders require regular refueling;
– this grill bad retains heat around the food. Temperature decreases rapidly after switching off the burners;
– the failure of the gas supply system can be accompanied by the spread of harmful substances with an unpleasant odor.
Electric grill
Electric grills are much more popular compared to gas models. These models use electric heating elements or quartz lamps. Their location depends on the model design.
Electric grills are often equipped with intermediate elements for heat transfer. For example, lava grills use the lava stones with a diameter up to 1 inch.
Pros:
– cooking practically does not require the addition of fats and vegetable oils;
– absence of toxic resins during burning wood provides high ecological compatibility of electric grills;
– many models additionally provide defrosting, cooking pies, warm up and stewing modes;
– short cooking time;
– odorless during cooking;
– usability. p>
Cons:
– poorly suited for cooking vegetables;
– grill provides a lower cooking temperature compared to open flame. Therefore, the heat treatment inside the meat is less intense;
– absence of the characteristic flavor from smoke; p>
– high power consumption.
Heat treatment in electric grills
Modern electric models use contact or non-contact heating.
BBQ grills, Panini grills, frying surfaces, small roller grills use direct contact between the surfaces of heating element and food for heating. Such models are classified as contact grills.

Steam grills and grills-salamander, models with skewers or rotary (carrousel) chickens grills use a non-contact heating method with the help of infrared radiation or steam. These models are classified as non-contact grills.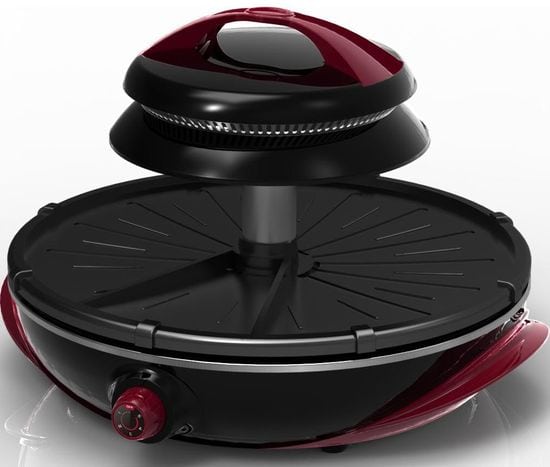 Contact models provide a more rapid cooking due to direct contact with food. Additionally, this method provides a uniform heating the foods surface due to lack of cold zones. Therefore, vegetables, fish and meat are always juicy.
Contactless grill provides characteristic crispy crust and retain almost all useful properties. These devices are well suited for fish, chicken and kebabs. The street trade, fast food outlets, halls of shopping centers or cafes often use such models.
Charcoal grill
The charcoal grill uses the heat of hot coals. The lid is its main difference from the brazier.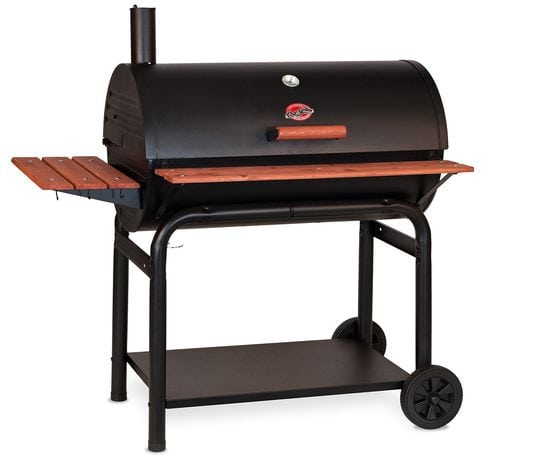 Pros:
– many like the smoke flavor of a barbecue;
– cooking in any weather;
– smoking meat;
– high thermal inertia provides warm up for a long period;
– uniform heat treatment of the entire surface.
Cons:
– difficult cleaning.
Models of the upper price segment often have non-stick coating that eliminates the food sticking. The special charcoal completely burns, leaving no ash.
– large dimensions.
These models are designed for cooking barbecue mostly outdoors.
This video demonstrates top 5 best Charcoal Grill.