The popularity for a healthy lifestyle and healthy nutrition is stable for several decades. Steam cooking fits perfectly into this trend. This method is accompanied by minimal losses of useful vitamins and minerals. Of course, companies respond adequately to increased demand. Over this period, companies have developed a large number of different kitchen appliances based on this technology. Many devices support this heat treatment technology with the help of cooking modes. For example, this mode is available in many modern multi cookers. Steam grill expanded the range of available grills. Of course, these devices have their own features that affect the grill functionality and, accordingly, should be taken into account when choosing the optimal grill.
Steam grill uses principle of steaming. The foods are placed on grate of stainless food steel.
This material is completely safe and is very durable. Tray with water is under the surface. Water is heated with the help of electric heating elements. Boiling water forms steam that provides a heat-transfer. It performs the function of the intermediate heat carrier. Steam envelops foods on the grill and transmits heat. This provides a uniform heat treatment of entire food surface. Excess fat drains in tray with water. The need for additional ventilation is absent due to lack of smoke at this cooking method.
Today, these devices have several names. The companies call them steam grills, vapor grills, vapo grills or grillvapor.
Stewed foods practically do not lose weight, remain juicy and retain all the vitamins and nutrients.
Dishes have a characteristic gentle aroma and appetizing taste. Steam grill is intended for roasting meat, cooking the grilling fish or vegetables and is very convenient for warm up of sandwiches or other dishes.
Working temperature of this grill varies from 45 to 400 degrees.
Design
The device is installed on a table or on a stationary stand. Of course, desktop version is very compact and lightweight.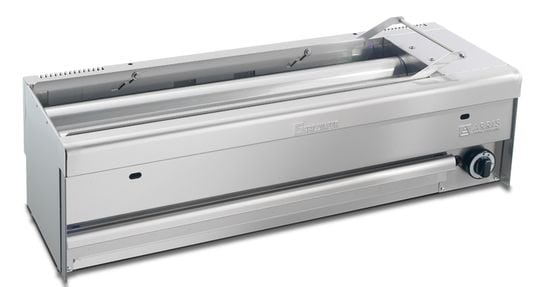 Some models use a connection to water and sewage systems.
Usually, controls include stepper switch for temperature adjustment of the heating elements and several LEDs for visual control.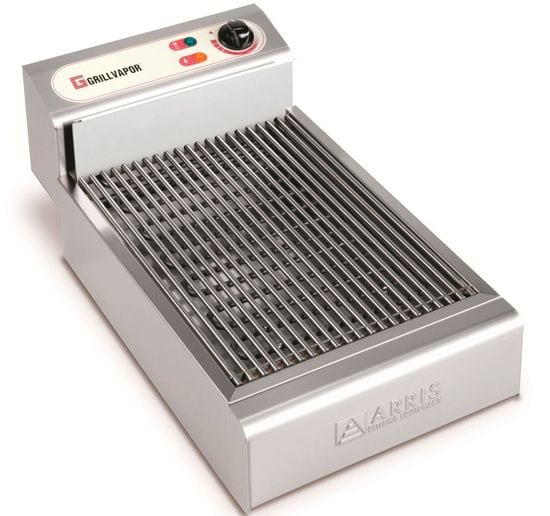 Some models use a special lid for protection from possible splattering fat in the cooking process. p>
Models of top price segment can use temperature probe for control of readiness degree inside food.
The presence of two or more surfaces for frying in some professional models provides a significant increase in productivity.
Temperature probe and two surfaces for frying are realized, for example, in OVERGRILL model.
These grills are manufactured by the Italian ARRIS Company that is one of the leaders in this segment. Intuitive control panel provides independent temperature control for each grate that significantly expands the possibilities of this model. For example, heating only the upper grate ensures the Gratin effect that provides brown, crusty surface of finished dish. The distance between the surfaces is adjusted by electronics depending on food thickness. Additionally, this model does not require upturning dishes during cooking. Cooking with the help of such grill is shown on the video at the end.
Some powerful models use electric heating elements of high power from Incoloy stainless alloy. Such models have the electronic power adjustment.
The power of modern models varies from a few kW to 12 kW and above in commercial models.
Heating elements in powerful models often can rotate for easier cleaning.
Today, the vapor grills are widely used in the home kitchen, in the kitchens of restaurants, cafes, bars, in retail outlets of fast food, etc.