The heat from coals is used for cooking barbecue for more than 500 years. This method of cooking was invented by the Indians of the Dominica Island. Of course, they could use only tree branches as a grate. But the result was still excellent. European colonists quickly mastered this technology. Since then, the popularity of the grill has been rapidly spreading around the world, enriching the culinary traditions of different peoples.
Today, the grill is one of the most popular devices. High demand stimulates companies to constantly improve their models, actively using innovative technologies. The assortment of modern models includes BBQ grills, Panini grills, frying surfaces, roller grills, Vapor grills, salamander grills, models with skewers or rotary (carrousel) chickens grills, etc. Key features of each type simplify the task of selecting the optimal grill, taking into account its capabilities.
Material
The case of modern models is made of stainless steel or plastic. Electric heating elements in models of closed type are more reliably protected against the penetration of fat during cooking.
Material significantly affects the cost. Stainless steel is durable, long retains operational properties, is resistant to mechanical stress and is easily cleaned.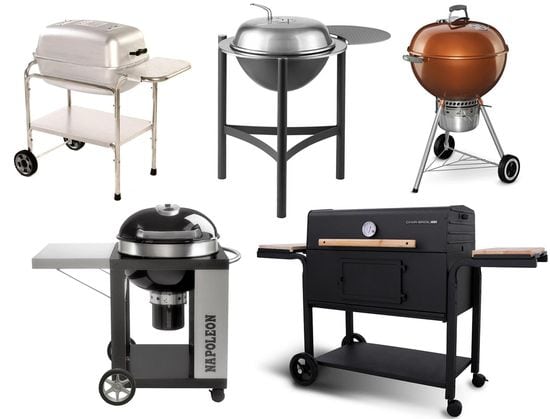 Such models are more expensive compared to plastic.
Compact models often use a body made of heat-resistant plastic. They are lightweight, available in a wide color range, easy to clean and cheaper than metal models.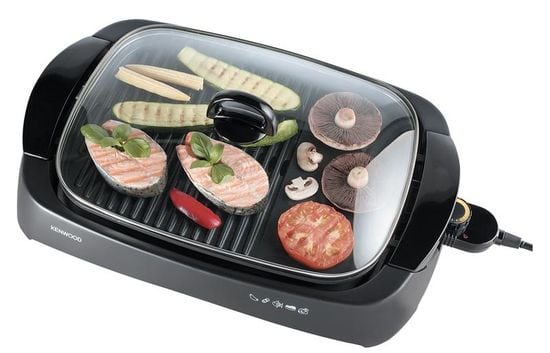 Panels for frying are made from cast iron (often of strengthened formula), ceramic or stainless steel. The panels of virtually all modern models have a non-stick coating. Cast iron and ceramics are more expensive compared to stainless steel. In addition, ceramics completely eliminates the sticking of food. These models belong to the upper price segment.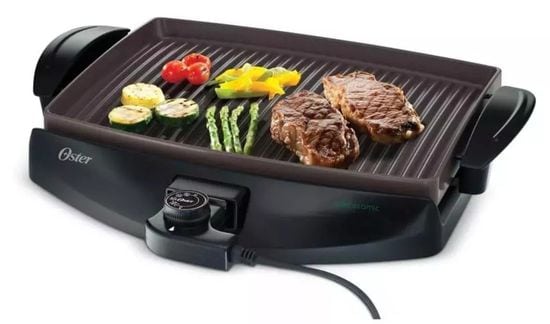 Today, the market also offers a special ceramic tile for the grill that significantly improves its thermal properties. The video at the end convincingly demonstrates this technology.
Power
Grill power is one of the main characteristics. It varies in a wide range from a few hundred watts to 10 kW and more in professional models. Power directly affects the cooking time. The average cooking time for the contact grill is from 10 to 15 minutes. p>
Power of 0.7 kW is quite enough for cooking on 3-4 people. Therefore, the models with a power from 0.7 to 3 kW are very popular as a grill for home cooking.
Powerful grills are mainly used in large cafes for cooking raw meat. Of course, the power consumption of powerful models is very significant. Low-power models are well suited for cooking semi-finished products and vegetables.
Temperature adjustment
The thermostat provides a smooth lowering or increasing temperature and reduces the risk of food sticking. But this feature often absent in the budget models. The temperature in the grill without thermostat decreases only after the device is turned off. p>
The maximum temperature during cooking in the modern models reaches 300 degrees.
Frying surface
Of course, the working surface area directly affects the model performance. Therefore, some grills have several surfaces. This solution further expands the possibilities of grill, providing simultaneous frying the several different dishes.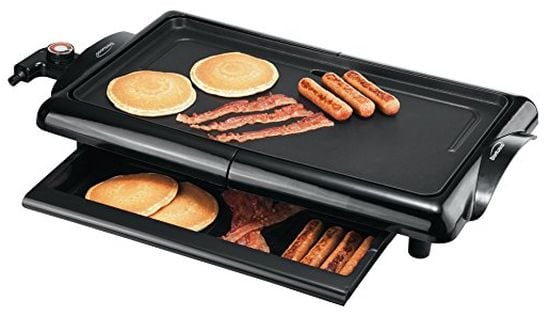 Many such models have a separate electric heater for each panel. This feature significantly reduces cooking time and energy consumption.
Model with the working surface of about 200 square inches is convenient for cooking on 4 people.
Many models use combined surface that is divided on sectors with a smooth and grooved surface. Such models are sometimes called by combined. Such design provides choice of optimal surface for different foods.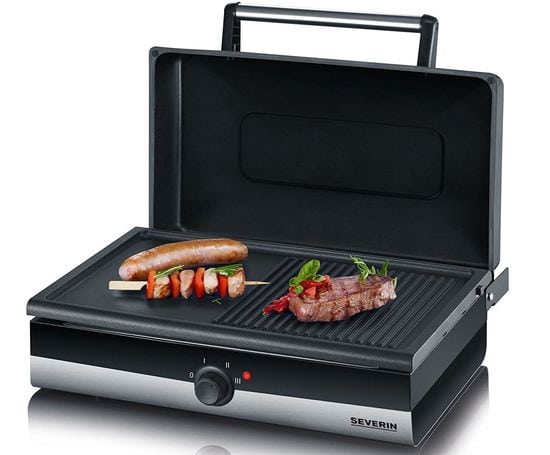 Automatic adjustment of mechanical pressure from the upper plate side
Many modern grills provide automatic control for pressure of upper plate on food. The upper plate in these models is mounted with the help of special springs that provide adapting a grill for food with different thicknesses. This feature provides the optimum level of roasting and significantly improves the device usability.
Tray, safety, tilt adjustment and controls
Tray for collecting fat simplifies the grill cleaning.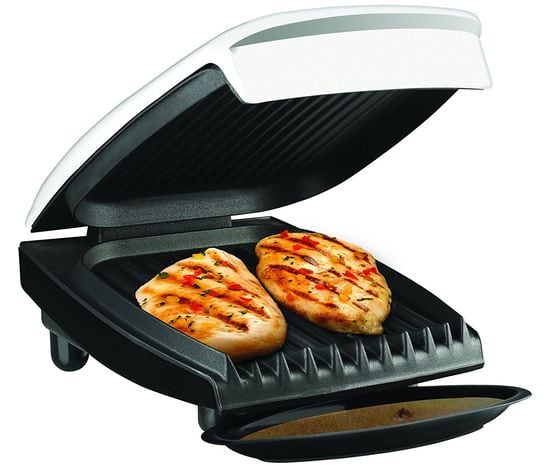 Handles of a material with low thermal conductivity minimizes the risk of burning during cooking.
Special counterweights in some models exclude the possibility of a sudden drop of top cover when the hands are in the device.
Tilt adjustment provides tilt adjustment of working surface that very convenient for cooking the dietary dishes. Fat flows down an inclined plane into the tray. This function is implemented, for example, in BORK G800 grill.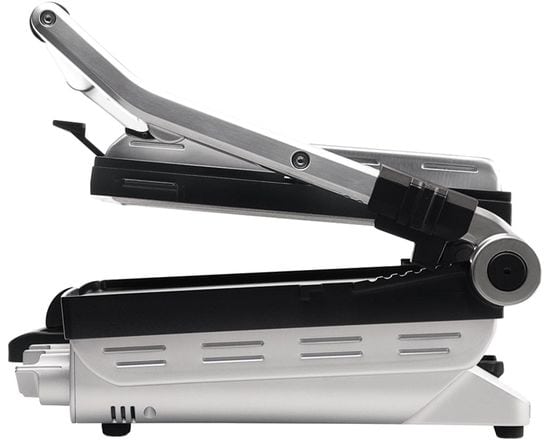 Indicators greatly simplify the cooking process. Grills with electronic controls are often equipped with control of convection speed, have sensors of temperature for lower and upper heating elements, on / off timers, etc.