High popularity in this segment encourages companies to constantly improve their models through various innovative technologies. Of course, expanding the functionality increases their competitiveness, which is one of the main criteria for choosing the optimal model. Therefore, the market constantly offers models with new engineering solutions. USB fridge and frigobar are a compelling illustration of this trend.
USB fridge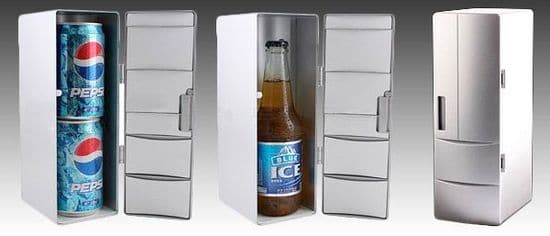 In the modern world, computer has become an indispensable attribute of most people. Companies reacted quite adequately and offered new accessories, including a miniature USB fridge. These devices are connected to the computer via USB port and work under its control.
Of course their capacity is very small. Such model usually is designed for cooling the several beer cans with a volume of 0.33 liters. Miniature fridge is very compact and light. The average size of these devices is 8 x 4 x 4 inches. Weight is from 300 to 350 grams. Models cost about $ 30.
Some models are also equipped with heating mode that is designed for heating beverages. It's comfortable, for example, in the winter.
Modern models are usually equipped with a USB connector, a switch, a fan and cooling / warming board.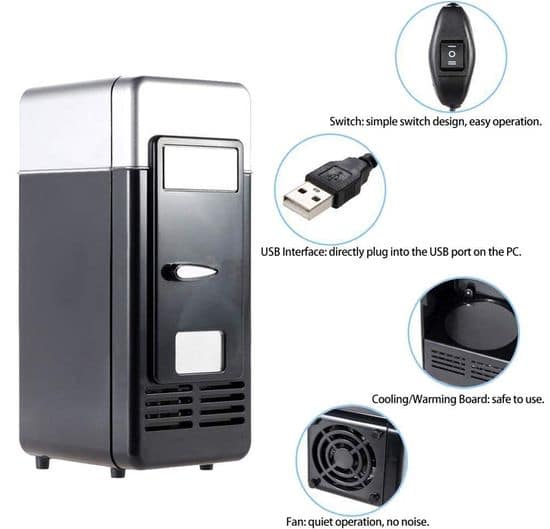 The video at the end demonstrates its capabilities.
USB fridge features
1. This device does not require any drivers or installation. The gadget is compatible with any operating system and is ready for use after connection to any USB port of PC or laptop.
2. The cooling rate to the desired temperature depends on the number of chambers and the power of the model. Manufacturers usually declare 5-10 minutes. But a small voltage of 5 V and current of 500 mA does not always provide such performance. Connecting to a PC of more powerful device can damage the USB port.
Frigobar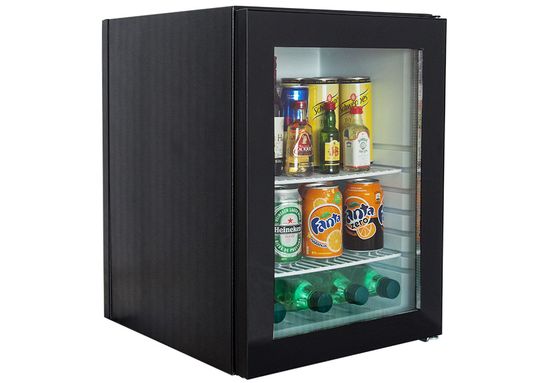 This fridge is very compact, fits easily on any countertop and works like a normal fridge. In fact, this is a miniature copy of fridge with shelves and compartments inside. The sizes of compartments and shelves are designed for various bottles and cans for drinks.
Some models are equipped with a small freezer for forms with ice, etc.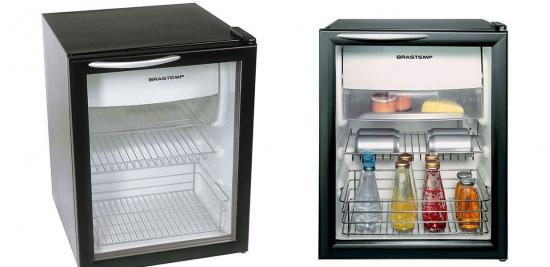 Automatic defrosting is present in most modern models that greatly facilitates the care.
These fridges have some specific features. For example, most models use ammonia as a refrigerant instead of freon. This refrigerant provides very quiet operation of the device. Its noise level is only 30 dB.
Thermoelectric models operate without refrigerant. Lowering the temperature is carried out due to Peltier effect. They are completely silent and can work in any position. Many models support the heating mode.
Dependence of temperature inside the working chamber from ambient temperature fluctuations is the main drawback of these models. These devices have a substantially longer life, but require the use of batteries, which increases their operation cost. The lack of temperature control is another disadvantage.
Today, thermoelectric fridges are very popular as a portable car frigobars and can be plugged into the car cigarette lighter.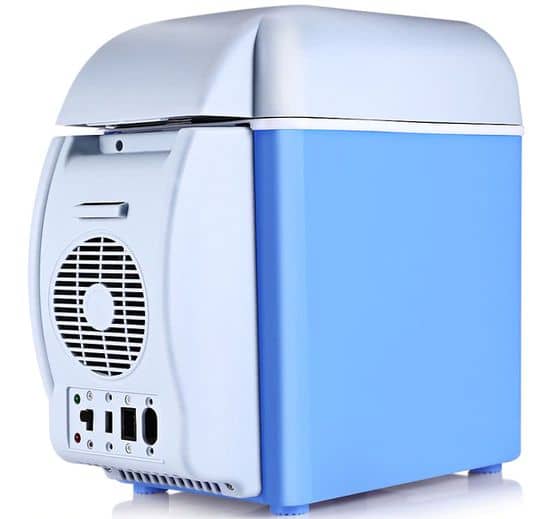 Modern models provide the optimal humidity, constant temperature and the ventilation inside the chamber, and often support warming mode.
Design
Most models are easily installed in cabinet furniture, can be located behind the decorative facades of cabinets or under the coffee table.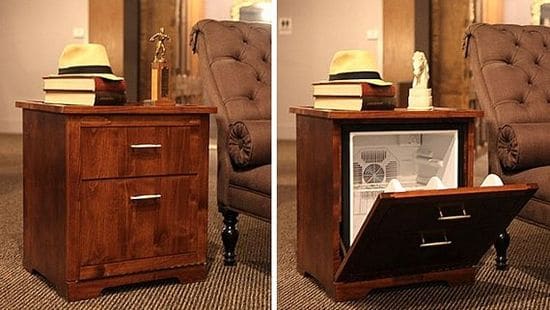 Manufacturers also produce corner models.
Some frigobars are equipped with wheels. Such models are easily moved indoors even with drinks and very comfortable for parties.
Many models have a glass door for viewing the contents. Their design compares favorably with opaque doors. Of course, this factor is not important for the built in models that usually are opaque.