High level of competition stimulates the companies to constantly expand the functionality of its models that directly affects the decision of the consumer when choosing a wall oven. Wall ovens with microwave function are an example of this trend.
Such combined models differ from traditional ovens by magnetron presence that is the source (generator) of microwave radiation.
This engineering solution saves space in the kitchen. Performance, functionality and coating materials are similar to traditional ovens. Combined ovens operate in the oven mode or in the microwave mode. Oven can use gas or electricity.
Basically, such models have a common control panel for the oven and microwave.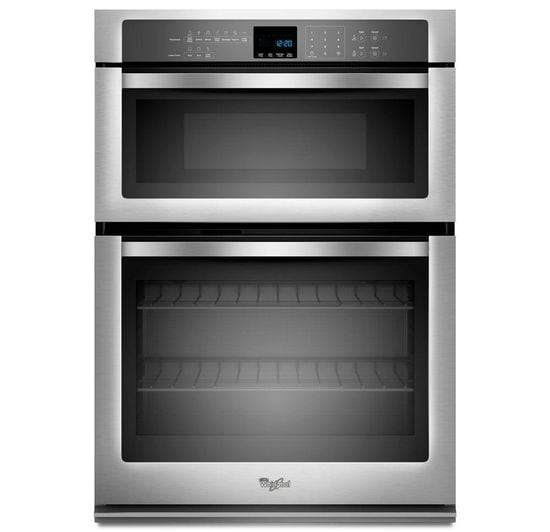 But models with separate control panels are also not rare.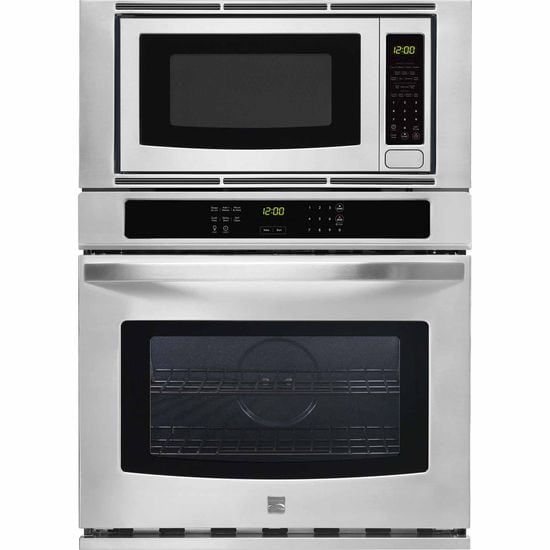 Manufacturers also produce compact versions of such devices. They have a lower height and, of course, a smaller volume of working chamber.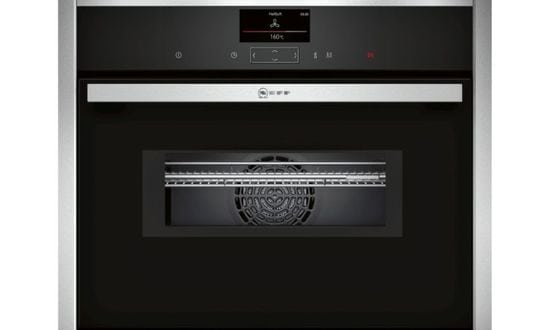 The standard height of conventional oven is 23,6 in. The height of compact models, usually, does not exceed 18 in. Accordingly, almost 6 in free space can be used, for example, for drawer with cookware or for cleaners.
Saving space in the kitchen is the main advantage of combined models. The drawback list is broader, but their significance is subjective enough in terms of usability.
Main cons
Volume of the inner oven chamber.
Magnetron is located in the inner chamber of oven and much reduces its useful volume. The oven of such models usually has not more than two levels. Simultaneous preparation on the first and second levels is problematic in many cases. These models also often have height restrictions for cookware.
Price
Today, budget models with a feature microwave are virtually absent. Traditional oven without such function about is two times cheaper.
Placement
Traditional countertop height is 33,5 in. Ovens are usually embedded in the headset under the work surface. Therefore, a microwave module height in embedded models is significantly lower. Accordingly, a user with the average growth should regularly bend down when using the microwave chamber.
Range
Today, market offers traditional and combined models in a ratio of 100 to 1. The lineups with gas oven or with a separate control are yet smaller. Therefore, choice is very limited.
Models only with basic functions of microwave are virtually absent. Virtually all such devices have enhanced functionality, which, of course, affects the price. This factor also limits the choice.
The color gamma of these models is quite modest. Companies mainly offers a black, silver, brown, gray, beige or white color.
Repair
This is a common problem of all the combined devices. Damage of one module often deprives the user of possibility to use a serviceable block during repairs.
The functionality of models with microwave do not differ from conventional models. They are support the functions of convection, self-cleaning etc. The equipment is also similar. Devices have temperature probe, electronic timer, the child lock system etc.
Safety is also similar to traditional device. It has a standard protection system from microwave radiation. Protective casing and the door with fine-meshed metal grid reliably protect people from microwave radiation. Opening the door automatically locks the generation of microwave radiation in a magnetron. Material furniture in built-in models is an additional protection against radiation. But the wave penetration depth is only 0,6 in. Therefore, the standard protection provides complete safety even without this factor.
Cleaning technologies
The many foods abundantly exude fat and juice during the heat treatment that often flow down on inner oven surface. Therefore, the cleaning the oven is very relevant. Manufacturers have made significant efforts to solve this problem. Today, the following systems and methods of cleaning are the most popular:
– catalytic cleaning system;
– enamel easy cleaning;
– pyrolytic cleaning;
– steam cleaning.
Catalytic enamel effectively absorbs the fat with the help of oxidation process.
The enamel of easy cleaning has a special chemical composition that provides a high resistance to acids and high temperatures. It's durable and has a smooth surface. Cleaning is carried out with the help of water and a conventional detergent.
Pyrolytic method heats oven up to 500 degrees. All fat is burned and is turning to ashes. It's removed by damp cloth after cooling the oven. Such models have special coating by pyrolytic enamel.
The steam method uses steam for cleaning the inside oven chamber.
Video demonstrates the best wall oven microwave combo.