The frying pan is one of the oldest kitchen devices. Most national kitchens use it as the main kitchen equipment for cooking. Of course, today the market offers a wide range of modern devices, including different multy-cookers, grills, etc. However, the popularity of pans does not decrease. Moreover, some traditional frying pan successfully competes with the more modern Electric Skillet. For example, the popularity of the carbon steel fry pans or frying pans for flambe cooking even increases in recent decades. But, of course, most people prefer modern, more functional models.
Design
Modern Electric Skillet provides frying, stewing and roasting modes.
Usually, they use thermal or infrared heating elements as a heat source. Typically, manufacturers put heating elements under the bottom or into lid of the device. Of course, they are fully hermetically and not in contact with food. Modern models often have two heating elements, under the bottom and in the lid. For example, most modern grills use such design.
Almost all modern Electric Skillets have integrated thermostat for power control. It ensures an even distribution of heat throughout the surface to achieve and maintain the desired temperature. Of course, the optimal thermal mode is important for cooking.
Models of the upper price segment have often pre-setting cooking programs, providing automation of this process.
Typically, companies use materials with low thermal conductivity for handles to prevent burns of hands and heat-resistant tempered glass for lid with hole for steam output. Additionally, such transparent lid provides visual control the cooking process.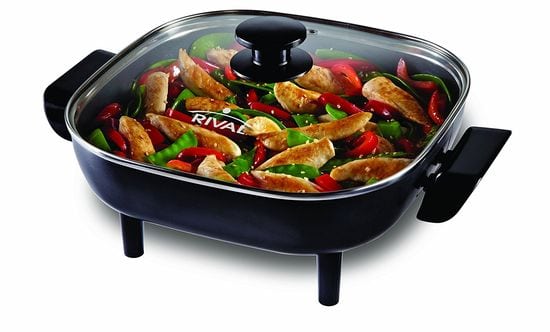 Most often, frying pans have circular, square or rectangular shape.
The working surface size varies over a wide range. But round models with a diameter from 12 to 14 inches are most common. Depth depends on functional purpose of model. For example, crepe makers does not have sidewalls, that is most convenient when making pancakes.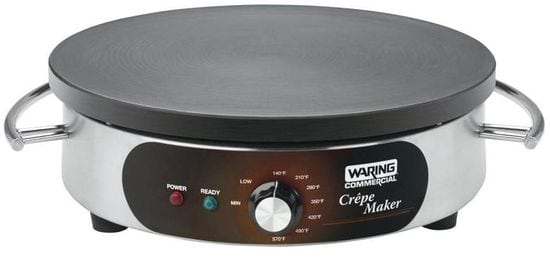 Main technical values
Depth of WOK models reaches of 3 inches. Such cookware is designed for cooking stewed vegetables and meat.
The most common capacity of modern household models is approximately 3.5 liters. Power varies from 800 to 1500 W.
Many modern models have Thermo-Spot Heat Indicator.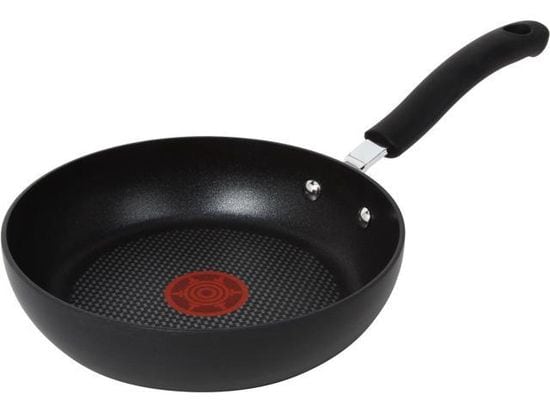 This point inside non-stick coating changes color at a temperature of 180 °C, warning of a possible overheating of the surface.
All modern cookware has non stick coating to prevent food burning.
Of course, material and quality of coating significantly affects the service life, the consumer properties and cost.
Classification
The list of modern frying pans contains several main types by purpose.
Universal
Universal models provide frying and stewing the different foods for very wide range of dishes.
Crepe maker
These models with a thick flat bottom do not have sidewalls for convenient overturning the pancakes. Cooking the pancakes uses a very small amount of oil. Therefore, these models usually have very quality non-stick coating.
Elliptical models
Elliptical models are intended mainly for cooking whole fish.
WOK frying pans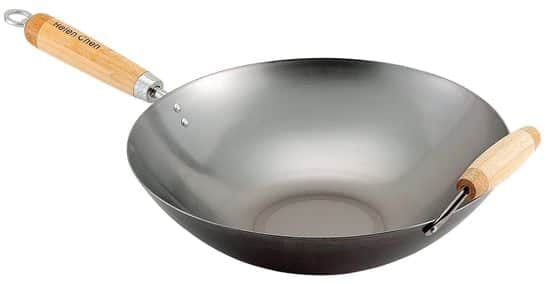 WOK – frying pans were invented in ancient China 2,000 years ago. They are designed for quick frying in boiling oil and represent a deep frying pan with high sloped walls. This cooking is known as Stir-Fry (Cantonese cuisine). It's ideal for quick frying small pieces of meat, fish, vegetables, etc. Such cooking better preserves the useful properties of the food, their texture and flavor.
These models have a ribbed bottom for forming the crispy crusts on the foods surface during cooking.
Flambe
Such cookery envisages a short-term processing by open fire of the food surface. Models with long handle of cast iron or steel are optimal for cooking flambe.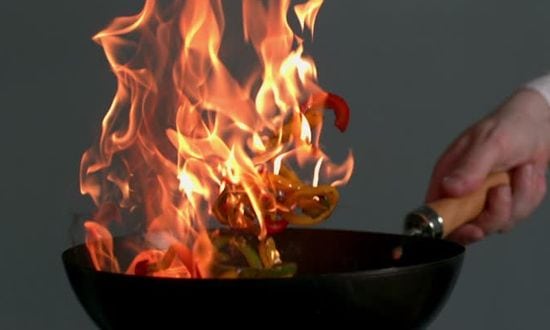 Material
The stainless steel, cast iron and aluminum alloys are the most common materials for frying pans. Some models use a combination of different materials.
Cast iron
Models of cast iron are very popular. It's ecologically safe, mechanically strong, easily withstands the high temperature and has a high thermal conductivity. The composition of this material is constantly improving. Today, cast iron is the most wear-resistant material.
Additionally, it has a good non-stick properties and does not emit harmful substances even when overheated.
Bottom of a cast iron frying pan is heated very evenly.
Great weight and features of care are the only drawbacks of this material. Weight negatively affects the usability. Long contact with water causes the rust of iron. Therefore, manufacturers recommend the use of special non-aggressive cleaners for cleaning the cast iron cookware.
Stainless steel
Such models look very aesthetically. This is a very practical material. Stainless steel is resistant to oxidation, good keeps vitamins and food taste during cooking. This material is chemically inert and is safe for human health. The working surface is made of special heat-resistant stainless steel. These models are lightweight, comfortable and easy to clean.
Relatively low thermal conductivity and the weak non-stick properties of stainless steel are major drawbacks. Multi-layer bottom with inserts of aluminum and copper much decreases these drawbacks. But this technology significantly increases the models cost.
Such cookware has some features. Its surface can covered with divorces when using abrasives or at prolonged heating without food. Stainless steel also contains nickel that can cause allergic reactions in some people.
Some manufacturers use the steel with high carbon content.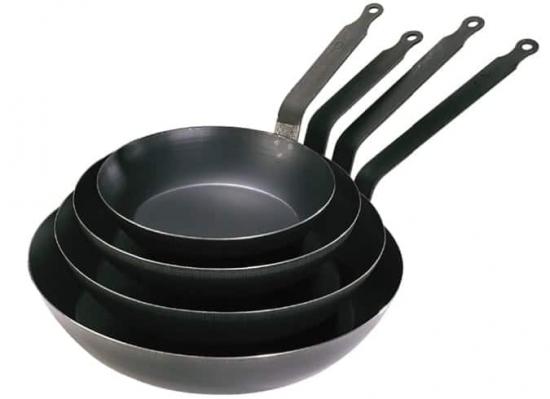 This grade is called the blue steel. Carbon steel fry pans are often classified as commercial cookware and have specific pros and cons.
Aluminum
Well polished aluminum has a high thermal conductivity and the good non-stick properties. Today companies actively use a variety aluminum alloys in the cookware. These models are very lightweight and easy to use.
This video demonstrates cooking with electric skillet.