The epidemic has changed the lifestyle of many people. Remote work has made cooking in the home kitchen popular again. As a result, the discussion about pros & cons gas vs electric vs induction cooktops has become relevant again. Their pros and cons have been repeatedly discussed and are well known.
Induction cooktop pros
Most modern electric cooktops have a smooth glass-ceramic surface with heating elements underneath. They heat up and radiate heat to hob surface. In turn, its surface transfers heat to the cookware, which transfers it further to the food.
Induction cooktops use electromagnetic induction. In this case, the electric current in the coiled copper wires under the hob surface generates a current in the cookware, causing them to heat up. But of course, its material must have ferromagnetic properties.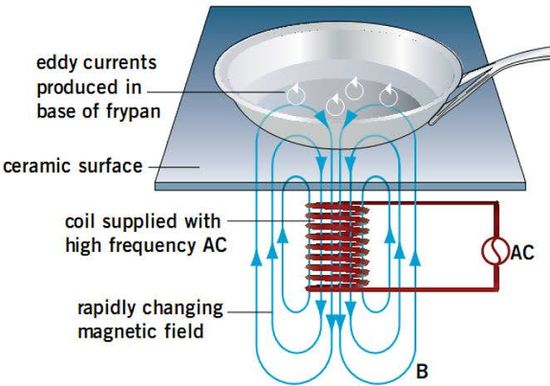 In fact, the absence of intermediate heat transfer through the hob surface causes the main induction hob pros.
Pros
– unlike electric models, gas and induction stoves instantly respond to the adjustment of the burner power;
– the simplest possible cleaning the glass-ceramic surface (wiping with a damp cloth is quite sufficient);
– the safest cooking (no gas leaks and low temperature of glass-ceramic surface). Moreover, an erroneously turned on induction element does not heat up in the absence of ferromagnetic dishes on the surface;
– glass-ceramic surface of induction cooktop quickly heats up and cools down;
– the induction technology provides high accuracy of temperature control;
– high energy efficiency.
The glass-ceramic surface provides до 90% efficient vs 50% of the generated heat by gas model. This is due to the absence of heat dissipation in the air gap between the burner and the bottom of the cookware. In addition, the electricity consumption of induction cooktops is approximately 5-10% lower compared to electric cooktops.
Of course, high energy efficiency speeds up the heating and boiling time. Manufacturers of induction cooktops have repeatedly and convincingly demonstrated this aspect.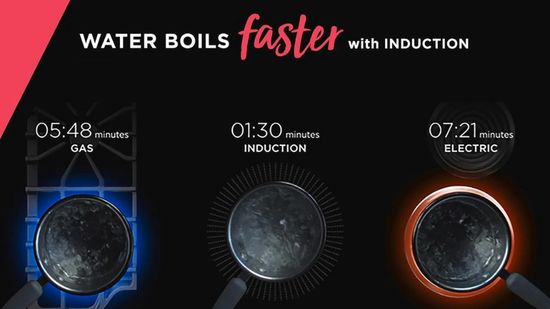 Cons
Like other innovations, the evolution of induction cooktops has gone through several stages. Initially, many predicted that these models would quickly replace gas and electric hobs. But a fairly wide list of cons, including a high price, requirements for cookware, etc, corrected these forecasts. Novelties have only taken their place in this segment. However, they quite successfully compete with traditional hobs.
The manufacturers have significantly advanced this technology, but some cons remain.
Cons:
– aluminum or cooper pots and pans are not suitable for induction cooktop.
Usually, modern cookware of cast iron (including enameled cast iron) and stainless steel can be operated with induction. Checking is very simple. Sticking a magnet to it means the presence of ferromagnetic properties and, accordingly, the possibility of using it on an induction cooktop. But the price of utensils made of ferromagnetic material has decreased significantly, reducing the importance of this factor;
– design.
Modern black glass induction cookers are in perfect harmony with the kitchen, the interior of which is designed in a modern style.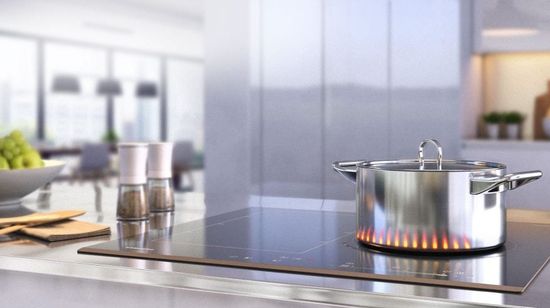 But it's not always suitable for traditional décor such as, for example, American country style;
– the heating uniformity depends on the shape of pots / pans bottom. Flat bottom ensures perfect distribution. An uneven bottom or different sizes of the cookware bottom and the burner may cause a slight noise during cooking;
– limited size.
The largest model is only 36 inches;
– the cooling fan generates noise;
– glass-ceramic surface has low resistance to mechanical stress. Unlike gas models with gratings, it can be scratched or cracked by accidental impact with a heavy frying pan;
– induction cookers are more expensive vs electric and gas cooktops. But today their prices have been dropping, and companies offer many models for around $ 1,000.
Popular models
Some models are most often present in various top lists.
GE Profile PHS930YPFS
Priced around $ 3,000, this free-standing slide-in 30-inch electric convection and induction model offers just about every modern feature, including:
– 5.3 cu. ft. capacity;
– built Wi-Fi (control via smartphone);
– 'chef connect' mode;
– light and vent for microwave;
– powerful 11-in 3700W induction element (a liter of water boils in 101 seconds);
– 2x 8-in 2500W synchronized elements (combines 2 elements to evenly heat large cookware);
– C° / F° programmable;
– auto self clean and steam clean, etc.
In addition, it also has the Hestan Cue guided cooking system which is compatible with Hestan cookware. As known, Hestan Cue system connects to your smartphone that communicates with built-in sensors in both the pan and induction cooktop.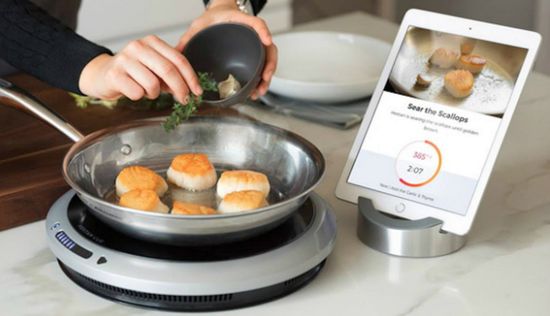 The 30-inch Frigidaire GCRI3058AF with a nice large oven and Air Fry for around $ 1,300 is very popular in the budget segment.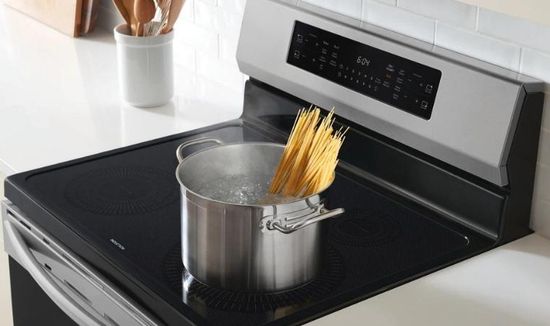 The Miele HR16222i offers lots of unique features, including the ability to boost power to each of the elements, MasterChef cooking system with pre-install recipes, a wireless temperature probe, etc. But its price reaches $ 8,000.
At around $ 2,300, the Bosch NIT8060UC 800 series has great value for money.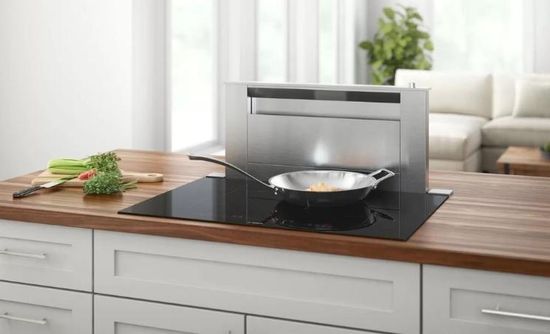 Its four powerful elements with 17 heat settings can be used at very low heat.
The Thermador CIT30YWBB will appeal to progressives. Its price goes up to $ 5,200, but the CIT30YWBB offers:
– Pan Presence Sensor;
– 48 inductor elements automatically recognizes the size, shape and position of your cookware on the cooktop;
– TeppanyakiPro function divides a teppanyaki grill plate into one heated and one non-heated area;
– WiFi connect, etc.
Conclusion
Unlike other home appliances, prices for induction cooktops range very widely from $ 1,000 to almost $ 10,000. Of course, they significantly depend on the brand, but the model functionality makes a significant contribution. In turn, the importance of many functions depends on individual preferences. The list of the most popular options for modern models includes:
– blocking (relevant for families with small children). Auto-lock locks the control panel after a period of inactivity;
– auto shutdown (protection against overheating). Waiting time depends on the burner power;
– protection against overflow (switching off all burners when water or fat is found on the glass-ceramic surface);
– timers (one common or for each burner). They are set to turn off or to give an audible signal. The short timer switches on the cooking zones for short periods of time. It's convenient for brewing coffee, eggs, heating food;
– determining the cookware size.
This option reduces energy consumption by selecting the optimal burner outline depending on the cookware size;
– eco-timer reduces electricity consumption by switching off the burner early and using its residual heat;
– heating food;
– combining several burners when using large dishes;
– booster mode ('Power Management', 'MaxBoost', etc) – increasing the burner power at the expense of others);
-wireless connection.
Choosing a model with only the features you really need will significantly reduce the purchase price.
This video demonstrates the Hestan Cue smart cooking system in action.