Stiff competition in the consumer market requires manufacturers to continuously improve the competitiveness of products. Basically, it depends on the price, technical values, quality and functionality of the device. But improving the technical values and quality usually requires significant costs and negatively affects the price. Therefore, extending the functionality of the model is one of the most effective ways to solve this problem. As a result, companies actively use innovative engineering solutions, ensuring the multifunctionality of their models. This trend persists past decades. Stable popularity of wall ovens with microwave also confirms this. Of course, freestanding models usually provide greater efficiency and better quality. But a significant reduction in the cost of each function usually compensates for this factor.
Hotpoint MWH 338 SX Supreme Chef Microwave is no exception. The company's engineers were able to expand its functionality unprecedentedly, creating an almost universal kitchen appliance. But, of course, the innovative Dynamic Crisp technology is its main advantage. The video at the end perfectly illustrates the operation principle of this popular technology.
Design
Premium black glass finish with brushed stainless steel handle provides a stylish design for the Hotpoint Supreme Chef 338 SX series, which will decorate the interior of any kitchen.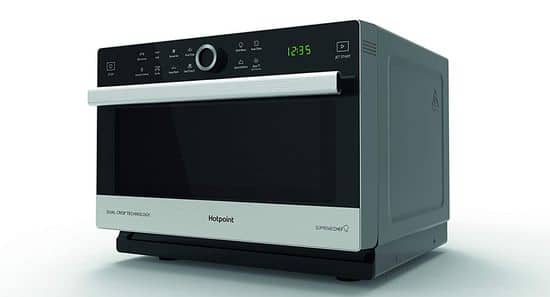 Model has 14,2in turntable for dishes, and its capacity reaches 33 litre. Unfortunately, the dimensions and weight of the device are also large and reach H x W x D 14.7 x 19.3 x 21.3 inches, and 57 lbs, respectively. Device provides 900 W microwave power with seven power levels, and 1200 W grill. A fan on the back wall provides convection of hot air inside the chamber. The XXL 1200 W grill on the inside upper surface can operate at three power levels. Thus, the model supports a complete list of heat treatment methods, including microwave radiation, convection and grill.
Device uses intuitive control with LED electronic touch controls. Touchpad with controls contains only one dial, screen and several touch buttons.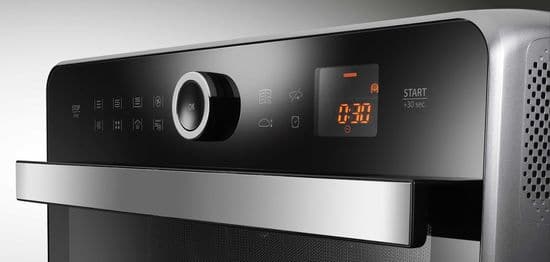 Jet Start starts the microwave with a maximum power for only 30 seconds.
Crisp plate for crisping and two racks are dishwasher-safe.
The model supports eight traditional functions, including microwave, grill, forced air, Dual Crisp, Dual Crisp Fry, combi, Jet Defrost and keep warm.
Modes
Hotpoint Supreme Chef uses a special design with multiwave or Dual Crisp technology which evenly distributes microwaves from two entry points.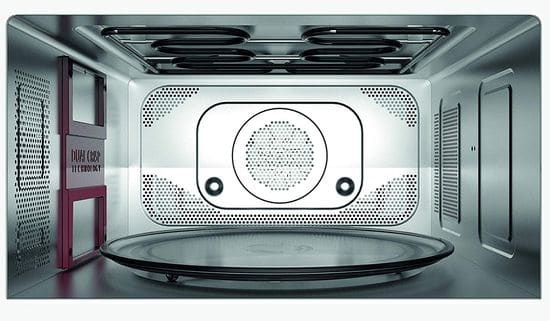 Dual Crisp technology prevents hot and cold spots on the surface of the dish during cooking. Of course, heat treatment uniformity greatly affects the quality of the finished dish. Furthermore, the combination of Dual Crisp, convection and powerful grill functions provides roasting with a minimal amount of oil. Two cooking programs use this combination with Dual Crisp Fry name.
Manual Dual Crisp is ideal for crisp food, for example, bacon, French fries and dough based food. In fact, Dual Crisp Fry mode provides additional frying that is perfect for breaded fish, etc. Moreover, Manual Dual Crisp mode can also be used to reheat dishes.
Microwave provides baking as in a traditional oven with temperature setting in increments of 5 ° C. Of course, high precision settings also affects the cooking quality.
Special capacity provides steaming two servings of food at a time.
Dual Crisp Bread defrosts and heats frozen bread, rolls, etc. Jet Defrost feature is designed for automatic defrosting the meat, poultry, fish and vegetables. The keep warm function ensures a temperature of 40 ° C.
Additionally, the microwave supports Chef Menu, Auto Clean, Special Menu and stop turntable functions.
Chef's menu feature offers 46 automatic recipes, including scrambled eggs, pizza, lasagne, etc. Of course, automatic selection of cooking time and power level greatly simplifies the cooking process.
Additionally, Auto Clean cleaning cycle cleans the surface of the working chamber, simplifying the care of the microwave after cooking.
Special Menu contains additional functions and programs, including melting butter and chocolate, etc.
Stop turntable option enables the use of large cookware that cannot freely turn in chamber.
Conclusion
PROS
– very stylish design;
– multifunctionality;
– 33 liter capacity;
– innovative cooking modes;
– many accessories;
– three power levels for the grill;
– many automatic cooking programs;
– stop turntable option;
– auto cleaning.
CONS
– Dynamic Defrost requires more time to defrost the minced meat;
– big weight and dimensions;
– high price;
– high energy consumption with simultaneous operation of the fan and grill;
– control requires careful study of the instructions.
The model is ideal for a large family and even for commercial use, but redundant for a small family of 2-3 people. Of course, we hope that these factors will help you to choose the optimal microwave.