Unlike Italian Delonchi, Swiss Jura, Dutch Philips (Saeco) or German Bosch (Siemens) with a long history, the American Keurig brand is only 25 years old. But its popularity is not inferior to eminent competitors. In fact, Keurig is a beverage brewing system for home / commercial use. Coffee makers and pods are manufactured by the Keurig Dr Pepper.
Company history began in Massachusetts in 1992 with the development and production of single-serve coffee-pods. In 2006, Keurig, Inc was purchased by the publicly traded Vermont-based specialty-coffee company Green Mountain Coffee Roasters. The rapidly growing brand popularity was one of the reasons why Green Mountain Coffee Roasters changed its name to Keurig Green Mountain in March 2014. In July 2018, it merged with Dr Pepper Snapple Group, creating a publicly traded conglomerate Keurig Dr Pepper. Today it ranks third among the largest beverage producers in North America. The range of K-Cup and other single-serve coffee and beverage pods includes hot/cold coffees, teas, cocoas, dairy-based beverages, lemonades, cider, fruit-based drinks, etc. In partnership with other companies, Keurig offers over 400 different varieties and over 60 brands of coffee and other beverages. Besides K-Cup pods, many Keurig models are compatible with Vue, K-Carafe, and K-Mug pods.
For reference, K-Cup is a coffee container pod consisting of a plastic cup, a foil lid, optional filter paper, and an optional shim. The pod with coffee grounds, tea leaves, or other contents, is filled with nitrogen, which provides impermeability to oxygen, light and moisture. When brewing, the machine pierces the aluminum foil seal. Hot water passes under pressure through the K-Cup, providing an extraction.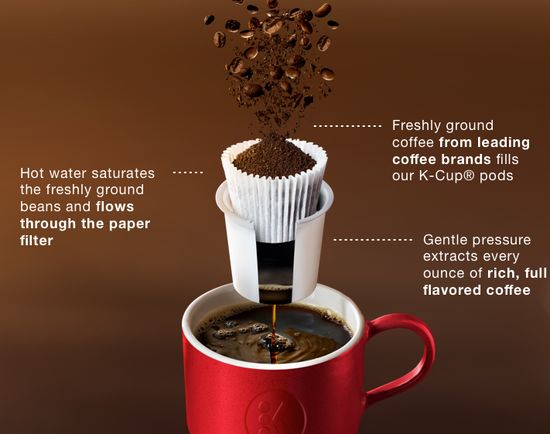 By default, a brewing temperature is 192°F (89°C), but some models has its adjusting within 5°C.
Keurig coffee makers
Over several decades, Keurig has developed almost 100 different models of single-serve coffee makers. Today the company offers dozens of current models, which are grouped into several series depending on the functional specialization. This list, for example, includes:
– K155 OfficePro Premier ~ $ 300 (increased water container capacity for 20 small cups + 4 cup sizes + adjustable brew temperature + auto On/Off + LED touchscreen + taller mug with removable drip tray + English, Spanish or French language).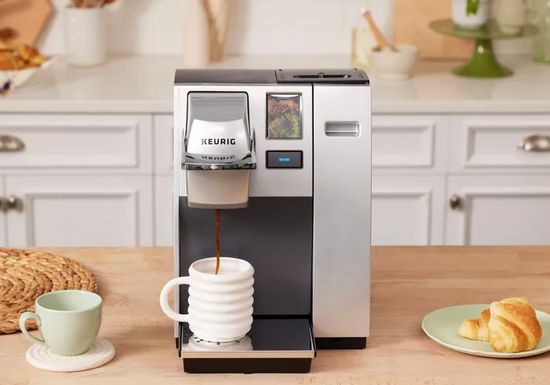 – K-Cafe ~ $ 190 (milk frother cup and 'shot' mode for concentrated espresso for lattes and cappuccinos + removable drip tray + 60-ounce reservoir + 4 cup sizes + over 20,000 positive reviews on Amazon).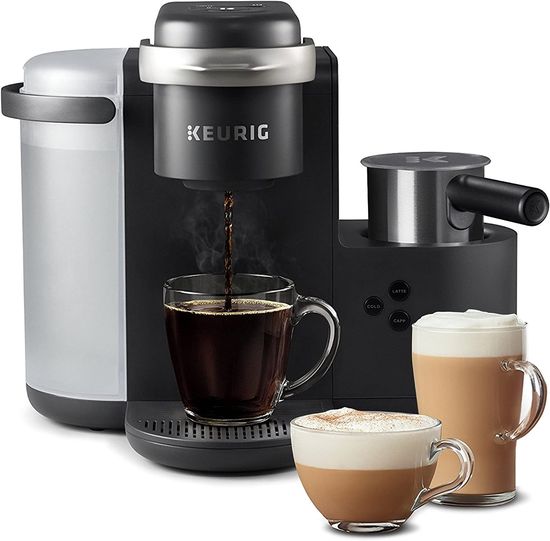 – K-Express ~$ 80 (8, 10, 12 oz + strong brew button + 42 oz water reservoir capacity at ultra narrow design).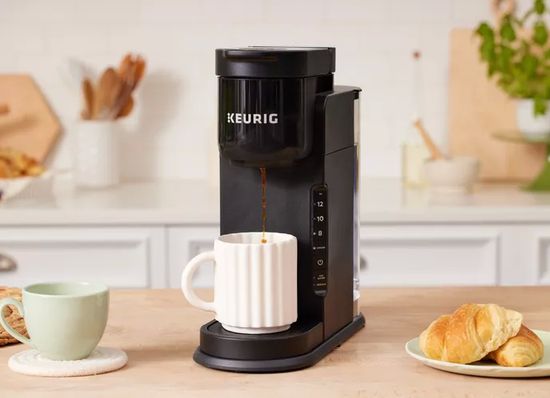 – K-Duo ~ $ 150 (ground coffee and K-Cup pods + 12-cup glass carafe + 60 oz water reservoir + auto brew).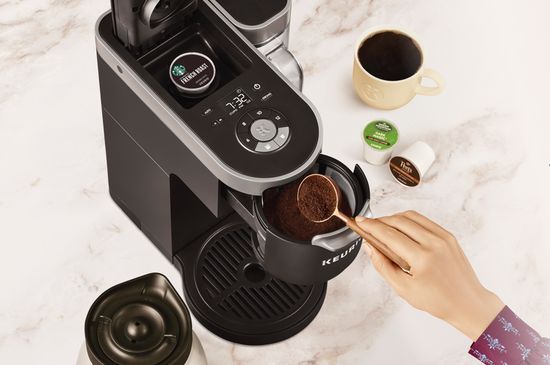 Of course, the full list is much longer and includes K-Classic, K-Select, K-Elite, K-Mini, K-Supreme, K-Slim, K-Iced, and other popular series.
As known, the expansion of smart functionality is one of the main development trends in the consumer electronics segment. For example, modern robotic vacuum cleaners already offer wet cleaning, auto emptying stations, topping up water, etc. Of course, coffee makers are no exception. The DeLonghi Eletta Explore with 40 pre-programmed coffee recipes, Delonghi PrimaDonna Soul with Bean Adapt technology, Jura Z10 with 3D brewing technology illustrate it convincingly.
As one of the industry leaders, Keurig is also actively developing the smart functionality. Today it offers K-Cafe Smart with built-in jug and Supreme Plus Smart.
Keurig K-Cafe Smart
In addition to the built-in frother with hot / cold modes, K-Cafe offers Keurig's Barista Mode.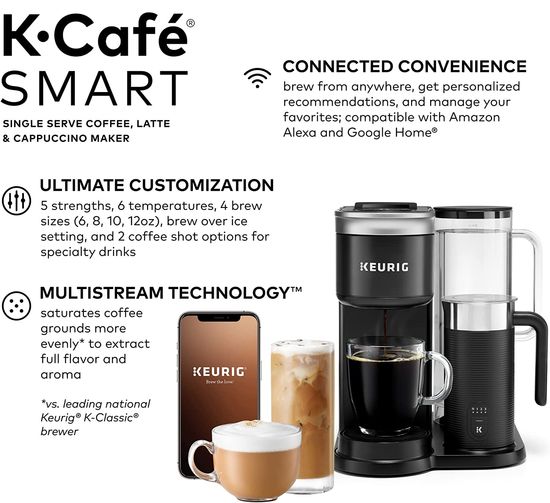 Model makes Coffee, Latte, & Cappuccinowith K-Cup pods. To use the Keurig app, it requires:
– connect to Wi-Fi;
– downloaded Keurig app after scanning the QR code on the back of the coffee maker;
– a pod into the machine.
The controls on the top cover are intuitive.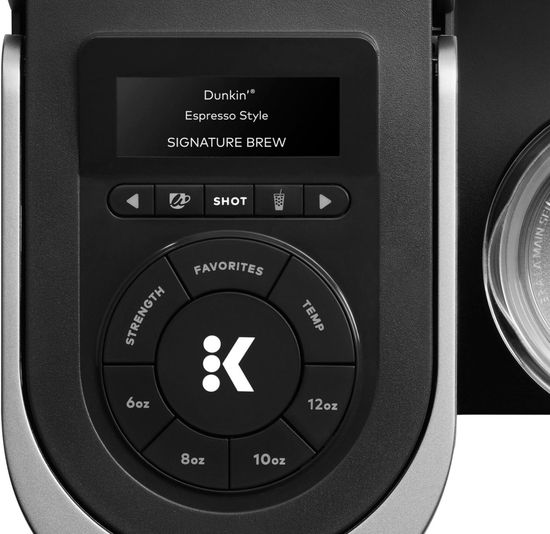 The icons correspond to signature brewed coffee, single or double shots meant for lattes and cappuccinos, and iced coffee.
Temp button provides a choice between warm, warmer, hot, hotter, X-hot, and max hot. The strength button offers balance, rich, robust, strong, and intense settings. The signature brew button overrides the customization and uses pre-settings, leaving only the choice between 6, 8, 10, and 12 ounces.
The frother is the black pitcher with controls for hot and cold froth. The upper button with the horizontal line switch the frother's function between cold (snowflake) and the three settings of hot.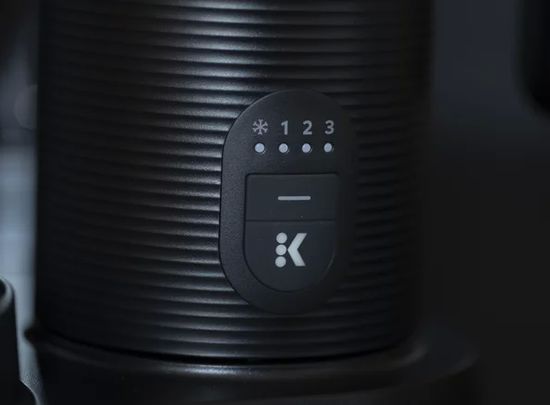 Setting '1' is the min foam for a latte, '2' is ideal for a moist cappuccino.
Main technologies:
– BrewID recognizes any K-Cup pod and optimally customizes brew settings;
– Keurig app offers Café Creations menu with collection of over 70 recipes for K-Cup pods;
– Barista Mode via Keurig app contains step-by-step directions for coffee beverages;
– Signature Brew settings max enhance the aroma;
– Coffee Shots offer a concentrated 2 / 4 oz coffee shot;
– Hot / Cold milk frother;
– MultiStream technology.
According to the company, five entry points into the pod increase extraction uniformity, providing more saturated coffee.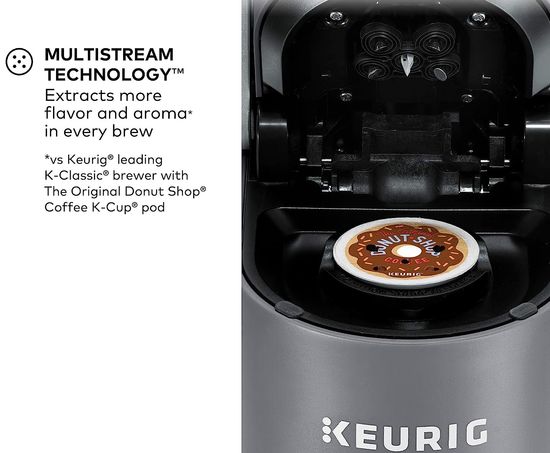 – Brew Over Ice.
Conclusion
After adjusting the launch price of K-Cafe from $250 to $180, the prices of the models are almost equal. Today the K-Supreme Smart is only $30 cheaper ($150 vs $180). Considering the built-in milk frother and Barista Mode support, the value for money of K-Cafe Smart is clearly superior.
Of course, new coffee makers are unlikely to eliminate the prejudice of many coffee lovers to pods, but their smart- functionality can be a serious argument for coffee neophytes. Indeed, capsule models were originally created for easy and quick coffee preparation 'on the run' with max limited customization. In the future, this aspect became one of their main cons. A significant increase in the customization level in smart models reduces this problem. In general, the settings range in Keurig Smart models is already commensurate with some budget coffee machines.
This video shows Barista mode in new Keurig K-Cafe Smart coffee maker.