Shop Vac Corporation is a relatively young company. It was founded in 1953. This company specializes in developing and manufacturing wet / dry vacuums and nozzles, filters and hoses for them. The assortment of products under this brand is very wide and includes household and industrial models.
Since 1969, Shop Vac vacuums are actively sold in Canada. Its products are also well known in Australia and Mexico.
Today, products under this brand are available through Amazon.com, Lowe, Wal-Mart Stores, Ace Hardware, etc and successfully compete with other popular brands.
Shop Vac also offers 2-in-1 models that have long been very popular on the market. For example, many consumers good know the Blower Vac series under the Shop Vac brand.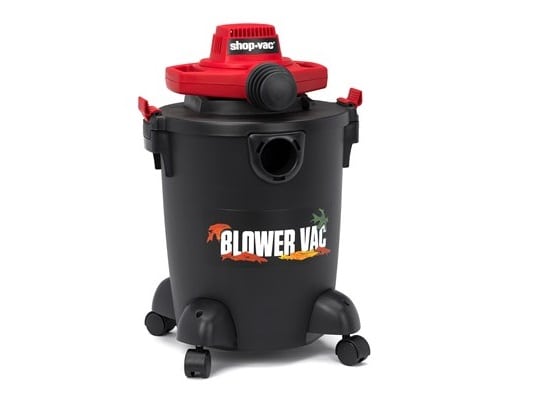 These vacuums are transformed into a blower by quick and simple hose permutation from the inlet to the outlet port.
Some models additionally support the water pump mode that provides pumping water.
Innovative technologies
Of course, the company is actively developing new technologies for its models. In particular, engines with SVX2 Advanced Motor Technology have a longer life and provide an increase in air watts by 35% compared to previous engines with a similar Peak HP.
Today, engines with this technology are used in many Shop Vac models. For example, such motor is installed in the popular Shop-Vac 14 Gallon 6.5 Peak HP SVX2 Heavy Duty Wet Dry Vac model.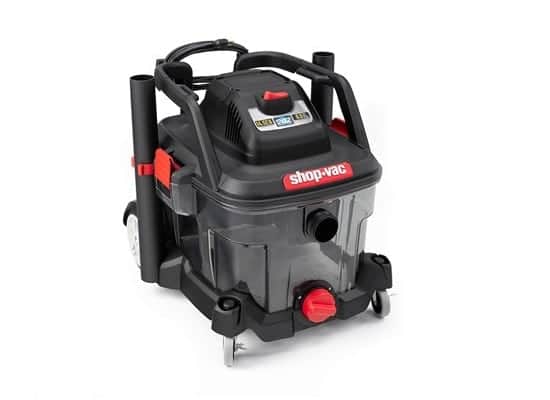 The choice of the optimal model depends on the following factors.
Models with a large volume from 6 to 12 gallons are well suited for a large area. Vacuums with a volume of up to 4 gallons are convenient for indoor use.
Paper cartridges are designed for dry cleaning. A foam filter is used for wet cleaning. Of course, the chosen model must have these filters.
Wall mounts ensure the storage and use of the vacuum on the wall. This is very convenient when it's used in the same place for a long time (for example, in a garage).
Hose length of Shop Vac vacuums varies in modern models from 4ft to 18ft. Of course, this significantly affects the usability.
A successful combination of these characteristics ensures the popularity of some models among consumers. Experts also pay attention to this aspect in various reviews of authoritative sites.
Shop Vac 2036000 2.5 Gallon and 5986000 5-Gallon
Shop Vac 2036000 2.5 Gallon 2.5 Peak HP Wet Dry Vacuum refers to such models.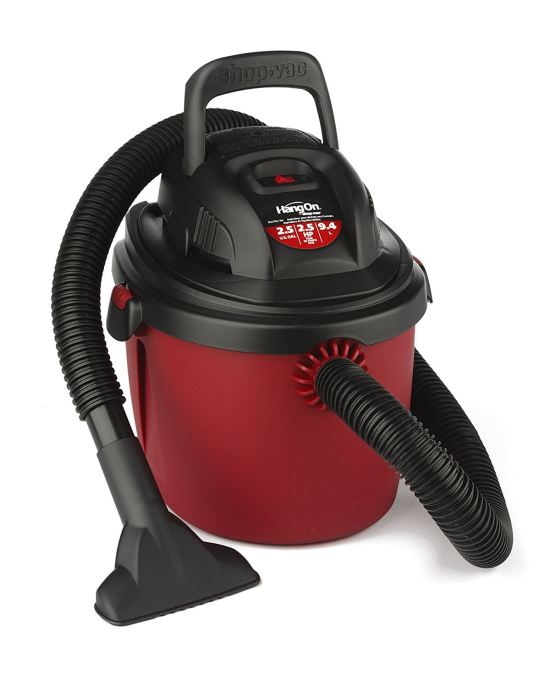 The height and weight of this lightweight portable model is only 12 inches and less than 7ft, respectively. The capacity and power of the model is 2.5 gallons and 2.5 Peak HP. They are ideal for cleaning indoors with a small area.
The lack of wheels is not a disadvantage due to the very small weight. In addition, this model is equipped with a convenient collapsable carry handle.
Model also has a wall mount and can easily be converted into an air blower. These capabilities, compactness, efficiency and 3-year warranty ensure its high popularity in the last few years.
Unfortunately, the length of its hose is only 4ft. This is the only small claim from some consumers.
The company also offers a virtually similar, but even more compact model with a 1.5-gallon capacity and a 2.0-peak HP engine.
Shop Vac 5986000 5-Gallon 4.5 Peak HP Stainless Steel Wet Dry Vacuum tops the list among the more powerful models.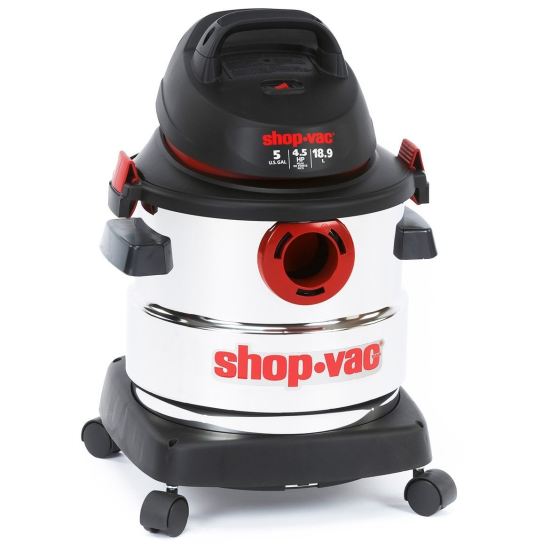 4.5 HP motor, 5 Gallon stainless steel tank, storage compartment for accessories, convenient trolley design, blower function, very good set of accessories and high assembly quality are the main reasons for its popularity for a long time. This model is ideal for cleaning the garage, workshop, small shop or office and other working premises.
The wide possibilities of these vacuums can be seen on the video.