As known, All-Clad Metalcrafters has been one of the leaders of this segment for many years. This company more than 40 years develops and sells innovative kitchen devices. Of course, these models have high price, but their high quality fully corresponds to the price. This food processor belongs to the All-in-One type. It has stainless steel bowl with a capacity of 4.7 quarts.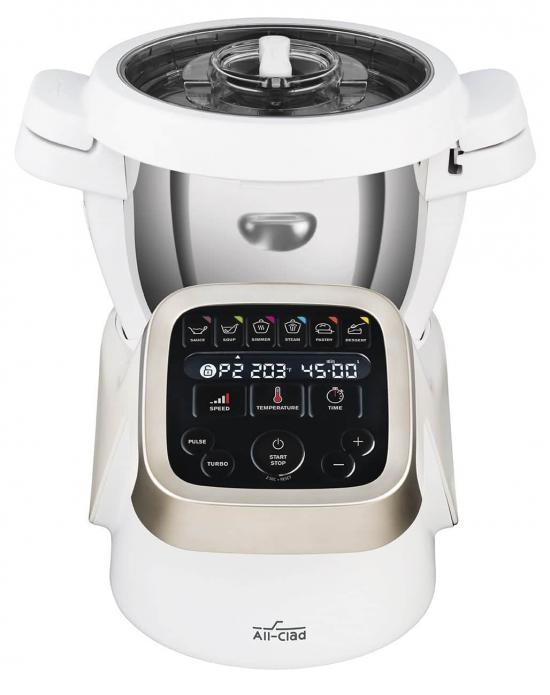 Of course, multifunctionality is one of its main advantages.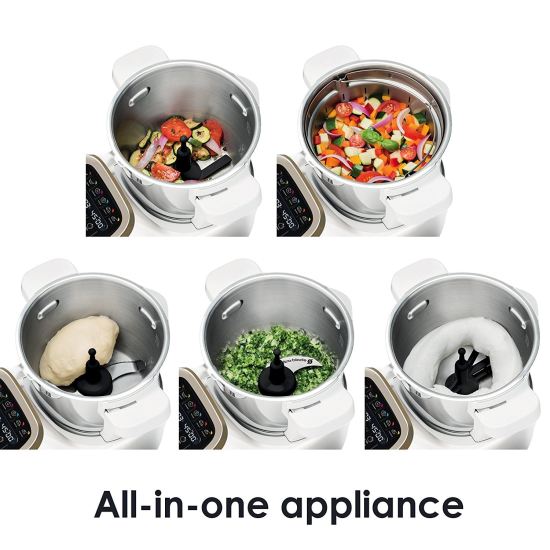 For example, it combines the functions of a bread maker, food processor, steamer, blender, ice cream maker, etc. Video in the article`s end shows a wide possibilities of this model. Moreover, the model perfectly kneads the dough, whips creams, mixes, etc. Additionally, kit includes 5 different accessories, including a book with 300 recipes that will help the novice chef.
Moreover, a large bright screen with an intuitive menu provides simple control and settings.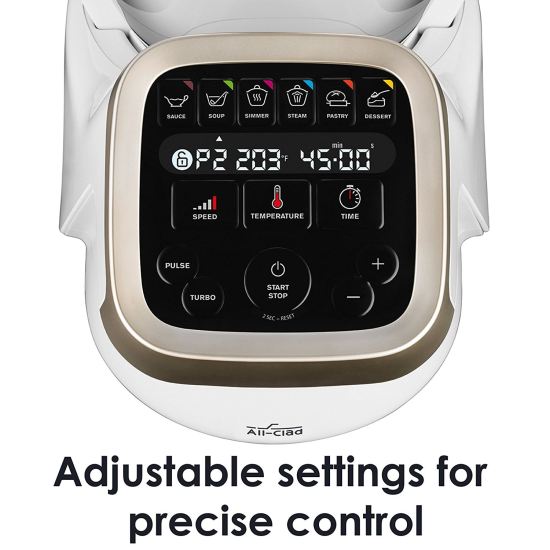 Design
The control panel at an angle is very convenient for control.
All-Clad HP503152 has pre-installed automatic Sauce, Soup, Simmer, Steam, Pastry, and Dessert modes that are selected using the buttons.
The transparent lid of bowl provides visual control. Moreover, it has automatic pressure control valve.
The rotation speed, temperature and cooking time are manually adjusted. This model provides twelve gradation speeds, and Turbo and Pulse functions. The maximum engine rotational speed reaches 15,000 rpm.
All removable parts and a bowl are washed into the dishwasher that greatly facilitates their cleaning.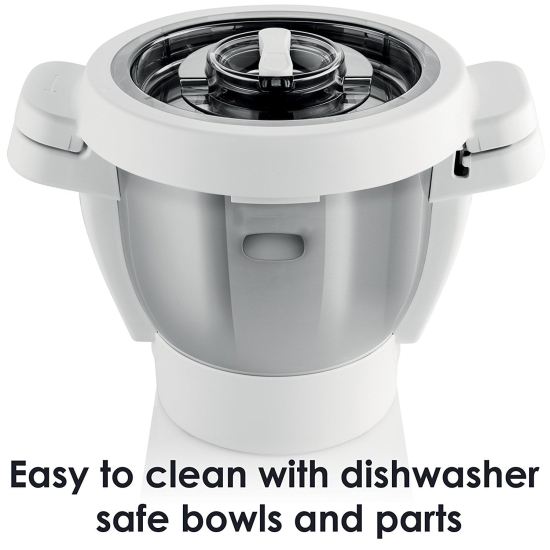 White color and smooth lines of the body provide a stylish design that fits perfectly into the interior of any kitchen. The weight and dimensions of the model are 19.1 lbs and 12.2 x 14.2 x 12.2 inches, respectively. The large handles are located on both sides that is very comfortable.
CONS
Unfortunately, the model has some drawbacks.
1. Complex care, large enough dimensions and weight, and a high price are its main disadvantages. On the other hand, they are due to the excellent multifunctionality and productivity of the device. The optimal balance of these factors is determined by individual preferences. In any case, replacing the several devices with one universal ultimately saves money and space in the kitchen.
2. Lack of programming your own recipes.
The instruction recommends cooking only from the recipe book. Otherwise, algorithms with temperature and time settings may not work correctly. Of course, this limitation significantly reduces the creative possibilities of cooking.
3. Automatic setting the cooking time is not always optimal for some dishes.
This problem is typical for almost all automatic cooking programs due to the lack of the tasting possibility during cooking. This aspect is always individual and strongly depends on personal preferences.
4. Mixing and grinding some ingredients is not always ideal.
But even very expensive top-level models do not always ensure the perfect performance of these functions due to the influence of the consistency and the temperature of the ingredients on this process.