DeLonghi and Jura coffee machines traditionally belong to the upper price segment. High quality of assembly and materials, reliability and use of innovations ensure their popularity. Of course, they have high cost, but the quality of these coffee machines fully corresponds to it.
DeLonghi PrimaDonna ESAM 6900M
The combination of a large color display and the absence of unnecessary decorations gives the model a stylish look. This coffee machine looks like a modern, expensive and high-quality device.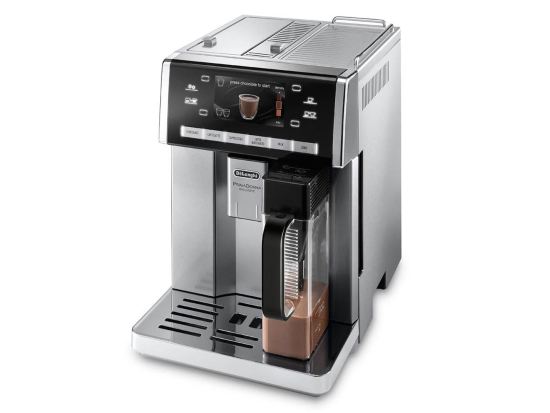 The display has multi profile settings and customizable desktop wallpaper.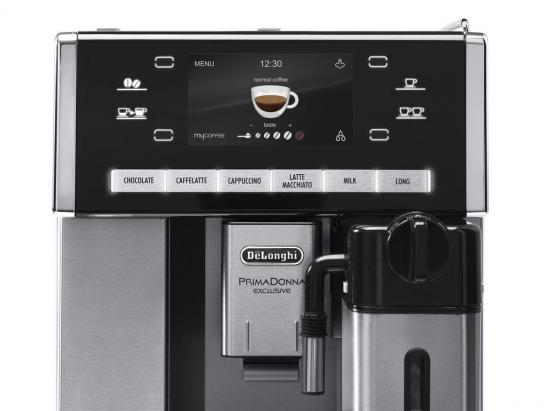 It displays almost all information about the operation of the ESAM 6900M. The touch keys below the display provide selecting a beverage.
This model prepares classic espresso, ristretto, latte, cappuccino and hot milk. Moreover, ESAM 6900M has a unique additional mode of cooking hot chocolate from powder in a special pitcher with a mixing mechanism.
Of course, model provides automatic preparation all available beverages in accordance with the preset settings. The list of settings contains the amount of water per cup, the water temperature and the coffee strength. This model supports the creation of a user profile with saving settings. In the future, the preparation of any beverage requires only a simple touch to sensor.
Built-in low-noise coffee grinder has fourteen degrees of grinding. This model provides water filtration and active cup heating. ESAM 6900 is equipped with a full range of useful automatic self-cleaning programs and an indication of the water level and the quantity of coffee beans.
Very high price and the use of special cleaning products are the main drawbacks of the DeLonghi PrimaDonna ESAM 6900M.
Jura Giga 5
Jura brand is also the leader of the upper price segment. The quality of these models is tested by their impeccable reputation for many years.
Jura Giga 5 belongs to the class of superpremium.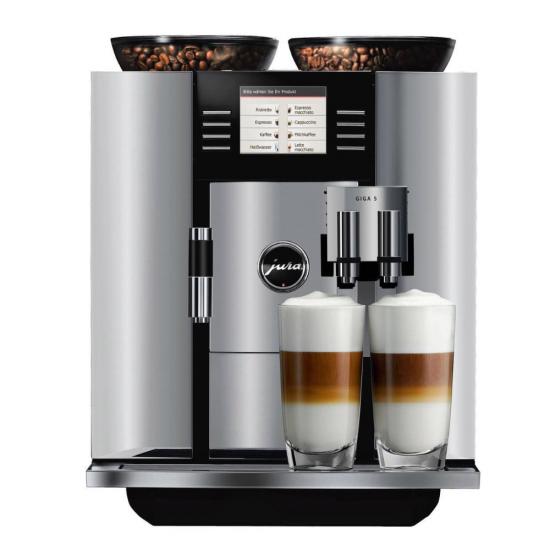 This model actually combines two coffee machines in one casing. But, the size of Jura Giga 5 is quite standard.
The device contains a dual heating system, two high-speed ceramic coffee grinders with two hoppers for coffee beans and two pumps for supplying water to the coffee making system. Each coffee grinder has an individual setting the degree of grinding. Jura Giga 5 provides simultaneous preparation of two different coffee beverages, including from different types of coffee.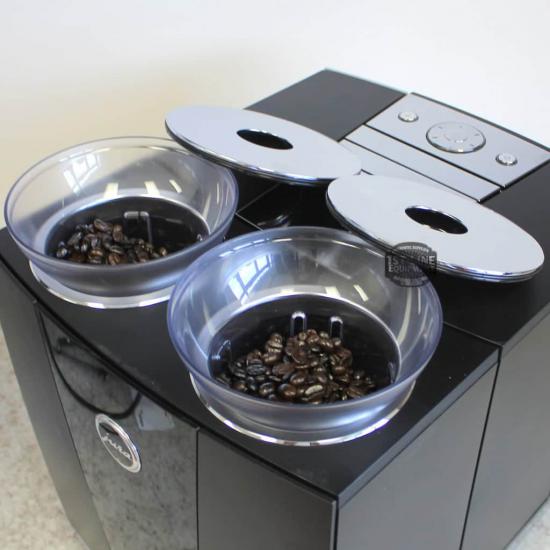 Jura Giga 5 prepares ristretto, espresso, americano, cappuccino, coffee with milk, espresso makiato and latte makiato, foamed or hot milk.
The possibility of cooking two portions also applies to hot milk. Each user can create a profile in the memory of the coffee machine for quick preparation of your favorite drink.
This model has all the necessary automatic cleaning programs. Warnings about lack of water and coffee beans, and the need for service are displayed. Very high cost is the main drawback of the model.
Innovative Rotary Selection switch and large color display on the front panel are very modern. The video demonstrates their convenience and usability.