Bosch brand is often associated with washing machines, refrigerators and vacuum cleaners. But this famous manufacturer also produces coffee machines.
Bosch models mainly refer to drip or carob type in the budget and middle segments. The price of automatic models is also quite affordable.
Fully automatic Bosch TCA 5809 benvenuto classic prepares espresso and cappuccino and have modern stylish design.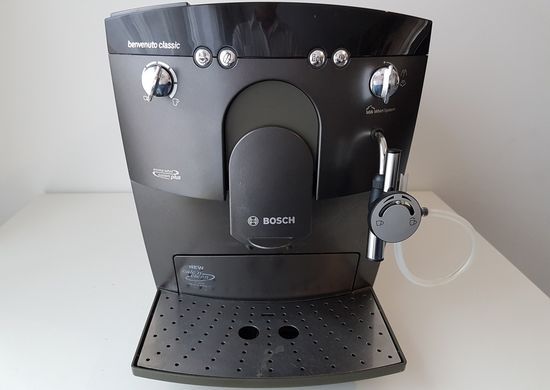 The grinding degree of the built-in coffee grinder is adjustable. Recommendations for selecting the optimal grinding mode depend on the coffee grade and its roasting degree. The model can also use already ground coffee that, of course, extends its capabilities. The capacity of the container for coffee beans is 250 grams.
AromaPro Concept technology
As known, most modern models have a system of pre-wetting coffee, which increases the efficiency of extraction of flavor and taste. But Bosch has developed its own AromaPro Concept technology. Of course, TCA 5809 also uses this technology.
This system implements the following algorithm for coffee making. Initially, millstones of coffee grinder grind the coffee beans. Than, coffee powder is fed into the sealed espresso chamber. Hot water moistens the coffee powder for a few seconds. Then, the steam under pressure is fed into the chamber. This technology provides maximally extraction from coffee powder.
Additionally, espresso chamber has innovative design of the spring lid. It provides automatic adjustment of the volume of the espresso chamber under steam-water mixture pressure during operation. This technology provides the optimum level of pressure inside the chamber and is called the technology of the dynamic brewing coffee. Coffee powder and steam-water mixture constantly rotate. Accordingly, the maximum area of coffee pellets is constantly in contact with water and steam, providing the maximum extraction degree.
Filration
Of course, the quality of water greatly affects the flavor and taste of coffee. Bosch TCA 5809 model has the Single portion cleaning technology that ensures the preparation of each new coffee cup only from fresh water. Remains of water in the supply tubes after each cycle stagnate and lose their quality. Therefore, the model automatically drains the remaining water into the drainage container. Maybe it's not very economical, but, of course, provides the highest quality of freshly prepared coffee.
The capacity of the container for water reaches 1.8 liters that is quite a lot. The volume of many similar models does not exceed 1.6 liters. The special sensor controls the water level.
The display and indicator at the top of the front panel are large enough and comfortable.
The cup heating function is very convenient for maintaining the optimum expresso temperature.
Backlight for cups is great for making coffee in a romantic semi-darkness.
Automatic system for cleaning and descaling greatly simplifies the care.
This video demonstrates the model's controls.