Delonghi (EOB2071) Pangourmet 2-in-1 Electric mini-oven
The model uses convection heating.
DeLonghi EOB2071 has working chamber with volume of 20 liters and external dimensions size of 515 x 400 x 295 mm. Moreover, this model provides power of 1400 W and grill power of 600 W.
Additionally, Delonghi (EOB2071) Pangourmet Electric combines a mini oven and a bread maker. Its design corresponds to traditional style.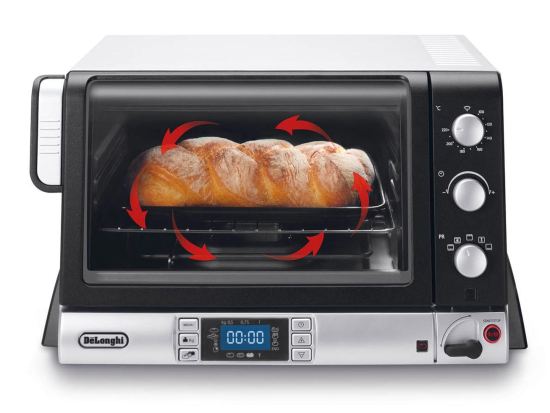 Moreover, the device provides six cooking modes, including traditional and convection cooking, grill, delicate cooking and Warming mode. Also, this model has 20 automatic programs and 11 semi automatic programs, for example, baguette, ciabatta, pizza, etc.
Additionally, EOB2071The device has a special container for kneading dough.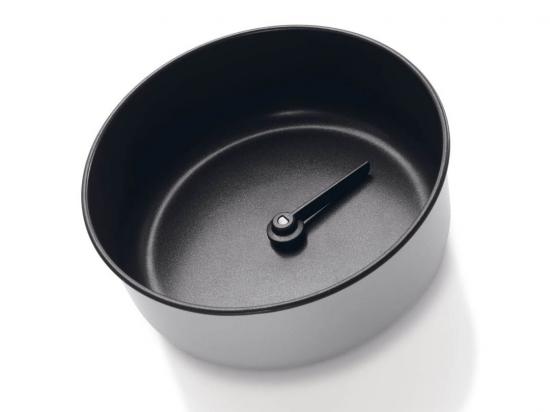 The spatula in the lower part of this container provides dough mixing.
Of course, mini-oven supports a wide range of bread baking programs. For example, it provides adjustment even the color of the finished bread crust.
This model has shutdown timer for 120 minutes, electronic control and display. Digital control provides adjustment of temperature and cooking time, and mode selection. Automatic programs are available for baking bread and oven.
The bright large display menu has a simple, intuitive interface.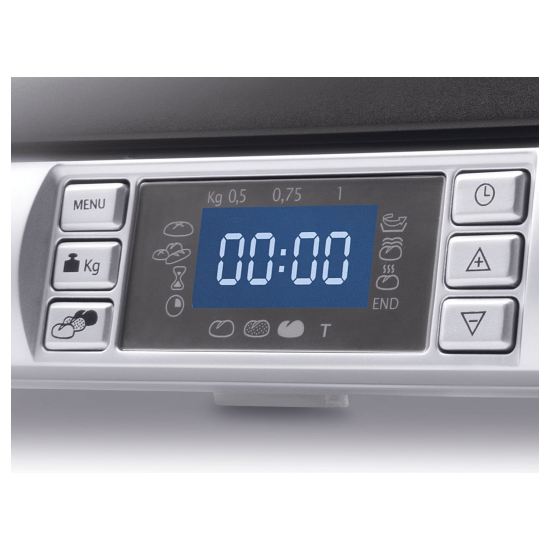 This device uses several heating modes that include heating from above and below with or without convection, heating only from below or only from above (grill mode). The model also provides defrosting. In this case, the fan operates without heating.
The EOB2071 supports a Warming mode to keep the desired temperature of the ready-made dish.
The model has a high-quality non-stick cavity coating.
The cooking process with the help of Delonghi Pangourmet can be viewed on the video in the article's end.
Rolsen KW-3026HP
Two heating elements of different diameters on the top panel are a key feature of this mini-oven. Their power is 1000W and 600W.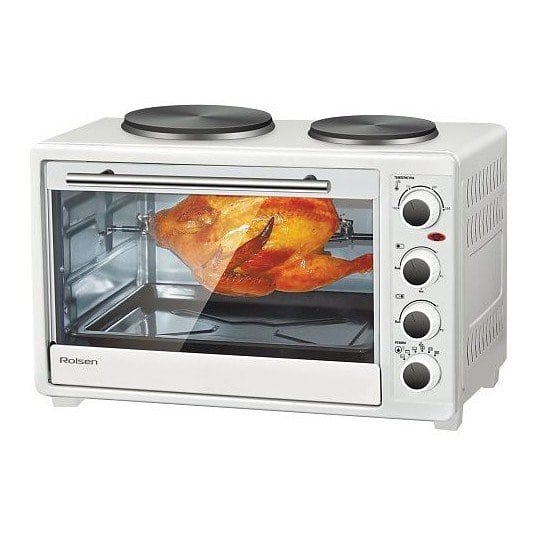 They serve as a miniature electric working surfaces. This model is equally convenient for home and office.
The device is very compact. Its dimensions are only 360 x 522 x 338 mm. Internal dimensions are 260 x 378 x 270 mm and provide a volume of 30 liters.
The cooking temperature varies from 100 to 250 degrees.
The model uses simple and reliable electromechanical control that includes two rotary controls for controlling the heating zones and two rotary controls for setting the heating mode and temperature in oven. The oven power reaches 1500 W.
The device uses convection heating. Cooking with skewers is also available.
Unfortunately, there is no timer. Therefore, the control over the cooking duration is performed visually.
The working chamber is equipped with a backlight. KW-3026HP also has skewers and grill for frying and baking. This model is available in white and black colors.
The company also offers KW-3026. The lack of heating elements on the top panel is the only difference of this model. But the KW-3026 has an automatic shutdown timer that, of course, is its advantage.