LG TVs of UJ6300 series for two years confidently included in the group of sales leaders. Of course, this success is primarily due to the excellent ratio of their price and quality, which directly affects the choice of TV. Today, LG offers in the US market 43UJ6300, 49UJ6300, 55UJ6300 and 65UJ6300 models.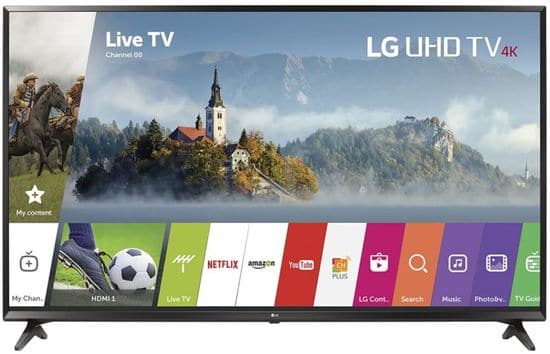 These TVs have an affordable price and support almost all modern innovative technologies. As known, not all innovations stand the test of time. For example, the popularity of curved and 3D models has steadily decreased for various reasons over several years. On the contrary, the popularity of dynamic range expansion or HDR technology is constantly increasing. As known, HDR repeatedly increases the number of reproducible shades, which is important for playing high quality content. But, 6 series functionality is optimally balanced. Of course, this factor also had a positive effect on the price / quality ratio.
Today, companies use HDR10, Dolby Vision or its premium version, and HLG (Hybrid Log-Gamma). Moreover, LG has created an improved Vano Cell matrixes based on nano particles and Quantum Dot image filter.
As you know, the quality of the image of the TV directly depends on the matrix type. The LG UJ6300 uses an IPS 4K matrix with support for HDR10 and HLG technologies. Its 3840 x 2160 screen resolution corresponds to 4K UHD standard.
In addition, IPS matrices provide excellent color reproduction with a high level of realism. Moreover, these matrices have very wide viewing angles, excluding color distortion when viewed at an angle. This series uses Direct LED backlighting.
Picture
Unfortunately, the matrix supports only the average level of contrast ratio and black uniformity. UJ630 provides a contrast level of 1314: 1, which is slightly higher than similar models. As a result, televisions reproduce black tones in dark scenes with gray shades. Of course, this disadvantage is practically not interfere in a bright room, because, as you know, ambient light reduces the effect of low contrast.
The quality of HDR content playback also corresponds to the average level due to the relatively low brightness, which limits saturation.
Unfortunately, the UJ6300 does not support the local dimming function. The average peak brightness for the SDR signal is optimal in Expert or Dark Room mode, which provides the most accurate image quality, but at a lower brightness level compared to the Standard mode. But in some cases, the Standard mode with a color W30 temperature and, accordingly, a brightness of 174 nits, is also effective.
Brightness is almost independent of the content and reaches 317 nit when playing HDR.
Uneven black images appear as dark edges of image details and when reproducing a gray tone. For example, the upper right corner of the screen is slightly brighter than the rest of the screen. Sometimes the screen displays vertical lines on the right side.
The UJ6300 series supports 10 pseudo bits (8 bits + FRC) with a nice gradient display.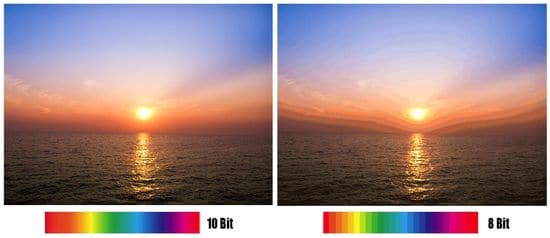 Technologies
Models support Upscaling or image scaling to 4K resolution.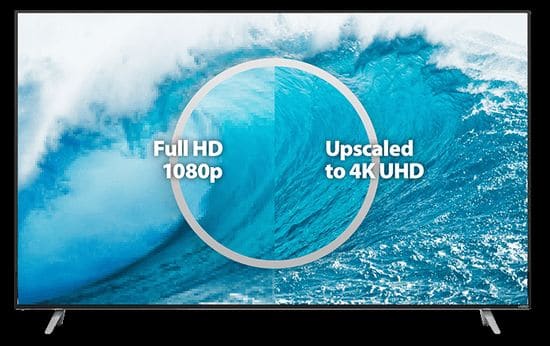 The practical significance of this technology often causes debate among experts. Its quality essentially depends on the initial resolution of the content and the internal processing algorithm. Of course, the result of scaling content from 1920×1080 up to 3840×2160 is significantly inferior to reproduction of native 4K content. But on the other hand, this feature enhances the ability to improve the playback of medium quality content.
The LG UJ6300 supports the Picture Mastering Index (PMI), which many experts consider a marketing value. This is due to the lack of a unified methodology for calculating the real update frequency. As a result, companies define it arbitrarily, often using not entirely correct methods.
LG UJ6300 use TruMotion 120 Hz based on native 60 Hz refresh rate panel.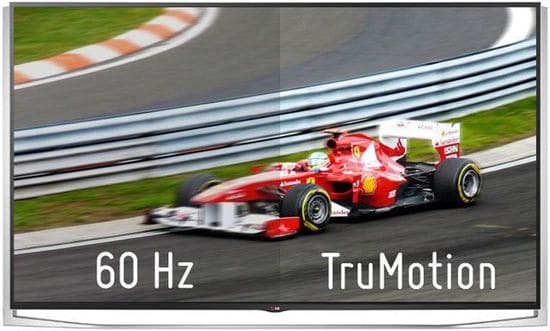 Reproduction of dynamic scenes corresponds to a high level. All models have a very short pixel response time of the screen, and, as a result, a short trace of a fast-moving object. Playback through a Blu-ray player or DVD discs also provides a smooth image with minimal distortion.
HDR or high dynamic range
HDR technology extends the maximum color range of the TV.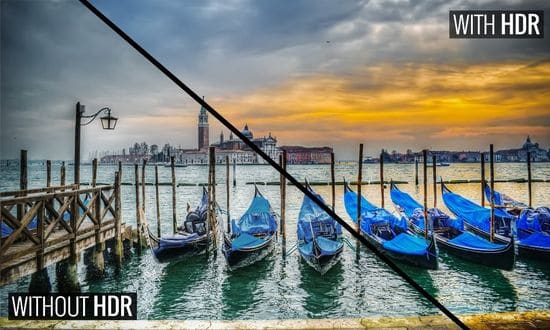 In fact, it makes black shades darker and whites – lighter. As you know, the number of colors directly depends on the bandwidth of the pixel color depth per component. Unfortunately, companies rarely indicate this value.
Today, only TVs with a 10 bit panel provide the maximum amount of displayable shades when viewing HDR content. LG uses them in the 8th and 9th series. But besides supporting the TV, this technology requires HDR content. Today it is available mainly on online viewing services, for example, Netflix, Ivi, Megago, etc.
HDR effect mode in this series affects only the contrast, but is not an analogue of HDR, since it does not change the original number of shades. However, of course it improves the quality in many cases.

Hybrid Log-Gamma (HLG) is HDR technology for television broadcasting.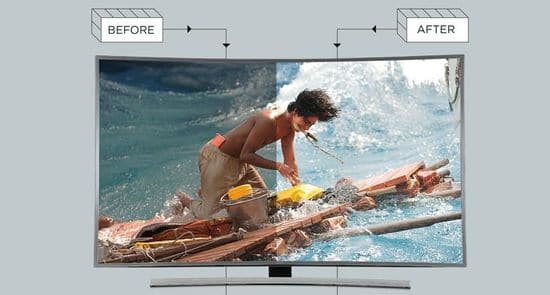 The BBC and NHK companies initiated it in 2016. Today, it's supported by 2017 TVs, all 2016 TVs with Samsung HDR support, and top TVs of 2016. Of course, it has brilliant prospects, but it requires implementation in the field of television broadcasting.
Audio
The speaker system includes two speakers with a power of 20 W. Additionally, the TV uses LG programs to improve sound quality:
– Ultra Surround
This program uses distortion of sound frequencies to simulate surround sound. It effectively works in soundbars with a power of 300-400 W. Unfortunately, the low power of speakers in the TV significantly reduces the effect of surround sound.
– Clear Voice III
The technology improves the clarity of the voice relative to the background sound, amplifying the frequency of speech reproduction.
– LG Sound Sync
The technology simplifies the creation of an audio pair from a TV and an audio-compatible devices, including a soundbar, a home theater, a stereo system, etc. using an automatic Bluetooth connection.
Of course, all these technologies expand the audio playback capabilities. Unfortunately, the low power of standard TV speakers significantly limits their efficiency. Additionally, bass reproduction is sometimes accompanied by low-frequency noises. But the reproduction of the MF and HF bands correspond to a sufficiently high level.
Smart TV
Of course, Web OS 3.5 version has significantly improved compared to the previous Web OS 3.0. In fact, its functionality has not changed. But the performance and, accordingly, the speed increased significantly. Apps provide connection to an Internet, external drives, broadcast the contents of the smartphone screen to the TV screen (Miracast), and control the TV via a smartphone with a local Wi-Fi network. In addition, the models have several pre-installed popular apps for Netflix, YouTube and Amazon Video. All apps run smoothly and without delay, and LG Content Store provides download and installation of additional programs. The video at the end demonstrates Web OS 3.5.
In addition, the models support an additional innovative Magic Remote for Smart TV with voice control.
The LG UJ630 series supports almost all common input standards, including HDR content. Additionally, the entire series has a very low input-lag.
Input-lag in Game mode:
– 1080p @ 60Hz – 11.4 ms;
– 1080p with interpolation – 99.8 ms;
– -"- @ 60Hz without a game mode – 49.8 ms;
– -"- @ 60Hz and 4: 4: 4 – 11.2 ms;
– 4K @ 60Hz – 11.9 ms;
– -"- @ 60Hz and 4: 4: 4 – 11.4 ms;
– -"- @ 60Hz and HDR – 12.0 ms.
Of course, these values are an excellent result for mid-range TVs.
Conclusion
PROS
– excellent price / quality ratio;
– support of innovative technologies;
– high screen resolution;
– improved Web OS 3.5;
– a very small input lag;
– wide viewing angle and lack of glare;
– good reproduction of highly dynamic scenes.
CONS
– relatively low brightness;
– the lack of options extended color gamut;
– relatively low power speakers;
– uneven reproduction of black levels due to the lack of a local dimming.
Of course, the playback quality of the 6 series is inferior to the 8 and 9 series. But in general, the company has maintained a high technological level, significantly reducing the price. As a result, the price / quality ratio of these models has improved significantly, increasing their competitiveness in the market.