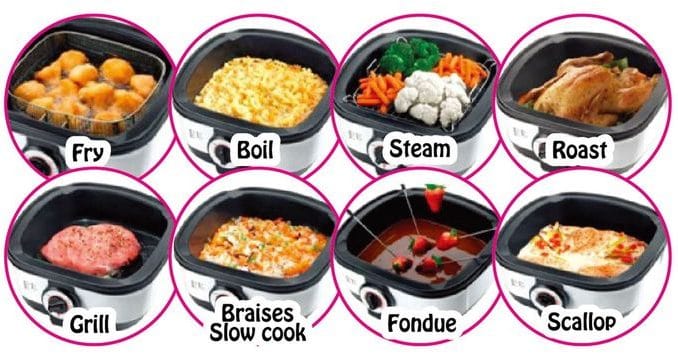 The popularity of these devices encourages high competition in this segment, forcing companies to constantly improve their models. Of course, the functionality is one of the main criteria and multicooker choice essentially depends on this aspect. But, of course, it also depends on the price, set of cooking programs, features of the multi-cooker and its main characteristics.
Modern models support the following main functions
1. Automatic warming mode.
Function keeps the temperature of ready meals for a predetermined time. This mode can be used for cooking yogurt. In this case, the device must support temperatures up to 40 degrees for at least 8 hours. Temperature over 40 degrees kills useful bacteria strain.
Some models have option for switching off this function. It's conveniently in some cases. For example, the recipe for separate dishes envisages their slow cooling after cooking.
2. Delayed start.
This function provides automatic start cooking at the set time. Time is set with a timer and varies from 2 to 24 hours.
3. Support for Wi-Fi.
Function is designed for convenient download new recipes and remote control.
4. 3D-heating.
Electric heaters in models with 3D-heating function are placed from below, the sides and top. This design provides heat input to foods simultaneously with 3 sides.
Option provides reducing the cooking time by approximately 30% and significantly increases the uniformity of heat treatment. Such models have additional protection against switching on device with an empty bowl.
This function is used mainly for baking mode. Cupcakes, cakes and biscuits are baked evenly from all sides. High cost is the main disadvantage of such models.
5. Drip collector.
Drip collector represents a small cup for collection of condensate on device lid.
6. Grid for steaming cooking.
Steamed vegetables, burgers, dumplings are very tasty, useful and popular. Therefore, almost all modern models have this accessory.
7. Coating the inner bowl surface.
Non-stick properties of bowl are deteriorated due to attrition of coating layer during operation. This is one of the main problems. In the end, the user is forced to put up with constant scorching the foods or buy a new bowl. Of course, manufacturers are constantly improving the coating quality. Today, they use coatings based on polytetrafluoroethylene polymer (Teflon, Expert Pro, Prometal Pro, Intensium, Stalaflon, Adgelast, etc), or based on a ceramic (Termolon, Ekolon, Greblon and etc). Of course, the coating type significantly affects its longevity and model cost.
8. Inspection window in the housing.
It's designed for visual control over the cooking process. This is especially useful in case of an opaque lid.
9. Self-control.
Almost all modern models are equipped with this option. The test result is displayed on the display. Error code greatly simplifies fault identification.
10. Locking switching on without bowl.
Locking eliminates the overheating risk. This function is usually absent in inexpensive models. They use the button with a spring under a bowl that is pressed in the moment of bowl placing inside chamber. But this element is used only for activation of temperature sensor and is not protection in the traditional sense. Therefore, switching on device without bowl activates uncontrolled heating. In this case, the heater will operate up to combustion of thermo-fuse.
11. Voice Guidance.
This function is very convenient for visually impaired people.
12. Preset cooking programs.
They provide cooking in automatic mode and significantly affect the functionality. The number of cooking programs reaches several dozen.
Operational safety.
1. Reliable valve of lid locking protects the user from burns during cooking.
2. Button of smooth steam issue.
This button is used for forced the steam issue after cooking for unblocking lid. Otherwise, the user must wait of pressure decrease after natural cooling.
3. Electric cord.
Cord in some models is detaches. This feature simplifies the device storage and its replacement if necessary. Cord length also affects usability.
4. Rubberized insertions.
They prevent sliding device on a table surface.
5. Bowl with handles.
Plastic handles significantly improve usability and reduce the risk of burns during operation.
6. Heat-resistant knobs on the housing increase the usability.
7. Additional emergency hole is intended for emergency venting steam.
Criteria for choosing a model.
Of course, the choice depends on the required functionality of the model that in turn depends on the technical characteristics of the device.
But additional factors also influence the choice. This list includes the following aspects.
1. Easy removal of the bowl.
2. Operation range of timer.
This option in some models amounts only a few hours. Accordingly, cooking during a long time (for example, of jelly) is impossible. This aspect greatly narrows the range of dishes.
3. Attachments.
Many manufacturers equip their models with additional attachments (container-food steamer, measuring cups, special plastic spoon, holder for them, etc.). They significantly extend the model usability.
4. Reliability of the lid lock.
Opening a lid is blocked up to safe level of pressure within the device. Lock must be made of reliable metal. Lid must maximally tightly abut to housing and the insulating gasket must not have of visible defects.
This video demonstrates the wide possibilities of a modern multi-cooker.