The legendary Nokia N90 with swivel screen clamshell design ushered in an era of competition between digital cameras and smartphones back in 2005.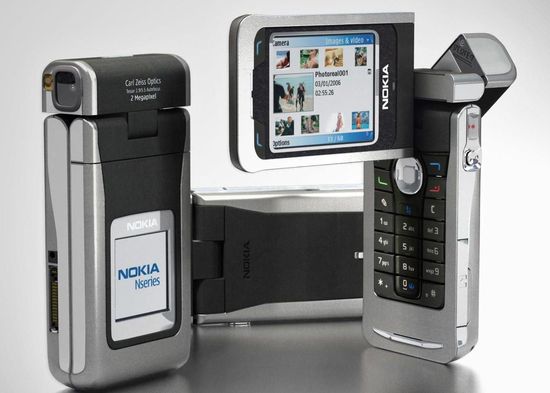 Today its capabilities bring a smile, but at the time the 2-megapixel camera of this model has been described by experts as fantastic, unprecedented, gorgeous, etc.
Camera phone vs SLR camera
The new trend was enthusiastically received by the consumer market. Of course, companies have adequately responded to demand by concentrating their efforts on improving this function. Their efforts were not in vain, and a few years ago the popular Matti Haapoja photographer, relatively speaking, summed up this competition.
He presented a side-by-side comparison of the picture quality taken with the $1,000 iPhone 11 Pro and the $7,500 Canon EOS-1D X Mark II.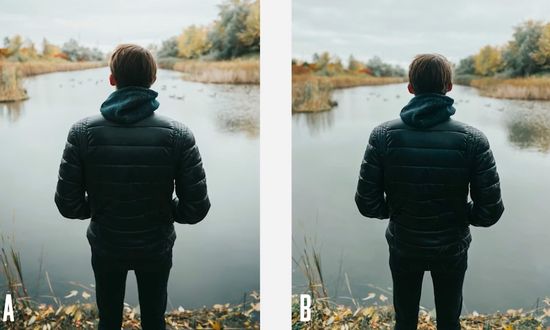 Even experienced photographers only 50% correctly identified A-picture on the left belong to the Canon Mark II. Comparison of the picture quality in portrait mode put the final point.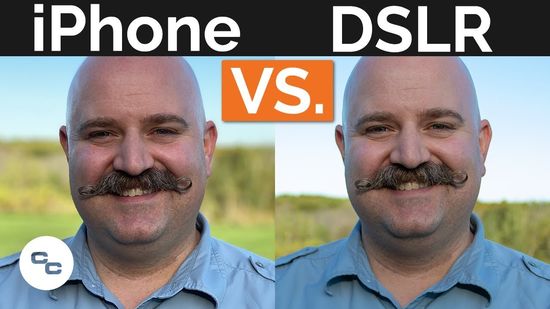 Approximately the same quality at a price difference of 5-10 times with a huge gain in weight and size leaves almost no chance for traditional DSLR cameras, even in the medium term.
But the phenomenal successes of camera phones are based not only on the improvement of miniature optics and increasing sensor sizes. Of course, these components are very important, providing image data and transforming them into electrical impulses. But this is clearly not enough without further AI image processing.
The tremendous performance of modern SoCs in smartphones, including the latest 8-core 64-bit 4nm Samsung Exynos 2200 and Qualcomm Snapdragon 8 Gen 1 (Armv9 architecture) in Galaxy S22, or 5nm Google Tensor, has radically expanded the developer experience. Together with new algorithms, they provide further improvement in the shooting quality. In fact, a modern smartphone generates an image, calculating and adjusting the value of each pixel using binning, interpolation, etc.
AI image processing
More recently, Google Pixel has unquestionably dominated in terms of AI image processing. Indeed, many Pixel 6 Pro owners have appreciated Google's handy exclusive modes, including Magic Eraser ('removing' pixels, for example, from photo background), Face Unblur (facial blur reduction), instant voice typing with punctuation and emoji support, etc.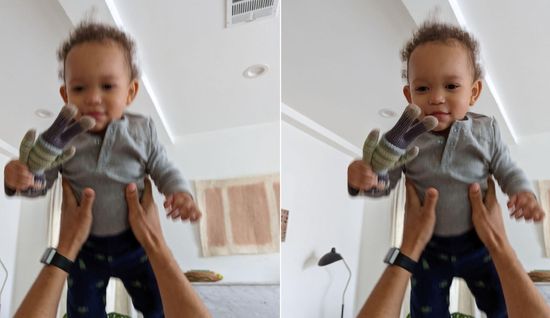 The last function in this incomplete list reformats the spoken punctuation. As a result, a request from "how are you question mark" becomes "how are you?".
But in the past two years, the South Korean giant has clearly demonstrated its intention to compete for the palm in this segment. In particular, the latest Samsung Galaxy models have Single Take, 3x and 10x zoom with quick switching, night mode, Director's View, sensor with 108-megapixel resolution, support for 12-bit RAW files, etc.
Actually, Single Take adds effects to photos and videos without first selecting a style, lens, or filter. In fact, the smartphone in this mode shoots for 10 seconds, allowing the operator to move the camera from side to side to create further several options for photos, videos or animations with different effects, which are stored in the Gallery.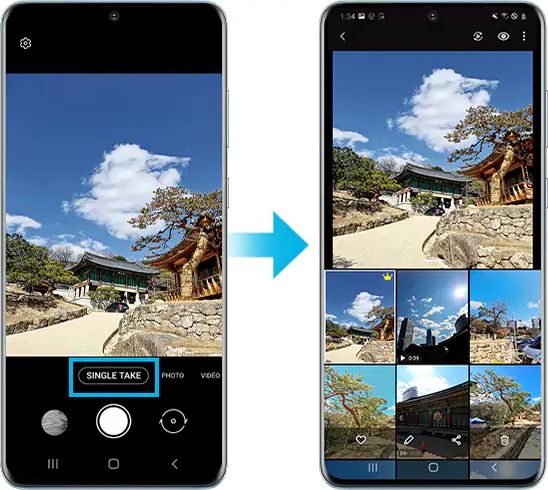 In night mode with a crescent icon, the smartphone changes the shutter speed to increase the amount of light absorbed.
Director's View uses all cameras at the same time to generate preview video thumbnails. In this mode, the smartphone splits the screen in half or uses picture-in-picture mode.
The 108MP image feature activates the high-definition mode using the main camera. Of course, zoom cameras are not available in this mode.
As known, 12-bit RAW files have a wide dynamic range, providing more detail in the highlights and shadows. But files in RAW format take up a lot of storage space.
Adaptive Pixel
This year, Samsung introduced the Galaxy S22 Ultra with innovative Adaptive Pixel technology.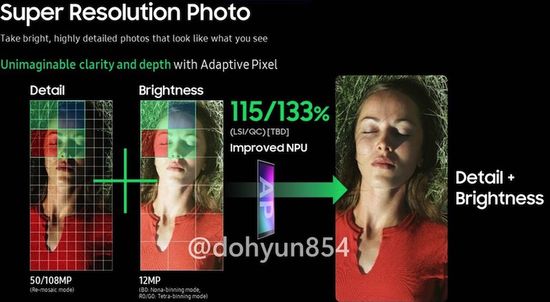 In fact, it's a pixel binning hybrid with 108MP detail.
As known, pixel binning significantly reduces the requirements for storage space and increases light sensitivity by increasing the quasi-pixel size, but reduces the image resolution. In turn, the 108-megapixel sensor provides a high level of detail. The developers have combined these pros and developed a hybrid Adaptive Pixel technology.
Modern pixel binning uses tetra-binning, combining a group of 4 adjacent pixels in a 2 × 2 array, and nona-binning, combining 9 pixels in a 3 × 3 array.
Increasing the number of pixels increases the detail (resolution) of an image. But placing additional pixels in a sensor of a certain size requires reducing the size of each pixel. This factor is especially important for any ultra compact cameras due to the limited sensor size. In turn, the pixel size directly affects the amount of light captured. The pixel size of professional camera sensors is much larger, resulting in sharper and brighter images due to their high light sensitivity.
The Galaxy S22 Ultra uses a 108MP sensor that has 108 million pixels with a size of 0.8 µm. Nona-binning reduces their number to 12MP (108 / 9), increasing the cluster size to 2.4 µm.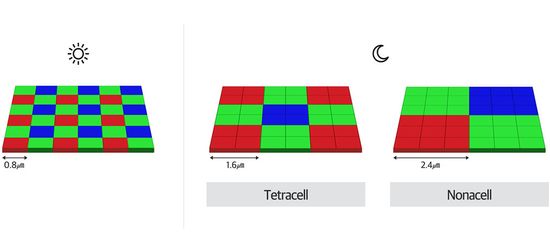 In fact, the Adaptive Pixel captures two images, producing two shots at 108MP and 12MP. After image processing, the algorithm combines two pictures into one image.
By default, a 108MP camera creates a 12MP image with nona-binning. Activating the 108MP mode provides great detail and is ideal for shooting well-lit scenes. Non-binning increases light sensitivity by increasing the cluster size and reduces storage space requirements. This 12MP mode is ideal for night shooting.
Conclusion
As known, on February 9, Samsung already announced a great Galaxy S22 Ultra with a new 8-core 64-bit 4nm Exynos 2200 or Qualcomm Snapdragon 8 Gen 1 (Armv9 architecture) SoC, unprecedented screen brightness up to 1750 nits, great contrast, etc.
Moreover, the developers paid a lot of attention to shooting, equipping the new series with a 108MP sensor and Adaptive Pixel. This hybrid technology offers a compromise between image detail and increased light sensitivity with nona-binning, optimizing the shooting in different ambient light.
This model can quite successfully compete with Google Pixel 6 Pro based on 5nm Google Tensor SoC, which confidently leads in many top lists.
Analysis of specs Galaxy S22 Ultra vs Pixel 6 Pro demonstrates a confident advantage of Samsung, but the Pixel 6 Pro offers exclusive AI image processing features, including Magic Eraser, Face Unblur, etc. Also, it runs pure Android 12 (S22 – Android 12 One UI 4.1) and is $300 cheaper ($900 vs $1,200 with 128GB internal storage). Finally, the global giant may well present its 2022 upgrades.
The Apple iPhone 13 Pro Max specs are also lower, but it's $200 cheaper ($1,000 vs $1,200 with 128GB internal storage).
Considering these factors, the additional innovation of the Galaxy S22 Ultra will come in very handy in the competitive battle.
On the other hand, most people prefer to sleep at night and are unlikely to appreciate the convenience of night shooting with the Adaptive Pixel. But for private detectives, paparazzi and tourists, it will be convenient.
This video offers Galaxy S22 Ultra in Samsung's official introduction film.