The tough competition in the modern consumer electronics market stimulates companies to constantly improve the competitiveness of their models. Of course, choice of the projector mainly depends on its price and functionality. In turn, the projector functionality directly depends on the innovative technologies used. As a result, market leaders annually offer improved models with a large number of innovative solutions. 2019 is no exception. Optoma UHD60, BenQ HT3550 / HT5550, Epson 4010, BenQ HT9060, Sony VPL-VW295ES, VAVA 4K Ultimate Smart Short Throw, Epson EH-TW7400, etc perfectly illustrate this trend, providing 4K HDR image quality, wireless connection, etc. Unfortunately, their cost also corresponds to the upper segment.
On the other hand, companies regularly reduce the prices of their previous models. As a result, the price / quality ratio of some successful projectors of the past years becomes very attractive, successfully competing with modern models. From this point of view, Full HD 3LCD Epson EH-TW5200 and subsequent models of this line today may be of interest to many.
As known, the popular and very successful Epson EH-TW5200 became the prototype for the Epson EH-TW5400, TW5600 and TW5650. Of course, modern models demonstrate higher specs. But today, Epson EH-TW5650 claims to lead among the low-end models up to $ 1,000.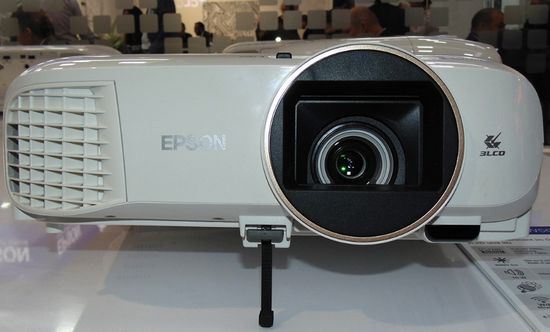 Testing from authoritative projection-homecinema.fr demonstrated a native contrast ratio of 1700: 1 in the most accurate color rendering mode and 64 132: 1 dynamic contrast ratio. For comparison, modern DLP projectors in the price segment up to $ 2,500 provide contrast from 900: 1 to 1900: 1. In fact, the Epson EH-TW5650 is already successfully competing in the 1080p budget projector segment.
Epson EH-TW5200
As known, Epson Full HD EH-TW5200 provides a brightness of 2000 ANSI lm and supports 3D mode. It has a stylish design with a glossy finish.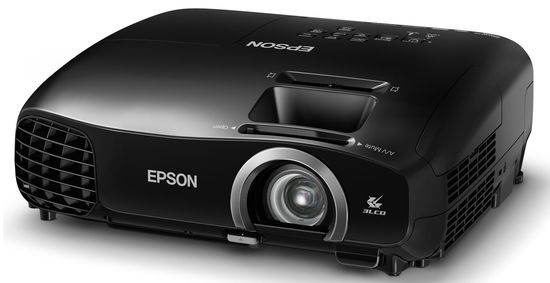 Additionally, projector has two HDMI 1.4, a composite video input, a D-Sub PC port, RS232 control port, etc.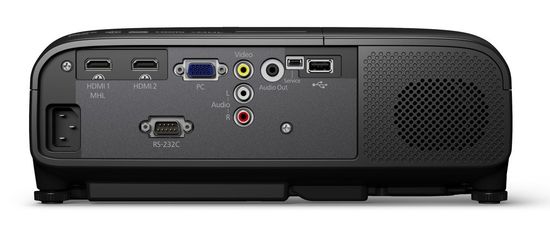 Moreover, one of the HDMI supports an MHL standard. Unfortunately, this cable is optional.
As known, this projector uses the CEC (Consumer Electronics Control) protocol to work through HDMI. Controls on top panel and remote control provide easy and convenient control.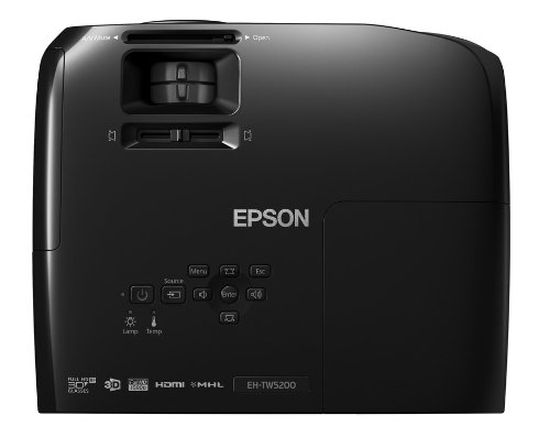 In addition, USB-A type connector provides connecting the flash drives and an optional Wi-Fi adapter for wireless communication with PC and smartphone.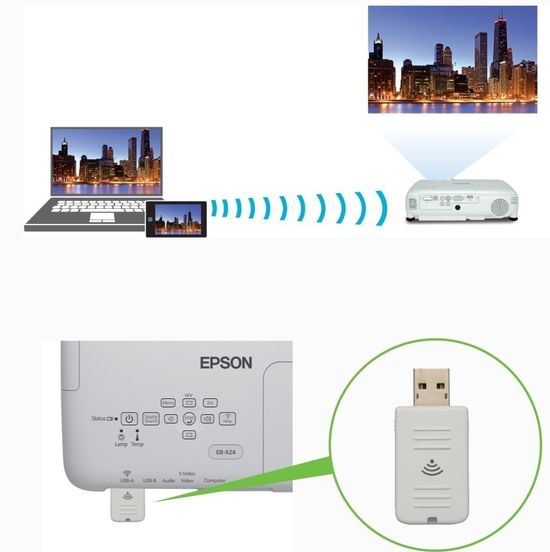 Unfortunately, this function requires a special program. But using USB flash drive does not require special drivers. The projector reproduces JPG files with a resolution up to 8192 x 8192 pixels. Images can be viewed in the slideshow mode.
The menu has a black-gray-white design and contains many settings. In addition, the large font provides fast and convenient navigation.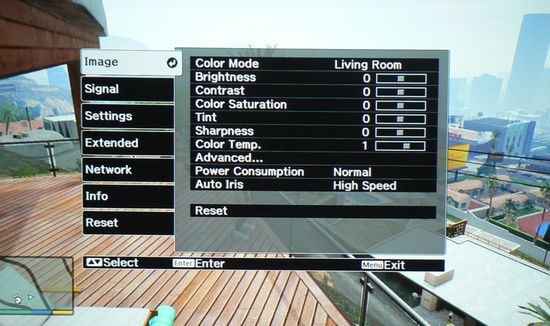 Default button on the remote control provides reset.
Moreover, EH-TW5200 provides a manual keystone correction ± 30 °. Vertical distortions are additionally corrected in automatic mode with the help of gravity sensor. Horizontal distortions are adjusted in the menu or with the help of slider on the top surface.
Key features
Test pattern greatly simplifies the projection setup. It's displayed with the help of the Pattern button on the remote control.
Besides, several modes of geometric transformation provide the choice of the optimal aspect ratio.
Model operates in the frontal projection mode or for translucent or transparent screens.
The color mode most affects the image quality. Therefore, the mode selection is the priority when setting.
The black and white levels use Brightness and Contrast settings. The Color Saturation, Tint and Color Temperature settings provide color balance adjustment.
Of course, experienced users can adjust the shift and gain of three colors (RGB), as well as the hue, saturation and brightness of six colors (RGBCMY).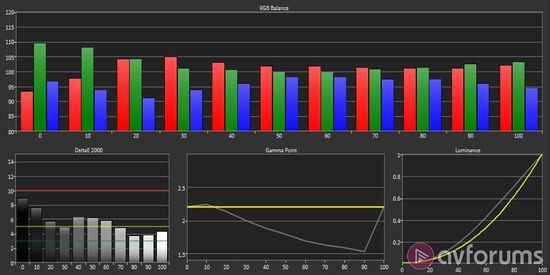 As known, Epson Super White mode reduces over-exposure of whites in your image. But it can be set only when Color Mode is set to Natural, Cinema, THX, 3D THX, B&W Cinema, or 3D Cinema. Auto Iris adjusts the aperture depending on the image illumination. Sharpness adjustment provides contour sharpness. In addition, the projector also has noise reduction of video noise.
In addition, EH-TW5200 has functions of automatic power on (Direct Power On), protection from accidental activation (projector turns on after 3-second pressing of the button-protection from children), a general locking for all buttons and a timer to turn off (Sleep mode).
The test results showed an excess of the maximum brightness (2500 instead of 2000), acceptable uniformity, but low contrast. It increases slightly with increasing focal length.
3D mode uses the alternation of full frames for right and left eye. Active glasses synchronously with the frames overlap the eyes. Thus, at any time, the frame is only perceived by one corresponding eye. This algorithm produces a 3D effect. But active glasses are not included in the package.
Pros & Cons
PROS
– high brightness;
– high quality 3D mode;
-auto correction of vertical distortions with gravity sensor;
– large number of settings;
– quiet operation in eco mode;
– 8192 x 8192 resolution for JPG files through USB;
– support for MHL and optional Wi-Fi adapter;
– quick shutdown.
CONS
– image output delay;
– small black depth;
– no backlight for buttons of remote control.
This video offers side-by-side comparison between Epson TW5200 vs BenQ W1070+.