As known, the cost of TVs with a large diagonal does not decrease. Models with a screen of 60 "or more are quite expensive. Probably, this trend will not change significantly in the near future. Today, companies continue to increase their resolution (8K, 10K), supported color depth (10-bit and 12-bit color grading with HDR 10+, Dolby Vizion, HLG (Hybrid Log-Gamma) support), HDMI 2.1 (48 Gbps) connection standard, HFR (high frame rate) format, etc. For example, a presented at CES 2019 new LG Signature Rollable OLED TV with flexible screen amazed the most imperturbable viewers.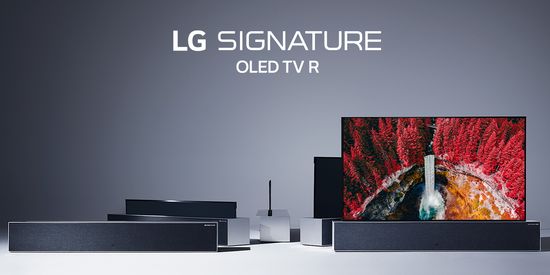 In addition, companies are constantly improving the technologies of matrices. For example, Nano Cell and Micro LED technologies perfectly illustrate this trend. Unfortunately, the cost of innovative TVs is also increasing. For example, the gorgeous LG OLED 8B 2018 is positioned as a "budget" model due to the price of less than $ 1000.
On the other hand, the projector segment is also not standing still. Today, the companies offered quite a lot of 4K HDR models, including Optoma UHD60, BenQ HT3550, Epson 4010, etc. At the same time, the cost of Epson Home Cinema 4000, for example, does not exceed $ 2,000. Given the projection diagonal size (from 150 to 300 inches) and its quality, the appeal of this solution increases for many consumers. As a result, modern projectors have become a good alternative for many users. Of course, the screen 300″ is impressive compared to the traditional 50-60″.
ViewSonic PRO7827HD
In addition, companies traditionally lower prices for their previous models. As a result, the market offers excellent models at a fairly reasonable price. Of course, the ViewSonic PRO7827HD refers to this type. Today, its price on Amazon is only $ 750.
Image quality of Full HD format provides enough comfort for viewing even on a large screen. Video hosting and online services have long offered video in this format. Of course, their assortment is much wider compared to 4K-content. Therefore, Full HD models are still very popular for home theater.
UHD projectors of 4K format are actively promoted in the market. However, the limited amounts of 4K-content and cost of these models limit process. Therefore, UHD projectors remain an exotic novelty for most users.
Black plastic, glossy stripes and a matte surface give the projector a stylish design that fits perfectly into any interior.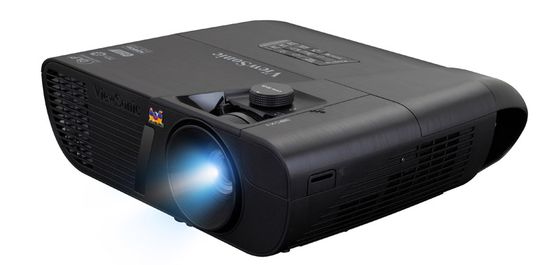 The projector has a relatively small size, but weighs more than 5 Lb.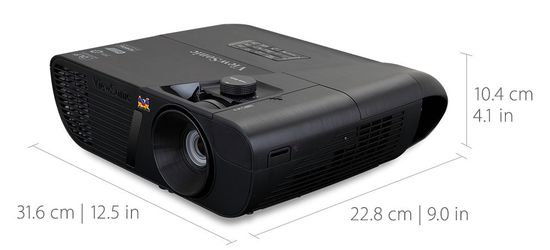 ViewSonic Pro7827HD has a resolution of 1920×1080 and supports 3D.
Сontrols on the upper surface and remote control provide easy and convenient navigation.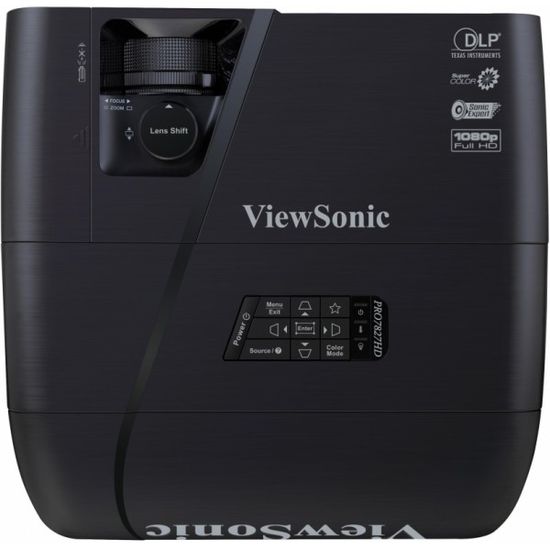 Additionally, projector provides connection of analog and digital sources. It has a hidden compartment with HDMI / MHL, two HDMI ports on the rear panel (including one with MHL) and USB to connect wireless modules.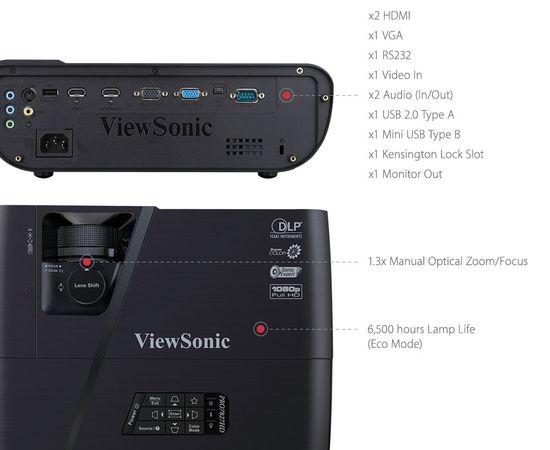 Key features
According to spec, model provides 2200 ANSI-lumens. But testing demonstrates up to 1400 lm in colors and up to 1744 – in white. However, this brightness provides enough image quality even without full dimming in diffused daylight.
Color brightness reaches 80% of the white brightness in dynamic mode. BrilliantColor value in the additional image settings reaches 10, that corresponds to the maximum white magnification. But standard mode uses 4. Respectively, maximum brightness decreases in this mode up to color brightness. ViewMatch and Film (Rec.709) modes do not use BrilliantColor (BrilliantColor value=1).
Thus, the dynamic mode is designed for less darkened rooms; Standard and Film (Rec.709) modes are optimal for rooms with good dimming.
ViewSonic Pro7827HD demonstrates an excellent level of "honest" contrast ratio for this segment (measurement method-full on/full off ). It reaches 1300:1 in the film (Rec.709) mode.
Projector supports sRGB and Rec.709 color standards, has ISF certified calibration mode and a special profile for movies.
As known, certified calibration (ISF- Imaging Science Research) provides an almost perfect picture.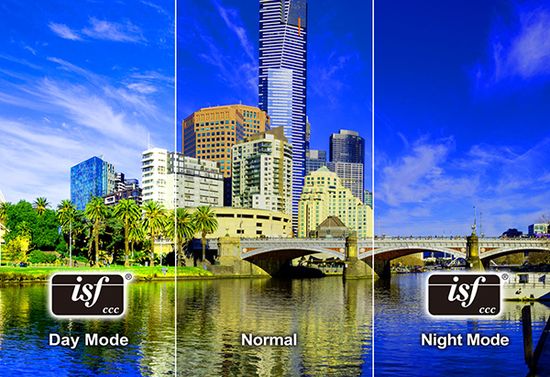 Moreover, acoustic system with a power of 10 W provides a very clear sound with SonicExpert technology. Sound tract uses a modern sound-emitter, providing high sound quality with an optimum sound response. The audio system is configured in Sonic Mode.
Projector also uses SuperColor technology to extend the color range. SuperColor RGBRGB technology provides a very realistic image due to excellent display of color gradients.
The RGBRGB color wheel in conjunction with dynamic lamp control ensures acceptably high image quality even at bright enough lighting.
Pros & Cons
Unfortunately, ViewSonic Pro7827HD has the rainbow effect, which is present in almost all single-matrix DLP projectors.
As known, this effect forms red-green artifacts along the contour of high contrast objects.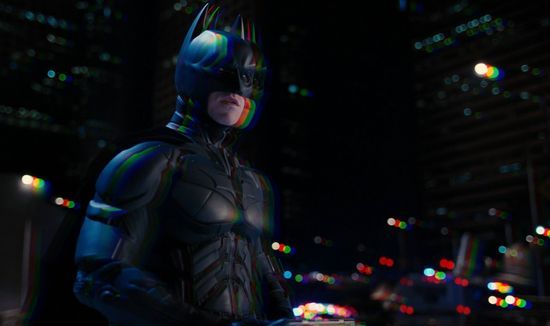 Unfortunately, the six-segment RGBRGB color wheel compensates it incompletely. Bright subtitles sometimes also provoke this effect.
Service life of the lamp varies from 3500 to 6500 hours. This corresponds to about five years of operation with a daily two-hour viewing.
A sufficiently short throw lens provides a throw ratio of 1,1: 1. Projector has optical zoom of 1.3x and Vertical Lens Shift with adjustment range of 20% of the image height. Model provides 100″ screen diagonal at a distance from 8,5 to 11 ft (2,6 – 3,3 meters).
High accuracy of the color rendering in the Film (Rec.709) mode does not require additional setting. Projector also has a simple and convenient manual adjustment of the white balance.
PROS
– high brightness;
– very high contrast ratio;
-SonicExpert technology;
-ISF calibration support;
– wide color gamut;
– SuperColor RGBRGB color wheel;
– superb black level;
– high stability of color temperature;
– high color accuracy and good sRGB colors without additional adjustments;
– almost perfect image after calibration;
– HDMI / MHL connectors.
CONS
– rainbow effect in darkened scenes with high contrast;
– too large an input lag in games;
– uneven luminous flux;
– sufficiently high noise level of the fan;
– average service life of lamp;
– power consumption reaches 350 W.
Of course, all these factors affect the choice of the optimal projector.
This video offers side-by-side comparison between ViewSonic PRO7827HD vs EPSON EN-TW 5300