As known, the cost of TVs with a large diagonal does not decrease. Models with a screen from 60″ and more are quite expensive and this trend probably will not change in the near future. Therefore, modern projectors are a good alternative for many users. Firstly, today they provide video playback on a huge screen. Of course, the screen 300″ is impressive compared to 50″.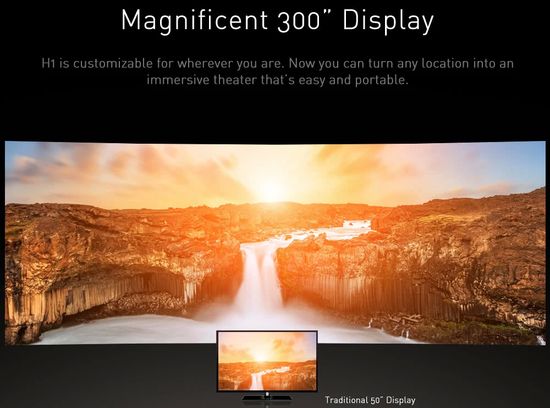 Secondly, in 2019, many companies already offer 4K HDR models with high image quality. Unfortunately, while they are quite expensive. But the price of the previous top models has decreased significantly. As a result, today the market offers great models at a fairly reasonable price. However, this situation is typical for all segments of consumer electronics. Usually, such models have an optimal price / quality ratio. Of course, XGIMI H1 Smart WiFi Bluetooth Wireless Projector for Home Theater belongs to this type. As known, it was first introduced at CES 2017. But today its price is only $ 710 at Amazon.
Of course, two built-in 45mm Harman/Kardon Hi-Fi Speakers with a power of 7.5 W ensure the uniqueness of this projector. They provide a very high-quality sound together with two low-frequency speakers on the bottom. In addition, the projector has Bluetooth-speakers mode for music playback from the smartphone.
XGIMI H1
Of course, the projector has small dimensions, but it's quite high (more than 5 inches).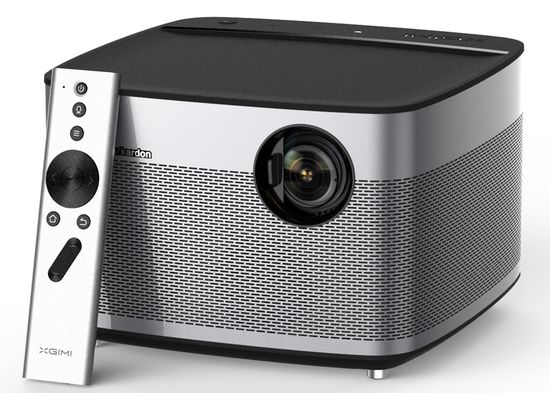 Model weighs about 4 lb. Of course, its dimensions and weight are smaller compared to stationary models, but significantly exceeds portable projectors. Unfortunately, speaker membranes on the bottom not protected against mechanical damage. Therefore, moving and installing the projector requires care.
H1 projector was created with Crowdfunding Indiegogo platform.
XGIMI H1 uses DLP(Digital Light Processing) image projection technology with 0.47″DMD and RGB-LEDs as a light source. According to the company, lamp life reaches 30,000 hours.
Of course, this statement causes certain skepticism among many experts. But, only time will confirm or refute the declared figure. Matrix size is 0.47″. Model provides Full HD resolution (1920 x 1080 pixels) and brightness of 900 ANSI Lm.
As known, ANSI (American National Standards Institute) standard is used to measure the luminous flux in modern projectors. This parameter was introduced in 1992. It characterizes the average luminous flux on a 40″ screen with a minimum focal length of the zoom lens.
The luminous flux of modern portable projectors varies from 10 to 150 lm. More powerful projectors usually have from 1000 lm and higher. The brightness of modern heavy-duty installation projectors can reach 60,000 ANSI Lm. For example, the Christie 4K D4KLH60 provides from 5,000 to 60,000 lm using 3-chip DLP technology and 1 to 12 laser modules as the light source. The brightness of 900 ANSI Lm provides excellent quality even without completely dimming at diffused light. But, of course, it's not suitable for presentations in large not darked halls.
Key features
XGIMI H1 projects an image on a screen with a diagonal of up to 300 inches in Full HD resolution.
In addition, this projector converts 2D video to 3D with an optical lens system and uses active shutter 3D techology.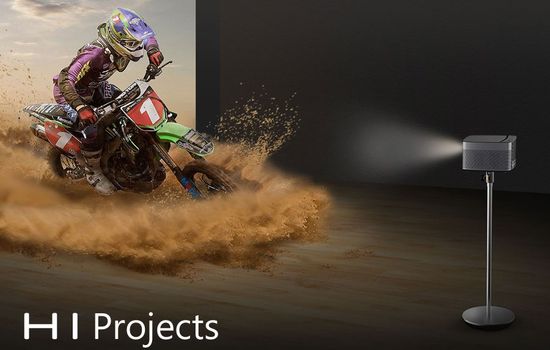 Mstar 6A928 Cortex-A17 Quadcore 1.7GHz CPU, a graphical Mali-T760 MP4 accelerator, RAM 3GB DDR3 and Storage 16GB eMMC provide its high computing performance. Of course, such a highly productive set provides the very wide multimedia capabilities.
XGIMI H1 uses Android 5.1.1 that is compatible with almost all modern devices. Remote control or smartphone on Android or iOS and a special mobile app provide convenient control.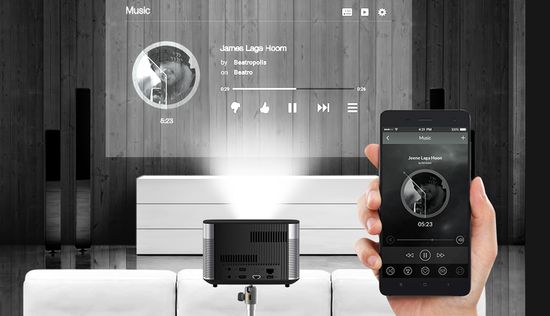 The projector connects to the network via an Ethernet port or built-in Wi-Fi module (802.11 a / b / g / n / ac) and has Bluetooth 4.0.
Great set of connectors provides connection of almost all popular devices.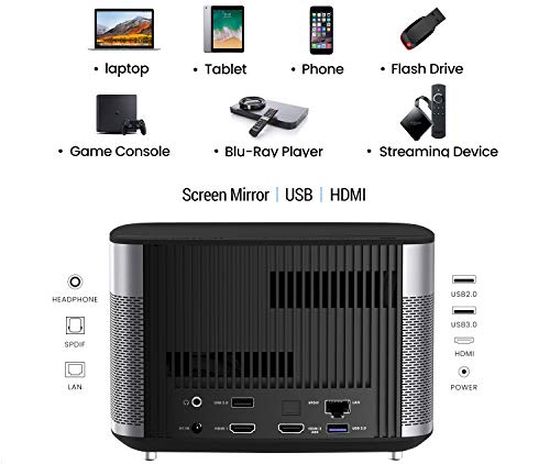 The projector can be mounted on a floor stand or on a wall. But image inversion option also provides mounting with ceiling holder.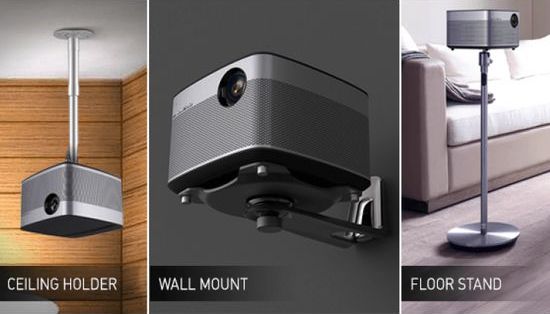 Projection ratio (or throw ratio) 1.39 – 1.5 :1 provides diagonal of 60-70 inches on the distance of several meters. Three meters correspond to an image diagonal of 109 inch.
Model provides high quality images without distortion at the periphery with rich and bright colors.
Projector uses two independent heatsinks for cooling. The fan noise level does not exceed 30 dB.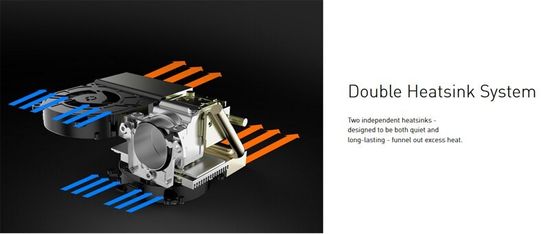 Setting, pros and cons
Model has an optical zoom function. A small hole on the lens ring is designed for its rotation in the required direction with the help of improvised means (for example, a paper clip). Of course, it's not very convenient. Unfortunately, adjustment does not exceed 7%. Therefore, changing the distance between projector and screen is the main way to change the screen diagonal.
Unfortunately, the model does not support auto keystone correction and requires input coordinates for each of the four corners. But it's quite simple and very effective. Its range is ± 35 ° vertically and ± 30 ° horizontally.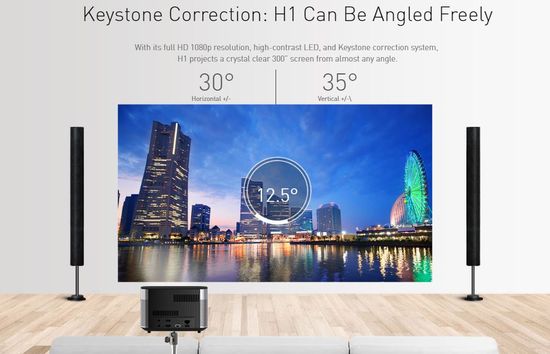 PROS
– relatively low price for this class;
– magnificent 300″ display;
– bright and contrast Full HD image;
– good clarity and rich colors;
– full set of wireless communication;
– bluetooth-speakers mode;
– very long service life of the light source;
– Android 5.1.1 with the ability to install apps;
– video playback from external drives;
– two built-in 45mm Harman/Kardon Hi-Fi Speakers.
CONS
– rainbow effect;
– 900 ANSI Lm requires darkening the room;
– small range of screen size settings;
– no automatic keystone correction;
– lack of protection for membranes of low-frequency speakers on the bottom.
Of course, all these factors affect the choice of the optimal projector.
This video demonstrates the XGIMI H1 4K 3D smart projector with a 300-inch image.