The fryers are designed for cooking in boiling oil. Friture is a French word that means a deep layer of vegetable or animal fat for cooking. Such a method is called deep-fry cooking.
Of course, the features of deep fryer affect the model choice. For example, the oil filtration system in a deep fryer significantly affects its efficiency and usability.
French fries are the most popular dish that is prepared using this technology. But modern fryers also provide cooking the vegetables, poultry, fish, meat, mushroom, seafood, some fruits, dough, etc. In fact, the functionality of modern fryers in the upper price segment is quite commensurate with the functionality of traditional multi cooker.
The characteristics of modern fryers vary in a wide range, ensuring the selection of the optimal model depending on its purpose.
Design
Traditional deep fryer has a heating element, one or two baskets for foods, controls for adjustment of temperature and time and bowl for oil with a tight fitting lid.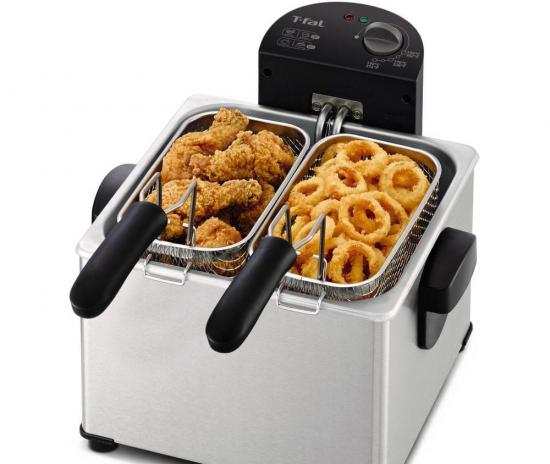 Basket for foods is usually produced of steel wire and is designed for placing the foods during frying. Basket with food is lowered into boiling oil that provides formation of peculiar crispy golden crust. Some models have a set of baskets with different sizes of cells.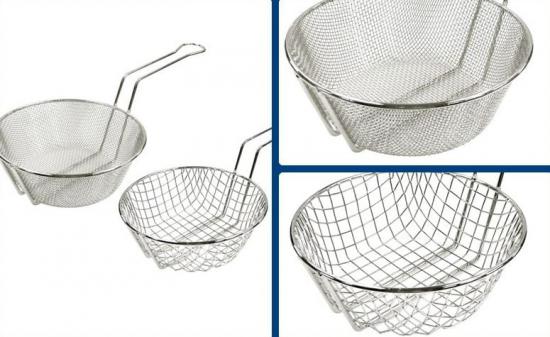 This is convenient for foods with different sizes.
Some models uses the heat treatment under pressure that significantly reduces the cooking time. For example, such model provides cooking chicken weighing 6 lb in only 10 minutes.
Housing the modern models is made from a material with good thermal insulating properties. Therefore, it remains only warm even during operation that eliminates the burn risk.
Of course, additional equipment (timer, thermostat, filters, etc.) and engineering solutions (a removable design of bowl, the rotation of the inclined bowl, etc.) expand the model functionality.
Filtration system absorptions the vapors and smells boiling oil and provides its use for several cycles.
Gas deep fryer
Gas fryers are less common compared to electric models.
They heat vegetable oil with the help of tube with a burning gas or atmospheric burner that uses a mixture of air and gas. Usually, the tube is located under the bottom or near the side walls of the fryer bowl.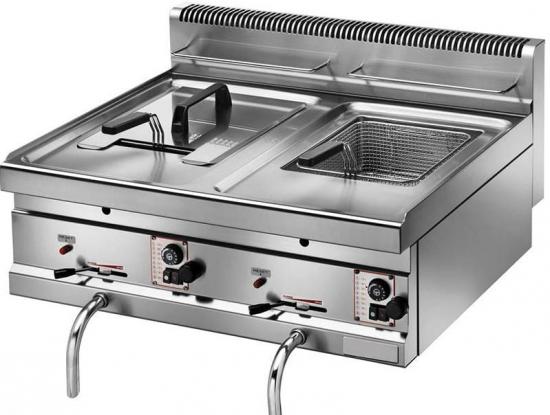 Gas models provide a very rapid cooking. For example, French fries is preparing during few minutes. Modern gas fryers use an electric ignition system.
These models have improved considerably in recent years due to reducing the gas consumption. Power of gas fryer is from 7 to 60 kW.
Today, Italian MODULAR, Fimar, BERTO'S SPA and Tecnoinox Companies are the leaders among manufacturers of gas fryers.
Model with an infrared burner is one type of gas fryers. Such heating element is similar to sieve of ceramic plates or a metal mesh with a plurality of tiny holes.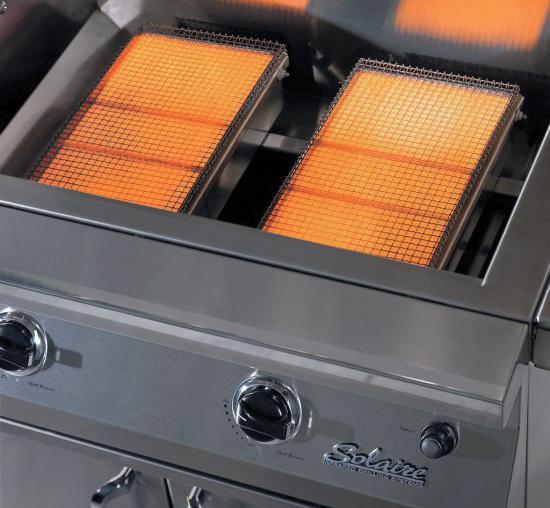 Fan delivers the mixture of gas and air across holes. Its burning temperature reaches 800 degrees. High temperature provides very fast heating oil. Therefore, the cooking time in models with infrared burners is significantly less. Energy efficiency in the infrared fryers is higher on 20-70% compared to other models.
Electric deep fryers
Electric fryers are more popular compared to gas models due to simplicity of design. The heating elements are located into stainless steel tubes.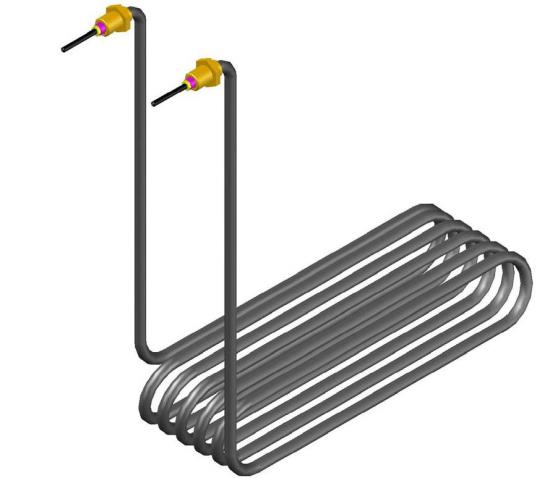 The heating element size directly affects the rate of oil heating. Accordingly, the oil consumption is less in a powerful model due to reducing the cooking time.
Electric deep fryers require much smaller volume vegetable oil compared to gas models. In addition, the heat in the bowl of electric fryer is distributed more evenly.
Power of electric deep fryers varies from 5, 5 to 36 kW.
Assortment of electric models is much wider compared to gas models.
Induction fryers are one type of electric deep fryers.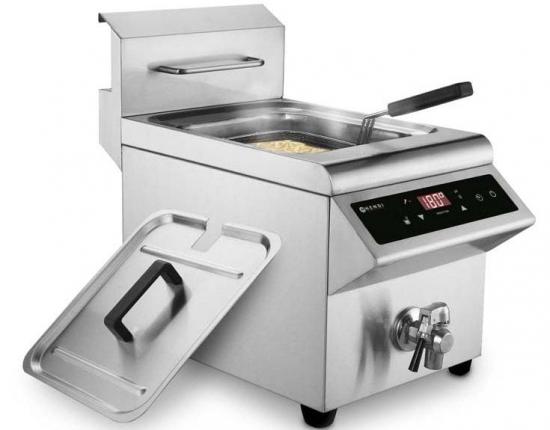 They use an induction heating technology. The induction coil is a heat source. These fryers are more efficient compared to traditional electric models. They begin heating the oil at a tube temperature of 315 degrees. For comparison, the oil in the traditional models begins to heat up at tube temperature from 400 degrees and above. Lowering the temperature reduces heat loss and increases the oil service life by about 35%. Additionally, in this case the oil is less sprayed and more quickly recovers temperature.
This video offers some most popular deep fryers of 2019, including Hamilton Beach, BELLA, Presto and COSORI Air Fryer.