Of course, the fryer needs no introduction. This simple, but very popular kitchen appliance has long been one of the essential attributes of many kitchens. But the active use of innovations in the conditions of tough competition is quickly changing the familiar home appliances, expanding their functionality and technical values. Therefore, even general information about their capabilities greatly simplifies the selection of the optimal model.
As known, the traditional fryer fries thin slices of potatoes in vegetable oil. Such device includes an oil bowl, one or two baskets for sliced potatoes or other foods, a heating element and controls. As known, too hot oil begins to produce harmful carcinogens. Therefore, all modern models use a thermostat, providing the optimum temperature during cooking. Usually, modern fryers use a metal grease filter in the lid and a carbon filter that protects the dish from the smell of hot oil.
Main types
Fast foods often use traditional powerful electric or gas fryers with a spacious bowl of 4 liters or more. They provide high performance and efficiency due to the fast cooking food in large quantities. But the difference in price between a household and commercial fryer is not very large. Therefore, a large family also can use it.
Domino line include built-in fryer that is built into the kitchen worktop next to the hob. Of course, such built-in fryers practically do not require space in the kitchen.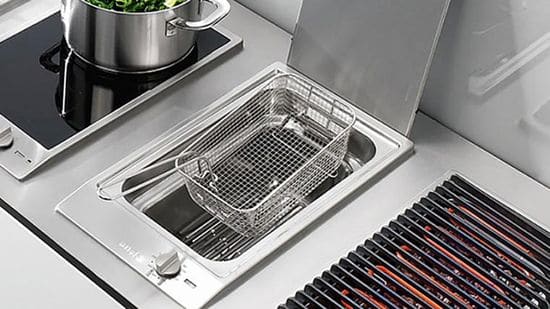 Of course, the popular trend of healthy eating significantly affects the manufacturers. Considering this aspect, many companies are successfully trying to reduce the use of oil during cooking. In particular, the market today offers various oil-free fryers. For example, air fryers use the technology of intensive mixing the hot oil droplets with hot air. Sprayed hot oil creates an analogue of a small tornado inside the device bowl.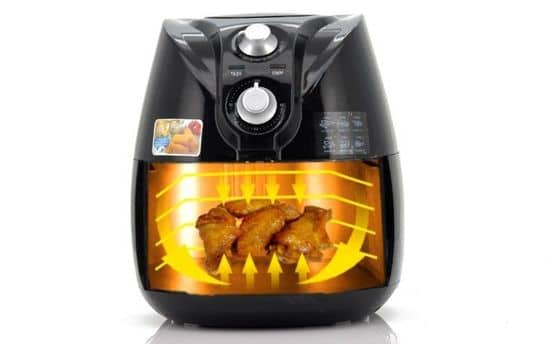 Of course, such cooking requires very little oil.
DeLonghi has developed a different technology. For example, the D28313UXBK Roto Deep Fryer uses a tilted rotating bowl for this purpose.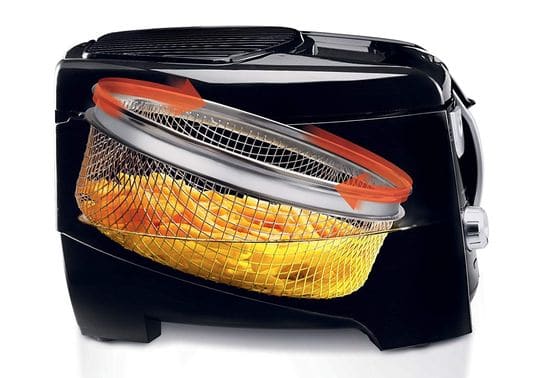 The oil at its bottom periodically wets the potato, preventing it from burning. Of course, such a dish is not dietary, but it contains significantly fewer calories.
Modern models provide preparation of a wide range of dishes, including mouth-watering donuts, burgers, chicken wings, vegetable side dishes, oriental sweets, etc. Moreover, some fryers perfectly cook dishes based on fish and seafood. Today, the Internet offers a huge number of such recipes.
Technical values
The list of technical values includes device power and bowl capacity. But the design of the basket and filters also significantly affects the model usability.
The device power directly affects the heating rate of the oil in the bowl and the duration of continuous operation. Most models have power from 900 to 2800 W. But low-power models usually provide about 1000 W. The power of more expensive multi-functional fryers reaches 2000 W and above.
The bowl capacity affects the maximum amount of oil and the number of potatoes in the basket. Most models with the bowl capacity from 1 to 3 liters provide cooking from 1 to 4,5 lbs per cycle. Of course, commercial models have higher values.
The design of a basket affects the convenience. For example, the ability to lift it from the bowl with oil provides natural heating from hot oil for some time.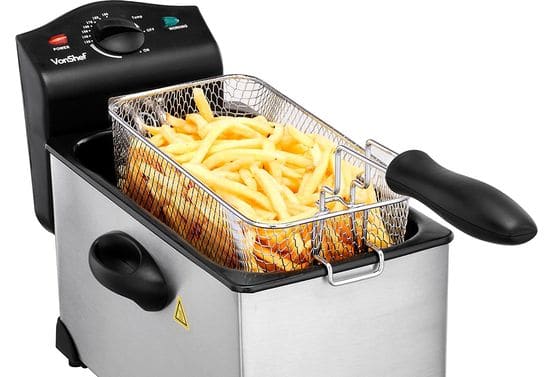 Of course, cleaning a fryer is a difficult, time-consuming task. But a deep fryer with a removable bowl simplifies it significantly, especially considering the possibility of cleaning the bowl in the dishwasher.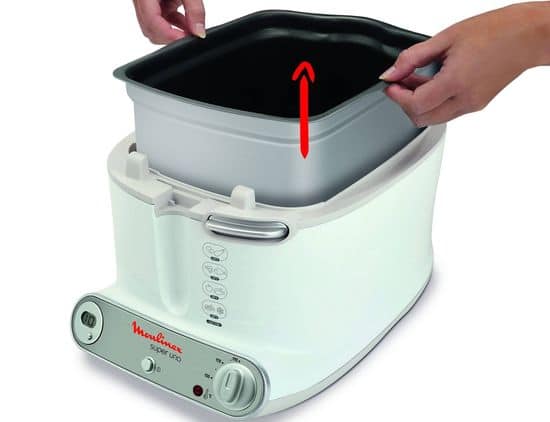 Unfortunately, cleaning models with a stationary bowl requires significant effort.
Features
Additional options
– two-chamber deep fryers use two baskets for the simultaneous preparation of two different dishes.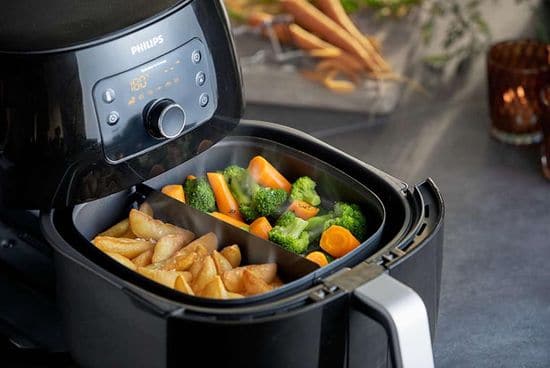 – mode of cooking at lower temperatures saves more nutrients and vitamins;
– automatic mixing function ensures uniform roasting.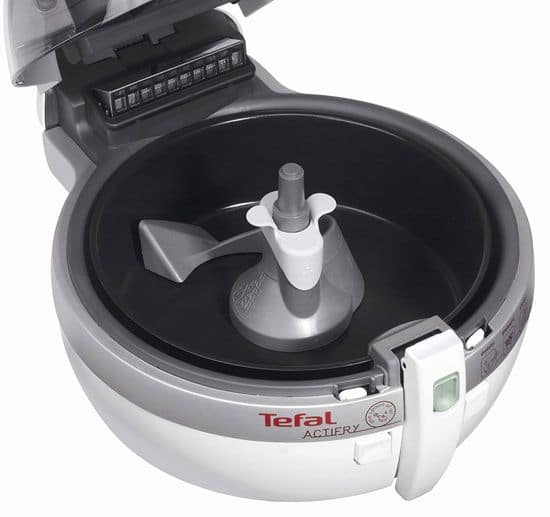 Today many Tefal models, including Tefal FZ7000 ActiFry support this option.
– fondue cooking mode provides melting of cheese, chocolate, etc.;
– automatic cooking programs provide heat treatment of various products at optimum temperature, including vegetables, meat, fish, poultry, etc.
In addition, many models support timer function, beep, have a cable storage compartment and removable basket holder.
This video demonstrates the work of some innovative technologies in the De'Longhi Multifry Low-Oil Fryer and Multicooker / FH 1394.