Traditionally for most industry leaders, Delonghi offers a very wide range of coffee machines. This list includes Nespresso models, drip and carob coffee makers, fully automatic and semi-automatic espresso coffee machines, etc.
Delonghi coffee machines
They are built on one of three platforms, including:
– ESAM – premium models with increased reliability;
– ETAM – compact coffee machines with reduced capacity of water container and coffee bean hopper;
– ECAM – is the most popular universal platform.
The list of main differences includes heater power, type of milk frother (manual or automatic LatteCrema system), controls (buttons, dials, symbolic or intuitive interface), capacity of water tanks / bean hopper, settings and programs.
In turn, Delonghi espresso machines are conditionally divided into:
– Caffe Corso and Caffe Venezia lines of entry level;
– budget and mid-budget Magnifica, Dinamica / Dinamica Plus, La Specialista and Autentica;
– premium – PrimaDonna, Eletta Explore and Maestosa.
Of course, each line has key features. For example, the Magnifica is perfect for making espresso, the PrimaDonna Soul offers innovative Bean Adapt technology, the Eletta Explore has 40 pre-programmed recipes and an additional LatteCrema Cool milk system, the semi-automatic La Specialista offers a stylish retro design, etc.
All series successfully compete in the market. But to be honest, Magnifica and Dinamica are the most popular because of the superb value for money. For example, the phenomenal popularity of the legendary Magnifica ECAM 22.110 (Magnifica S) lasts since 2014 and will soon reach 10 years!
Of course, management adequately responds to consumer demand, developing the most popular lines. For example, last year DeLonghi introduced Dinamica Plus and significantly expanded the Magnifica line with Start and Evo series.
Of course, a wide range is always a bonus, but the optimal choice requires at least a simplified classification. The list of current Delonghi Magnifica Evo ECAM coffee machines today includes 290.21, 290.22, 290.31, 290.42, 290.43, 290.61, 290.81 and 290.84 models.
Features
With the exception of the control panel, the design of the new Magnifica Evo and the max cup height of 140-145mm have not changed. But the almost horizontal panel position is debatable. Of course, this aspect is not a problem for tall people. But short people may experience discomfort when placing a coffee machine on a tall table.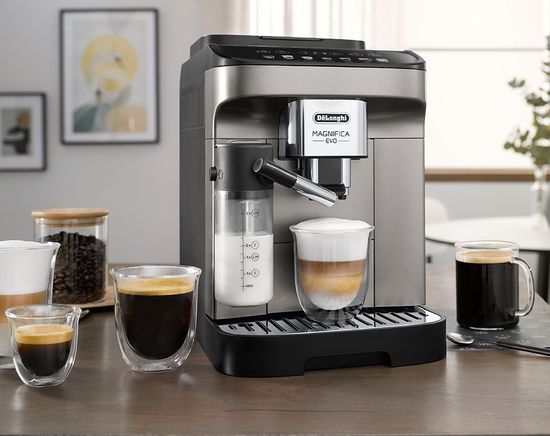 All models make 'Espresso', 'Coffee' (traditional Lungo) and hot water.
Features:
– ECAM 290.21 – manual steam wand and 'Long' program. This is an imitation of a filtered Americano (espresso + hot water). Program uses two grinds and two brews with intermittent pumping (dispensing / pause of 1-1 sec). The duration is twice as long vs 'Coffee'. By default, the total volume is 160 ml (2 x 80 ml). The programmable range is 115 – 250 ml;
– 290.22 – steam wand and Doppio+ (strong rich coffee). This program uses a longer intermittent pre-wetting and 14 grams of ground coffee. The default volume is 120 ml adjustable from 80 to 180 ml;
– 290.31 – steam wand, Long and Doppio+;
– 290.42 – steam wand, Long, Doppio+ and traditional Americano (espresso + hot water).
This model has no direct counterpart in the Start line, offering the most complete set of programs, including a relatively weak Americano, very strong Doppio+ and double espresso. But it's more expensive vs other models with steam wand;
– 290.43 – steam wand, Long, Americano and Over Ice (lower temperature and pre-infusing);
– 290.61 – LatteCrema system with automatic cleaning function, milk-based Cappuccino and My Latte (customization for personalizing the milk-based recipes);
– 290.81 – LatteCrema, Long and Latte Macchiato;
– 290.84 – LatteCrema, Cappuccino, Latte Macchiato, Over Ice and My Latte.
LatteCrema system
Models with LatteCrema system come with a new jug (7313268961) and milk sensor. It's cylindrical, smaller and costs less than € 50.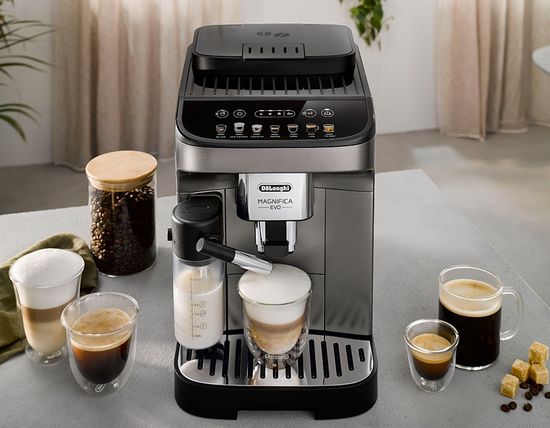 New system also uses a milk sensor, which is placed behind a window at the bottom of the front panel.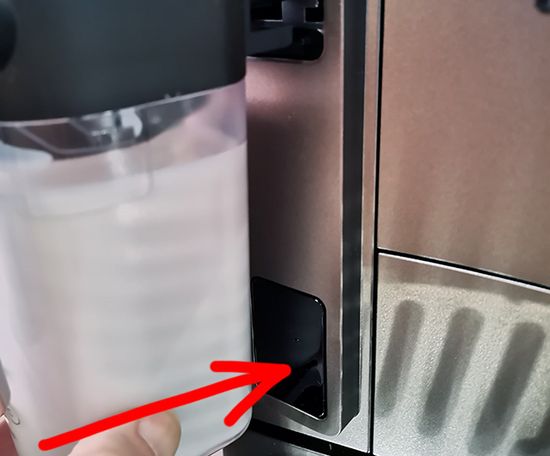 When the milk level drops to a few mm, the coffee machine blocks frothing by blocking the steam supply to the empty jug. In addition, the sensor data is used by the My Latte program to dispense milk without residue.
Most Delonghi milk jugs can accommodate up to 500 ml. New jug capacity is only 235 ml. Given the increase in volume, it prepares 350-370 ml of foam for 1-2 servings. But adding milk requires removing the jug. In addition, the latch of its cover is too rigid. The larger jugs are more comfortable and store milk perfectly in the refrigerator.
Unfortunately, the new jug does not support milk foam height adjustment. To be fair, even inexpensive Delonghi ECAM 23.460 or 350.50 have this adjustment, which is used for latte with min foam or with heated milk. Magnifica Evo offers only a huge head of insufficiently wet milk foam, which exfoliates quickly in coffee.
In addition, this adjustment controls indirectly regulates the milk temperature, which depends on froth height. Therefore, Delonghi Magnifica Evo cooks max hot milk, and the temperature of milk-based drinks exceeds 70°C.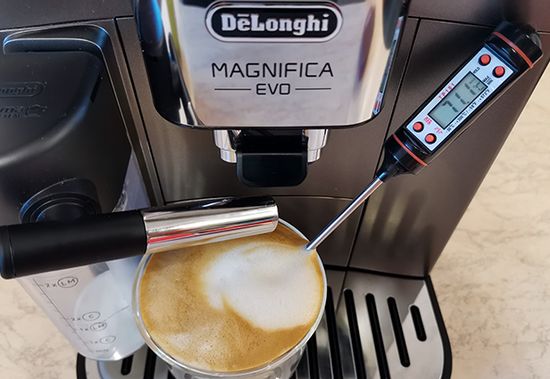 As known, the optimal temperature of milk / foam for a classic cappuccino varies between 55-65°C. But many people like hotter coffee.
The operation of the 'My Latte' program also does not correspond to the classical canons, according to which milk is added to coffee. Delonghi programs add coffee to already poured milk.
Key Features
Platform
Except for the design, the models with manual steam wand use a similar topology and components to Magnifica Start:
– steel conical coffee grinder with 13 steps;
– removable CRF brewing unit (6-14 grams);
– ULKA EP5 pump – up to 15 bar with pulsation damper;
– 1450 W thermoblock;
– 250g grain hopper, 1.8l water tank and coffee grounds container for 14 portions.
The thermoblock of models with LatteCrema has an additional CEME solenoid valve to automatically switch the flow of water / steam to the milk frother.
The settings are also identical to Magnifica Start:
– coffee strength – 3 (~ 6, 9 and 12 grams of ground coffee);
– temperature – 3 steps;
– double espresso mode ('2x' with ~14 grams of ground coffee, one cycle);
– eco mode (default) – quick thermoblock shutdown;
– auto off – 15 minutes (default) / 30 minutes / 1 hour / 3 hours;
– water hardness;
– water filter activation;
– sound confirmation of clicks.
All settings are placed in a submenu ('gear' icon). The touchpad contains 4 to 7 colored icons for programs (steam, espresso, coffee, LONG/Doppio+, etc).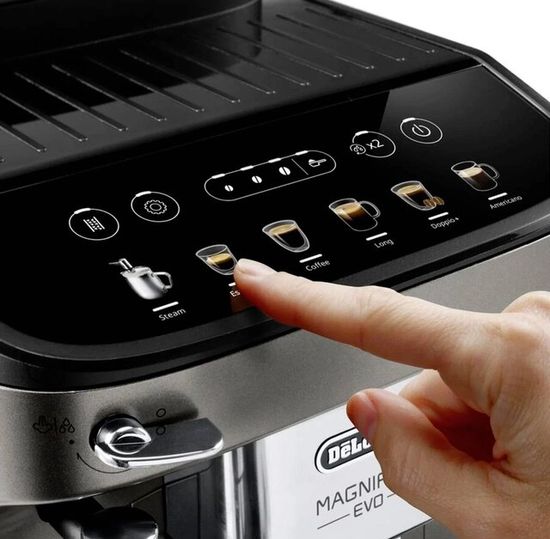 Programs
– Espresso (1 sec pre-wetting) – 40 ml (default) / 20-180 ml (adjustable volume);
– Coffee (without prewetting) – 180 ml / 100 – 240 ml;
– Long;
– Doppio+;
– Americano;
– Cappuccino – 120 ml (milk) + 60 ml (espresso) / (70 – 350 ml) + (20 -180 ml);
– Latte macchiato – 200 ml (milk) + 50 ml (espresso) / (70 – 350 ml) + (20 -180 ml);
– My Latte – (all milk in a jug + 40 ml espresso) / (20-180 ml) espresso;
– hot water – 250 ml / 20 – 420 ml.
Conclusions
Evo models with manual steam wand practically do not differ from cheaper entry level Magnifica Start series. They offer almost identical functionality and use similar components. Moreover, their prices also differ little. For example, Start 220.21 and 220.31 cost € 340 – € 420 vs € 440 / £ 400 for Evo 290.21.
Evo coffee makers with LatteCrema system are slightly more expensive:
– ECAM 290.61 – € 460 / £ 480;
– 290.81 – € 480 / £ 600;
– 290.84 – $ 700 / $ 900 (amazon or site).
In fact, Delonghi has created a very inexpensive fully automatic coffee machine with an entry-level automatic milk system. Of course, it has some cons, including:
– small jug needs to be removed frequently to add milk. In addition, it has a too rigid lid latch;
– milk foam height is not adjustable;
– too hot milk-based drinks up to 70°C with lush, but too 'dry' foam.
But they are quite acceptable for the ~€ 500 price segment. Magnifica Evo is ideal for black coffee lovers who are always ready to treat lovers of milk-based drinks.
Of course, it competes with the ultra popular Philips 3200 LatteGo, which cost ~ £ 500 in the UK. The Nivona NICR CafeRomatica 79x, priced at ~€ 900, is no less formidable competitor. But given the superb value for money, the marketing prospects of the Magnifica Evo seem pretty bright.
Video shows the new Delonghi Magnifica Evo series.