More recently, projectors with LED light sources occupied only the budget segment. Relatively low price and portability are their main pros. Indeed, their price is several hundred US dollars. But resolutions up to 1080p and low brightness of a few hundred ANSI lm limited their popularity as alternatives to TVs. For reference, the laser LEDs used in ALPD-based laser light sources are an improved version of optical cavity LEDs. They are significantly more expensive, but provide more powerful coherent emission.
LED projectors
The pixel-shift or eShift technology has allowed developers to increaset resolution up to 4K without a significant rise in price. Its operation principle is simple and elegant. In particular, Xpanded Pixel Resolution (XPR) technology from Texas Instruments works as follows. For example, a .47″ 1080p DMD (Digital Micromirror Device) chipset with 2 million micromirrors takes 4K content (8 million pixels), and splits it into four parts of 2 million pixels each. It then plays 4 frames in sequence, shifting them by half a pixel diagonally relative to each other.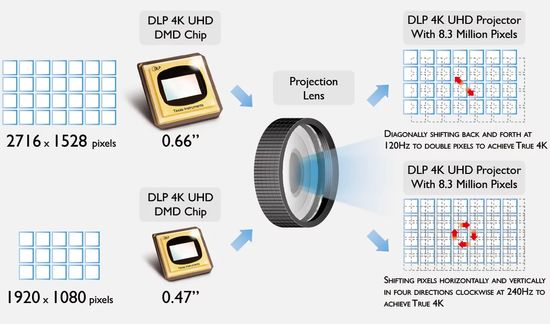 Strictly speaking, at any given moment, a 1080p projector chipset is only displaying 2 million pixels on the screen. But our vision and brain do not perceive the micro-delay, creating the illusion of a holistic image.
Pixel shifting is done by tilting the lens using the XPR's four electromagnets.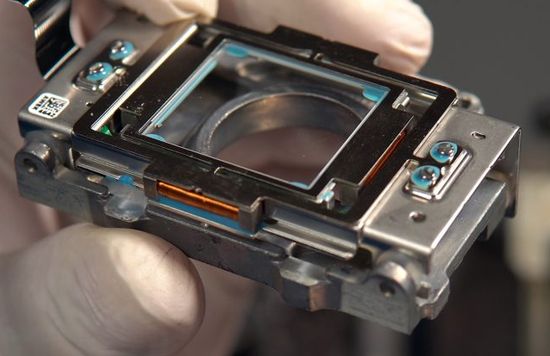 The low brightness problem is also successfully solved with the help of innovative solutions. For example, last year BenQ introduced the gaming X3000i projector with innovative 4LED light source (RGBB), including three traditional LEDs and an additional blue LED, which boosts overall brightness.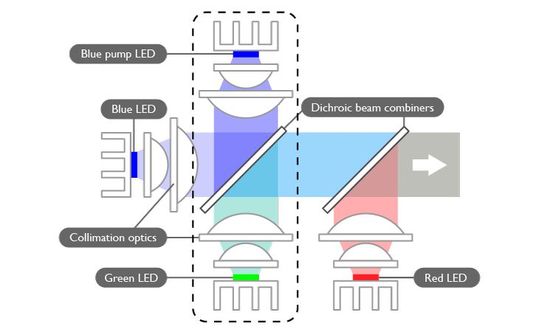 In these models ceramic phosphor converts the blue from the additional LED to green because the eye responds maximally to an increase its brightness.
As a result, 4K LED projectors are already successfully competing with budget laser models in the Home Theater segment.
But until last year, LED mid-focal projectors were vastly inferior to Ultra Short Throw (UST) models, which project a 100-inch projection from up to 10 inches away.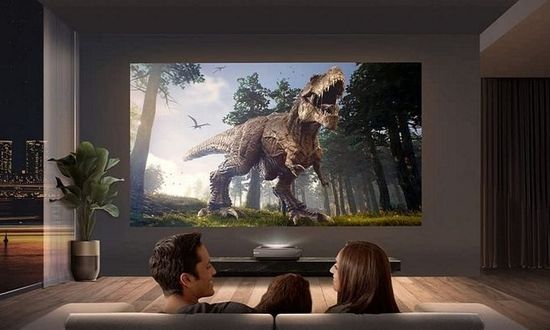 Their placement close to the wall eliminates the problem of wires on the floor. For mid-focus projectors, it can only be solved with a ceiling mount.
Samsung Freestyle
Last year, Samsung offered a portable Freestyle LED projector, whose design practically solves this problem. Its dimensions of 17 cm x 10 cm x 9 cm and weight of 1.8 lbs (0.8 kg) are ideal for carrying even by a child. The swivel design provides easy installation and align anywhere.
As a result, almost absolute mobility virtually eliminates the problem of wires on the floor.
Moreover, the company has significantly expanded its functionality. For example, screen mirroring 'turns' the Freestyle into an additional portable TV.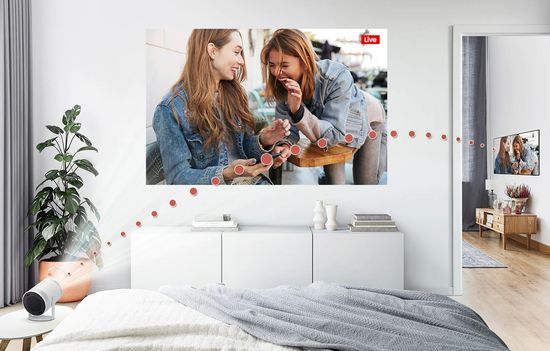 With the help of an optional adapter for ~$ 80, the projector is screwed into a regular lamp socket and can project an image onto a table surface, for example.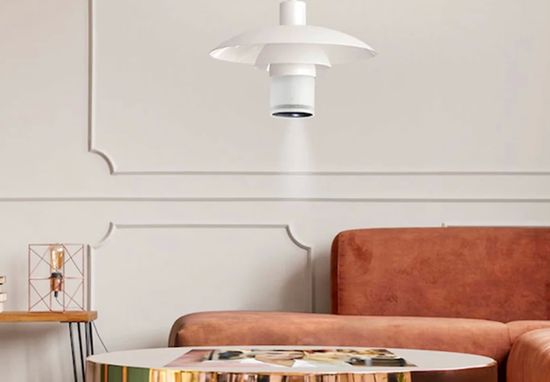 Consumers appreciated the novelty, which took a place among last year's bestsellers in many top lists. Predictably, at CES 2023, the South Korean giant introduced Freestyle 2023 Edition. The new version supports Smart Edge Blending and Gaming Hub on the built-in Tizen OS software. Smart Edge Blending synchronizes the edges of the images from the two projectors, resulting in ultra-wide 21:9 cinemascope playback.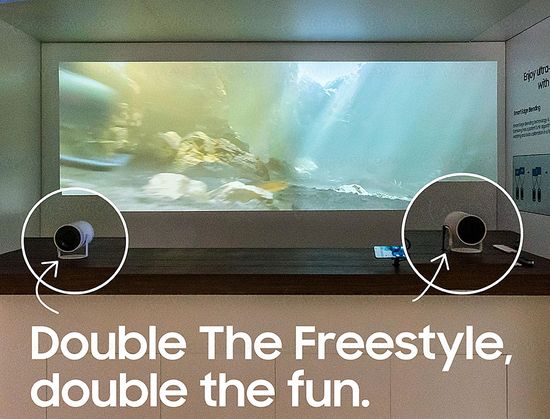 Also, updated version offers:
– MiniMap Sharing – mini-map of your game on any display;
– Virtual Aim Point – more visible crosshair in FPS (first-person shooters).
However, the main specs have not changed. Both projectors have 1080p resolution, brightness ~550 LED Lm (up to 300 ANSI Lm), image size up to 100″, Tizen TV OS, auto keystone and autofocus, and etc. Last year's Freestyle costs $ 800. The price of the new version is unlikely to exceed $ 1,000.
LG PU700R 4K Home Theater
Of course, the LG developers did not ignore the extremely successful form factor. In fact, this design expands the choice of installation location, eliminating the problem of wires on the floor. As a result, LG introduced the new CineBeam PU700R with a similar design concept. But compared to the Samsung model, it's significantly larger (30 x 16 x 14 cm) or (12″ x 6.4″ x 5.7″) vs (17 x 10 x 9 cm) and heavier (6.8 lbs / 3.1 kg vs 1.8 lbs / 0.8 kg).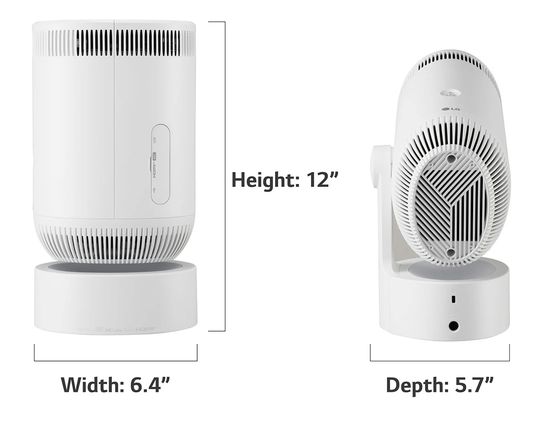 Specs:
– launch price – $ 1,700;
– peak brightness up to 1,000 lumens. To be fair, the company bills it as 'perceived brightness', which is also called LED Lm (1,000 LED Lm ≈ 417 ANSI Lm);
– 150,000:1 dynamic contrast;
– 4K UHD (3,840 x 2,160) resolution.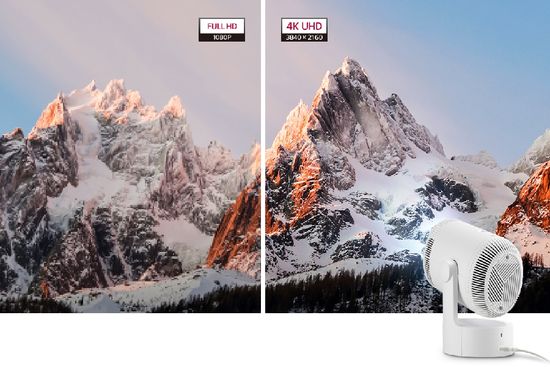 – 60″ – 120″ screen size.
– Audio – 5.0W internal speaker, passthrough Dolby Atmos, Bluetooth Dual Sound Out (connection up to two speakers or two sets of earphones), LG ThinQ voice control;
– HDR10 / HLG support and Dynamic Tone Mapping (frame-by-frame optimization of the balance between highlights and shadows).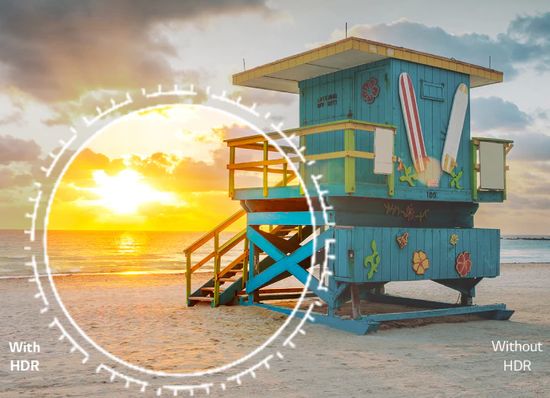 – very easy installation at any point due to 90° screen rotation and Auto Screen Adjustment (ASA), which optimizes the screen alignment and focus to remove distortion.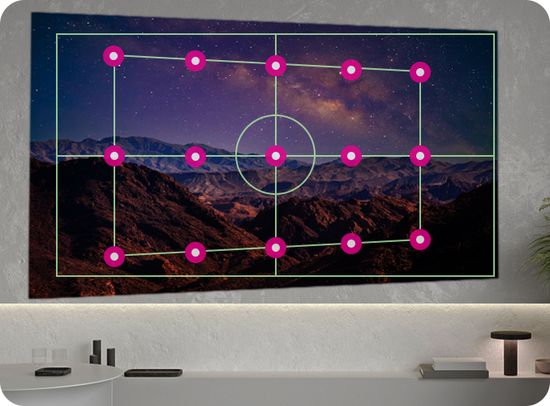 – with Internet connection and subscription to streaming services, webOS supports Prime Video, Disney+, YouTube, and Apple TV. Of course the model has access to LG Content Store (App Store);
– wirelessly cast or mirror content from Android phone with Screen Share and from your iOS or MacOS devices with Apple AirPlay 2 (iOS 12.3 or later and macOS 10.14.5 or later).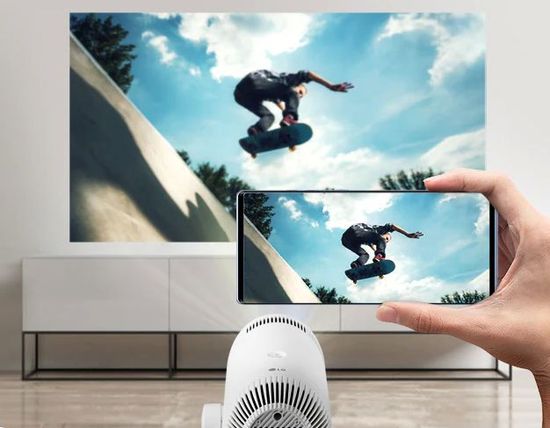 Conclusion
In October 2015 LG PF 1000 became the pioneer of the UST segment. Today this line includes LG CineBeam HU85LA, HU915QE, and HU715Q, etc.
Mid-focal models are also not forgotten. Given the superb specs, the new PU700R has great marketing prospects. In fact, it's the first LED 4K Home Theater projector without the problem of wires on the floor due to tiltable design and Auto Screen Adjustment. These options allow the owner to quickly set up the projector in any convenient location.
In fairness, its comparison with Samsung Freestyle is not entirely correct. Indeed, the list of their differences is very significant (Samsung Freestyle vs LG PU700R):
– $ 800 vs $ 1,700;
– 550 vs 1,000 Lm brightness;
– 1080p vs 4K resolution;
– 100″ vs 120″ – screen size;
– 300:1 (full On/Off) vs 150,000:1 dynamic contrast.
But they became the first Home Theater projectors with LED light engines. 4K UST laser projectors start at $ 2,000. After the traditional correction of launch price, the price of LG PU700R may drop to $ 1,500. Except for brightness, its specs are premium. Of course, diffused daylight can make its image slightly dull and faded. But 1,000 lumens is enough for superb quality in a dark room. In general, LG PU700R can be positioned as the first mid-focal LED projector as an alternative to TV. It offers twice the screen size with lower picture quality due to low brightness. But it's significantly cheaper vs 65-inch premium OLED, QD-OLED and QLED miniLED TVs, starting at $ 2,500.
This video introduces the new LG PU700R LED projector.