Of course, innovative technologies and high competition affect development trends in almost all segments of home appliances, including TVs. For example, plasma models did not withstand the competition and disappeared from the market due to the high cost of production. Most companies have abandoned the 3D feature due to limited content. On the other hand, LG presented at CES 2019 a new Signature Rollable OLED TV with flexible screen. 260 flexible OLED signage screens, connected together to imitate a waterfall struck the imagination of the most imperturbable viewers.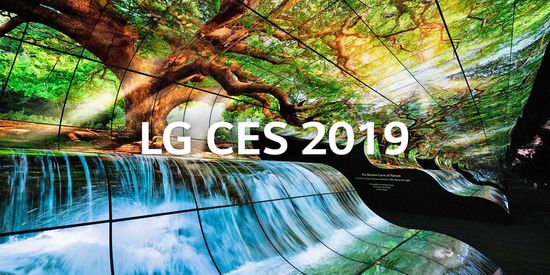 Nevertheless, the main intrigue in this segment remains in the competition between OLED and traditional LED (including Samsung QLED) technologies. Additionally, companies are actively using SMART technology, expanding the functionality of their TVs. ThinQ AI from LG and Roku Smart TV from TCL perfectly illustrate this trend.
As known, some companies have reduced activity in the segment of OLED technology due to the high cost of matrix production, which significantly reduces the competitiveness of OLED TVs. But LG continues to actively develop this direction.
OLED (organic light-emitting diode) technology uses its own radiation of diode when passing electric current. Accordingly, the OLED-display does not require LED backlighting, provides absolutely black and maximum contrast. As a result, they have a minimum thickness and maximum uniformity due to the lack of LED backlighting. Unfortunately, the high cost significantly limits their popularity.
LG 4K OLED TVs 2018
As known, modern models use RGB OLED or WRGB OLED technologies, which use, respectively, 3 or 4 subpixels. LG TVs are based on the WRGB OLED (white + red + green + blue sublixel) technology.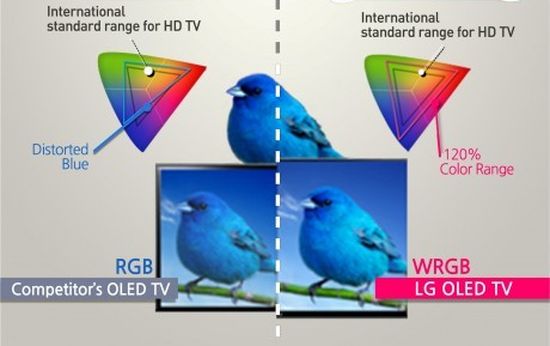 According to LG, the fourth subpixel reduces the production cost while improving brightness, contrast and color reproduction.
LG produces panels on its own LG Display enterprises, which, of course, expands their possibilities for technology optimizing. As a result, the company was able to significantly reduce the price of its 2018 OLED models. Therefore, LG 4K OLED TVs became one of the sensations in 2018.
The LG 4K OLED TVs 2018 includes the B8, C8, E8, G8 and W8 series. W8 is the flagship. The B8 has an α7 video processor, the other series use the more powerful α9.
But, of course, this is not the only difference. For example, the series use different speakers.
The series uses the popular Floating Glass or Picture in Glass design.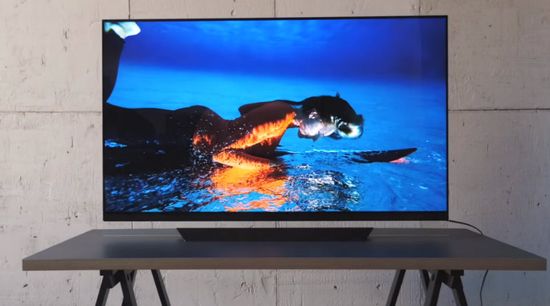 While watching, it creates the illusion of a TV that floating in the air. The video at the end demonstrates this innovative design.
The 55-inch panel provides 4K resolution with superb image quality. The α9 video processor performs four-stage filtering the image from noise, ensuring smooth playback of the most highly dynamic scenes. In addition, the increased brightness increases the contrast required for high-quality playback of HDR-content.
Support for Dolby Atmos Surround Sound technology allows you to use a soundbar or home theater, which will certainly significantly improve audio playback.
LG ThinQ AI provides control of the connected periphery and high quality voice recognition.
Key features
LG OLED65E8PLA supports UHD-resolution (3840×2160 pixels). Its maximum brightness reaches 595 cd / m2 at a contrast level of 221: 1. Of course, these values correspond to the top level.
The series has great connection kit, including two digital cable TV tuners, two digital satellite TV tuners, four HDMI inputs, LAN / WLAN, three USB ports, etc.
WebOS 4.0 for Smart-TV already has pre-installed Facebook, Amazon Instant Video, Maxdome, Netflix and YouTube and supports further expansion.
Unfortunately, the energy efficiency of the series corresponds to the average level (122W). For comparison, even the previous LG 55SJ8509 consumed only 84W.
The series also includes a 65-inch LG OLED65E8PLA.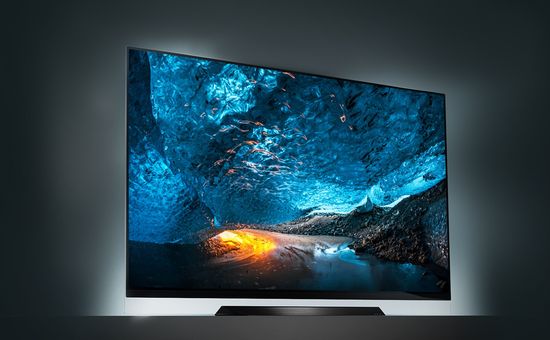 10-bit WRGB OLED-matrix with 4K resolution provides a large margin of brightness, which is important for high-quality playback of HDR content. The maximum brightness value reaches 400 cd / m2, and the peak – 800 cd / m2. As known, peak brightness can only be achieved under certain conditions – on a small bright object for a short time. Nevertheless, a huge 800 cd / m2 in a certain way characterize the matrix capabilities.
Traditionally, the OLED panel provides gorgeous uniform deep black due to lack of backlighting.
E8 supports almost all standards, including HDR10, Dolby Vision, Hybrid Log-Gamma (HLG), Advanced HDR from Technicolor, HDR10 Pro and HLG Pro. Unfortunately, this list does not contain HDR10 +.
HDR Game mode easily supports enhanced brightness without increasing input lag. In addition, the matrix frequency reaches 120 Hz. Thus, these models may well be positioned as a game TV.
Image enhancement technologies
As known, distinct artifacts and pixelation degrade the image. LG uses several technologies to solve this problem, raising the level of even not very high-quality content. LG α9 processor in conjunction with the Quad Step Noise Reduction, Frequency Based Sharpness Enhancer, Object Depth Enhancer, Billion Rich Color and Ultra Luminance Pro provide excellent quality image for any content.
Quad Step Noise Reduction effectively suppresses noise, improving the clarity and smoothness of image.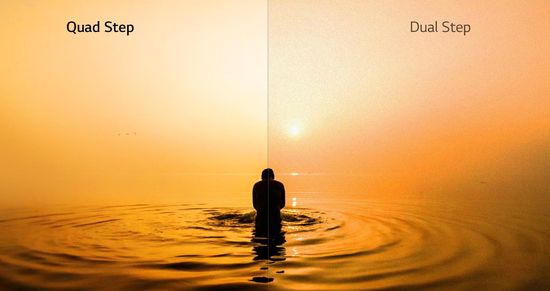 It replaced the previous two-step technology. Its effectiveness is most pronounced when upscale lower resolution to 4K during the content processing.
Frequency based Sharpness Enhancer sharpens the image, reproducing fine details, textures and elements along the frame edges by controlling the refresh rate.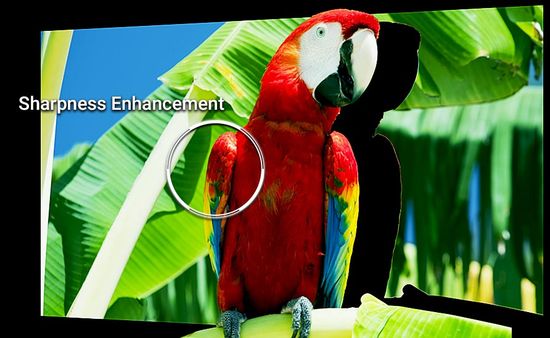 As a result, the technology improves the detail and realism of the image.
The Object Depth Enhancer enhances the object depth by analyzing textures and frame edges to identify and highlight the main object in a frame.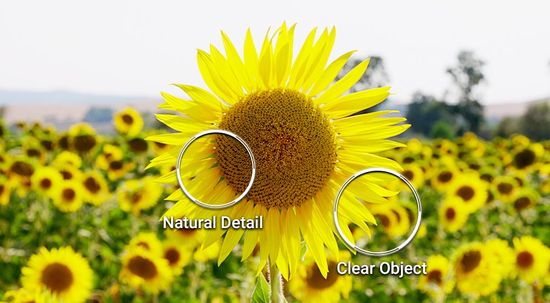 True Color Accuracy Pro expands the color gamut by increasing the image saturation.

Of course, sometimes experts are skeptical about some of these technologies, considering them to be marketing. But LG OLED65E8PLA really provides the most saturated image with excellent color rendition and deep black color without distortion, without loss of brightness and contrast even at maximum angles. Of course, the quality of 4K HDR playback corresponds to the highest level.
Other
E8 has a set of preset picture modes with the possibility of their further adjustment by brightness, contrast, etc. Of course, calibration is significantly different for different modes. But in general, the factory settings correspond to a very high level. Technicolor expert demonstrated almost perfect color reproduction. The color temperature varies between 6500-7000K (6500K standard). The color error ΔE does not exceed 5. Traditionally, for an OLED matrix, the color gamut exceeds sRGB.
4.2 audio system with a total power of 60 W includes a subwoofer 20 watts under the TV screen. As a result, the sound is more powerful and voluminous compared to the B, C series. The models support surround Dolby Atmos, Clear Voice III and Audio Upscaler technology, fast One Touch Sound Tuning, syncing with other LG audio devices via LG Sound Sync and playback via Bluetooth. DTS decoder supports AC4, AC3 (Dolby Digital), EAC3, HE-AAC, AAC, MP2, MP3, PCM, DTS, DTS-HD, DTS Express, WMA and aptX codecs.
The LG TV Plus app (Android and iOS) can replace the remote and provides content playback from your smartphone.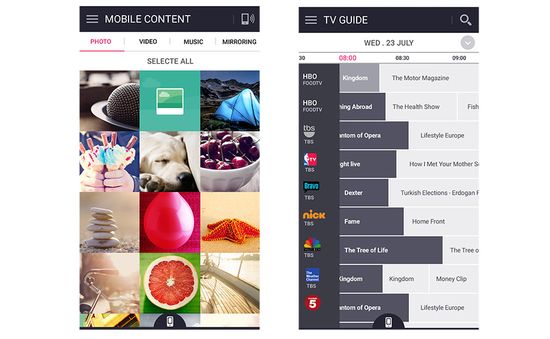 PROS:
– OLED matrix;
– superb image quality;
– great sound with support for Dolby Atmos Surround Sound;
– a wide range of image enhancement technologies;
– a great connection set;
– support for virtually all HDR-formats;
– ThinQ AI with voice command support.
CONS:
– high level of energy consumption;
– high enough price.