The tough competition in the consumer electronics segment encourages companies to continuously develop their products. First of all, this aspect refers to the market leaders. As a result, leading companies annually offer new models with enhanced functionality through innovative technologies. Today, this condition has become necessary to maintain a high competitiveness level. LG Signature Roll Up OLED TV at CES 2019 perfectly illustrates this trend. This techology struck the imagination of the most imperturbable viewers.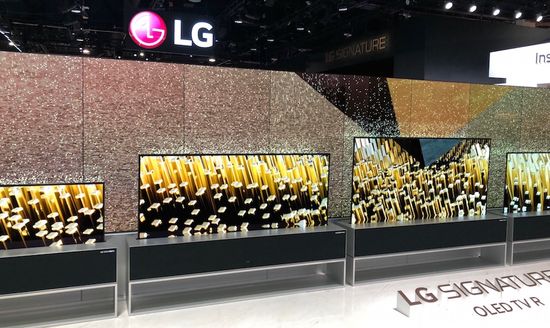 But, of course, the price no less affects the competitiveness of any device. Unfortunately, some companies reduce their activity in the development of OLED technology due to the high cost of producing OLED (organic light-emitting diode) matrices, which significantly reduces the competitiveness of these TVs. But LG continues to actively develop this direction.
As known, this technology uses its own radiation of diode under the influence of electric current, without requiring additional LED backlight. As a result, it provides absolutely black and maximum contrast. In addition, the lack of LED backlight ensures perfect image uniformity with minimal thickness. Modern OLED matrixes use RGB OLED or WRGB OLED technology with 3 or 4 subpixels.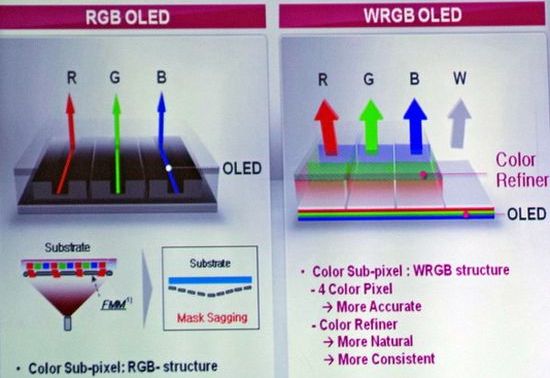 LG uses WRGB OLED (white + red + green + blue subpixels) technology. According to the company's engineers, the fourth white sub-pixel improves brightness, contrast and color reproduction while reducing production costs.
LG OLED C8 vs B8
As known, LG produces panels on its own LG Display enterprises, which ensures cost reduction due to technology optimization. As a result, innovative solutions and optimization of production provided the first significant reduction in price for LG OLED TVs in 2018. Of course, the consumer market reacted adequately to this good news. As a result, interest in these models has remained steadily high since the spring of 2018.
The LG OLED TVs 2018 includes the B8, C8, E8, G8 and W8 series. The C8 series offers 55, 65 and 77-inch models.
LG OLED C8 with good reason can be classified as a top model at an average price. Traditionally for LG OLED TVs, C8 has a super thin design.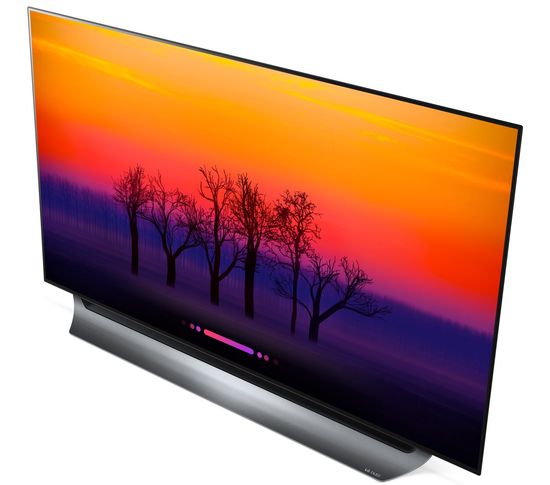 Unlike the α7 in the B8 series, the LG C8 uses a more productive α9 video processors, which is the main difference between these series.

Powerful α9 supports HFR technology, providibg 120 fps, which is important for high-dynamic scenes.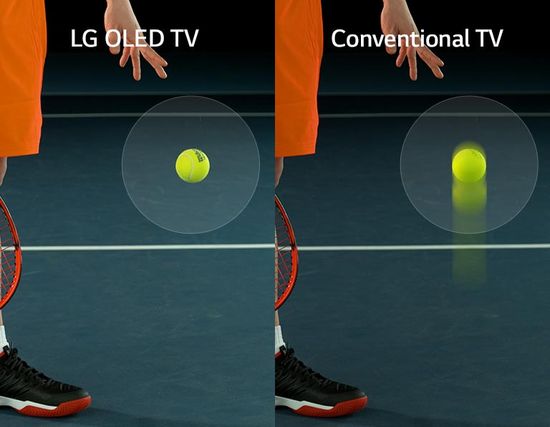 Of course, the performance of the video processor also affects the scaling efficiency of HD up to 4K.
Unfortunately, the lack of HDMI 2.1 limits HFR processing from external devices, for example from a Blu-ray player. In fact, the series only supports streaming content.
In addition, the C8 provides greater brightness, which slightly improves HDR content playback. Besides, the C8 plays a more balanced color gamut and minimal noise on a dark background. But the B8 wins substantially in price.
Key features
OLED C8 supports all modern standards, including HDR10 from UHD Alliance, Dolby Vision from Dolby Lab, HLG from BBC / NHK and Advanced HDR from Technicolor and uses a full set of image enhancement technologies, including Ultra Luminance Pro, Perfect Color on Perfect Black, etc.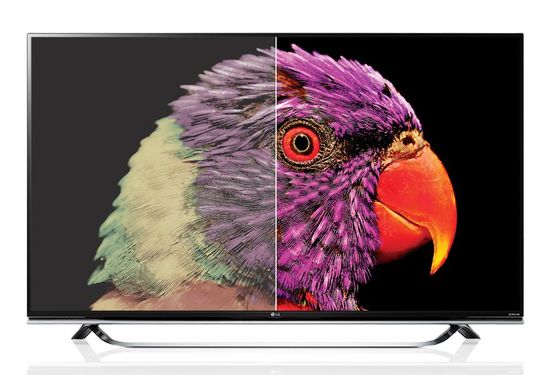 In addition, Enhanced Dynamic Tone Mapping provides dynamic or frame-by-frame HDR processing.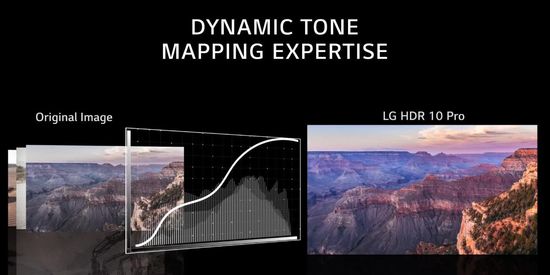 The playback quality is almost independent of the source, for example, a tuner or a Blu-ray player.
According to the test results, the contrast and maximum brightness reach 222: 1 and 448 cd / m2, respectively. Of course, these are very high values. Traditionally for OLED, TVs provide rich and natural color reproduction even at large viewing angles.
The built-in Triple-Twin tuner supports DVB-T2-standard. Four HDMI inputs provide connection of a gaming console, Blu-ray player and other external signal sources. Three USB ports for connecting flash drives provide recording the playback content.
Unfortunately, the audio quality correspond only to the average level. Of course, 20W stereo speakers provide good, but not surround sound, due to the lack of a subwoofer. Therefore, the C8 is inferior in this aspect to direct competitors from Sony and Samsung. On the other hand, the external soundbar easily solves this problem. For a model of this level, this solution is quite acceptable.
Wireless Sound Sync feature provides connection and transfer of audio content from mobile devices.
The series contains almost all modern formats, including DTS and DivX.
TVs has many pre-installed apps for popular streaming services, YouTube and Facebook. The integrated store offers a wide selection of games and programs, although its range is inferior to Android TV.
Other
Traditionally for LG TVs, the series uses a very convenient Magic Remote.
High energy efficiency reduces energy consumption to 112 W in normal mode and to 0.3 W in the Stanby state. In fact, the LG OLED C8 has become one of the most economical UHD models.
The LG OLED 2018 uses an improved WebOS 4.0 smart platform with more flexible connectivity features and enhanced compatibility between various AI devices, including IoT, Internet of Things, etc.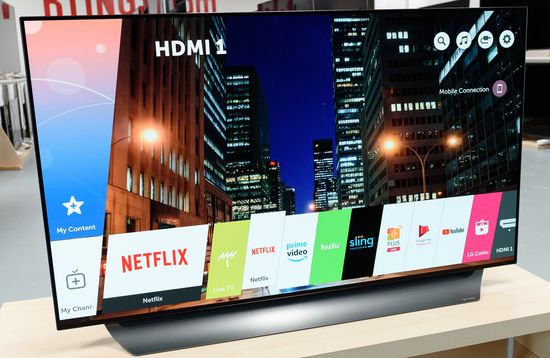 All models belong to the LG ThinkQ series. Deep ThinQ (deep learning technology) and Google Assistant support voice command recognition. A wide range of commands and questions significantly expands the device capabilities, providing, for example, searching for the required photos, the names of the main characters of the film, etc.
PROS
– excellent value for money;
– great image quality;
– support all modern standards, including HDR10, Dolby Vision, HLG, advanced HDR and uses a full set of image enhancement technologies;
– a wide list of Smart-TV functions.
CONS
– flat sound due to the lack of a subwoofer;
– the lack of HDMI 2.1 limits HFR processing from external devices.
This video perfectly illustrates the superb picture quality of these TVs.