As known, miniLED backlit was first introduced at CES 2021 in Samsung Neo, LG ONED and TCL OD-Zero series. Together with quantum dot (QD) technology, it upgraded the picture quality of LCD TVs to OLED panels.
Quantum Dot and miniLED backlit
A few years ago, QD has radically expanded the color gamut, increased the brightness and improved the color accuracy of LCD TVs by significantly improving the white quality before RGB filter. In fact, QD display generates almost perfect white by combining the blue from the rear blue LED array with red and green. In turn, red and green are re-emitted by microparticles ('quantum dots') deposited on an additional film. Their size corresponds to the wavelengths of red and green. Having absorbed the blue, they generate red and green. Then these colors are combined with the blue that has partially passed through the film and form high quality white.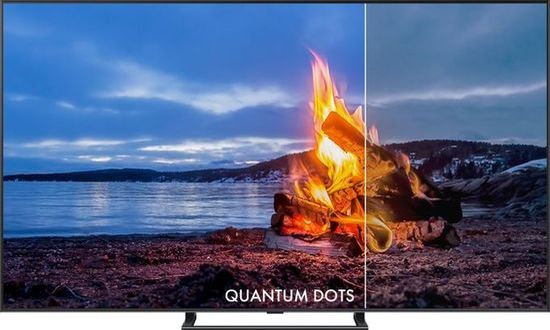 The innovative miniLED backlit has become an equally significant evolutionary leap in LCD technology. It radically increased dynamic contrast by improving local dimming performance. As known, this technology was the first stage in increasing contrast in LCD models.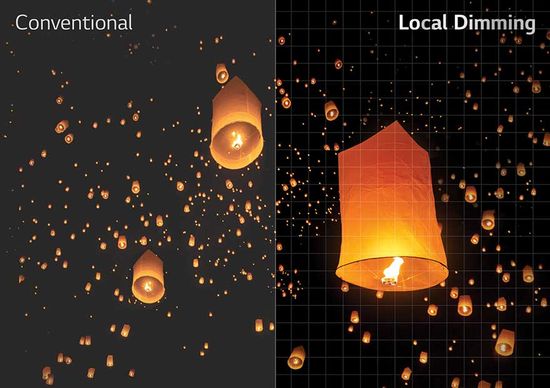 Further improvement was achieved by increasing control accuracy due to the increased number of local dimming zones. This became possible by replacing conventional LEDs with miniature ones.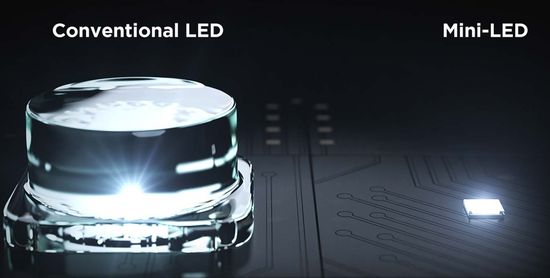 MiniLED backlit in modern 65-inch models uses more than 1,000 zones, providing unprecedented contrast ratio of 20,000:1 – 150,000:1 in local dimming mode. By comparison, backlit based on full-size LEDs typically has several hundred zones. Some companies indicate even higher contrast in the specs, but this is no longer important.
In fact, the dynamic contrast of flagship LCD miniLED TVs is quite comparable to the 'infinite' contrast of OLED models with self-emitting LEDs. As knowh, they provide ideal blacks due to the lack of backlit. As a result, the modern premium segment today combines LCD TVs with miniLED and QD technologies and OLED models.
Flagship TVs 2023
The market also offers 'laser TVs', micro LED panels and newest QD-OLED models.
But:
– 'laser TVs' are actually UST (ultra short throw) projectors with a built-in receiver. They're superb and provide a huge image of 100″ or more at an affordable price ($ 2,000 – $ 3,500), but are inferior to TVs in picture quality due to lower brightness and contrast.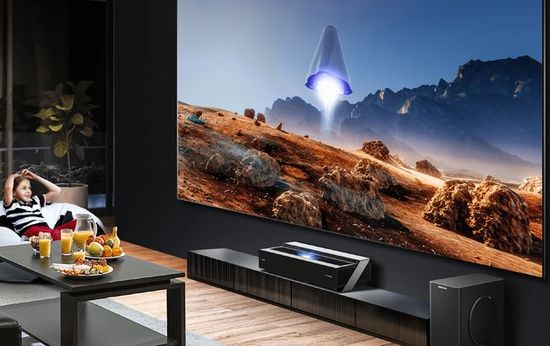 – micro LED panels provide fantastic quality on a huge screen at an incredible price and are used mainly in advertising. 'Home' versions start at $ 80,000 for a 77-inches panel.
– Sony A95K/L and Samsung OLED S95B/C with hybrid QD-OLED panels are superb, but their range is still very limited.
Therefore, a comparison of more traditional LCD and OLED TVs seems more relevant. The list of flagships from industry leaders includes Samsung Neo QN95C, Sony X95L/93L, Hisense U8K, TCL QM8 miniLED QD LCD TVs, and LG OLED Evo G3.
However, the different regional pricing strategies of the Japanese, Chinese and South Korean giants significantly complicate the comparison of their price-quality ratio. Indeed, the prices of 65″ Samsung, Sony, and LG models are quite comparable:
– Sony X95L ~ £ 2,000 (UK);
– LG OLED Evo G3 ~ $ 2,600;
– Samsung Neo QN95C ~ £ 2,200 (UK), € 2,200 (Europe) and up to $ 3,000 in US (after launch price adjustment).
But 65″ Hisense U8K and TCL QM8 (it's the US version of Europe's X955) with similar technologies cost ~$ 1,100 and $ 900, offering much better value for money. Nevertheless, availability, discounts, service, personal attitude towards brands, etc are also essential criteria for many when choosing. Therefore, Samsung vs LG vs Sony comparison seems quite relevant.
Sony X95L
The stylish minimalist One Slate design visually fuses screen and bezel, harmoniously fitting into any interior of a modern apartment.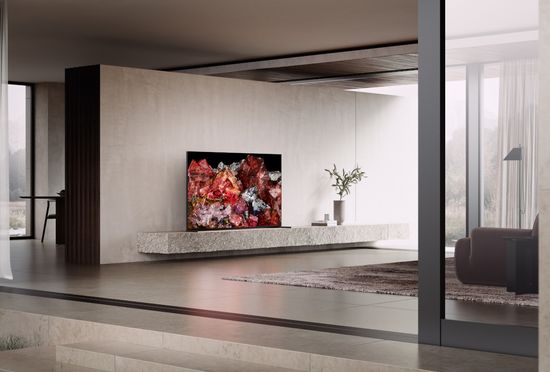 Key Features:
– Dinamic Contrast with local dimming – более 200,000 : 1;
– Native Contrast – almost 5,000:1 even with X-Wide Angle tech.
As known, it expands viewing angles, but reduces contrast;
– local dimming – 480 separate zones of individual brightness control (864 for 85-inch panel).
In addition to the number of zones, image quality depends on the processor performance, which provides video processing between zones. However, the X95L confidently copes even with little fast and bright objects. Their movement across zones is playing with virtually no flicker. But in some scenes the image may containt haloing behind bright objects and a short-term 'freeze' due to leading edge delay.
HDR/SDR brightness (nits or cd/m²):
– peak 10% Window ~ 1,700 / 1,600;
-'- 50% Window ~ 1,100 / 1,100;
-'- 100% Window ~ 735 / 760.
Color Gamut (DCI P3 / Rec 2020) ~ 96% / up to 80%.
Pre / Post calibration
– White Balance dE – 2.83 / 0.54 (good value < 3).
The average grayscale error affects overall image color temp;
– Color dE – 2.16 / 1.31 (good value < 3).
It shows playback accuracy for Red, Blue, Green, Yellow, Magenta and Cyan. Image is a more life-like when 'color dE' is reduced;
– Gamma 2.25 / 2.17 (2.1 – 2.3).
It affects the luminance of a particular shade or color depending on the target look. Without it, the image may look too bright or too dark;
– Color Temperature – 6,056K / 6,515K (6,500K).
Overall, the out-of-the-box calibration is perfect. However, perfectionists also have the opportunity to practice.
Samsung QN95C
TV uses bright and contrast VA panel with wide viewing angles. It provides peak brightness up to 1,680 nits. Compared to last year's 65QN95B with 720 zones, the 65″ QN95C uses miniLED backlit with 1,344 local dimming zones. New Neural Quantum processor works with 20 separate neural networks, increasing the performance of video processing algorithms. New Real Depth Enhancer Pro feature creates more holistic, object-based images adjusting the resolution of the foreground and background.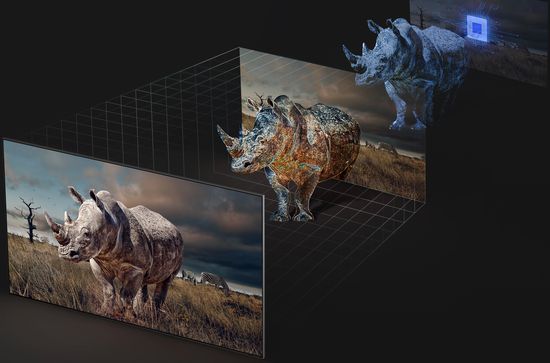 The 65QN95C uses 70W 4.2.2ch speaker configuration and supports Dolby Atmos. OTS+ feature synchronizes the offset of the sound with the movement of its source on the screen using speakers around the screen.
All HDMI inputs support 4K@120Hz gaming and VRR. TV offers balance adjustment between input lag and picture quality, including Fastest / Faster / Fast mode with 9.8ms/16.6ms/26ms for 1080p@60Hz.
The 65QN95C comes with a slim-fit camera for gesture controls and video calls.
Model supports popular HDR Remastering feature, but its activation requires firmware. In this mode, neural networks analyze the image in real-time and adjust the settings, darkening, for example, background details and increasing the brightness of the central object in the scene.
Series has OS Tizen 7.0, which offers:
– confidentiality – settings and checking the personal data protection;
– search for apps and content, including Smart Hub service;
– Ambient mode, including the ability to download from an NFT application;
– Media – all Smart TV apps and external connections;
– Game – cloud gaming apps, including Xbox and Geforce Now. Samsung Gaming Hub groups them with any connected gaming consoles. Gaming content from YouTube and Twitch is also available;
– Menu – all settings and additional functions.
In addition, Tizen 7.0 supports UI support technology for voice control.
Sony X95L and Samsung QN95C technologies
TVs use almost the full range of proprietary technologies.
Sony X95L
– Cognitive Processor XR.
Similar to the brain, it cross-analyzes hundreds of thousands of elements at once, including focal point, generates depth information and adjusts each component, increasing the image depth.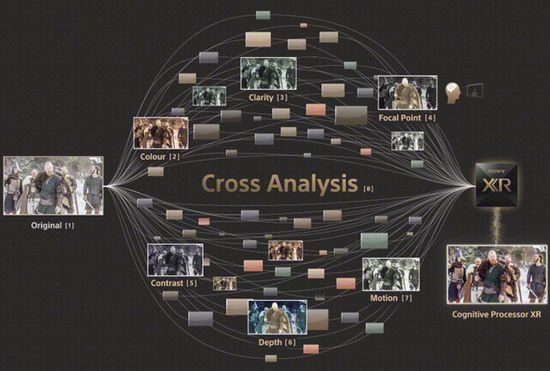 Today it's one of the best in the industry;
– XR Backlight Master Drive (contrast);
– XR Triluminos Pro (Sony's version of quantum dot technology);
– X-Anti Reflection;
– XR Clear Image;
– XR Motion Clarity (smooth playback);
– X-Wide Angle;
– Netflix Adaptive Calibrated Mode;
– Creator Calibrated Modes, IMAX Enhanced and Dolby Vision;
– Calman Ready support (professional calibration);
– BRAVIA CORE Calibrated mode (auto optimization of picture settings);
– BRAVIA CAM (distance detectione to TV for brightness optimization).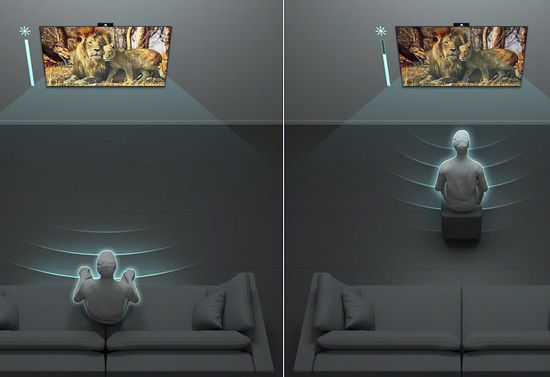 – Acoustic Multi-Audio+Frame Tweeter;
– XR Surround;
– Voice Zoom 2 (increasing voice clarity);
– BRAVIA and Sony Audio compatibility;
– Acoustic Center Sync (TV as centre speaker + BRAVIA compatible soundbar);
– XR Gaming and Auto HDR Tone Mapping for PS5.
Samsung QN95C
– Infinity One design.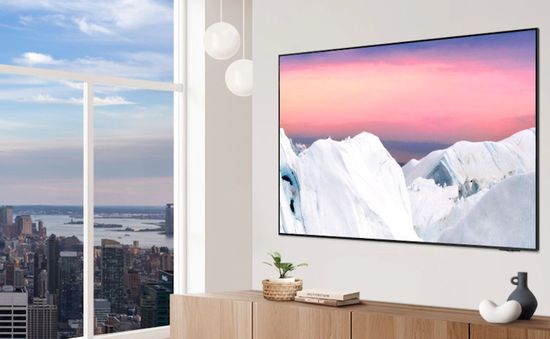 – Quantum Matrix;
– Neural Quantum 4K;
– Dolby Atmos;
– Neo Quantum HDR+.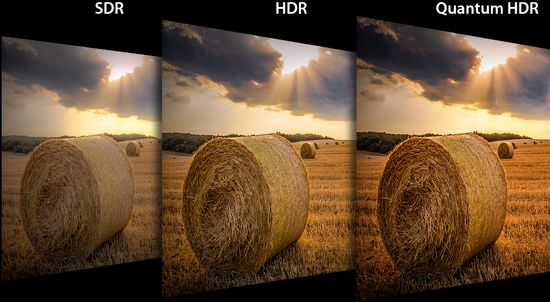 – Shape Adaptive Light technology (brightness correction at the pixel level, depending on neighboring zones);
– Anti Reflection.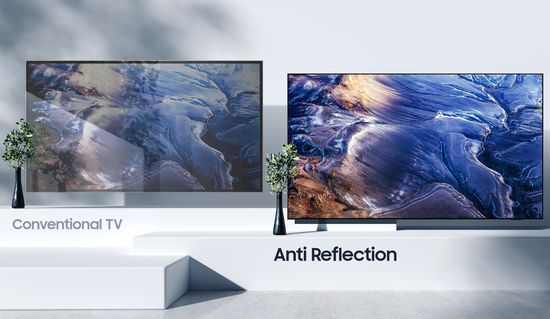 – Real Depth Enhancer;
– Pantone support.
Pantone color model or PMS (Pantone Matching System) is a standardized color matching system developed by the American company Pantone Inc;
– EyeComfort mode (auto optimization of day/night settings);
– OTS+ (sync of sound offset with its source on the screen) and Q-Symphony (compatibility with Samsung soundbars);
– Motion Xcelerator Turbo Pro (up to 4K@144Hz);
– Smart Hub, SmartThings, NFT platform support.
LG OLED Evo G3
G3 has the popular One Wall (or Zero Gap) design.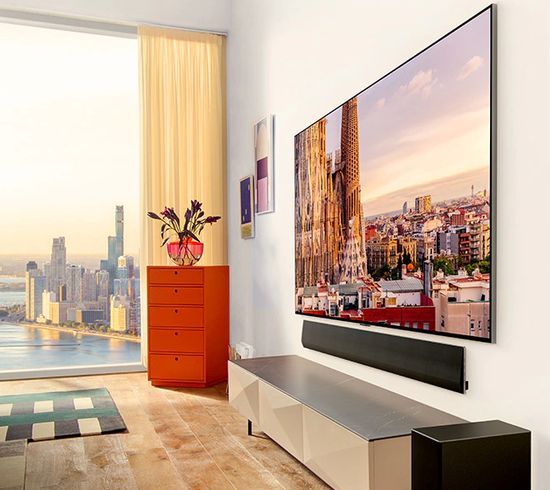 With the exception of the 83-inch model, all G3 TVs support the innovative Micro Lens Array (MLA) technology. It uses microscopic lenses to improve the brightness and power efficiency of OLED displays. The lenses are placed between the glass and the OLED panel.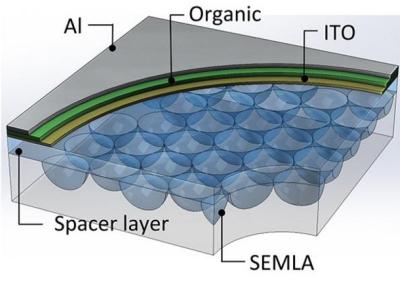 Essentially, they focus the light from the panel, reducing internal reflection.
TV has latest α9 AI Processor Gen 6, supports Brightness Booster Max, AI Tech, Dolby Atmos and AI Sound (up-mix 2ch audio into virtual 7.1.2ch sound) technologies.
According to the company, 'The Brightness Booster Max technology uses improved light control architecture and light amplification algorithms it employs. Images are clearer and look more realistic when brightness is mapped and modulated on a per-pixel basis.'
Unfortunately, the details are unknown. Perhaps the effect is achieved by increasing the accuracy of ABL (Automatic Brightness Limiter) control. This can increase light output for details and improve thermal control.
WOW Orchestra provides synergy between high-quality TV speakers and a compatible LG Sound Bar to creat a spatial effect.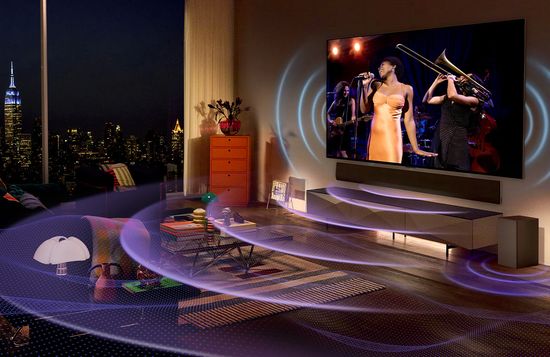 Game Optimizer, 0.1ms response time, NVIDIA G-Sync compatible, AMD FreeSync Premium and VRR support will please gamers.
HDR/SDR brightness (nits or cd/m²):
– peak 10% Window ~ 1,450 / 600;
-'- 50% Window ~ 460 / 500;
-'- 100% Window ~ 230 / 300.
Color Gamut (DCI P3 / Rec 2020) ~ 98% / 75%.
Pre / Post calibration
– White Balance dE – 2.22 / 0.38 (good value < 3);
– Color dE – 1.18 / 1.25 (good value < 3);
– Gamma 2.16 / 2.20 (2.1 – 2.3);
– Color Temperature – 6,230K / 6,505K (6,500K).
The out-of-the-box calibration is ideal.
Conclusion
All models have superb brightness, contrast, functionality and a full set of popular gaming features. The list of minor differences includes (Sony X95L vs Samsung QN95C vs LG OLED G3):
Pros
– Google TV, Cognitive Processor XR, many auto settings (Sony X95L) vs highest brightness, 1,344 local dimming zones, solar-powered remote (Samsung QN95C) vs inf:1 contrast, wider viewing angle (LG OLED G3).
Cons
– only 85″ model for North America vs no external One Connect box, no Dolby Vision support, default motion settings are not ideal vs too aggressive ABL.
Traditionally and predictably, Samsung is the brightest, LG is the most contrast, Sony is the most innovative. Given almost identical prices (~£ 2,200 / € 2,200 / $ 3,000 vs $ 2,600 vs £ 2,000), they offer the same value for money. Therefore, the choice depends on secondary factors including availability, discounts, service and personal attitude towards brands.
But competition from the Hisense U8K and TCL QM8 could significantly impact the flagships' marketing prospects. Of course, they offer greater functionality through additional features and proprietary technologies. But their specs and, accordingly, image quality are almost identical. The additional features alone are hardly adequate for the more than twofold difference in price compared to Chinese competitors. A few years ago, this situation could have been positioned as dumping. But the Chinese giants have long been on the list of industry leaders and are unlikely to need such marketing technologies. However, regardless of companies' motivations, consumers can only welcome increased choice.
This video introduces the Samsung Neo QN95C.