Increasing sizes is one of the main trends in the development of Home Media. Indeed, today even 65″ models are no longer positioned as 'very large', and range of ~100″ TVs diagonally is rapidly expanding. In addition, this enthusiasm is due to rapidly developing competition from projectors.
Lamp projectors were bulky and noisy due to the intense lamp heating, the heat of which had to be dissipated using a powerful fan in a large internal volume. Secondly, placing mid-focal projectors in the center of the room created a problem with wires on the floor. In fact, it could only be solved with the help of a complex ceiling mount. In addition, the range of content available to them was significantly inferior to TVs.
But modern solid-state lighting (SSL)-based light engines are compact and practically do not heat up. Today, companies use LEDs or ALPD (Advanced Laser Phosphor Display) 3.0/4.0 (laser-phosphor or three-laser RGB light engines). Ultra Short Throw (UST) projectors are located near the screen, eliminating the problem of wires on the floor.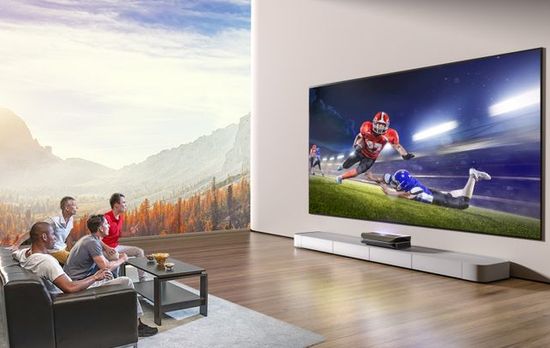 Finally, streaming and mirroring technologies have provided virtually unlimited content. As a result, fans of huge screens have an excellent alternative to traditional TVs. Оf couse, consumer excitement has caused the rapid development of laser 4K UST projectors. Some sellers even started calling them living room projectors. But today the names Laser TVs, Laser Cinema, etc are more popular. Perhaps these names may cause skepticism among some physicists. But formally, any projector with a built-in TV receiver can be positioned as a TV with a screen outside. To be fair, Epson, Optoma, ViewSonic, BenQ and many other industry leaders still prefer to position such models as laser UST projectors.
UST projector vs huge TV
From a consumer perspective, cheaper UST projectors offer huge 100-150″ lower quality images. Indeed, laser 4K projector prices range from $ 2,000 to $ 3,500, and 100″ TVs start at $ 6,000.
Lower image quality is due to several objective reasons. Unlike direct radiation from a TV screen, a projector forms an image using a re-reflected light flux. As a result, its brightness is radically lower. For example, even expensive projectors provide only a few hundred nits, while the brightness of even mid-budget TVs is usually above 500 nits. In turn, peak brightness directly affects HDR performance and is also necessary to compensate for ambient light.
In addition, with the exception of expensive LCoS projectors, they are radically inferior to TVs in contrast (FOFO or native contrast ~ 1,000-2,000 :1 vs inf:1 for OLED technology and 20,000-100,000 : 1 with local dimming using miniLED backlit in LED TVs). However, the dynamic contrast of projectors with auto-iris can also reach enormous values.
Overall, modern UST projectors are ideal for evening viewing without ambient light for SDR content that dominates satellite and cable networks today.
Of course, fierce competition stimulates the development of the huge TVs. Probably, TCL 'XL Collection' can be positioned as the first sign of this trend.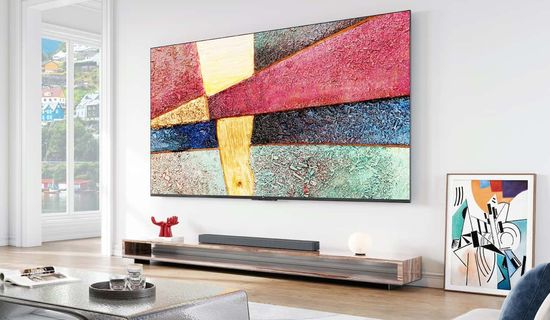 Last year's TCL 98R754 4K became one of the first relatively affordable huge TVs. Today it costs ~ $ 5,000 – $ 5,400. For comparison, prices for 100″ Samsung, LG and Sony models start at $ 15,000. But, to be fair, they already offer cheaper versions. For example, the superb 100-inches Sony X92 costs just under $ 8,000 today, and the price of the new 100″ Samsung 98Q80C (2023) is 'only' ~ $ 7,000.
Huge TVs
Of course, a colorful image with rich colors on a huge screen requires an increase in peak brightness and contrast. Quantum dot technology (increased brightness and color accuracy with a wide color gamut) and miniLED backlit (a large number of local dimming zones through the use of a huge number of miniature LEDs) have largely solved these problems. As a result, the market has even formed a new segment of premium LCD LED TVs with QD and MiniLED backlit. These series are present in the lineups of almost all industry leaders, including Sony, Samsung, LG, Hisense and TCL. But TCL and Samsung claim leadership among huge models.
This year, the South Korean giant introduced the 98″ Samsung Q80C (~$ 6,500 – $ 8,000 or ~£ 6,000 in UK). It uses full-array local dimming (FALD) with conventional LEDs, grouped into 96 zones. Q80C provides 1,600:1 / 12,500:1 native / dynamic contrast, and ~820 nits (cd/m²) of HDR/SDR peak brightness for 10% window. In fact, it could be positioned as a cheaper version of the Neo 98QN90A (2021, ~$ 15,000) and 98QN100B (2022, over $ 40,000) with miniLED backlit.
Its Neural Quantum processor provides superb 4K upscaling with 20 specialized networks, uses Quantum HDR+ technology, supports Dolby Atmos and Object Tracking Sound Lite (syncs audio offsets with the source movement). TV has Motion Xcelerator Turbo+(4K @120Hz). Model fits harmoniously into any interior due to SuperSlim design.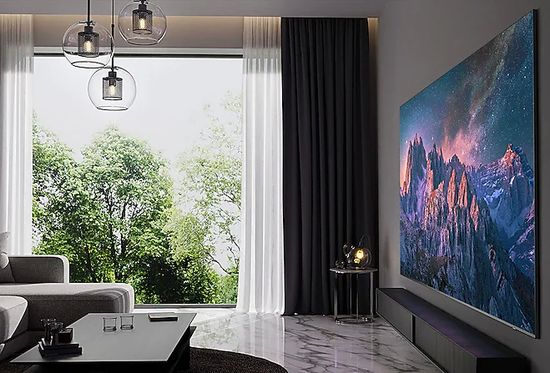 Chinese giant also expanded its TCL XL Collection.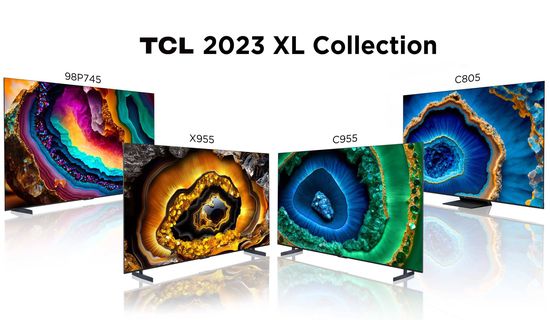 The indicative launch prices of flagship 85″ TCL 85X955 is ~€ 5,600, and ~€ 8,000 for the 98″ version. But price still unknown for the ultra huge 115″ TCL 115X955. Additionally, the company introduced the ultra budget 98S550G, priced at just $ 4,000.
TCL 98X955
According to the specs, the flagship X955 offers a full range of premium options, including QD display with miniLED backlit, six-crystal light-emitting chip, Google TV, Ultra Slim design, AI picture processor AiPQ 3 gen, support for 144Hz VRR and AMD FreeSinc Premium Pro (artifact-free gameplay at almost any frame rate).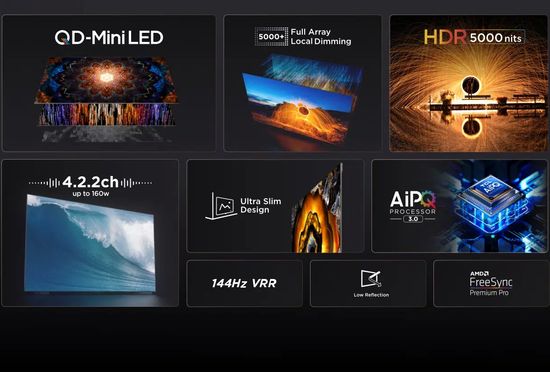 The model has 144 Hz refresh rate, supports Dolby Vision / HDR10 / HDR10+ / HLG formats, Dolby Vision IQ (brightness optimization depending on ambient light) and HDR10+ Gaming (optimization of video game content), covers 98% for DCI P3 and 100% for Rec 709.
Surround 160W sound with Dolby Atmos and DTS Virtual:X support, and ONKYO 4.2.2ch Hi-Fi system (4x 20W main outputs, 2x 20W deep bass speakers and 2x 20W upfiring channels) will allow even music lovers to save on the purchase of an additional soundbar.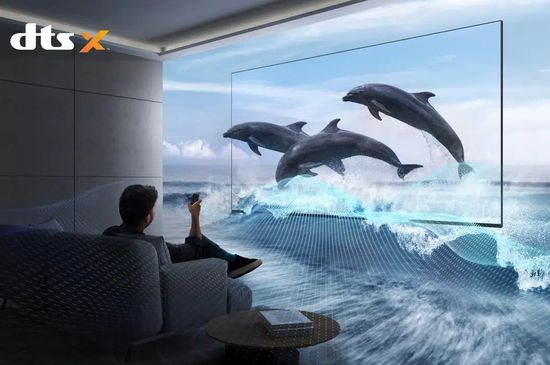 Some sources indicate a configuration of 4x 10W + 2x 10W + 2x 10W, corresponding to 80 W. However, this is also more than enough even for a fairly large living room.
The native 6,000:1 contrast ratio is quite affordable for a VA panel, but 5,000 nits of peak HDR brightness, and 50,000,000:1 dynamic contrast look fantastic. But miniLED backlit with 5,184 local dimming zones is also unprecedented.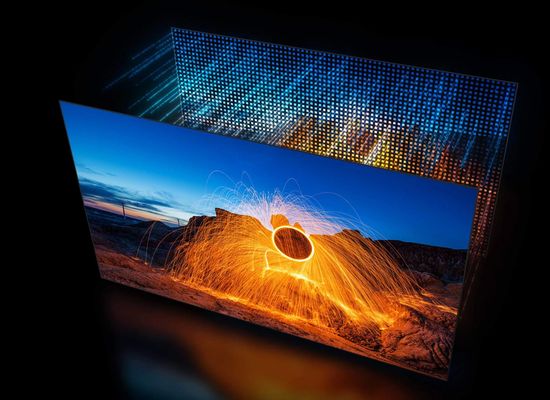 The average brightness is 720 nits (cd/m²), which is quite consistent with the traditional level. However, the specs are amazing even with a discount for their minor exaggeration.
Game Master 2.0 with Game Bar will appeal to gamers.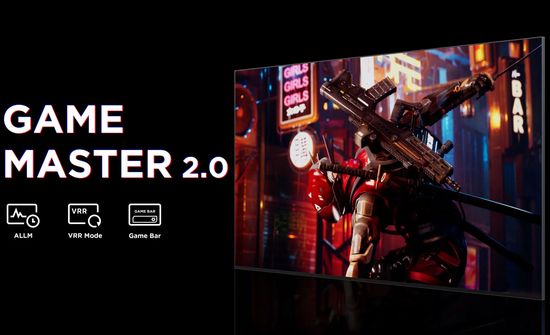 Model supports the popular MultiView mode, dividing the screen into several zones using Quad Casting.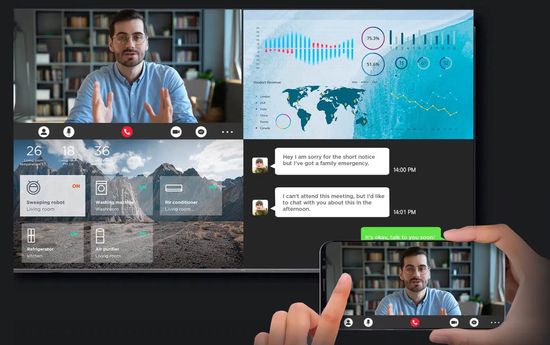 Its 98QM850G US version has 2,300 local dimming zones, provides 2,000 nits peak brightness and costs $ 7,000.
TCL 98S550G
In this model, the developers perfectly implemented the principle of minimum necessary sufficiency. As a result, the S550G became the cheapest 98-Inch model, priced at only ~$ 3,700 – $ 4,000 today. In fact, its price is quite comparable to many flagship 75″ TVs.
Of course, a miracle did not happen and the model lost its main innovations, including quantum dot technology (extended color gamut + increased brightness and color accuracy) and miniLED backlit (improved contrast due to an increase in the number of local dimming zones with a miniature LEDs). However, the company solves these problems with the help of other quite effective technologies. Specs and features:
– FullView metal bezel-less design.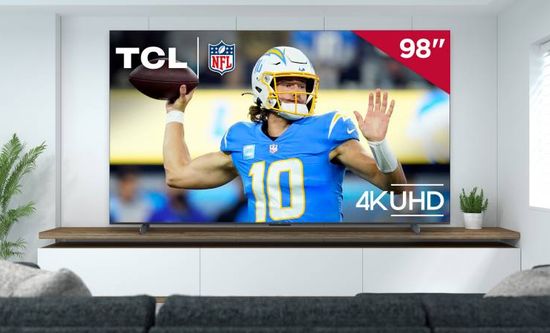 – Google TV;
– 120Hz native panel refresh rate.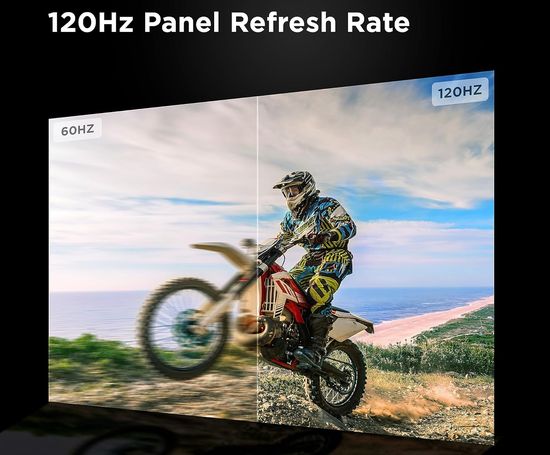 – Motion Rate 480 with MEMC Frame Insertion;
– Wide Color Gamut (WCG);
– High Brightness LED Backlight;
– TCL AiPQ Engine gen3;
– HDR ULTRA with Dolby Vision IQ;
– Game Accelerator 240 for 240 VRR Gaming.
– AMD FreeSync Premium Pro;
– Dolby Atmos, DTS Virtual:X, and Bluetooth Personal Audio;
– Hands Free Voice Control (Far Field).
Thus, the list of available huge TCL TVs includes 4 models, the prices of which range from $ 3,500 to € 8,000:
– flagship 98X955 – 2023, € 8,000, Quantum Dot (QD) technology (up to 5,000 nits peak HDR brightness) and 50,000,000:1 dinamic contrast with local dimming using miniLED backlit with 5,184 zones;
– its 98QM850G US version – 2023, $ 7,000, QD (up to 2,000 nits peak brightness) and miniLED backlit with 2,300 local dimming zones;
– 98R754 – 2022, $ 5,000 – $ 5,400, QD, Contrast Control Zones with 192 local dimming zones;
– 'budget' 98S550G – 2023, $ 3,700 – $ 4,000, no QD and miniLED backlight.
Conclusion
In fact, today TCL dominates the segment of relatively affordable huge TVs. The price of the closest Sony 98X90L reaches $ 10,000, 100″ models from other manufacturers are even more expensive. Samsung 98Q80C is offered at a price of $ 6,500 and is quite competitive compared to TCL models. Unfortunately, the 'budget' range of the South Korean giant is still limited to one model. Its specs are close to TCL 98R754 (2022), but Samsung is more expensive ($ 6,500 vs $ 5,000 – $ 5,400).
Considering the stated specs of 98X955 (5,000 nits peak HDR brightness and 50,000,000:1 dynamic contrast with 5,184 local dimming zones of miniLED backlit), the functionality of the new TCL flagship is unrivaled. However, its HDR performance will significantly depend on processor performance. Some companies already have negative experience of creating models with an under-performing processor, the power of which was not enough for video processing. As a result, their operation with local dimming mode is accompanied by visualization of transitions between zones, image freezing, blurring, etc.
Ultra budget 98S550G with a price of $ 3,700 – $ 4,000 really claims to be among the bestsellers due to its superb price-quality ratio.
Of course, its image quality is inferior to competitors due to the lack of QD technology and miniLED backlit. But to be fair, high peak brightness and contrast mainly affect HDR performance. At the same time, most consumers receive content via satellite or cable TV. But they only provide SDR content due to limited network bandwidth, the playback of which does not require high brightness and contrast.
This video demonstrates the TCL 98S550G.