Last year can be positioned as a new stage in the evolution of TV technologies. The traditional list has expanded due to:
– premium LED TVs with miniLED backlight (superb contrast) and quantum dot (QD) technology (high brightness and color accuracy with a wide color gamut);
– OLED Evo models (higher HDR performance with increased peak brightness);
– premium Samsung S and Sony A with new hybrid QD-OLED panels (OLED contrast + QD colors).
To be fair, today the market also offers Micro LED panels with fantastic image quality at a fabulous price (89″ Samsung CX costs ~$ 100,000), and ultra short throw (UST) 4K 'living room' projectors.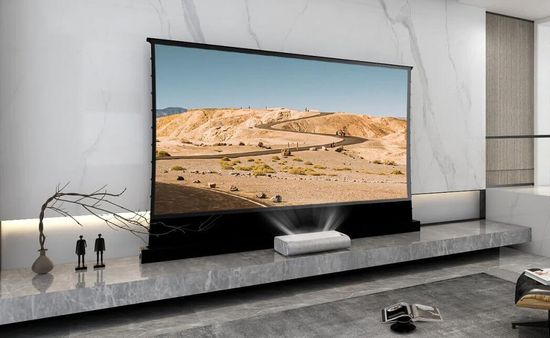 But exorbitant price radically limits the popularity of Micro LED panels. UST projectors are more realistic competitors. Hisense and some other companies even call them 'Laser TVs'. Perhaps it will cause an ironic grin from a physicist. Formally any projector with a built-in TV receiver can be positioned as a TV with a screen outside. But most companies still prefer to position them as UST projectors.
Priced between $ 2,000 and $ 3,500, they offer fairly high image quality with 4K resolution for picture ranging from 120″ to 150″ diagonal. With the exception of expensive LCoS projectors, they are significantly inferior in contrast. In addition, projectors use light reflected from the screen, while the TV emits direct light. Therefore, projector brightness is significantly lower. In particular, even expensive and powerful models provide several hundred nits. For comparison, the brightness of even mid-budget TVs exceeds 500 nits, reaching 1,000-2,000 nits in the premium segment. Accordingly, projectors do not yet provide comparable HDR performance in diffuse daylight. But today they are already a very attractive alternative for evening viewing, especially for fans of huge screens.
Samsung S90C and LG OLED Evo C3
Thus, the list of competing technologies today includes OLED Evo, hybrid QD-OLED and LED LCD with miniLED backlight and QD technoogy. Of course, the lineups of many companies include innovative TVs. But the list of leaders with a full set is shorter and contains:
– LG OLED Evo C3 and flagship G3;
– Sony A95K (2022) / A95L (2023) and Samsung S95C (2023) / S95B (2022) / S90C (2023) with a hybrid QD-OLED panel;
– Samsung 4K Neo QN95C / QN90C / QN85C (2023).
But the analysis of competition between the South Korean giants seems more relevant. Their Japanese competitor with impeccable reputation and the highest innovation level is traditionally more expensive. However, most consumers have long formed their own preferences towards these brands.
Moreover, Samsung persistently positions S-models as an OLED series. Considering these factors, the article offers a comparison between Samsung S90C vs LG OLED Evo C3. They are located below the new flagships S95C and LG OLED Evo G3 (2023), and have almost identical price.
This choice is also conditioned by an additional factor. Comparing flagships is not very correct. As a rule, they offer maximum specs and functionality with a full range of innovations, testing their prospects in the consumer market. Of course, this factor significantly increases their price. The prices of the following models are much more reasonable. Offering slightly lower specs, they are significantly cheaper and often rank among the bestsellers.
Samsung S90C has stylish LaserSlim design and costs ~ $ 1,800 (65″).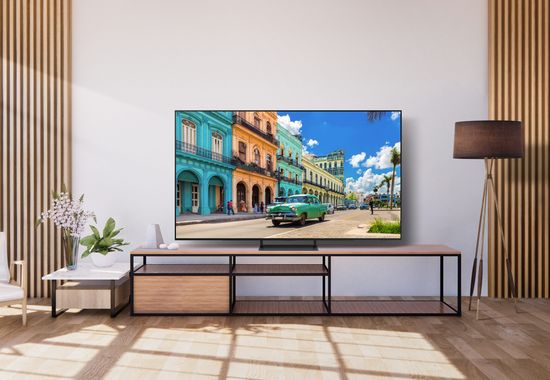 The LG OLED Evo C3 also fits harmoniously into any interior of a modern apartmenta and is available for ~$ 1,700 (65″).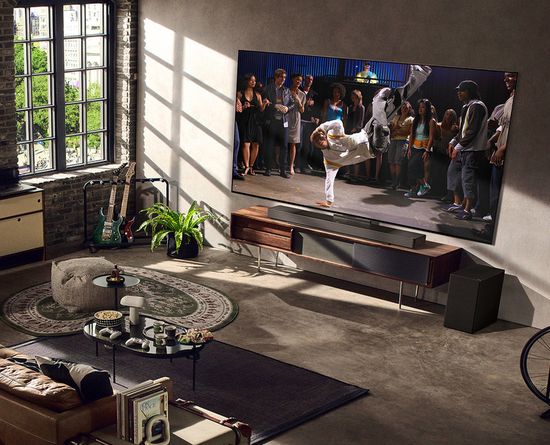 Sizes, calibration and gaming
S90C series includes 55″,65″, 77″ and 83″ models. 83″ TV has WOLED panel instead of the QD-OLED. Costco and Sam's Club stores sell the S90C under the name S90CD with more powerful speakers (60W vs 40W) and a longer warranty. Unlike last year's S95B, it supports 4K@ 144Hz.
LG C3 is available in 42″, 48″, 55″, 77″, and 83″ sizes. The Costco/Sam's Club version has the 'AUA' suffix, supports Wi-Fi 6E and comes with extended warranties. LG C3 is significantly less bright compared to the flagship due to the lack of an MLA focusing layer.
Both models have the same ultra-thin design with Borders / Max Thickness of 0.28″ (0.7 cm) / 1.61″ (4.1 cm) for Samsung vs 0.22″ (0.6 cm) / 1.77″ (4.5 cm) for LG.
Pre / Post Calibration (S90C vs C3):
– White Balance dE – 1.31 / 0.31 vs 1.60 / 0.16 (good value < 3);
– Color dE – 1.10 / 0.72 vs 3.77 / 2.60 (good value < 3);
– Gamma – 2.17 / 2.20 vs 2.16 / 2.20 (2.1 – 2.3);
– Color Temperature ~ 6,600K / 6,500K vs 6,450K / 6,500K (6500K).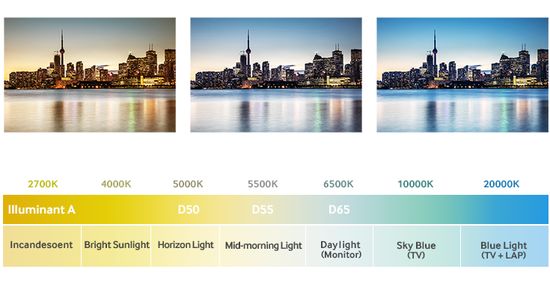 The models come with superb Pre Calibration 'out of the box', which is especially important for users without these skills. However, perfectionists can improve them almost to perfection.
Both TVs are ideal for gamers.
Gaming:
– Input Lag (S90C vs C3) – 10.1 vs 10.4 ms for 1080p@60Hz and 5.3 vs 5.7 ms for 1080p@120Hz;
– Auto Low Latency Mode (ALLM);
– full compatibility with PS5 (1440p@120Hz, 4K@120Hz, HDMI Forum VRR) and Xbox Series X|S (1440p@120Hz, 4k@120Hz, HDMI Forum VRR, FreeSync Premium Pro);
– 4 ports for multiple HDMI 2.1 consoles and PC.
Samsung S90C vs LG C3
These TVs offer 'infinite' inf: 1 native contrast due to perfect blacks. As known, self-emissive OLED pixels have direct and independent brightness control using on/off. Accordingly, they work without backlight, the luminous flux of which reduces the black depth in LED TVs. Despite the absence of local dimming feature (no backlight), the number of local dimming zones for OLED 4K panels is conventionally equal to the number of pixels or 8,294,400. In addition, OLED technology eliminates blooming around bright highlights by turning off neighboring pixels.
HDR / SDR brightness (S90C vs C3):
– Peak 10% Window ~ 1,030 / 500 nits (cd/m²) vs 815 / 410 nits;
– -'- 50% Window ~ 330 / 320 nits vs 310 / 380 nits;
– -'- 100% Window ~ 210 / 210 nits vs 150 / 215 nits.
Overall, the S90C is slightly brighter. But both models provide superb PQ EOTF tracking, optimizing brightness for any content.
Color Gamut (DCI P3 / Rec 2020, S90C vs C3):
~ 99.9% / 90% vs 99% / 75%.
Color Gamut of S90C is also slightly wider.
Reflections, Viewing Angle, Gray and Black Uniformity, HDR Native Gradient, Upscaling and Input Lag of both models differ very slightly. To be fair, the Samsung S95C has a slight bonus on most of these criteria.
Traditionally, competitors differ in formats. In addition to HDR10 and HLG, Samsung offers HDR10+, and LG supports Dolby Vision.
Models use Samsung Tizen 7.0 and LG WebOS 23 smart-platforms.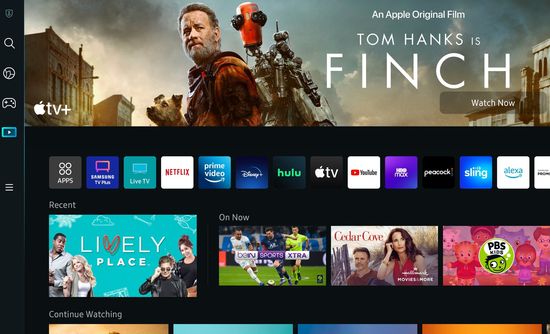 A few years ago, many criticized Tizen, but the current versions are equally convenient and fast. In comparison, time taken to select YouTube / to change backlight is 2/5 sec and 2/3 sec for the S90C and C3, respectively.
Technologies
The innovative level of both models fully corresponds to the premium segment. TVs use almost all the most popular technologies.
Samsung:
– Motion Xcelerator Turbo Pro (4K@144Hz support);
– Neural Quantum Processor 4K with support for up to 20 neural networks;
– Quantum HDR OLED (contrast);
– very accurate colors with Pantone technology.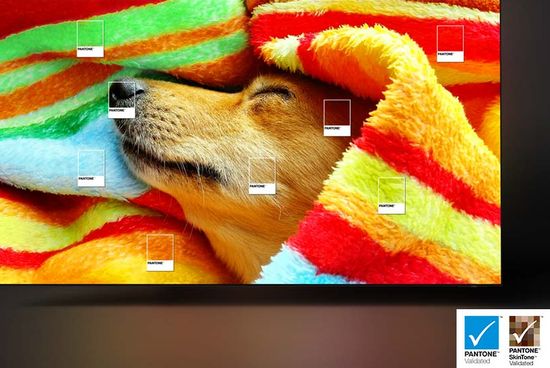 Pantone color model or PMS (Pantone Matching System) is a standardized color matching system developed by the American company Pantone Inc;
– Real Depth Enhancer (increasing the contrast of the scene foreground);
– EyeComfort mode (auto correction for day/night).
The model also has Game Panel with support for 32:9 ultra widescreen mode, upward-firing speakers, OTS Lite (3D surround sound; virtual audio channels shift the sound in sync with the movement of its source on the screen), Q-Symphone (perfect synchronization of the TV audio system with an external soundbar), Adaptive Brightness (auto brightness correction depending on ambient lighting), etc.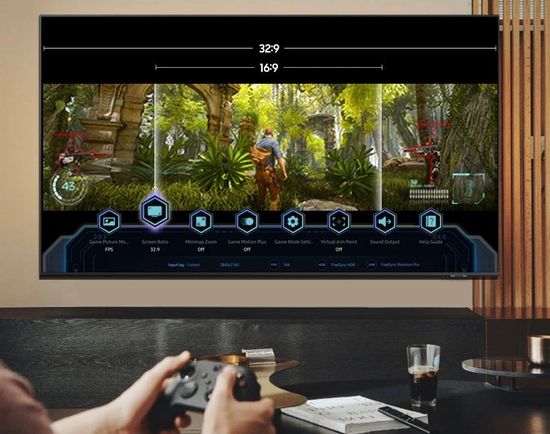 Of course, LG is not lagging behind its competitor.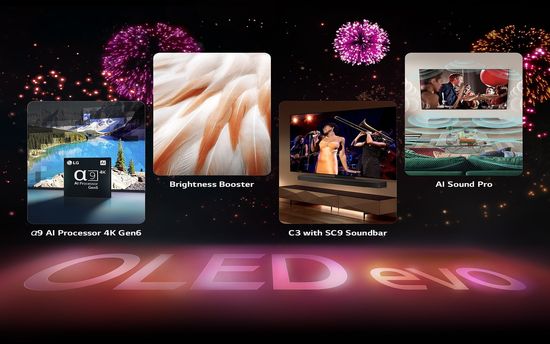 C3 uses:
– Brightness Booster;
– AI Sound Pro;
– α9 AI Processor 4K Gen6;
– WOW Orchestra (optional LG Sound Bar (to synс the TV's audio system with optional LG Sound Bar).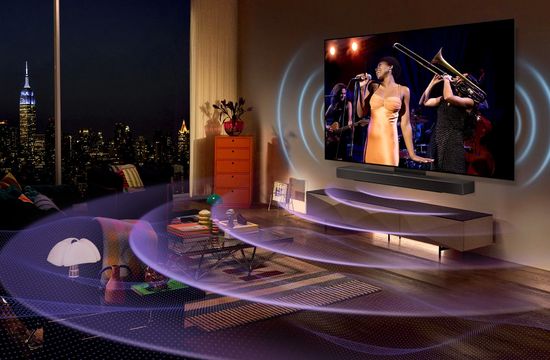 In addition, the TV offers traditional LG's technologies, including OLED Dynamic Tone Mapping Pro, OLED Motion, AI Picture Pro, Pixel Dimming, AI Sound Pro, WiSA Ready (audio transmission to WiSA certified speakers), Clear Voice Pro, Game Optimizer with Game Dashboard, HGIG (HDR Gaming Interest Group) mode, etc.
Assessing the functionality and and the performance of their algorithms is unlikely to be correct, because it depends on viewing conditions, content, personal preferences, etc. But in general, the innovative level of the models seems very close.
Conclusion
Both models offer superb image quality with 'infinite' contrast, accurate, bright and rich colors, excellent reflection handling, gaming with extremely short response time and input lag, wide viewing angles, great pre-calibration 'out of the box' and 4x HDMI 2.1. Unfortunately, TVs have too aggressive ABL (Automatic Brightness Limiter), which can appear in scenes with large bright areas.
LG offers a wider range of sizes (5 vs 3). Samsung is brighter (1040 vs 830 nits), has a wider color gamut and supports 144Hz. The list of main differences is very short (LG vs Samsung):
– panel – OLED Evo vs QD-OLED;
– peak brightness – 830 vs 1040 nits;
– video technologies – Dolby Vision / Dolby Vision IQ vs HDR 10+ / HDR 10+ Adaptive;
– Frequency / Response Time – 120Hz / 0.2ms vs 144Hz / 0.8ms;
– Apple Airplay and Apple Homekit vs no;
– DTS Audio vs no.
In fairness, higher brightness and wider color gamut of Samsung S90C provide slightly more colorful saturated colors. But the difference is insignificant and depends on the settings and content.
Today it's too early to analyze the reliability of new QD-OLED panels. But, of course, the risk of pixel burnout and degradation exists, and it's unknown unlike LG OLED Evo panels. In general, the models have an almost identical price-quality ratio. Minor differences are quite adequate for the $ 100 price difference. Therefore, the choice depends on secondary factors, including personal attitude towards brands, discount or the presence of a service center on a nearby street.
This video offers an official introduction of the S90C.