Just 10 years ago, LED LCD and OLED TVs were not competitors. Expensive premium OLED panels traditionally deliver superior image quality for SDR content and high HDR performance with perfect blacks. LED LCD models dominated the entry and mid-budget segment.
But Quantum dot (QD) technology has radically improved their color accuracy and expanded the color gamut by improving white quality for backlight of RGB filter. In fact, the TV generates white by mixing blue from blue LEDs array with re-emitted red and green. Under the influence of partially absorbed blue, these colors are re-emitted by microparticles deposited on the film. The color depends on the microparticle size, which in turn corresponds to the wavelengths of red or green. A film is placed between the blue LEDs and the RGB filter.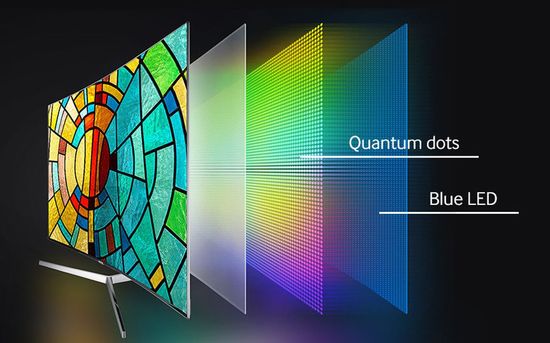 But perfect contrast remained a significant bonus of OLED technology until 2021. MiniLED backlight has become the second epochal breakthrough in the LCD technology evolution. Replacing traditional LEDs with miniature ones allowed engineers to increase their number to tens of thousands.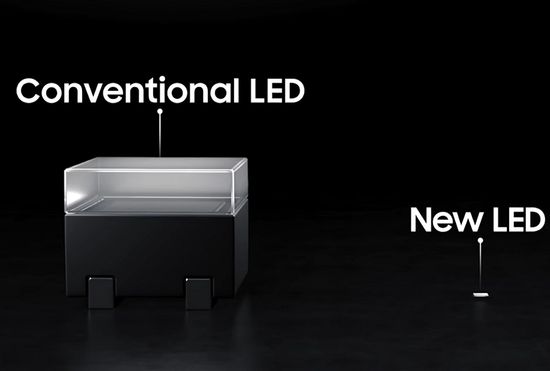 In turn, their huge number allowed developers to form hundreds and even thousands of local dimming zones, grouped into arrays with independent control. The mini LED backlight significantly increased image contrast by more precisely controlling frame areas based on content.
As a consequence, the TV range has been expanded with a new segment of premium LCD models with QD technology and mini LED backlight. Their image quality and, unfortunately, price are not inferior to OLED panels. In 2021, the new Samsung Neo QN series (QLED + miniLED) competed with LG OLED G1/C1 TVs for the first time.
LG OLED vs Samsung QLED miniLED
To be fair, LG has also been wasting no time, improving the OLED technology. The innovative Evo panel is a well-deserved result of these efforts. The company first used it in the flagship LG OLED G1 2021. The additional third layer of the green emitter and the replacement of hydrogen with deuterium in blue emitters allowed the developers to increase its peak brightness to 1,000 nits by increasing the voltage.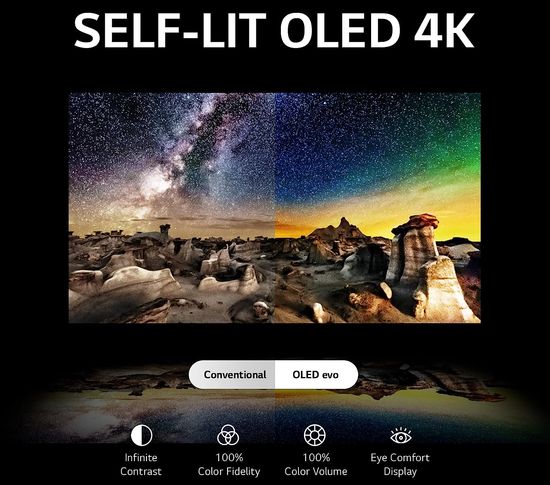 Last year's G2 uses an extra heatsink (Brightness Booster technology) to protect the organic LEDs from overheating. This solution allows developers to further increase the voltage and, accordingly, the panel brightness. As a result, the peak brightness of the third gen of OLED Evo C3 / G3 (2023) almost reaches 850 and 1,500 nits, respectively.
Of course, technology competition continues this year. The current list includes (65-inces TVs):
LG OLED
– LG OLED Evo C2/G2 (2022) – $ 1,600 / $ 1,750;
– LG OLED Evo C3 / G3 (2023) – $ 2,100 / $ 3,000.
Samsung Neo
– Samsung QN90B and QN95B (2022) – $ 1,600 and $ 2,500;
– QN85C and QN90C (2023) – $ 1,700 and $ 2,000.
But flagship QN95C is currently unavailable.
Traditionally, models after the flagship most often become bestsellers due to the superb price-quality ratio. Therefore, the comparison of LG OLED Evo C3 vs Samsung Neo QN90C seems to be the most relevant.
Samsung QN90C vs LG OLED C3
The LG is marginally more expensive (~ $ 2,100 vs $ 2,000), but the minimal difference varies within sellers' discounts.
Except 43″ and 50″ models with VA panel, all QN90C TVs have ADS panel, which is an improved IPS version.
The QN90C is brighter, offers many additional audio/video processing technologies, smart options, and an easy-to-use smart interface with a great selection of apps.
Unfortunately, the algorithms of local dimming do not always have time to process fast content. In this case, the front edge of image is darker vs back , and fast moving objects are played with the back halo.
LG C3 provides near-infinite contrast ratio with perfect black, wide angles and fantastic reflection handling. Unfortunately, the large bright content sometimes plays dimly due to the aggressive Automatic Brightness Limiter (ABL).
Unlike the flagship G3, the C3 does not support MLA (Micro Lens Array) technology. As known, it uses a layer of microscopic lenses that further focus the light of organic LEDs, increasing brightness.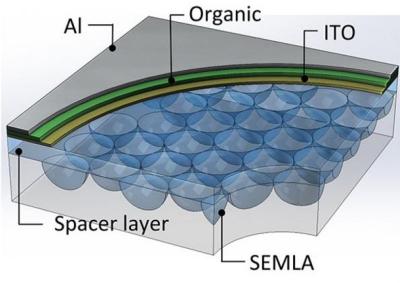 According to developers from the University of Michigan, a Sub-Electrode Micro-Lens Array (SEMLA) enhanced light output by a factor of 2.8 (green) and 3.1 (white). Combined with a heatsink (Brightness Booster), MLA can increase peak brightness by 70% in Vivid mode.
Both models offer good pre-settings and ideal settings after calibration. Non-prefectionists may well enjoy excellent image quality without further adjustment.
Both TVs are ideal for gaming, providing Input Lag ~ 10.5 ms / 6.8 ms for 1080p@60Hz / 120Hz and 10.3 ms / 6.8 ms for 4k@ 60Hz / 120Hz.
Main specs
Samsung
– 1,674 : 1 Native Contrast and 83,200 : 1 Contrast Ratio with local dimming (720 zones for 65″ model).
The local dimming feature is only disabled from the service menu;
– peak HDR Brightness – almost 700 cd/m² or nits for 100% window and almost 2,000 nits for 10% window;
– peak SDR Brightness – over 650 nits for 100% window and almost 1,800 nits for 10% window;
– Color Gamut ~ 92% DCI P3 and 70% Rec 2020;
– Viewing angles and Reflections.
The QN90C only provides average viewing angles because its ADS panel does not have an ultra-wide viewing angle layer. But it provides superb reflection handling with glossy coating and very high brightness.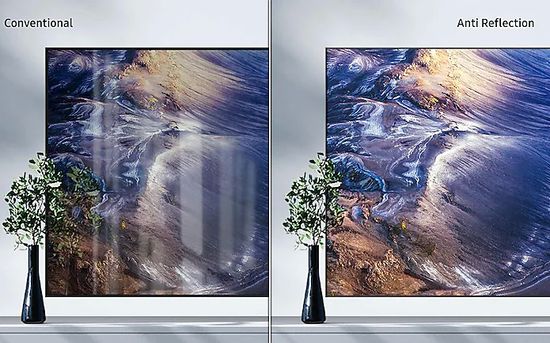 – Pre / Post Calibration:
– White Balance dE – 1.67 / 0.50 (Good value < 3);
– Color dE – 2.84 / 1.55 (Good value < 3);
– Gamma – 2.34 / 2.22 (2.1-2.3);
– Color Temperature 6,513 K / 6,551 K (6500K is the standard).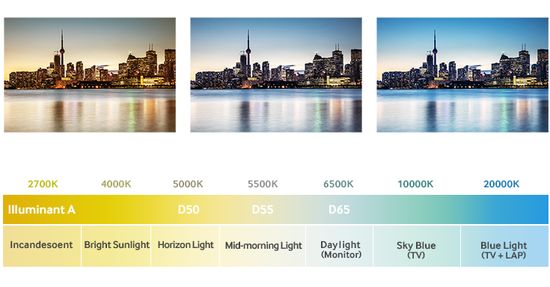 LG
– inf : 1 ('infinite' contrast) with 8,294,400 'local dimming zones' (independent on/off for each pixel);
– peak HDR Brightness – 160 nits for 100% window and 830 nits for 10% window;
– peak SDR Brightness – 200 nits for 100% window and over 400 nits for 10% window;
– Color Gamut ~ 99% DCI P3 and 75% Rec 2020;
– Viewing angles and Reflections.
Traditionally for OLED technology, C3 provides superb viewing angles and fantastic reflection handling;
– Pre / Post Calibration:
– White Balance dE – 1.60 / 0.16 (Good value < 3);
– Color dE – 3.77 / 2.60 (Good value < 3);
– Gamma – 2.16 / 2.20 (2.1-2.3);
– Color Temperature 6,452 K / 6,503 K.
Key Features
Samsung QN90C
The model has ultra-slim NeoSlim design.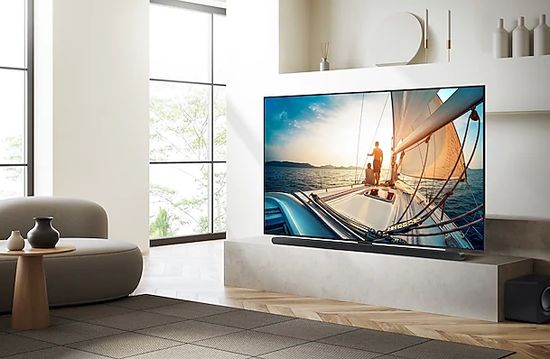 It supports almost all popular innovations in the industry, including:
– Quantum Matrix with mini LEDs;
– Neo Quantum HDR+;
– Neural Quantum Processor with 4K Upscaling;
– Anti-Glare coating;
– Dolby Atmos and Object Tracking Sound+;
– Samsung Gaming Hub;
– Q-Symphony 3.0 (perfect compatibility with Samsung soundbars);
– Active Voice Amplifier;
– Motion Xcelerator Turbo+ (4K@120Hz).
LG OLED C3
C3 supports LG ThinQ AI and latest webOS.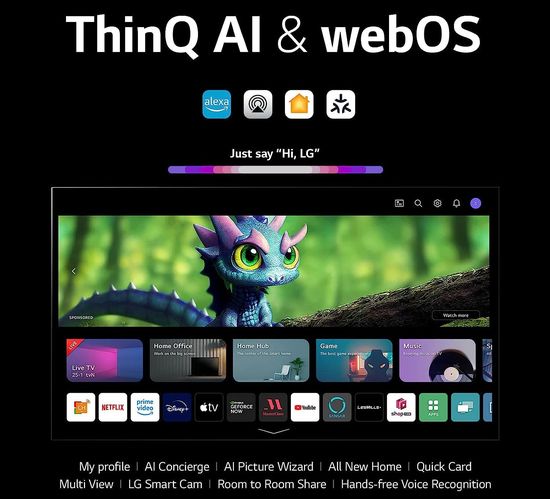 It uses advanced α9 AI processor 4K Gen6 with AI Super Upscaling Pro, Quad Step Noise Reduction, enhanced sharpness, Object Depth Enhancer, True Color Accuracy Pro, HFR (High Frame Rate) support, etc.
The audio system is also at a premium level, allowing moderate music lovers to save on a soundbar.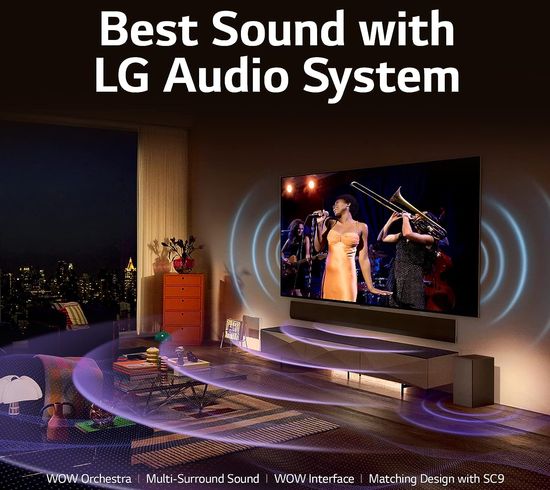 Like Samsung, LG offers a full range of popular gaming options, including Variable Refresh Rate (VVR), Auto Low Latency Mode (ALLM), eARS (Enhanced Audio Return Channel) and HGiG (HDR Gaming Interest Group).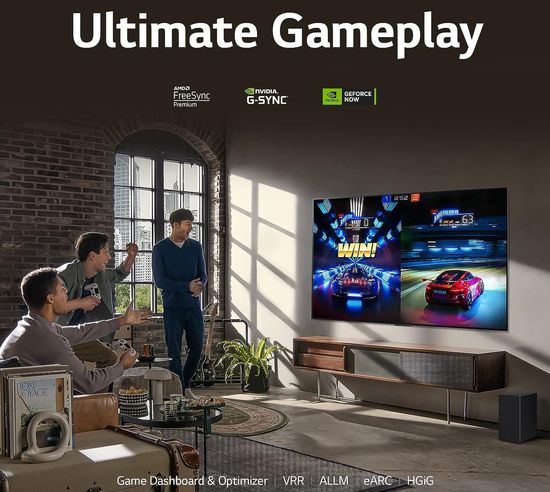 As known, VVR adjusts refresh rate in real-time to match the source, and eARS provides lossless audio signal transmission.
In general, Samsung is traditionally brighter, but LG OLED is more contrast, has wider color gamut and viewing angles. Accordingly, Samsung is slightly better for viewing in a bright living room in sunny California, while LG is ideal for viewing in a room without direct sunlight, for example, in foggy Albion. But, to be fair, the excessively high specs of both models provide superb image quality in all conditions.
Conclusion
Given the identical price, image quality and functionality, the optimal choice between Samsung QN90C and LG OLED C3 will depend on secondary factors. In this case, a service center on the next street, a good discount or predominance in the apartment LG/Samsung consumer electronics with ThinQ/SmartThings support can be a decisive argument.
Objectively, excellent value for money promises good marketing prospects for both TVs. But the Chinese giants can make significant adjustments to the cloudless future of these TVs. As known, they also introduced Hisense U8K and TCL QM8 with QD technology and miniLED backlight. Both series offer superb specs for only ~$ 1,100 and $ 1,200 (65″ models), respectively. In particular, the TCL QM8 delivers an unprecedented 114,057 : 1 contrast ratio with local dimming up to 2300 zones, and peak brightness from 860 nits to 2,000 nits for 100% – 10% windows. Hisense claims peak brightness up to 1,500 nits and fantastic 2,000,000:1 contrast ratio with local dimming (1008 zones).
Of course, the South Korean giants offer a wider range of additional smart-options and functions. But the almost twofold gain in price is a very serious argument in favor of Chinese competitors.
In addition, the market is actively expanding with laser ultra short throw (UST) 4K projectors, which are increasingly replacing TVs in living rooms. Of course, TVs are still brighter and more contrasty. But similarly priced 100″-150″ screens with acceptable picture quality are increasingly appealing to fans of the huge screen.
Probably, the aggravation of competition hardly pleases the management of companies, but consumers can only welcome this trend.
The video introduces this year's LG OLED Evo models.