Semiconductors have kicked off the rapid development of solid-state light sources (SSL) for projectors. As a result, companies have developed several types of SSL light engines, including:
– LEDs;
– laser phosphor sources (ALPD 3.0 technology – Advanced Laser Phosphor Display);
– three-laser RGB light generators (ALPD 4.0 version).
In fact, a laser diode is a diode with an optical cavity that provides more powerful coherent radiation.
Unlike lamps, SSL models heat up little. This allowed developers to radically reduce their size due to the lack of powerful fans and the need for heat dissipation. Consumers have enthusiastically embraced miniature projectors as 'pocket' TVs. For example, legendary RIF6 CUBE with a side size of 5 cm (2″) and a weight of 136 g (0. 36 lbs) is still successfully selling for ~$ 150.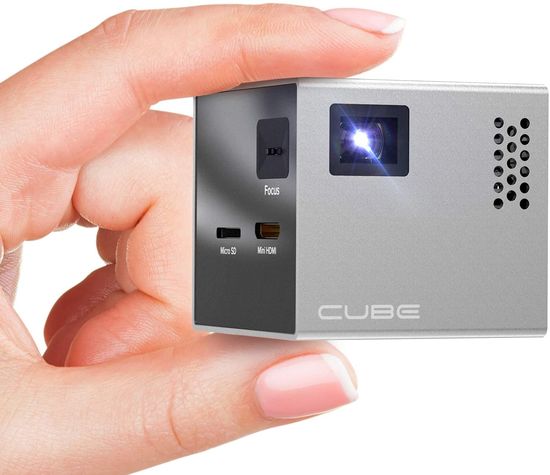 Hybrid smartphones-projectors have become the next logical stage in the development of this direction. The hype reached its peak in 2020, when the list of popular projector phones included Blackview MAX 1, Moviphone, Qantum V, Movi, etc.
Unfortunately, the high price and modest specs have radically limited their popularity. Indeed, the built-in projector increased the phone price by $ 300-$ 400. As a result, buying a phone and a pico projector separately with similar specs saved 20–30%, which was the decisive factor in favor of this decision.
To be fair, two years ago Samsung and Nokia announced Galaxy Beam 3 (2021) and Nokia Projector Phone 5G. But there was no continuation.
Judging by the requests, quite a lot of consumers are showing interest in smartphones with built-in projectors, but companies are passively responding to demand. This year, the Chinese Unihertz took the initiative by introducing the first phone-projector Tank 2 in several years.
Unihertz smartphones
Unihertz E-Commerce Co Ltd was founded in 2016 by Stephen Xu. Today its headquarters is located in Shanghai, China. The company develops unique Android phones and actively uses the Kickstarter platform. The ultra compact Jelly 4G smartphone became the company's first release in 2017.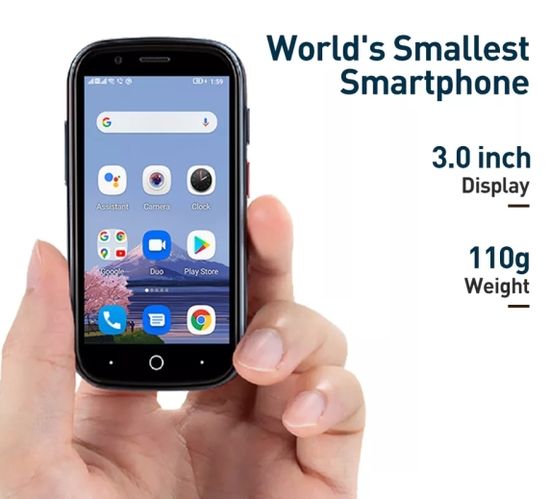 Today its price varies from $ 100 to $ 200 depending on the model version and memory.
Over the years, the company introduced several non-standard models and their improved versions, including:
– tiny 4″ Atom XL – DMR Walkie-Talkie rugged smartphone;
– Titan with a compact QWERTY keyboard;
– TickTock 5G rugged phone with a second screen for selfies ($ 250-$ 300).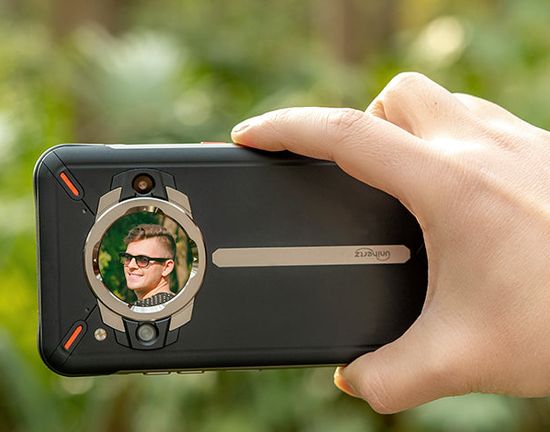 Last year the company introduced TickTock (6,000mAh, dual screen design and Android 11, ~$ 250), Titan Slim (4,100mAh, QWERTY keyboard, Android 11, ~$ 300) and fantastic ultra rugged Tank (22,000 mAh, Android 12, IP68, 560g, ~$ 400).
Continuing to amaze consumers, this year Unihertz introduced the 8849 Tank 2 version (15,500 mAh, Android 13, IP68, 530g, built-in projector, ~$ 300 – $ 400). Judging by the name, 8849 is a subsidiary sub-brand of Unihertz.
Unihertz 8849 Tank 2
The projector uses a MEMS-based MicroVision's 4th gen PicoP scanning engine (PSE-0403-103 module).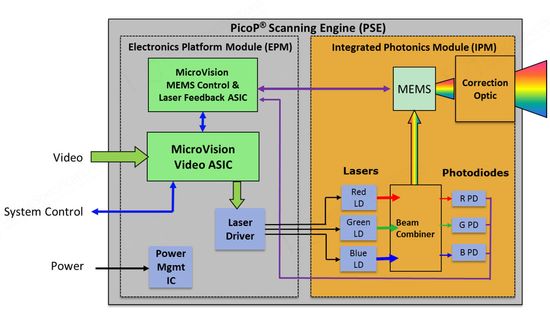 It supports 40 Lumens brightness, HD (1,280 x 720) resolution, 80,000:1 dinamic contrast, keystone correction, output style (landscape or portrait), and produces ~27.5″(image diagonal)@1m with Throw Ratio of 1.2:1.
Equipment:
– 6nm MediaTek Helio G99 (MT6789) octa-core CPU (2×2.2 GHz Cortex-A76 + 6×2.0 GHz Cortex-A55) with a 1GHz dual-core Mali-G57 GPU;
– 6.8″ IPS LCD touchscreen with (1,080 x 2,460) resolution, 395 ppi;
– 12GB of LPDDR4X RAM expandable up to 22GB and 256GB of UFS 2.2 storage with a dedicated microSD card slot.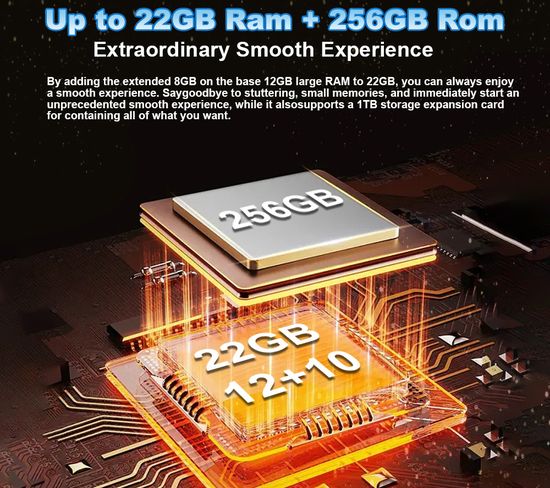 – triple main camera – 108MP PDAF (f/1.8 aperture) + 64MP night vision (f / 2.2) + 16MP wide (f / 2.2).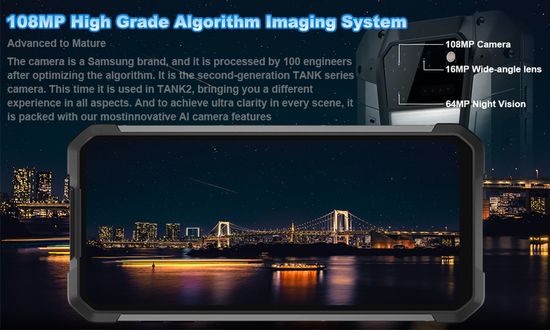 – video – 1080p@30fps;
– quad IR LED flash + panorama + HDR;
– FaceID support;
– 15,500 mAh battery with 66W fast charger.
It allowed the developers to even implement a warning light and double camping light.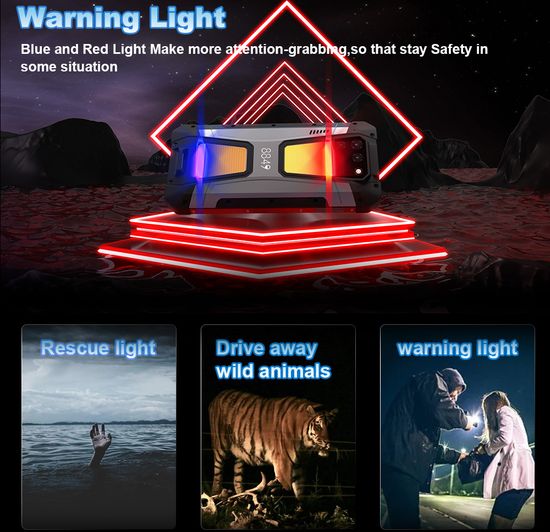 The model offers superb navigation.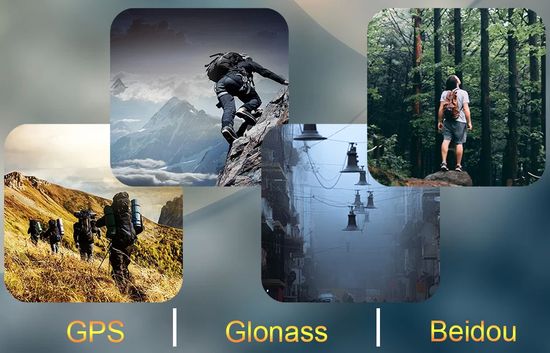 IP68 (30 minutes at a depth of 1.5 meters, sproofhock and dust-proof) is also ideal for hikes and adventures.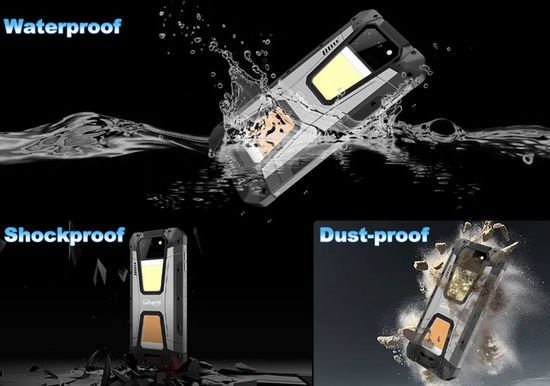 Conclusion
Of course, everything has its price. Reliability of all rugged models, ultra-high-capacity batteries and additional options, including, for example, a built-in projector, require additional internal space. In fact, they represent the opposite of the phone miniaturization that has dominated the last decade.
The 8849 Tank 2 is no exception. Its (85.9 x 179.3 x 23.5) mm dimensions and 530 g weight do not correspond to this trend at all. However, quite a lot of consumers are calm about 0.5 kg models in their pocket in exchange for their ultra reliability and wide functionality at a relatively affordable price.
Given their very limited brightness, opinions on built-in pico projectors are mixed. The quality of any image depends on its clarity and colors. In turn, clarity depends on resolution, screen size and contrast, and picture colorfulness is determined by color gamut and brightness. Moreover, the required brightness for sufficient illumination also depends on the screen size. Therefore, in the dark, even a low-power inexpensive projector will provide acceptable quality of ~30″ HD images due to high ppi. But a 120″ 4K image of an expensive projector with a brightness of 2,000-3,000 ANSI Lumens may be too dim and faded in diffuse daylight.
During testing, the 8849 Tank 2 demonstrated acceptable quality on screen up to 30″ (without ambient lighting). In fact, it could well be positioned as a 'pocket' monitor, providing fairly comfortable viewing, for example, of video content from YouTube almost anywhere on the planet.
In case of marketing success, this inexpensive model may well give impetus to the resuscitation of smartphones with a built-in projector.
This video shows the new 8849 Tank 2 smartphone projector.