The last year's flagship BenQ X3000i gaming projector today is one of the best in this segment. This model was the first DLP projector with a 4LED light engine, which provides brightness up to 3,000 ANSI Lumens and covers 100% DCI-P3.
Today, 4LED light sources are actively used by Optoma, ViewSonic and other well-known manufacturers of LED projectors. For example, it's used in the announced Optoma L1 4K UST. In fact, this light generator uses an additional blue LED, the light of which is directed to the ceramic phosphor. In turn, it converts the blue to green because the eye responds maximally to an increase its brightness.
According to the company, additional blue 'pumping' LED increases overall brightness by 8-12% vs traditional 3LED-design.
Moreover, the new XGIMI Horizon Ultra 4K uses hybrid DualLight (LED + laser) light engine. In fact, it's a 4-LED RGBB light source with an additional red laser to enhance the brightness and saturation of the red. It uses a red laser and LED, a blue pump LED, a green LED.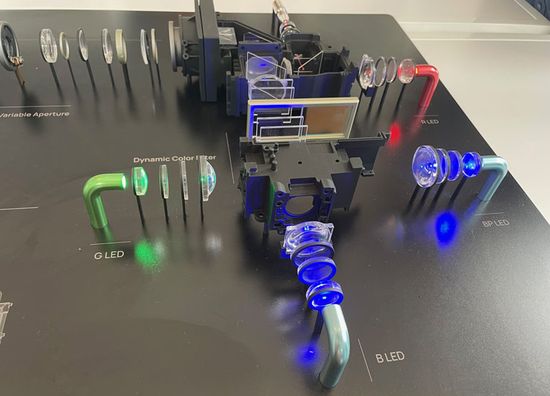 The color gamut is adjusted with a dynamic color filter.
In addition to the innovative light source, BenQ X3000i introduced the new GameMaestro technology with several modes for different gaming genres. Today it costs ~$ 1,900 and is on most top lists.
Of course, the company did not ignore the BenQ X3000i's marketing success, and this year announced the expansion of the X-series with three new models. This list includes the flagship X3100i, X500i and X300G.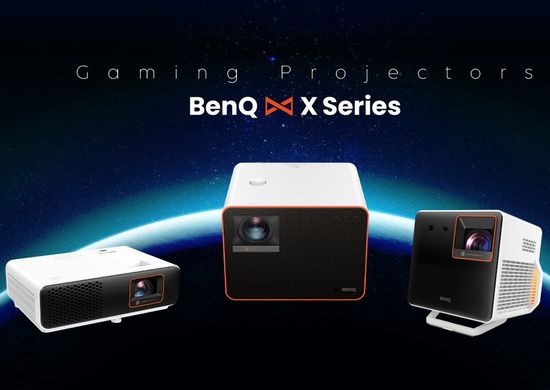 BenQ technologies
The image quality depends on the vibrancy of colors and contrast. In turn, the colors are determined by the model color gamut, and the contrast depends on the brightness and black depth.
Solving the problem of increasing quality, companies strive to expand the color gamut and increase the overall image contrast. Moreover, several years ago the video industry introduced the HDR (High Dynamic Range) standard, and companies have developed several versions of HDR technology, which allows devices to display images with a very large spread between dark and light tones. Unlike the SDR format, the HDR image looks much more colorful.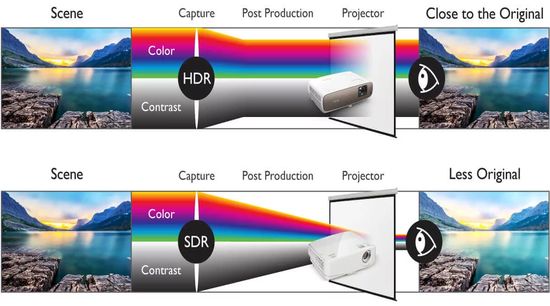 Of course, perfect blacks and increasing brightness seem to be the most obvious solution, but this resource is limited. For example, modern OLED Evo panels in LG TVs provide brightness of up to 1,500 nits only with a heatsink to dissipate heat. Otherwise, OLED pixels will quickly degrade due to overheating.
In modern projectors only LCoS technology provides superb contrast with almost perfect black. However, effective video processing algorithms also successfully solve this problem.
Almost all leaders actively use video processing improvement technologies and BenQ is no exception. Its tone mapping-based HDR-Pro technology plays the contours of even small and bright objects without artifacts.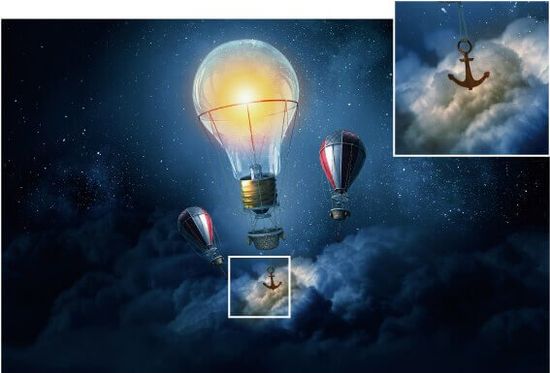 Leading Local Contrast Enhancer divides image into over 1,000 regions for the local contrast enhancement.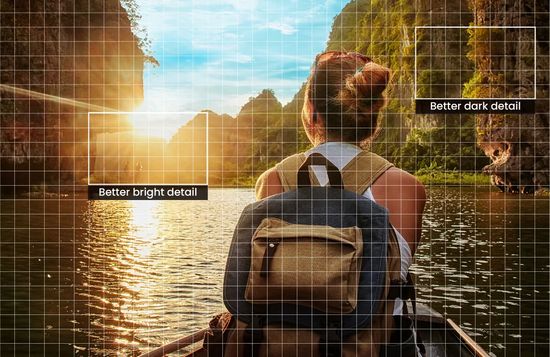 SSI (solid state illumination) Dynamic Black technology optimizes brightness depending on the content using automatic correction of the optical system.
In addition, BenQ HDR Pro offers 5 different HDR brightness levels to select the optimal level, which depends on screen size, distance, content and ambient lighting.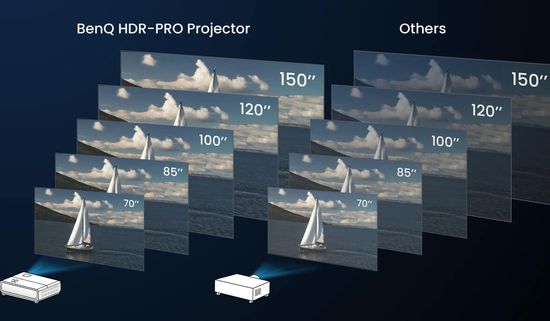 Finally, BenQ projrectors use CinematicColor technology with 100% of the DCI-P3 color space.
Main specs
With the exception of brightness (3,300 / 2,200 / 2,000 ANSI Lumen) and color gamut (100% vs 84% DCI-P3 coverage), all models are built on the same platform and offer identical specs, including:
– 4LED light engine;
– 4K resolution.
The latest DLP650TE 0.65″ chipset with support for four-phase pixel shift replaced the 0.66″ DMD. It has increased multiplier from 2 to 4, providing upscaling from Full HD to almost 4K. Additionally, due to the reducing number of micromirror from (2,716 × 1,528) to (1,920 × 1,080), micromirror pitch is increased from 5.4 μm to 7.6 μm. Accordingly, increased micromirror area enhances brightness while reducing noise.
Pixel shift-based XPR (Xpanded Pixel Resolution) technology from Texas Instruments works elegantly. It divides 8 million pixels of 4K content into 4 parts of 2 million each. Then, the 2 million micromirrors of the 1080p chipset sequentially display four 1080p images, shifting them half a pixel relative to each other.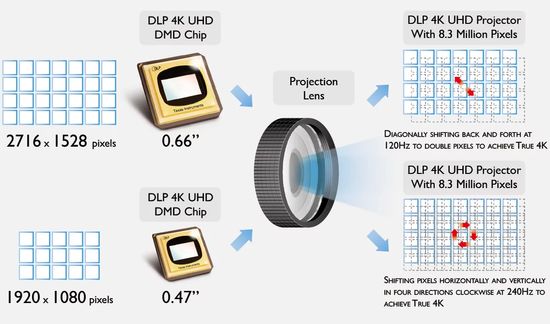 Accordingly, the projector displays only one 1080p image at any time. But due to the high frequency, the vision and brain perceive them as one picture with a higher resolution. The pixel shift is carried out by micro-tilting the lens using 4 XPR module magnets;
– 500,000 :1 dynamic contrast;
– superb input lag (16.67ms for 4K/1080p@60Hz, 8.3ms for 1080p@120Hz and 4.2ms for 1080p@240Hz);
– treVolo speakers;
– certified Netflix app;
– game modes for RPG (role-playing game), FPS (first-person shooter) and SPG (sport).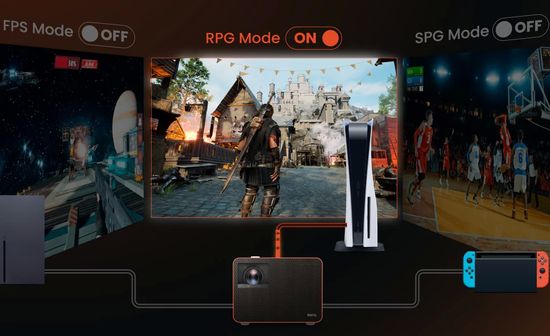 The flagship X3100i additionally offers a new RCG mode for racing games with more vivid colors and enhanced engine-sound detail.
Compared to last year's X3100i, the new flagship is 300 ANSI Lumens brighter (3,300 vs 3,000), has certified Netflix app, new RCG mode and vertical lens shift.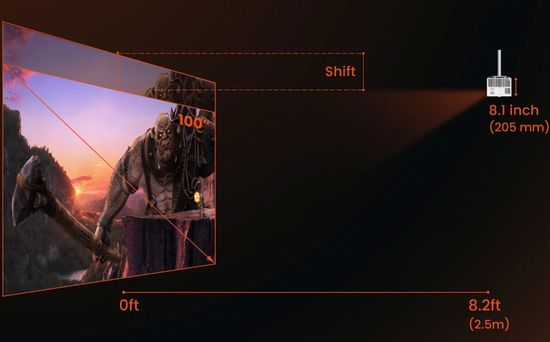 Key Features
Mid-focal X3100i uses lens with 1.15-1.5 Throw Ratio, forming 100″@8.2ft/2.5m.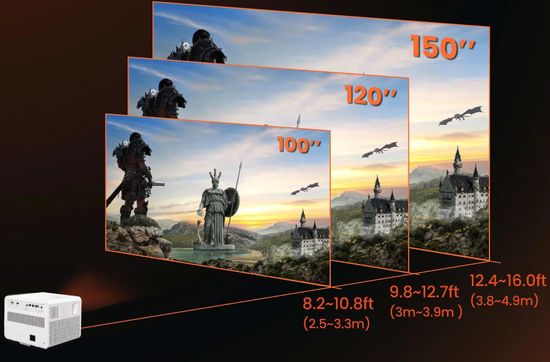 When ceiling mounted, it turns any room into a 'High-End Game Room'. Both other projectors have short throw lens of 0.69-0.83:1, generating proection of 100″@5ft/1.44m.
Like the X3000i, the X3100i has a pair of 5W speakers and treVolo driver-based CinematicSound. In addition, audio system uses Bongiovi sound processing. All projectors have eARC-HDMI port and S/PDIF-connector for transmission of 7.1-channel lossless audio to an external soundbar.
Traditionally, streaming BenQ projectors come with an HDMI dongle for Android's Google TV platform. All BenQ models have a covered compartment to connect it. But latest QS02 Android dongle supports a fully certified Netflix app. As known, most Android projectors come without Netflix.
In addition to picture modes for different genres, BenQ offers Details Adjustment to improve shadow detail in dark FPS/RPG game scenes. Moreover, the 'Crosshair' option displays crosshair on the image center in the FPS games.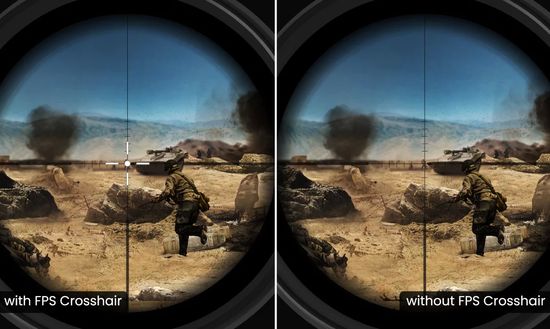 Additionally, the projector identifies Xbox, PlayStation, and Switch console inputs and automatically adjusts settings. These models are compatible with the new SettingXchange web service. It offers color settings for projectors with loaded profile for sharing.
X3100i and X500i will be available in November on BenQ.com and in December on Amazon, Bestbuy US, Adorama, B&H, and ProjectorPeople. But orders for the portable X300G are planned only for January 2024. Launch prices of model are $ 2,399 / $ 1,699 / $ 1,799, respectively.
Conclusion
In fact, the line up of current and announced BenQ 4K gaming projectors includes last year's and new X3000i and X3100i flagships, X500i and portable X300G. Today the difference between the flagships reaches $ 500 ($ 1,900 vs $ 2,400), which seems excessive for the additional 300 ANSI Lumens, certified Netflix app, new RCG mode and vertical lens shift. But after the traditional launch price adjustment, the X3100i will be able to adequately replace the X3000i.
Overall, BenQ projectors continue to confidently dominate the gaming segment, offering the highest immersion level at a relatively affordable price.
This video illustrates the effectiveness of BenQ video processing technologies.