Famous Jura brand is a cult in the industry. As known, it belongs to Swiss Elektroapparate AG, which develops and produces premium home appliances since 1931. In the early 90s of the last century, the company concentrated its efforts on premium coffee machines. Today it's one of the leaders in premium segment.
Jura coffee machines are manufactured by Swiss Eugster/Frismag company. Like Saeco, it's the world's leading manufacturer of automatic coffee machines. Besides Yura, Eugster/Frismag is OEM (original equipment manufacturer) supplier for Bosch, Melitta, Nivona, etc.
To be fair, the expensive models can hardly boast of superb value for money. But the impeccable reputation, excellent quality, luxurious design and the highest level of innovation are quite adequate for high prices.
J series
Today Jura coffee machines lineup includes full-size D, E, S, J, Z, Giga series and compact A and ENA series. Formally, the J series is classified as mid-budget, but its specs, platform, functionality and, unfortunately, the price are premium. It includes J9, J6 and the latest J8 models. As known, J6 became an improved version of J9. This list includes:
– P.E.P.;
– faster coffee grinder Aroma G3;
– vertical layout of the menu on the screen;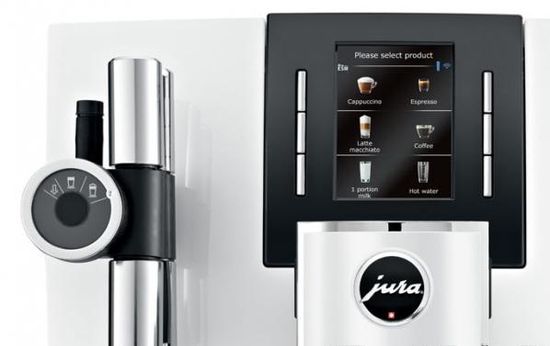 – glass stand for cups;
– coffee dispenser with a separate spout for water;
– an increase from 5 to 10 coffee strength adjustments and from 2 to 3 brewing temperature gradations;
– additional espresso macchiatto and Flat White programs.
J8 was the next upgrade.
Jura J9 vs J8 vs J6
All models has one boiler, pump pressure 15 bar, pre-ground coffee bypass, and ceramic conical burr grinder. Differences list (Jura J9 vs J8 vs J6):
– price – up to $ 2,000 vs $ 2,950 vs ~ £ 1,700;
– water tank and coffee grinder capacity – 71 fl oz / 2.1l vs 64.2 fl oz / 1.9l vs 71 fl oz / 2.1l and 250 g vs 290 g vs 250 g.
Programs
J9 vs J8
Both models offer americano, cappuccino, latte macchiato and hot milk/water. J9 also makes ristretto, J8 additionally prepares espreso macchiato, espreso lungo, double espresso, Flat White, latte and milk foam. Just in case, ristretto is a more concentrated version of espresso with only 30 g.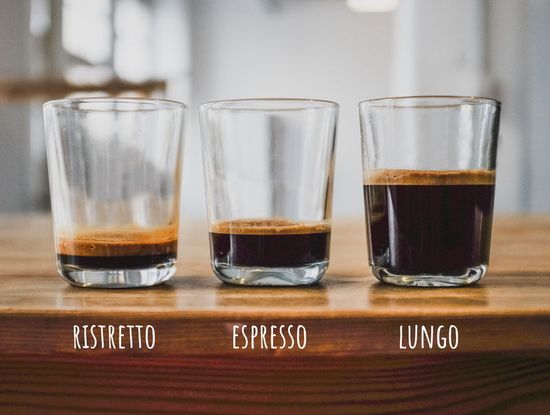 J6 vs J8
They offer espresso macchiato, Flat White, americano, cappuccino, latte macchiato, milk froth and hot milk/water. In addition, J6 has ristretto, the list of additional J8 programs includes espreso lungo, double espreso and latte.
Sweet Foam and Coffee Eye
As one of the innovative leaders in the industry, the Swiss brand is actively introducing new technologies. For example, Jura Z10 first offered an innovative cold brew function. Sweet Foam function has become the main innovation of the J8. It's intended for making flavored cappuccino or flat white. New function uses an additional clip-on syrup cartridge.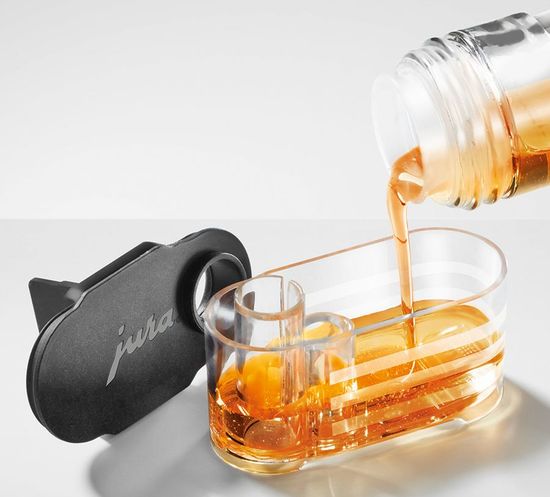 It's inserted into the milk foam dispenser.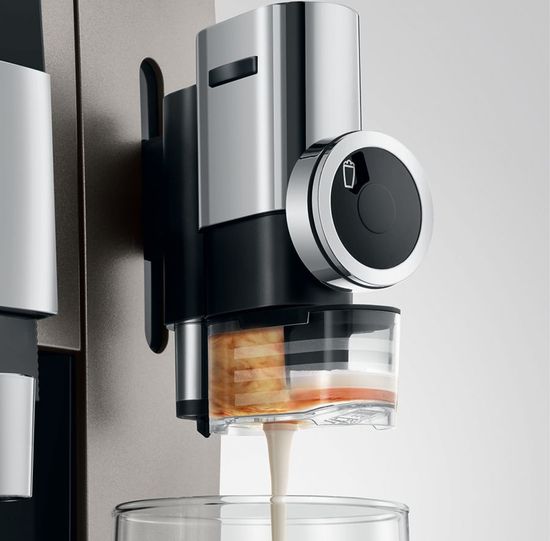 In fact, this system evenly distributes the syrup through the milk foam according to the selected program. The selection of Sweet Foam drinks is done through the menu. Probably, lovers of exotic coffee recipes are hardly in the majority. But many progressives may well love a beautifully crafted latte macchiato with sweet foam.
As a result, Sweet Foam has expanded the list of drinks to 31 specialties that is one of the main bonuses of the model. Of course, milk-based drinks, including cappuccino, latte macchiato, cortado coffee and their syrup versions are also on this list.
As known, Jura traditionally regulates the volume of milk froth by setting the frothing duration.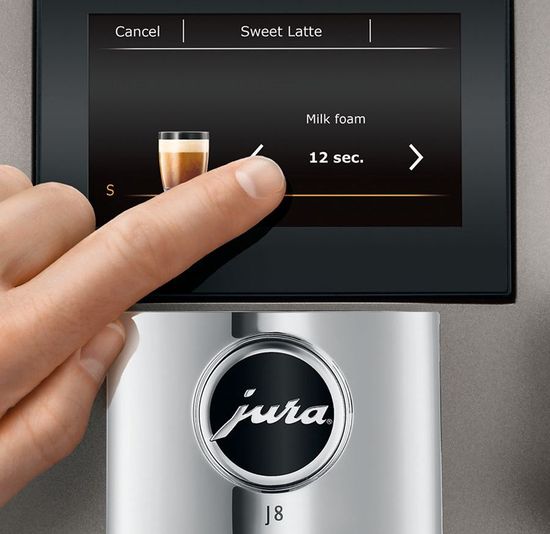 Unfortunately J8 comes without milk jug, which is a controversial brand tradition.
In fairness, the variety is partly achieved with double shots or sweet syrup. But, adjusting the drink volume, temperature, grind size and 10 strength levels and saving these settings really expand the model functionality.
In addition to the new function, J8 offers Coffee Eye option, improved grinder and superb color touchscreen display. In fact, cup sensor of Coffee Eye detects cup size, its positioning and adapts the drink selection on the display.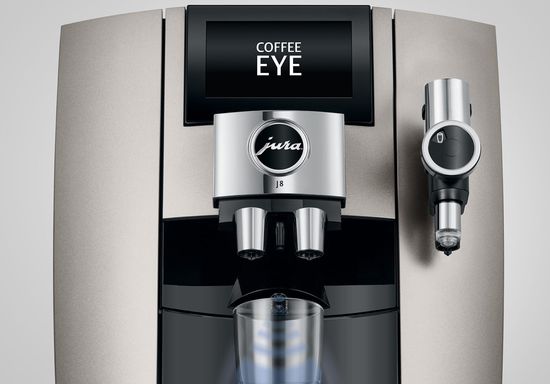 Importantly, it eliminates the spillage of the drink on the countertop and is easily disabled.
Technolodies and grinder
The list of the most popular technologies used also includes:
– 8th generation brew unit with 3D brewing process optimizes extraction by perfectly evenly passing hot water through the ground coffee;
– Jura's Pulse Extraction Process (P.E.P) brewing technology enhances extraction by forcing hot water through the ground coffee in a pulsed fashion;
– Intelligent Water System (I.W.S.) with RFID technology automatically detects the CLEARLY Smart+ water filter. Some frugal users find the feature redundant, preferring to disable it. In principle, this is quite reasonable when using, for example, soft purified water. But when using hard water, the filter improves the coffee taste and reducing the frequency of coffee machine descaling;
– Wi-Fi Connect for use with J.O.E. (Jura Operating Experience) app.
Until recently, many were skeptical about this option. But the huge progress of Jura's J.O.E, De'Longhi's Coffee Link, Saeco's Avanti and other apps from popular brands changed the minds of most skeptics;
– one-touch milk system cleaning.
The functionality with 31 available recipes is one of the widest in the industry.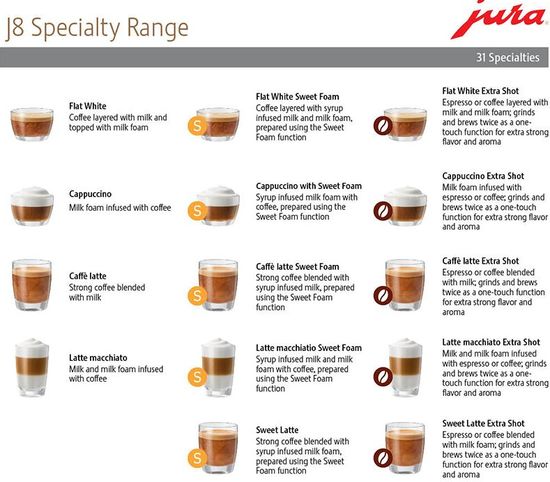 But the list of other bonuses is no less impressive.
For example, Jura J8 uses quiet Professional Aroma Grinder 2+ (P.A.G.2+). Its dial is located on top of the machine.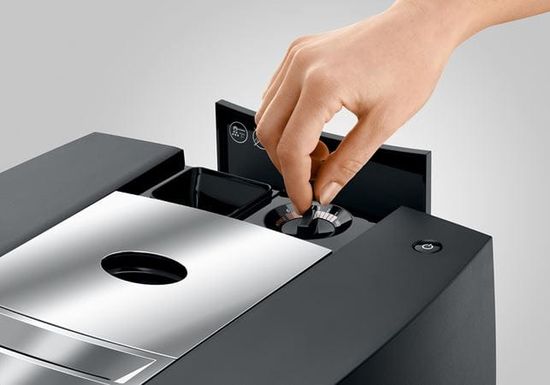 In addition to superb performance, it supports an aroma control function. In fact, it monitors the grind consistency, suggesting 'mild' or 'intense' setting depending on the selected recipe.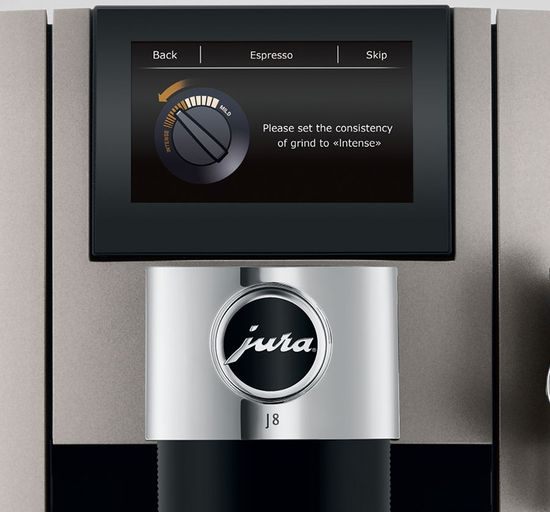 As known, it affects the aroma in the cup. The grinding level is adjusted at any time. After every cycle, it always goes into rest mode, which is important for the grinder lifetime.
The bean hopper holds a 10 ounce (280 gram) and has airtight cover to preserve the coffee aroma.
Design and Key Features
The Jura J8 is available in Piano Black, Piano White and Midnight Silver.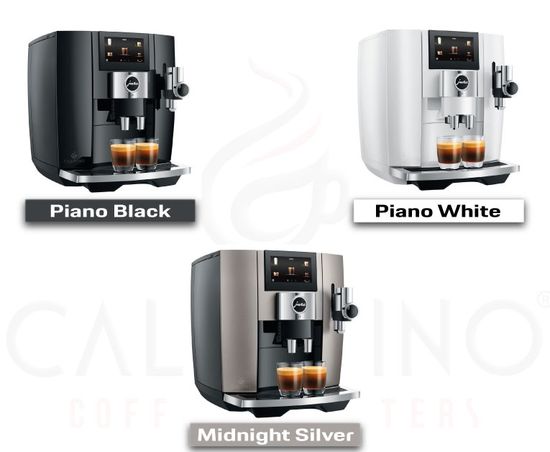 Cup illumination emphasizes its belonging to the luxury segment.
Model uses a 4.3-inch (10.9 cm) TFT touchscreen that displays color drink icons, Jura Cockpit (statistics and tips) and Specialty Selection.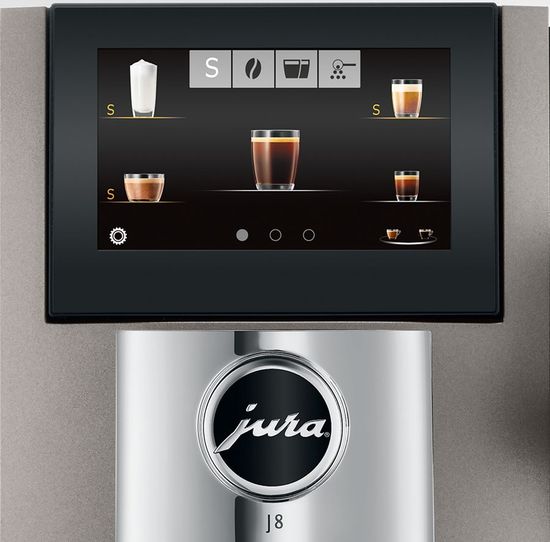 The superb intuitive user interface does not require a user manual. To be fair, the touchscreen isn't very responsive and requires some effort when pressing. But this reduces the risk of random commands.
Jura J8 has max simple control. In fact, starting the device includes:
– adding coffee beans to the hopper;
– power on;
– step-by-step setup for installing the water filter and setting water hardness;
– filling the reservoir with cold water.
Finally, the menu will display available drinks. Clicking the icon of the selected drink opens access to Product Settings, including strength, volume and temperature with the ability to save them.
The cup height varies from 4.4 inches (11.1 cm) to 2.0 inches (5.1 cm). The min setting is convenient for saving crema in the espresso cup. Max height of milk spout reaches 6 inches (15.3 cm), which is enough even for a travel mug.
Unlike many competitors with adjustable cup height, the J8's coffee spout is also adjustable in width. This function is very convenient when preparing two cups at the same time.
Cleaning J8 max is automated. The list of manual operations includes:
– emptying and rinsing the drip tray and used grounds collection container;
– easy disassembly and rinsing of milk frother;
– cleaning the coffee circuit with Jura cleaning tablets after on-screen prompt message;
– according to the company, descaling is not required when using a water filter. But especially careful users can use these tablets every few months.
Conclusions
Pros
– superb espresso & coffee;
– innovative Sweet Foam syrup function and Coffee Eye;
– milk foam consistency is ideal even for Flat White;
– 8th gen brew unit with 3D brewing + P.E.P.;
– very quiet professional grinder 2+ with aroma control;
– an unprecedented range of recipes;
Cons
– high price;
– no milk jug;
– grinding adjustment requires skill.
The Swiss company has once again confirmed its innovative leadership in the industry. The Jura J8 series offers new Sweet Foam syrup function, Coffee Eye and a full range of modern technologies including 8th gen brew unit with 3D brewing, P.E.P., P.A.G.2+ with aroma control, etc.
Unfortunately, its value for money is hardly the best due to the high price. For example, Jura J8 Midnight Silver is offered in America for $ 3,000. To be fair, in Europe the JURA J8 Piano Black EA (15457) is available for just € 1,800. In any case, it's considerably more expensive than Philips 3200 LatteGo or DeLonghi Dinamica under $ 1,000. But the price of any premium model includes a surcharge for luxury design and superb quality components. Finally, the legendary Swiss reliability backed up by years of impeccable reputation is also a significant factor.
Given these factors, J8 demonstrates a fairly high marketing success in the premium segment. Probably, this series is unlikely to be the optimal choice for honeymooners or students on a limited budget. But it will harmoniously fit into the interior of the veranda of a small villa on the shores of a picturesque lake.
This video shows new Jura J8 Midnight Silver coffee machine with innovative Sweet Foam syrup function.