A few years ago, Formovie projectors were little known in global markets. But today this brand is one of the most promising amongthe most promising among the projector manufacturers. As known, Formovie is a joint venture between Xiaomi and Appotronics. Chinese giant Xiaomi needs no introduction. Some sellers even prefer to use the Xiaomi Formovie name. Appotronics develops and makes the ALPD (Advanced Laser Phosphor Display). Today, single-laser ALPD 3.0-based (Laser Phosphor) and triple-laser RGB ALPD 4.0-based (red+green+blue lasers) light engines have almost supplanted traditional lamps. In fact, they compete compete with each other and with cheaper LED models in the mid-budget srgment. For reference, in China Formovie models are sold under the name Fengmi.
Last year, the company introduced superb Formovie Theater UST 4K. It uses ultra popular UST (Ultra Short Throw) design, providing 100″@1.65 ft (or 50 cm) from the back panel.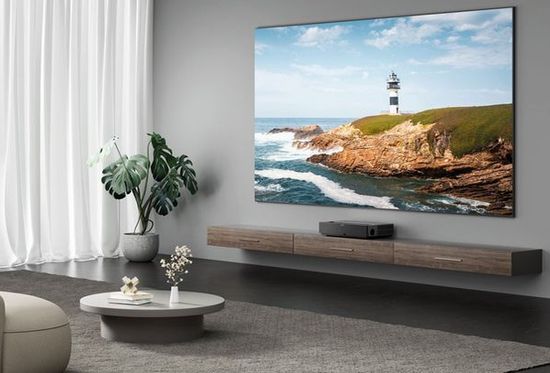 Their popularity is due to the absence of a problem with wires on the floor or with troublesome ceiling mount. This factor makes them a good alternative to the traditional TV in the living room. In fact, they offer a huge image of the slightly worst quality at the same price.
It costs ~ $ 3,000, uses an ALPD 4.0-based RGB light engine that delivers 2,800 ANSI Lumens amd color gamut over 107% in ultra-wide BT.2020 color space. Its native contrast reaches 3,000:1 (full on/off).
This year the company introduced the compact mid-focal single-laser Formovie X5. The launch price of this 4K projector with native contrast of 1,200:1 (full on/off) is ~$ 1,500. Its color gamut reaches only ~ 75% in DCI-P3 and ~ 55% for BT.2020, which is typical for single laser projectors. But the brightness of 2450 CVIA lumens is intriguing and needs some explanation.
ANSI / LED / ISO Lumens and Lux
As known, even diffused light makes any image dull and faded. Accordingly, high brightness or room darkening solves this problem. Given the large impact of brightness on image quality, some projector manufacturers use it for marketing purposes, offering their own methodologies and units of measurement.
For example, Epson 3LCD models always provide identical Color Light Output (CLO) and white brightness due to the lack of losses on the color wheel.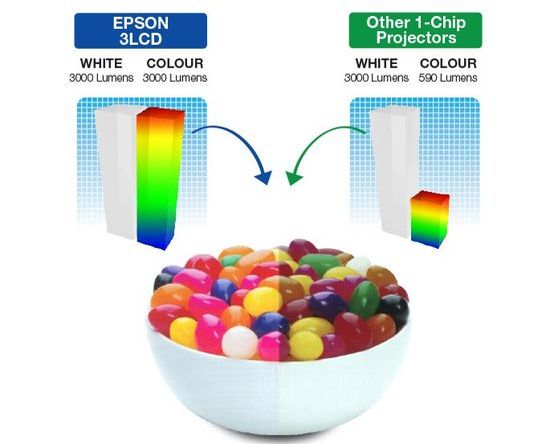 Of course, the company focuses the attention of consumers on this aspect and additionally indicates CLO.
Some manufacturers indicate the Lux, which characterizes the illumination of 1 m² on the screen (1 Lm=1 Lux/1 m²).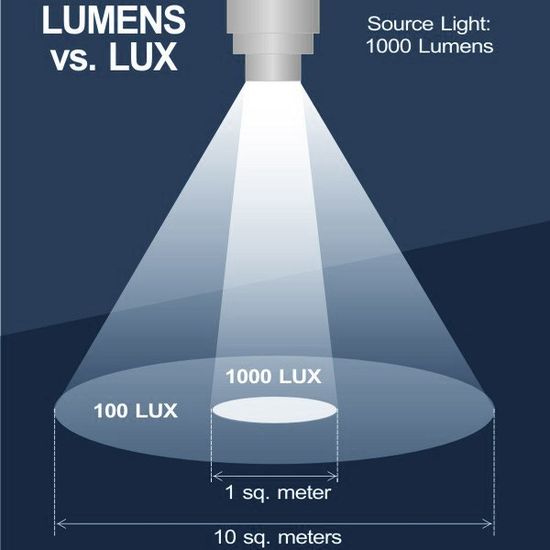 Of course, even a low-power, cheap projector can deliver high brightness on a tiny screen. But when it's increased, the image will fade.
Manufacturers of LED projectors suggest taking into account the Helmholtz-Kohlrausch effect (dependence of the perception of colors on their saturation) and often indicate the brightness in LED Lumens.
A few years ago, companies started using ISO lumens. In fact, ISO 21118 (International Organization for Standardization) defines the manufacturing standard and measurement technique with regard to the light source power and the effect of noise on brightness.
As a result, projector specs from different companies contain brightness data in different units. The conversion rates between them are:
– ANSI Lumens (American National Standards Institute) – measures the luminous flux at nine points on the screen;
– Lux – illumination of one square meter of the screen;
– ISO Lumens (1 ANSI Lumen ~ 0.8 ISO Lumens);
– LED Lumens (1,000 LED Lumens ~ 417 ANSI Lumens).
However, to avoid possible accusations of incorrect specs, some large companies prefer not to specify the brightness.
CVIA Lumen
To a certain extent, such chaos can be considered quite an adequate price for a free market with fierce competition. But it's hardly convenient for industry leaders, which successfully compete without additional marketing technologies.
In October 2022, the China Electronics Video Industry Association (CVIA) published the results of a selective testing for the projectors brightness.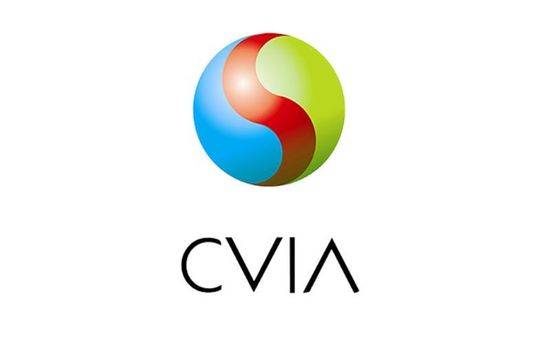 Based on their analysis, CVIA proposed the development of a new group standard to address today's confusion. The list of developers brought together leading brands, platform providers, and research agencies, including Hisense, JmGO, Dangbei, Harqu, etc.
The new standard differs significantly from the previous ones. For example, CVIA considers test color temperature and color coordinate value. In addition, CVIA requires that the reported brightness be at least 80% of the rated light output.
Of course, harmonization of conversion factors for different standards will take time. Today, only JmGO has provided brightness data for their models in both ANSI lumens and CVIA lumens. Given ratio for N1 Ultra (4,000 ANSI lumens ~ 2,200 CVIA lumens), the equivalent of 2,450 CVIA lumens for X5 should be up to 4,500 ANSI lumens, which causes quite reasonable skepticism. What's more, preliminary testing shows more modest results. In particular, the model brightness in all color modes varies from just over 1,000 ANSI Lumens for Silent in Brightness settings, to over 2,200 ANSI Lumens for Day (1,370-1,390 ANSI Lumens for Night and ~ 2,200 ANSI Lumens for View). Of course, this is also a superb result for a compact single-laser projector, but it's significantly different from 4,500 ANSI lumens. Probably, over time, the industry will offer a more correct conversion factor.
Performance
The stylish design with a fabric wrap on top was designed by Denmark's Kvadrat design house.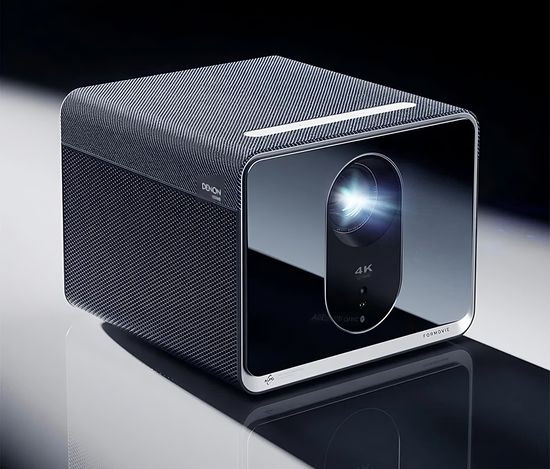 The Formovie X5 uses 0.47-inch DLP chipset from Texas Instruments with native 1080p resolution and XPR technology. Using fast four-phase pixel-shifting, it upscales image resolution to 4K (3,840 x 2,160).
In fact, this technology divides 8 million pixels of a 4K image into 4 parts and sequentially reproduces them using 2 million micromirrors, shifting by half a pixel relative to each other.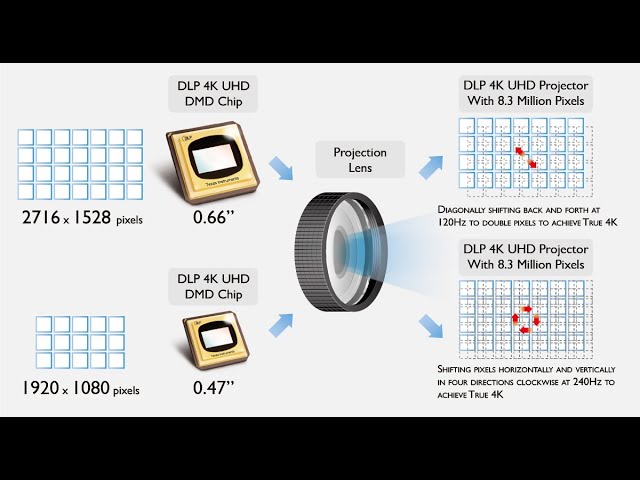 At any given time, the projector plays back a 1080p image only. But due to the high frequency, our vision and brain perceives 4 shifted images as a single image with a higher resolution. Pixel shift is performed using 4 electromagnets of the XPR module, which provide lens tilt.
The X5 uses a single laser light engine that works without laser speckle. However, last year's Formovie Theater UST model with triple-laser light sourse demonstrated a fairly effective solution to this problem for RGB light engine.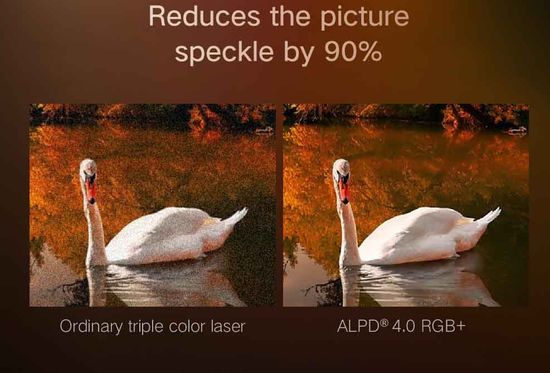 According to the company, the success was due to the use of industrial-grade, long-lasting laser diodes.
The superb built-in audio system from Denon uses a 540cc acoustic chamber and three speakers (2x 12W +full-range 1x 6W), supports Dolby Audio, including Dolby Atmos, DTS-HD Master Audio and FAA Sound Engine for cinephiles.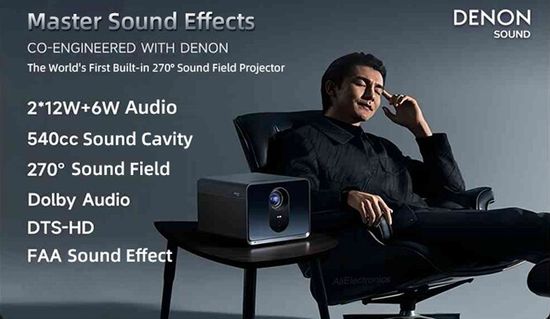 This will save you money on buying an external soundbar.
Unfortunately, it has a fixed lens and uses only a digital zoom. Therefore, the image size depends only on the distance from the screen. As advertised, the X5 delivers an unprecedented screen size of up to 1,000″ (?!!).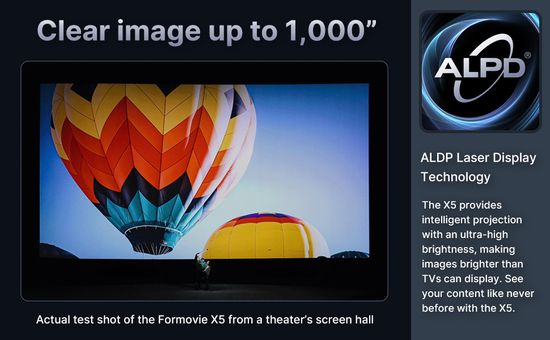 But more realistic specs contain 500″ or 1271 cm.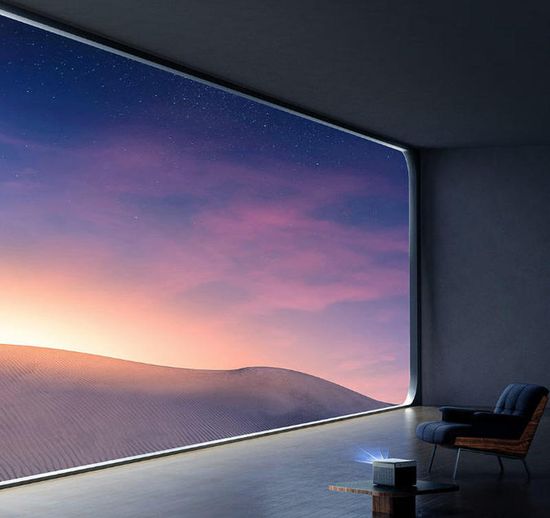 Color Modes
The X 5 offers a full range of the most popular modes and settings, including Sports, Standard, Movie, Showy, Display, Game, and Custom. Unfortunately, all settings are universal for SDR and HDR. Therefore, even Custom mode does not support independent calibration for SDR and HDR content. Brightness, Contrast, Saturation, Sharpness, Tone, Custom Color, and Dynamic Contrast are only adjustable in Custom mode. Other modes use pre-settings.
Unfortunately, full white balance adjustments with 2-point, CMS or gamma controls are not available due to the lack of Bias controls. Probably, this aspect can be positioned by perfectionists as a disadvantage. But, in fairness, most users rarely have calibration skills at this level.
The laser Brightness modes include Day, View, Night, and Silent. In fact, they use different presets to the color temp. According to test results, Day mode provides an optimal image with almost the same similar lumen outputs ± 2.5% in all modes with Standard color temperature.
View Brightness mode slightly reduces brightness ~ 1-2% vs Day at Warm color temp. The reduction depends on the picture mode.
Brightness in Movie picture mode is reduced by ~20%. Display and Game modes also are less bright (~ 8%). The brightness in Sports and Standard is also reduced by up to 10% when going from Day to View. Showy mode also less bright (~ 5%). The Night and Silent Brightness settings show similar dynamics. In general, Night setting is optimal for dark room viewing, which is quite predictable. Movie picture mode with the Night brightness mode is the most accurate out-of-box and is optimal in most cases as the main picture settings.
But in fairness, the choice of optimal settings mainly depends on personal preferences. Ultimately, calibration is always a compromise between color accuracy and image colorfulness.
Key Features
X5 has good image auto correction, which offers almost all modern features, including:
– Omnidirectional Auto-Correction automatically detects and corrects any distortion caused by an uneven surface or a non-perpendicular angle;
– Ambient Light Adaptive with advanced sensors detects the level of ambient light and adapts settings to any lighting conditions;
– laser autofocus uses a high-precision laser sensor to detect the distance between the projector and the screen, ensuring perfect focus;
– Intelligent Obstacle Avoidance and Automatic Curtain Alignmen.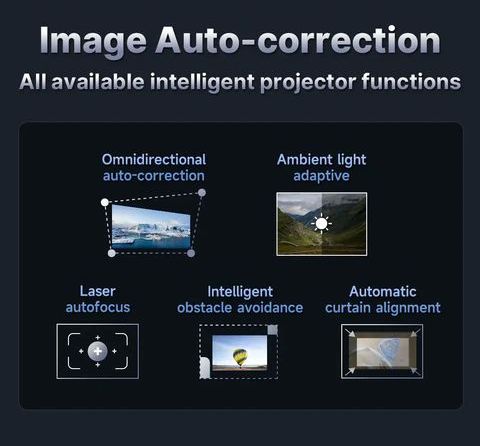 Like other Fengmi-branded Chinese versions, X5 operates on the FengOS smart platform. The menus and the onscreen descriptions of streaming content in Chinese are not useful for other regions. The language can be switched to English for common menu settings. But model requires an external streaming device like an Amazon Fire Stick, Apple TV or Roku.
Today one of X5's importer ProjectorScreen.com, supplies projectors in the U.S. with an Amazon Firestick 4K streaming dongle that includes a working Netflix app. A global version of the X5 with a Google TV/Android interface, expected only in early 2024.
Unfortunately, the model can hardly be positioned as a gaming one. Its input lag in Game mode reaches almost 40ms for 4K@60Hz and exceeds 50ms for 1080p@60Hz. This is enough for casual games, but is unlikely to be suitable for Street Fighter. Also, Formovie X5 does not support VRR and ALLM. Finally, the X5 doesn't support FRL (Fixed Rate Link) and the wide 48 Gbps bandwidth for signals above 4K@60 Hz, offering only 18 Gbps.
Conclusion
Pros
– 2,450 CVIA lumens;
– omnidirectional auto-correction;
– Ambient Light Adaptive;
– ALPD 3.0-based Laser Phosphor light source;
– laser auto focus;
– superb Denon audio system;
– no laser speckle;
– compact stylish design.
Cons
– FengOS in Chinese;
– imperfectly accurate colors;
– limited calibration;
– only 18 Gbps bandwidth;
– same settings for SDR / HDR;
– no 3D support;
– input lag of 40/50ms for 4K/1080p@60Hz;
– no input button on remote.
Formovie X5 has superb marketing prospects due to good value for money. This compact model offers premium specs, including very high brightness, an unprecedentedly huge screen size up to 500″ with 4K resolution, full auto Image correction, lots of customization, and a great audio system for only $ 1,500, which corresponds to mid-budget segment. Some sellers often list screen size over 1,000″. Specs contain a more realistic 500″. 500″ really corresponds to 1.271 cm, and the inaccuracy may be due to the confusion of units. To be fair, its presets, color accuracy, contrast, color gamma and gaming performance are quite adequate for this class.
Of course, the Chinese-language FengOS threatens to significantly reduce its popularity in global markets. But Formovie promises to address this problem with an Android TV platform шт 2024. Importers today come X5 with a Netflix-enabled 4K stick. This decision is contrary to the concept of 'all-in-one', but it's quite acceptable for many.
This video demonstrates the operation of XPR module in 4K DLP projectors with pixel shift.