In the spring of 2023, the Japanese giant introduced the new JVC LX-NZ30 DLP 4K home theater projector. The model provides superb 3,300 ANSI Lumen brightness with laser phosphor BLU-Escent light source. Unlike Sony, Epson, Hisense and other industry leaders, JVC started to actively use solid-state (SSL) light engines only in 2021. Today, JVC's 3d gen BLU-Escent Laser Diode with dynamic brightness control is one of the best in the industry.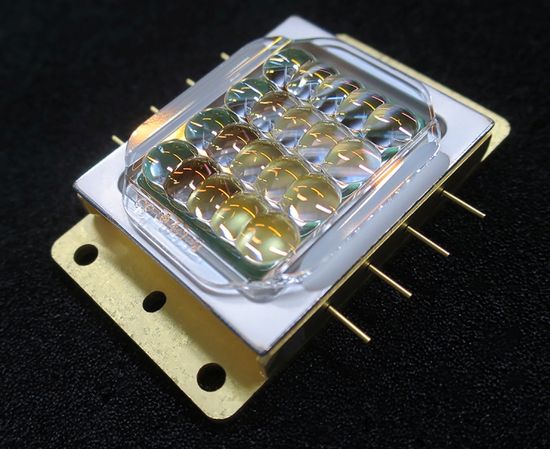 NZ30 is a DLP model and uses TI 0.47″ DMD with XPR technology to upscale resolution to 4K. As known, company dominates the LCoS segment, This technology was developed by JVC in 2013. Instead of micromirrors, it uses liquid crystals, the layer of which is applied to a reflective mirror substrate. Depending on polarization, 'open' / 'closed' crystals reflect or block the light from lower mirrors, modulating the light to create an image.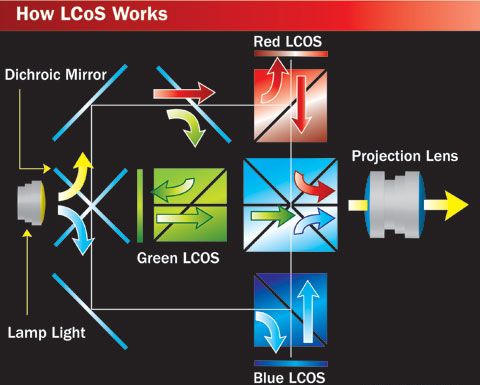 The tiny width of the gaps between the liquid crystals practically does not transmit light in the black areas, providing 'infinite' contrast with ideal blacks.

Today companies use several LCoS versions, including JVC D-ILA (Digital Direct-Drive Image Light Amplifier), Sony SXRD (Silicon X-tal Reflective Display) and Canon AISYS (Aspectual Illumination System).
Unfortunately, this technology is very expensive. For example, the price of 'budget' JVC DLA-NP5 4K lamp projector is $ 5,750.
Despite using DLP technology, the LX-NZ30 also provides 'infinite' dynamic contrast with new firmware of Laser Dynamic Dimming.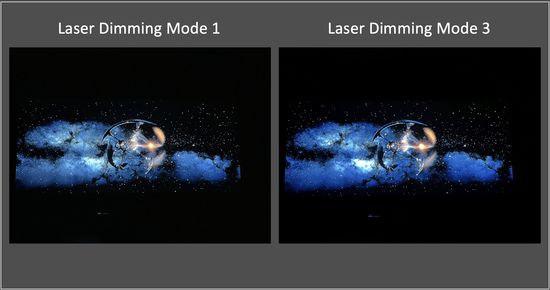 The new version uses the peak brightness instead of the average luminance of the entire scene.
Given high brightness, 'infinite' dynamic contrast, and the Japanese brand's impeccable reputation, the $ 3,500 launch price of the JVC LX-NZ30B could be positioned as an unexpectedly pleasant dumping.
LX NZ30
It's available in black and white.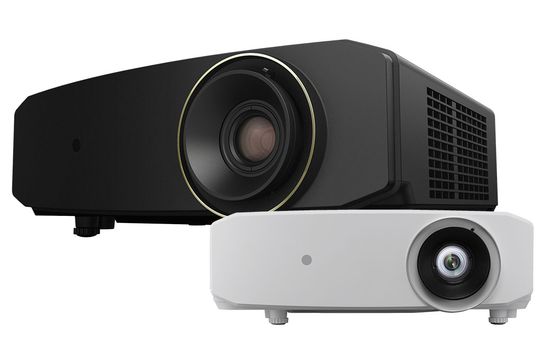 In fact, the LX-NZ30 is an improved version of the 2020 LX-NZ3. It's marginally brighter (3,300 vs 3,000 ANSI Lumens) with a more powerful BLU-Escent light engine (105W laser), slightly cheaper (launch price of $ 3,500 vs ~$ 3,700), has lower input lag, and offers faster performance on some features.
Increased brightness reduces the impact of ambient light and improve HDR performance. In addition, according to the company, new light engin provides color gamut of 100% REC 709.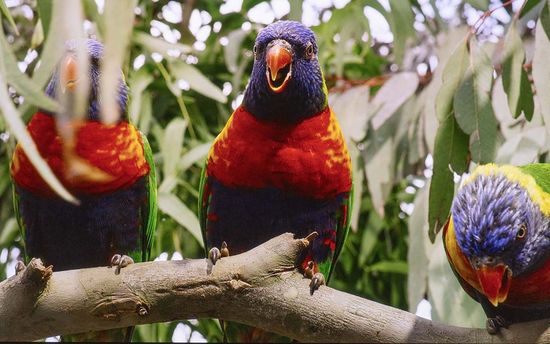 Finally, the difference of ~$ 200 may increase after the traditional launch price correction.
The NZ30 uses a basic version of JVC's Auto Tone Mapping feature and supports HDR10 and HLG content. As known, HDR content reproduction is problem of any projector due to the limited brightness. Unlike the direct light flux of a TV, when using a projector, the eye perceives re-reflected light. In addition, HDR consumer content on 4K Blu-ray or in streaming is mastered for playback on a flat panel and is produced at a variety of brightness levels ranging. For reference, it ranges from 1,000 nits (292 fL) to 4,000 (1167 fL) nits. But the brightness of household projectors rarely exceeds 200 nits (58 fL). As a result, HDR-compatible projectors only reproduce 'cropped' consumer HDR content. To solve this problem, HDR models utilize tone mapping. In fact, this technology provides a compromise between preserving bright details and delivering full-screen brightness.
Today, JVC auto-tone mapping algorithms are considered one of the most effective in the industry.
New connections:
– DisplayPort for a fast, low-latency connection to PC;
– RS232 for connection to a wired LAN;
– new high-speed USB Type-C connector.
Like HDMI 2.0 ports, all connections support up to 4K HDR content.
Key Features
Of course, the mid-focal model cannot compete with UST (Ultra Short Throw) projectors in ease of installation. As known, they can be installed almost flush to the screen, eliminating the problem of wires on the floor or the need for a ceiling mount.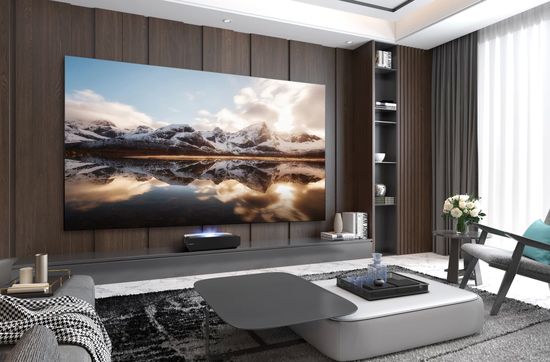 But the NZ30 supports 1.6x wide zoom (1.36:1 – 2.18:1), which greatly simplifies its placement. For 16:9 screen, its optics provide from 80″ to 200″ diagonal sizes with a distance of 94″ (240 cm) to 236″ (600 cm) for Wide, and from 151″ (384 cm) to 378″ (960 cm) for Tele.
NZ30 offers Natural / Cinema / Dynamic / Gaming / Animation / User 1/2 Picture Modes, and High / Normal / Low color temp. Traditionally, the projector provides maximum color accuracy at min brightness (more than 2,100 / 1,300 ANSI Lumens for SDR / HDR in USER, Animation and Natural modes). Dynamic mode provides almost 3,400 and more than 2,000 ANSI Lumens for SDR / HDR.
Pre-calibration 'out-of-the-box' / post-calibration:
– Color Temp – 6,804K / 6,489K (6,500K for D65);
– Gamma – 2.1 / 2.19 (2.1-2.3);
– Average Grayscale dE – 3.2 / 1.8;
– Average Color Tracking dE – 6.1 / 1.5.
Additionally, Brigtness, Contrast and Sharpness are effectively optimized using free Murideo test patterns on their website or YouTube channel.
The NZ30 uses excellent all glass optics that produce images without visible chromatic aberrations with impeccably uniform focusing.
In addition to Lens Shift, projector offers digital keystone (± 30% V), four corners, and warping corrections. The new warping function is designed to project onto non-ideal surfaces, significantly reducing screen requirements.
The company positions new model as gaming. Its Input lag is just 6.25 ms for 1,080p@240Hz, 12.5 ms for 1,080p@120Hz, and 25 ms for 4K/1,080p@60Hz.
Conclusion
Pros
– 3,300 ANSI lumens brightness;
– superb 6.25,12.5 and 25 ms Input lag for 1,080p@240Hz/1,080p@120Hz and 4K & 1,080p@60Hz;
– DisplayPort 1.2 and USB Type-C for PC LAN connection;
– new WARPING and CORNER ADJUSTMENT modes for curved screens;
– 'infinite' contrast with Dynamic Laser Dimming;
– Zoom Lens Ratio – 1.6:1;
– superb HDR performance with JVC's Auto Tone Mapping;
– 60% V and 23% H Lens Shift.
Cons
– black levels are significantly inferior to JVC D-ILA models;
– projectors comes without integrated smart media features or streaming services;
– fan noise reaches 35 dB;
– no internal speaker and ARC / eARC support.
Considering the specs, the JVC LX NZ30 significantly outperforms the previous LX NZ3. Indeed, the upgraded laser dynamic dimming control, a shorter input lag, additional connectors and additional 300 ANSI Lumens due to a more powerful 105W BLU-Escent light engine are significant bonuses in its favor.
But, of course, competitors are also not wasting time. This year the range of superb mid-focal projectors has expanded with:
– Xiaomi Formovie X5 compact 4K – $ 1,500 (2,450 CVIA lumens);
– gaming BenQ and Optoma models;
– latest BenQ TK860i and HT4550i;
Moreover, this is only a small part of the new products. However, competition is unlikely to confuse the Japanese giant, which can offer an impeccable reputation, reinforced over many decades. Overall, superb price-quality ratio promises quite cloudless marketing prospects for this model.
This video previews the JVC LX-NZ30 at CES 2023.